
Table of Contents

About the Author

Related Posts

Best Audio Recording Software
You may need to record the sound on your Windows 7 computer for various reasons in your daily life. However, many people don't know how to record audio on their computers with or without a microphone. You need to make different options when you are setting your computer to record the microphone or not. It sounds difficult, but don't worry, we will show you how to do it step by step. However, if you use EaseUS RecExperts, recording audio on Windows 7 will become much easier.
Part 1. Easy Steps to Record Audio on Windows 7
The easiest way to record audio on Windows 7 is to download EaseUS RecExperts. With this software, you don't need to change any settings on your computer, just customize audio-recording settings on this program with one click.
Moreover, you can use this software to record the screen and record webcam on your computer. How to record zoom meeting? That may be a troublesome problem for business people. EaseUS RecExperts can also help them deal with it. Therefore, we strongly recommend you use this software to record audio on Windows 7.
Step 1. Launch EaseUS RecExperts and choose "Audio" (looks like a speaker) from the left side of the interface. Select the sound source by clicking on the speaker sign (the system sound) or the mic sign (the microphone). Or, you can record them both at the same time.

Step 2. Hit "REC" button to start recording audio. To finish it, you just click on the red square icon to stop the recording.

Step 3. After that, the recording list window will pop up automatically. You can listen to or edit the recording with built-in tools.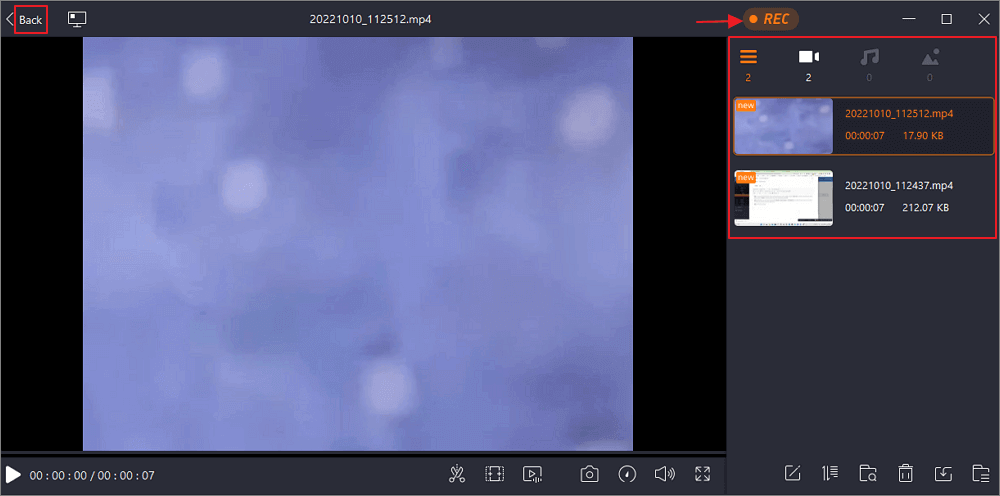 Part 2. How to Record Audio on Windows 7 with a Microphone
There are two ways to record audio on Windows 7, and you may choose the one suitable for you.
Solution 1. Record Audio on Windows 7 with Sound Recorder
Windows 7 includes a great little application you can use to record sounds - Sound Recorder. All you need is a sound card and a microphone plugged in, or a webcam with a microphone built-in. Your recordings are saved as Windows Media Audio files and can be played by any media player. To learn how to use this program, don't hesitate to read this tutorial.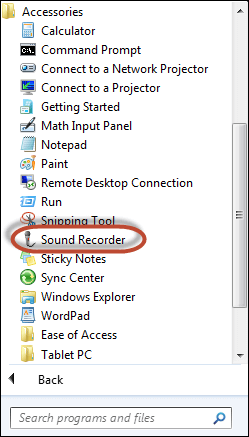 Step 1. Find Sound Recorder on your computer. You may use the two ways listed below to do so:
Go to "Start > All programs > Accessories > Sound Recorder";
Type the word "sound" in the "Start Menu" search box. In the "Programs" list of search results, click "Sound Recorder".
Step 2. As soon as you start the Sound Recorder, you will see the green sound bar moving according to the strength of the sound.
Step 3. When you want to finish the recording, press the "Stop Recording" button.
Step 4. If you press the "Stop Recording" button, a new window pops up. You need to choose where to put the file recorded. The file will be saved in WMA format by default.
Solution 2. Record Audio on Windows 7 with Audacity
Audacity is a free and open-source digital audio editor and recording application software, available for Windows, macOS, Linux, and other Unix-like operating systems. In addition to recording audio from multiple sources, Audacity can be used for post-processing of all types of audio, including podcasts, by adding effects such as normalization, trimming, and fading in and out.
Audacity has a useful feature that can record the audio coming out of your computer—even without Stereo Mix. In Audacity, you need to choose the "Windows WASAPI" audio host and then choose an appropriate loopback device, such as "Speakers (loopback)" or "Headphones (loopback)".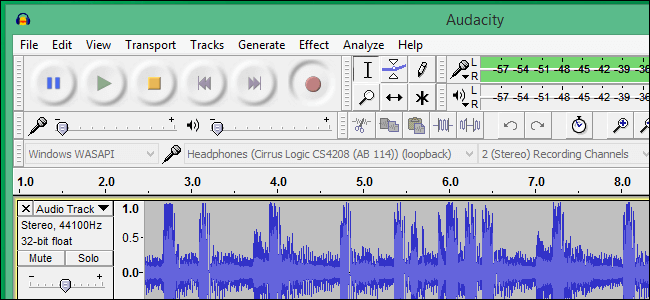 Step 1. Open the Start Menu and click "Control Panel".
Step 2. Click "Sound" and under "Recording", right-click "Show Disabled Devices".
Step 3. Right-click "Stereo Mix" and choose "Enable". After that, right-click "Stereo Mix" again and choose "Set as Default Communication Device".
Step 4. Open Audacity, click "View" and choose "Toolbars">"Device Toolbar".
Step 5. In the box on the top of your screen, choose "Primary Sound Capture Driver" and click the red "Record" button to start recording. You may click the button again to finish the recording.
Step 6. Click "File">"Export" to save the recorded audio file to your computer.
Part 3. How to Record Audio on Windows 7 Without a Microphone
If you have a built-in audio recorder on your computer, it will probably record all the sound, including the microphone, by default. However, sometimes we don't want the recorder to record the microphone for various reasons: we don't want others to hear us, the voice from the microphone is too loud, or there is simply no need to record the microphone. Then, what should we do to let the recorder record only system sound? In fact, with only a few clicks, you can make the recorder record without a microphone. Let's have a look at the tutorial.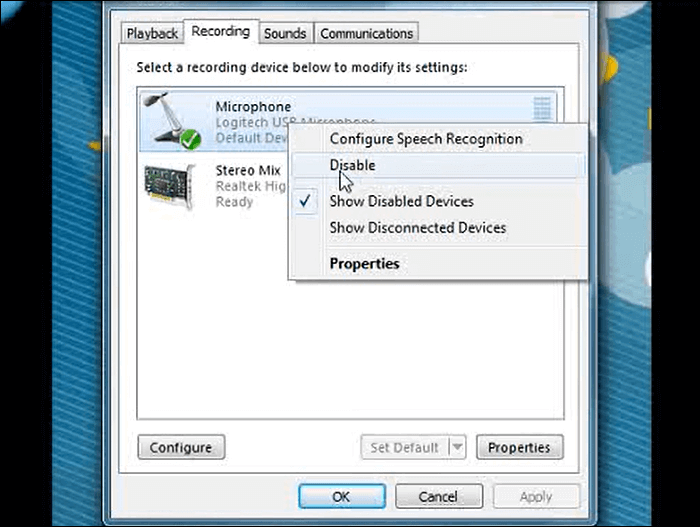 Step 1. Click the "Headphone" button on the downright corner of your screen. It looks like a loudspeaker.
Step 2. Choose "Recording devices". In the next window, right-click Microphone and choose "Disable".
Step 3. If you see other microphones here, also right-click to disable them. Then, you may open an inbuilt audio recorder and start recording.
Conclusion
In a word, if you want to record audio with a microphone, you may customize the settings as what we show you in part 2; if you want to record audio without a microphone, you need to follow the steps in part 3. However, if you use the software - EaseUS RecExperts we mentioned in part 1, recording audio with or not are both easy tasks. With only one click, you can shift from the two modes. Therefore, we strongly recommend you download this software from the blue button below.
About the Author

Melissa is a sophisticated editor for EaseUS in tech blog writing. She is proficient in writing articles related to multimedia tools including screen recording, video editing, and PDF file conversion. Also, she's starting to write blogs about data security, including articles about data recovery, disk partitioning, data backup, etc.