
Table of Contents

About the Author

Related Posts

Best Audio Recording Software
Jerry
Updated on Jan 11, 2023|
min read
Do you know how to screen record on Windows 7? Windows 7 computers don't offer a direct option to record the computer screen, unlike Windows 10 PCs. You may have been looking for a powerful and user-friendly screen recorder that works flawlessly with Windows 7. You're lucky since we've gathered many workable solutions that mix usefulness and usability. Continue reading to learn how to use these screen capture tools on Windows 7. Then, let's come to the details.
Method 1: How to Record Screen with Free Windows 7 Screen Recorder
You can record your screen without any software, but for better operation and more advanced options, using a professional screen recorder is your best choice. In that case, EaseUS RecExperts, one of the best screen recorder for Windows 7 32-bit and-64 bit computer, comes to help. It can record your computer's webcam, microphone, and system audio on your Windows 7 computer. With this user-friendly Mac and Windows screen recorder, you can finish your recording tasks quickly.
EaseUS RecExperts is a screen recorder that lets you screen record anything on your PC. It can always meet your needs whether you want to record YouTube audio or capture streaming audio. It allows you to screenshot while recording and record videos with a virtual background. It has a wide range of supported output formats: MP4, MOV, FLV, MKV, AVI, MP3, AAC, WAV, OGG, WMA, FLAC, GIF, and PNG. In addition, it also lets you record gameplay on Windows 7 PC and screen record on Windows 7 with audio. The following are some other valuable features of this screen recorder:
Record a customized area or multi-screens recording.
Schedule recording tasks to record automatically.
Comes with a video player and supports clipping with millisecond accuracy.
Support editing recordings with built-in tools.
You can perform the following steps to screen record your Windows 7 computer.
Step 1. Run EaseUS RecExperts on your device and you will see two recording modes. You can choose "Full Screen"to record the whole screen or choose "Region" to select the recording area manually before recording.

Step 2. After that, you can choose to record the webcam, system sound, microphone or record none of them as you like. You can also set auto split, auto recording with various functions on the interface.

Step 3. Then, you can click the red "REC" button to start recording. Here will be a menu bar on your screen. To pause the recording, click on the white double vertical bar; to end the recording, click on the red square sign.

Step 4. After recording, you will be led to the list interface. Here you can view or edit your recordings. To start a new recording, just click on the "REC" button on the top of the interface.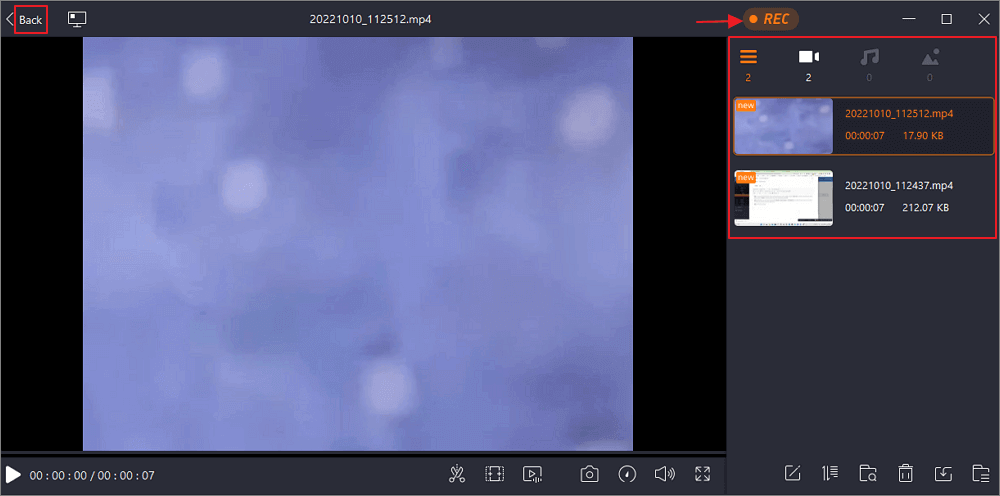 Method 2: How to Record Screen in Windows 7 via PowerPoint
Besides using a professional screen recorder, you can also use a tool you frequently use in your daily or work life. It is PowerPoint. In fact, PowerPoint can also be used as a screen recorder to capture a computer's display and any playing audio. You can also save the recording as a distinct video file in PowerPoint. Here's how to use Microsoft PowerPoint to record a computer screen.
Step 1. Open PowerPoint, and then create a new slide.
Step 2. Then head for the Record tab and click on Screen Recording.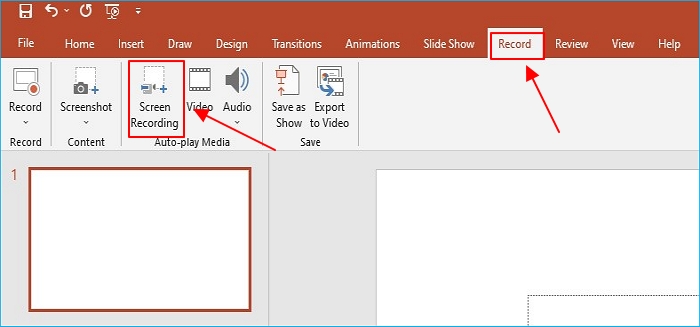 Step 3. You may select a particular area to record by clicking the Select Area button in the newly revealed screen recording dock. Your system audio and cursor movement will automatically be recorded as well. Switch between these settings, or if you prefer, use the Windows + Shift + U keys to deselect Audio and the Windows + Shift + O keys to turn off the option to record the pointer.
Step 4. The recording will be kept and embedded on the slide you open when you click the Stop to end it. Right-click the preview image and choose Store Media to save the recording as a separate file. Next, name your recording and select an output location. Finally, click the Save option to store your recording successfully.
Method 3: How to Record Screen with a Windows 7 Built-in Tool
Despite not having built-in screen recorders, Windows 7 PC is designed with a hidden screen recorder called Problem Steps Recorder that allows you to record your computer actions. The recording is, however, saved as an HTML file. Therefore, Problem Steps Recorder is NOT a screen recorder that can record video of a computer screen. Still, it comes in handy when you need to record a computer issue or show how to use a program or game on a computer. The detailed instructions are as follows:
Step 1. Click on Start > Accessories > Problem Steps Recorder.
Step 2. When you see the Steps Recorder window, click on Start Record.

Step 3. You can select Add Comment, highlight the area you wish to annotate, then type in your comments as you go through each step you want to record.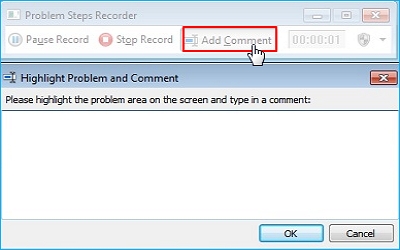 Step 4. Click on Stop Record when you're done. The recording will be saved as a .zip file, which a web browser can unzip and view.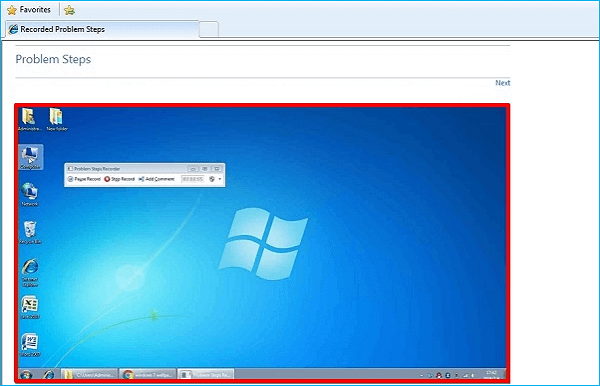 The Bottom Line
That is all about how to screen record on Windows 7. In short, you can use a professional screen recorder, like EaseUS RecExperts, PowerPoint, and Problem Steps Recorder, to help you screen record on Windows 7. Among the three recording tools, EaseUS RecExperts is highly recommended.
The EaseUS RecExperts has apparent advantages over Problem Steps Recorder and PowerPoint that may help you quickly and effectively record screen actions. It can also help you to record with Windows Media Player and screen record with no watermark.
FAQs
1. Does Windows 7 have a screen recorder?
There isn't a built-in or default screen recorder in Windows 7. However, on Windows 7 devices, numerous methods exist to record your screen, such as using EaseUS RecExperts, VLC, PowerPoint, and Problem Steps Recorder. If you want more advanced options, a professional screen recorder, like EaseUS RecExperts, will be your best choice.
2. Why can't I record my screen on PC?
If the recording icon is grayed out, this function is probably restricted. Do the following to lift the restriction: Open the Content Restrictions section under Settings > Screen Time > Content & Privacy Restrictions. To continue, scroll down to the Game Center area and select Screen Recording.
3. Does PC have screen recording?
To begin screen recording, press Windows + Alt + R keys. On the screen, most commonly in a corner, a tiny recording widget displays the time you've been recording.
About the Author

Jerry
"I hope my articles can help solve your technical problems. If you are interested in other articles, you can check the articles at the bottom of this page, and you can also check my Facebook to get additional help."