
Table of Contents

About the Author

Related Posts

Best Audio Recording Software
Known by many people, Geometry Dash is a racing game that players love deeply. It's so exciting that many players want to record the gameplay process on a big PC screen so that they can view the recorded video and gain some experience from it. However, many people don't know how to record the gameplay video properly. Don't worry, here in this article, we are going to show you how to record Geometry Dash on PCs and give you the right game recorders to do it.
Is Geometry Dash Available On PC?
The free version of Geometry Dash can be downloaded from both App Stores for iPhone and Android devices, as well as Mac computers and Windows PCs. So the answer is a big "Yes".
To record Geometry Dash on your phone, you will just need to use the recording function on your mobile. But recording it on your PC, you will need a suitable gameplay recorder. In this article, we will give you two recorders and the steps to record Geometry Dash on a PC with them.
How to Record Geometry Dash on PC
To record any mainstream games, you will need the screen recording software called EaseUS RecExperts. This is a game recorder that can record almost all the games you know. With this software, you can record the gameplay screen as well as the camera that captures your move. Also, you can choose to record the system or microphone audio freely. Or you can just record them both. Compatible with Windows 11, EaseUS RecExperts can be used on almost all Windows systems. In a nutshell, It is your best choice if your need a tool to record your gameplay. Now let's have a look at its main features below:
Gameplay can be exported as 1080P and 4K videos
Record system audio, microphone sound together or separately
Record videos in many formats like MP4
Edit the recorded videos easily
Now, you can press the button below to download EaseUS RecExperts and start recording Geometry Dash gameplay.
Step 1. Start the gameplay you want to record and launch EaseUS game recorder. Next, select the Game mode.

Step 2. Click the nut icon to open the Settings window, and then click on "Video" to adjust the frame rate (from 1 to 144), video quality, format, etc. 
In addition, you can click on the "Game" button to change some game overlay options. Once done, click "OK".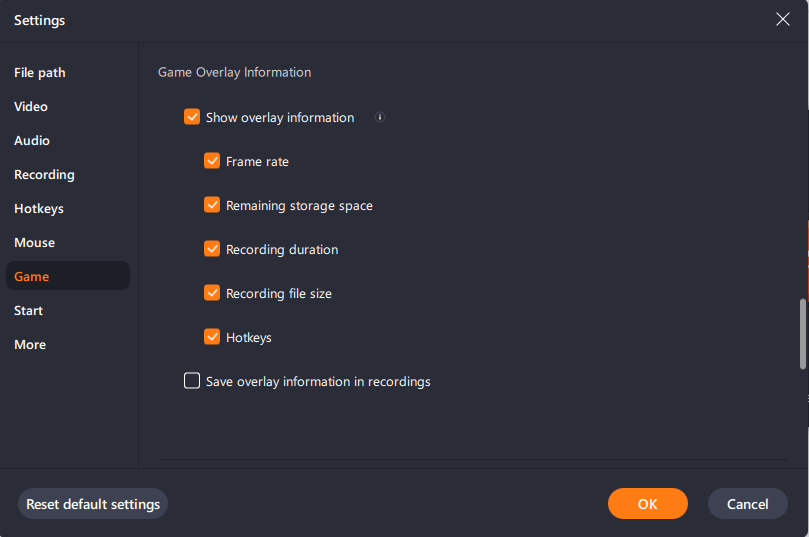 Step 3. Go back to the Game mode interface and click "Select Game" to choose the gameplay you want to capture. Next, click REC to start your game recording.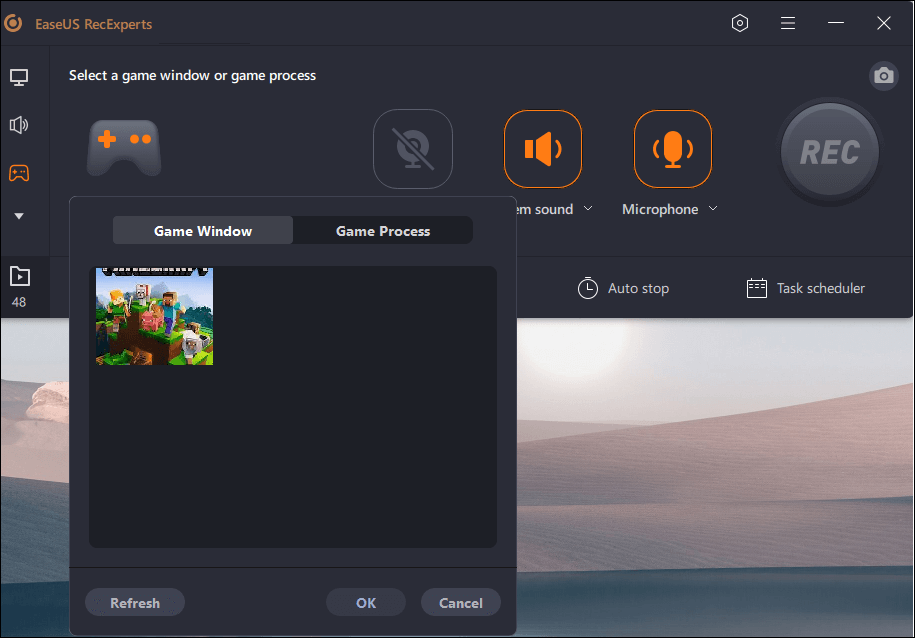 Step 4. You will see a small bar showing the time of your record. If needed, you can take screenshots in recording, or set the specific time to stop the recording by clicking the "Clock" icon on the toolbar.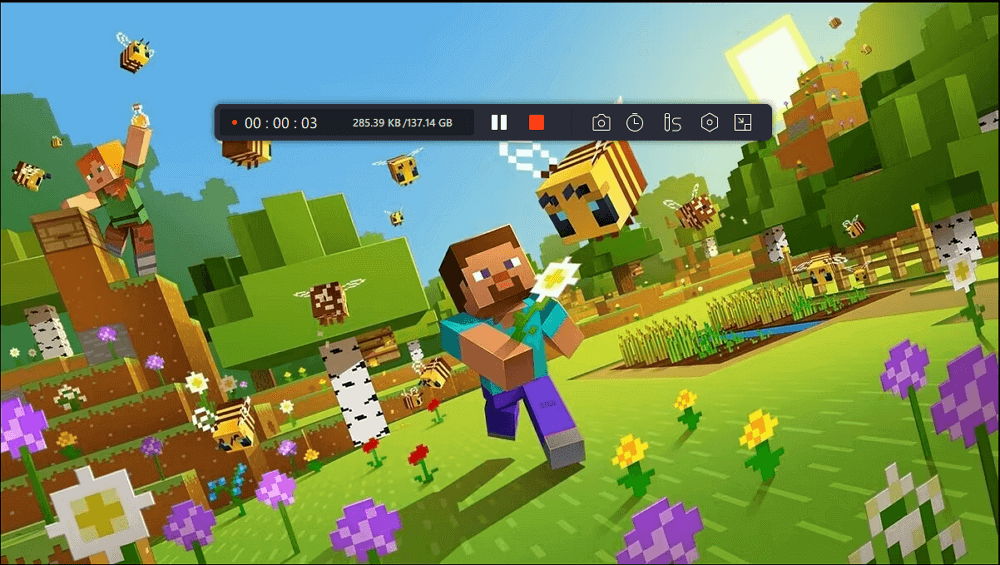 Step 5. Once done, you can watch and edit the recorded footage with the built-in video editor. On the recorded video, you can trim the recordings as you want.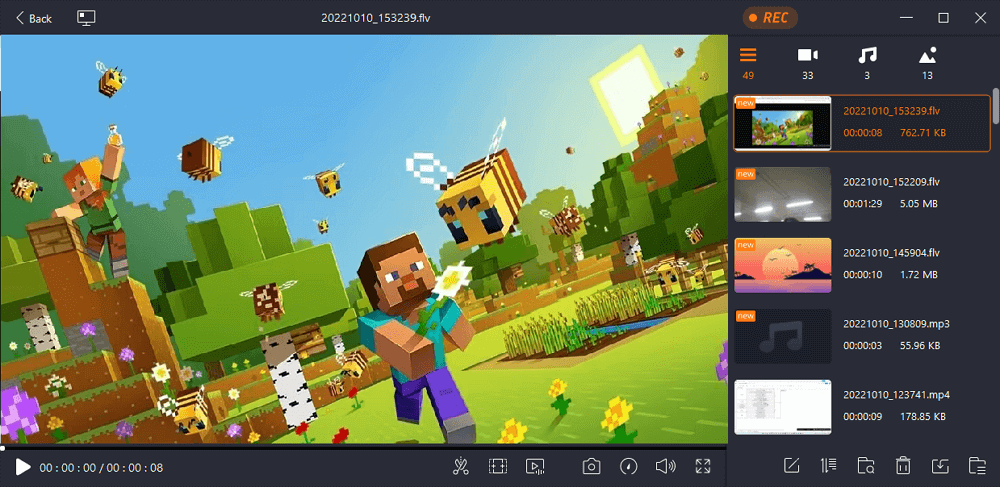 How to Record Geometry Dash With OBS
OBS Studio is probably one of the most powerful recording software right now. Whether you're going to record the computer screen playing a movie, an MV, or a game, you can use it to achieve your goal. In this case, you may want to record the gameplay for your YouTube videos, to share with your friends, or to obtain some experience from the video yourself. For whatever the reason is, OBS is a good option.
However, some people found that recording Geometry Dash on PC with OBS is not so satisfying because the lag is really troublesome. Hence in this article, we will cover how to record Geometry Dash in OBS without a lag or with a reduced lag.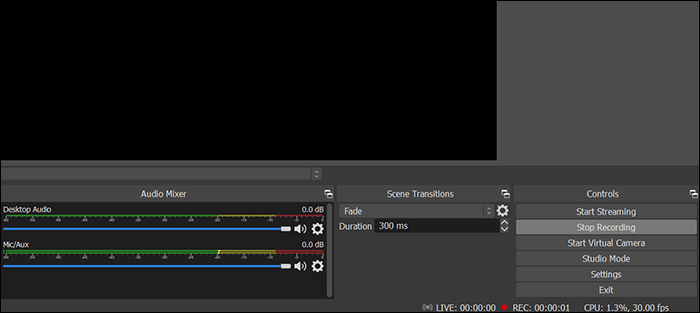 Can OBS be Used to Record Geometry Dash?
The answer is Yes. Over the years, OBS has been seen as a comprehensive game recorder. So you can use it to record Geometry Dash too. Although its interface is complicated for beginners, once you got the hang of it, it will be a steady hand for you. Of course, if you really find it difficult to use, you may choose the first tool - EaseUS RecExperts to record your gameplay.
Steps to Record Geometry Dash on a PC with OBS
In this part, we give you the detailed steps to record Geometry Dash on a PC with OBS. Just follow them one by one.
Step 1. Change settings to reduce lag in the recording. Go to "Output" > "Recording" > change the "Recording Format" to "flv." > Click on "OK" to save the settings. It is tested that this setting will reduce video lag and help you record a smooth video.
Step 2. Open OBS, and click on the "+" sign in the area of "Source" at the left bottom of the screen.
Step 3. After that, add a name to the recording screen and click on the "+" sign again to add a screen and name it "Record Geometry Dash".
Step 4. Click on the settings sign in the screen for recording Geometry Dash and choose "Default" > "Capture third-party overlays(such as steam)". Then press "OK" to save the settings.
Step 5. Choose to record the system audio or system audio with the microphone.
Step 6. Click on the "Recording" button to start recording your Geometry Dash playing. After recording, you can save the video to your computer for sharing or viewing.
Conclusion
In this article, we talked about how to Record Geometry Dash on PCs. As you can see from the content above, recording Geometry Dash on PCs is not as tough as you can't take. The most important thing for you to do is to choose the right tool.
OBS is normally seen as one of the best game recorders. But when it comes to recording Geometry Dash, many people think it is not so satisfying. Therefore, we recommend you to download EaseUS RecExperts and record Geometry Dash gameplay with it.
About the Author

Melissa is a sophisticated editor for EaseUS in tech blog writing. She is proficient in writing articles related to multimedia tools including screen recording, video editing, and PDF file conversion. Also, she's starting to write blogs about data security, including articles about data recovery, disk partitioning, data backup, etc.