
Table of Contents

About the Author

Related Posts

Best Audio Recording Software
There are tones of game recording software on the market, many of which claim to be the best, but which one on earth is the best software for recording gameplay? When you choose free video capture software, you need to consider the user interface, output formats, benchmark-setting, the sharpness of the video screen, the maximum price, etc.
We have tested many game screen recorders and bring you the top 20 best game recorder here. To help you understand each product faster, we have listed their essential advantages and disadvantages, hoping to help you quickly judge and find the best gaming screen recorder that suits your needs most.
| For Windows | For Both Windows and Mac | For Mac |
| --- | --- | --- |
| | | |
1. EaseUS RecExperts [Windows/Mac] 
EaseUS RecExperts is an excellent screen recorder that provides you with a screen recording function to capture your gameplay. You can select the full-screen or regional recording. To record the game automatically, you can use the task scheduler to set the start time for the mission. After finishing the task, this excellent game recorder for PC will directly save the gameplay video to your device. And the format of the output videos is customizable.
Apart from that, it is an easy-to-use video editor. Providing many basic editing tools, EaseUS RecExperts allows you to modify the recordings with those tools, such as trimming. Beyond that, this PC game recording software lets you take screenshots for some excellent frames in your recording.
More Features:
All-in-one screen & audio recording software (support system sound or microphone)
Capture your screen and webcam simultaneously
Support task scheduler to record automatically
Export recordings in MP4, MOV, MKV, and GIF formats
Edit captured video and audio files with built-in tools
As this great gaming recorder is perfectly compatible with Windows 11/10/8/7 and Mac, it can help you record whatever is on your device with no lag. Click on the button for a free download. No registration is needed.
Step 1. Launch the gameplay that you want to record. Next, open EaseUS RecExperts and click on the "Game" button on the left.

Step 2. Click on the "Select Game" option to choose a Game Window or Game Process. Then, you can enable the audio and webcam recording if needed. When all are done, click the big REC button to start the gameplay recording.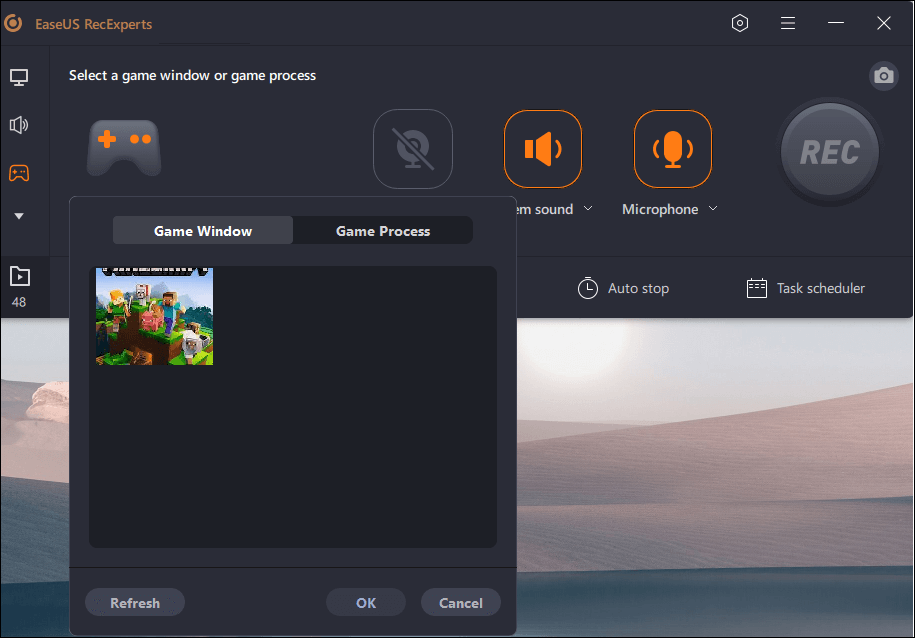 Step 3. A floating toolbar will appear, and you can pause or stop the recording. Besides that, the camera icon enables you to take a screenshot, and the timer icon lets you stop the recording automatically.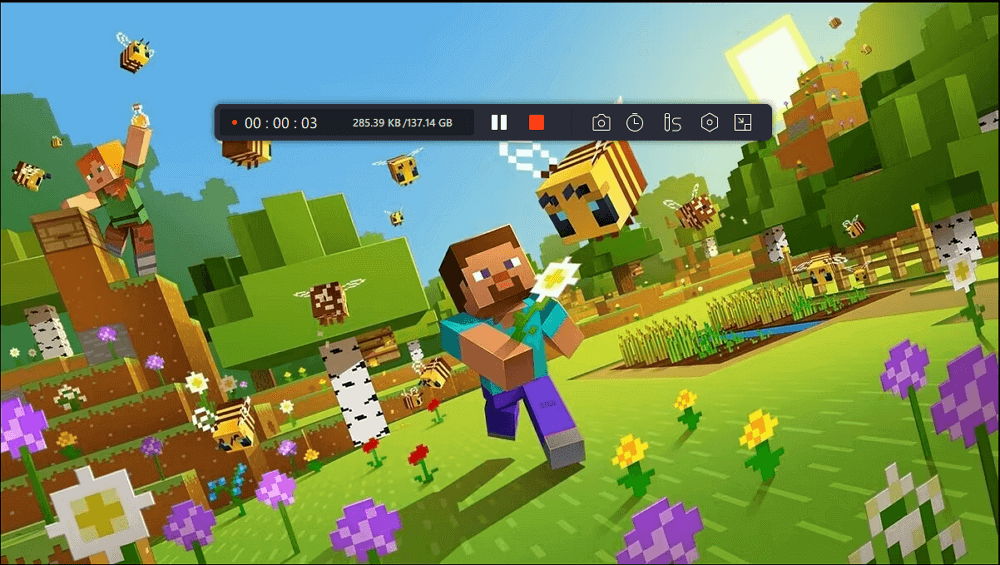 Step 4. After saving the recorded gameplay video, a media player will pop up. It gives you a built-in tool to trim the recording, extract audio from the video, and add an opening & ending part. You can find the tool at the bottom of the player.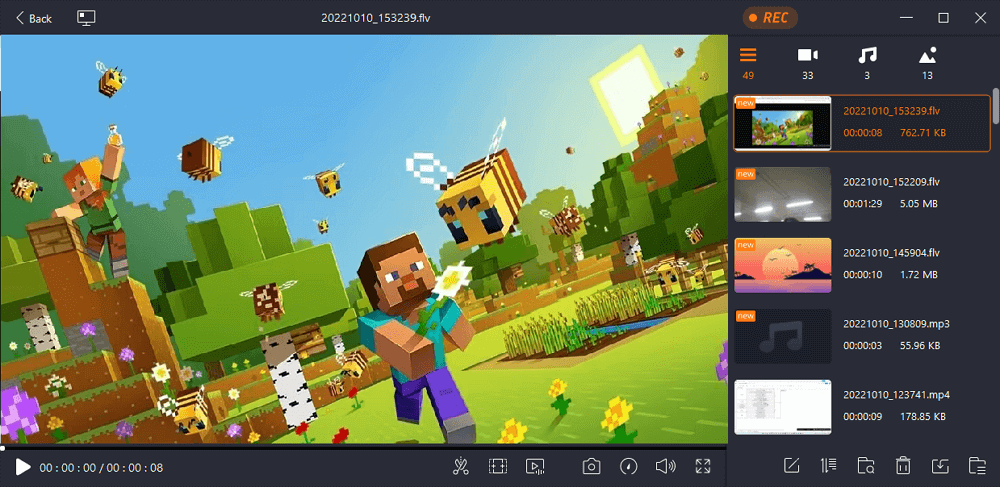 2. Windows 10 Xbox Game Bar [Windows] 
Xbox Game Bar is a pre-installed free video game capturing software for Windows 10 that allows you to capture game clips and screenshots. The game bar can be used to record apps, especially for gameplay capture.
This free game recording software is able to record most PC games and enable you to instantly access widgets for screen and sharing, finding teammates with LFG, chatting with friends across Xbox console, mobile, and PC without leaving your game.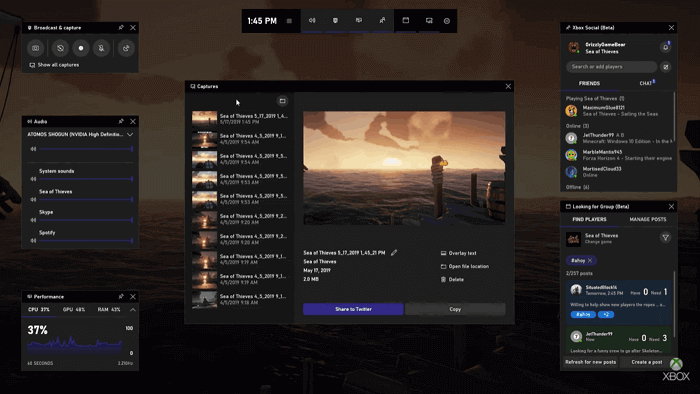 Pros:
Cons:
Record apps only
No pause function when recording the video
3. OBS Studio [Windows/Mac] 
As one of the best video game recording software, OBS Studio, this open source screen recorder works well for live streaming games on Twitch and recording other information.
It is the preferred tool for a lot of gamers out there. You are not required to change any settings, just select the source which you would like to record and start recording, and that's it. What's more, OBS is capable of recording in MP4 and FLV formats at a 1:1 ratio.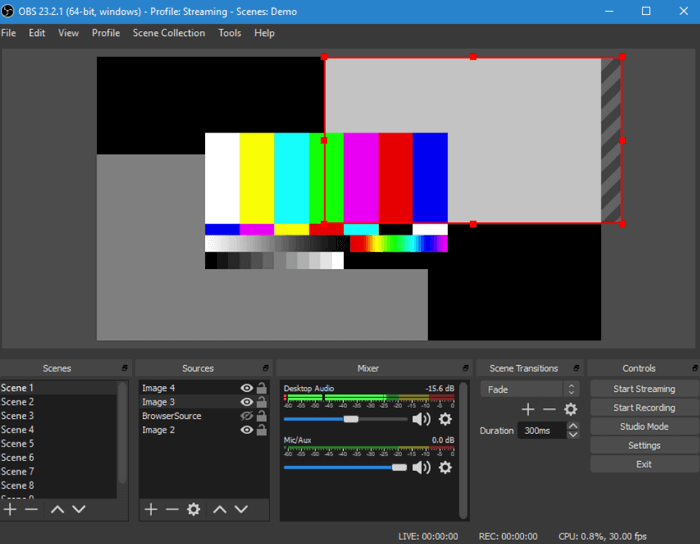 Pros:
Free and open source
Multiple platforms supported: Windows, Mac, or Linux
Various plugins to enhance the experience
Support for most live streaming platforms
Entirely free, with no limitations
Cons:
Not the most user-friendly UI
Lack of built-in video editing functions
4. Bandicam [Windows] 
Bandicam is good game recording software that enables you to record at high bitrates and frames. You can record games at flexible frame rates and 4K Ultra HD resolution. What's more, it offers the compression feature that ensures the recorded game video is in a small size without quality loss. The recordings can be used for gaming or other PC activities.
The green screen feature is beneficial for some professional users or YouTubers who want to broadcast a live stream. As one of the best game screen recorders, it enables you to remove the background and set a new one.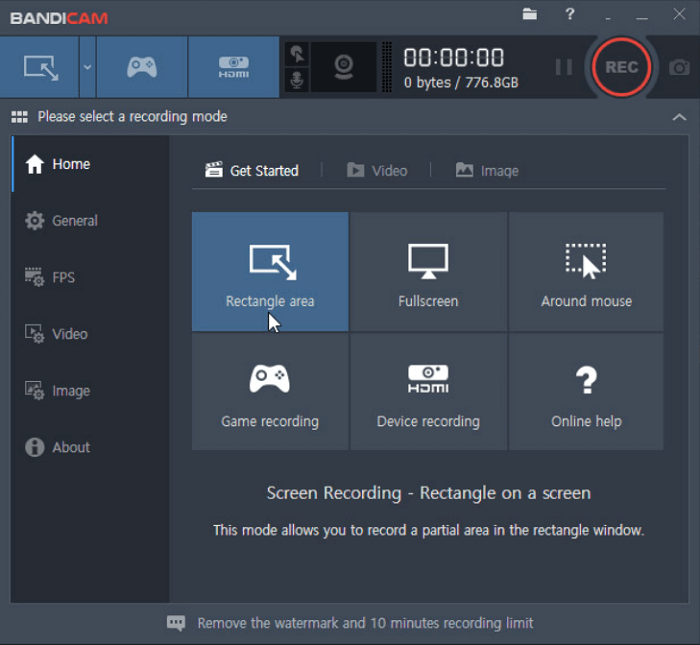 Pros:
Support three recording modes
Support real-time drawing
Built-in compression feature
Cons:
Lack of built-in video editor
The unregistered version records game video with a watermark
5. QuickTime Player [Mac] 
QuickTime Player is the default Mac video player, but it's more than a video player. You can use QuickTime Player to do video recording for free, including game recording. As it's perfectly compatible with your Mac, this best free gaming recording software can save you a lot of trouble.
It also has some basic video editing options, such as cutting, copying, adding a new soundtrack, adding annotations, rotating your video, and more. QuickTime game recording software uses onscreen controls, which are similar to a CD or DVD player.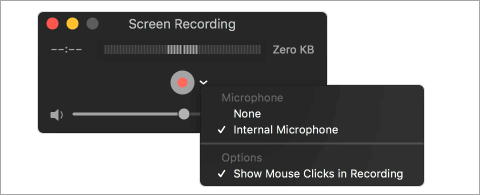 Pros:
Best game recording software free 
Small and intuitive interface
Record voice with video simultaneously
Provide basic video editing tools
Cons:
Lack of advanced features
System audio recording is not possible
6. Nvidia GeForce Experience [Windows] 
Nvidia Geforce Experience, another free gaming recording software for PC, enables you to capture and share videos, screenshots, and live streams with friends and keep your drivers up to date and optimize game settings.
Apart from updating your Nvidia drivers, this gaming screen recorder for Windows provides Nvidia's Shadowplay feature, allowing you to record games easily. And it can record at the same resolution as your display, so if you have a 4K panel, your recordings will also be in 4K.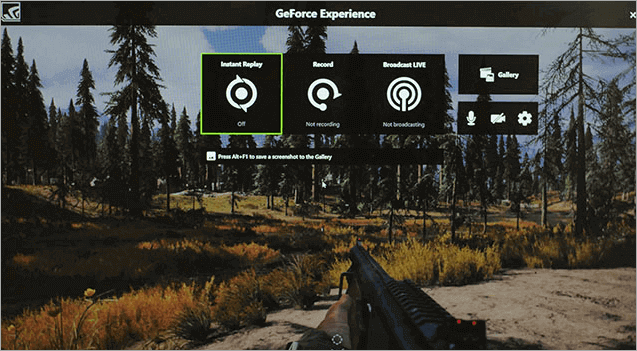 Pros:
If you have an Nvidia GPU, the GeForce Experience is free to use
Straightforward 
Use GPU to handle encoding
Share gameplay videos and live streams on platforms
Cons:
Work only with Nvidia GPUs 
Not as versatile as other professional recorders
7. ACTION [Windows] 
Action is also one of the best video game recording software on the market. You can use it to record a real-time game in high definition. This gaming screen recorder is compatible with any Windows version and supports many video formats, like AVI and MP4.
It can output high-quality MP4 @ 60fps gaming clips by utilizing Intel QSV, Nvidia NVENC, or AMD APP hardware acceleration. After recording, Action allows you to stream videos on different platforms such as YouTube, Livestream, Ustream, etc.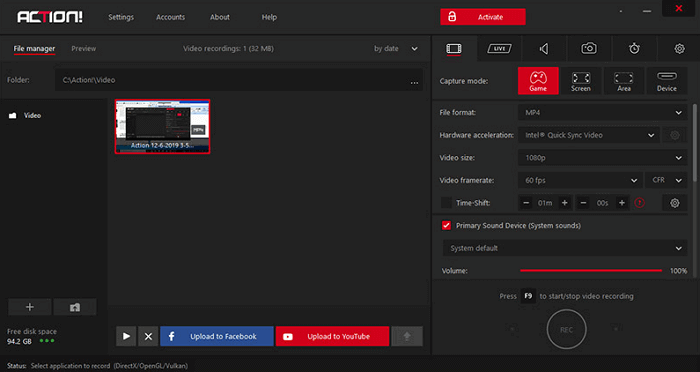 Pros:
Good stability while recording game
Support live streaming on different platforms
User-friendly interface
Cons:
Frame rates cannot be customized
struggle on older machines; require a decent spec machine
In free mode, game recording time is limited to 10 minutes
8. Monosnap [Mac] 
Monosnap is one of the gaming screen recorders for Mac. You can use this program to record your screen and take quick screenshots if you need to use it as a powerful screen recording software. This good game recording software supports different output formats and can help you make both gaming videos and GIFs with simple clicks.
This software can be used to capture a selected window or just a small part of the screen. After video recording, you can connect the cloud drives such as Dropbox, CloudApp, Yandex. Disk, Box.com, Google Drive, or FTPs and upload recorded videos to share with other PCs and smartphones.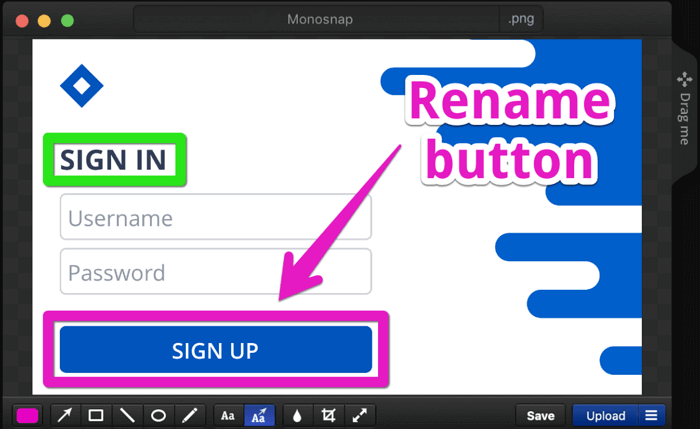 Pros:
Record in 60fps to ensure an ultra-smooth playback
Highlight important details with pen, text, arrow, and shape
Cons:
It doesn't support video editing
Mobile devices cannot be recorded
9. LoiLo Game Recorder [Windows] 
LoiLo Game Recorder is a lightweight video game recording software. It enables you to record ongoing video games and edit the recorded game video with various features.
Moreover, it supports Motion-JPEG. With this file format, you are to reach the best balance between file size and image quality. And it shows the least performance loss compared to any competitor's non-free software.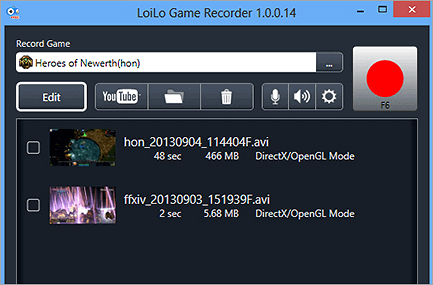 Pros:
Minimal performance loss
Record your games for free without any limitation
Create outstanding Full HD video in reasonable file size
Cons:
Not compatible with Windows Vista, XP, and Windows 10
10. Xsplit Gamecaster [Windows] 
XSplit Gamecaster is one of the best game screen recorders for PC out there. It is compatible with Twitch and can record your game and choose the appropriate settings according to your computer's properties without manual customization.
What's more, it comes with variable video editing features, such as picture-in-picture mode, watermarks, video annotations, and social media integration.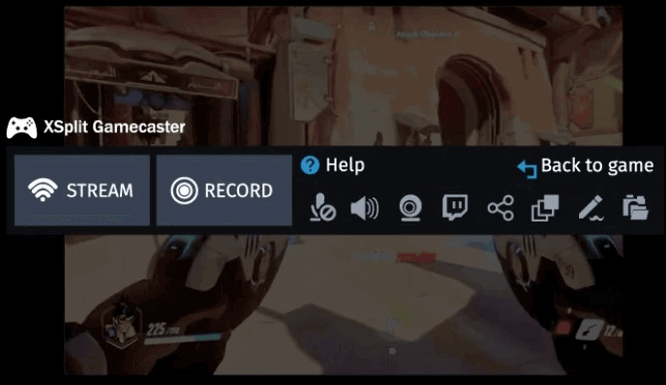 Pros:
Best PC game recording software for live stream
Enough features are embedded in the free version
Offer many video editing options
Record locally or stream to all popular platforms with one click
Cons:
Advanced features only come with a monthly subscription
It is a little expensive
11. ScreenFlick [Mac] 
Screenflick is a macOS app focused on the core essentials of screen recording and game recording. This Mac gaming recording software is popular for providing the highest quality screen and audio capture and delivering the key tools needed to communicate your screen experience to your viewers.
Unlike many other game screen recorders on Mac, this program even enables you to create time-lapse screen recordings of long projects and export them to multiple sizes, frame rates, and formats whenever needed. If you need some advanced recording features to make professional game videos, this gaming recorder is what you can never miss.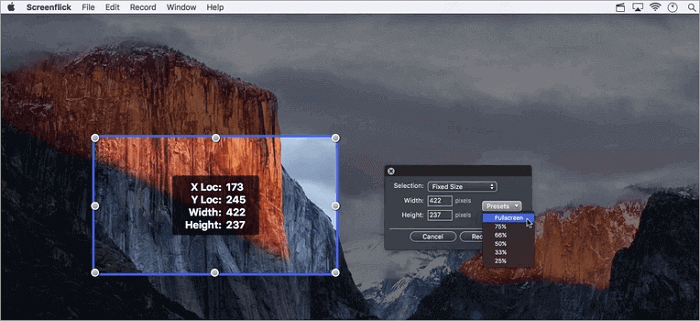 Pros:
Cons:
Don't support Livestream, timeline editing, adding annotations
Require OS X 10.10 or Later
12. Fraps [Windows] 
Fraps is another great gaming screen recorder for PC. It can put out some massive files due to its benchmarking nature, which provides you with a wide range of resolutions. You can set the video capture frame rate manually, and it can go from 30 to 120FPS.
There is also an option to enter a custom FPS value to set the frame rate even below 30. You also can use this gameplay recording software to record both screen and audio through external input or system sound.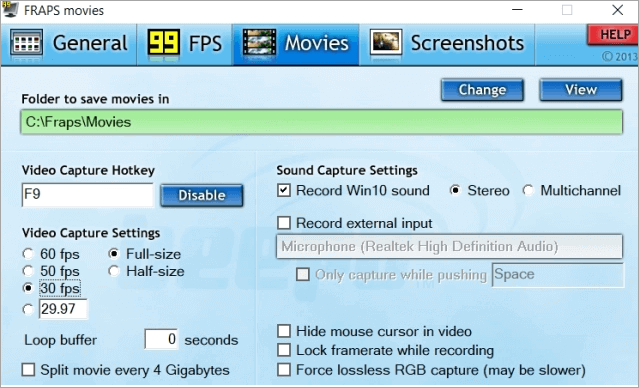 Pros:
User-friendly interface and simple to use
Handle a wide variety of resolutions
Benchmarking feature and statistics embedded
Highlight cursor and capture audio from an external input device
Cons:
Recorded video size is large
Lack of editing tools
13. Dxtory [Windows] 
Dxtory can also be regarded as one of the best gaming capture software, which offers many game recording features. Its interface is extremely user-friendly and makes it very simple to understand all settings and adjust them.
This program record a lossless video of the highest possible quality. Thus you need to prepare a lot of space for the captures. You can record the screen with game sound or microphone sound at the same time. You can customize video codecs in the video settings, frames per second from 10-120, sources, size, and format.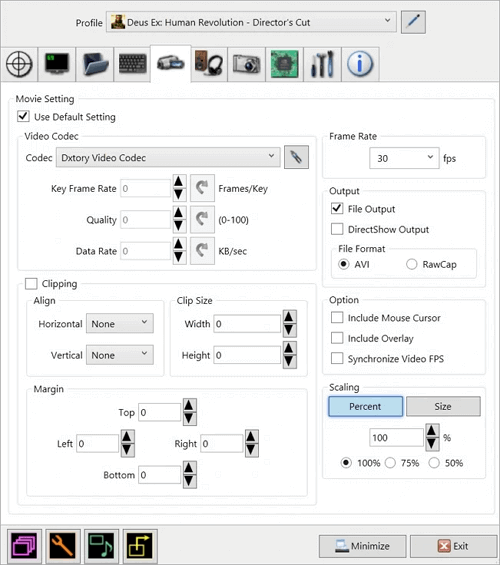 Pros:
Extremely flexible
Intuitive and straightforward user interface
Plenty of customization options
Cons:
Annoying trial notification
Not suitable for ordinary users
14. VLC Media Player [Mac] 
VLC is a free and open-source video recording software and free game recording software available for cross-platform, including Windows, macOS, Linux, Android, and iOS.
It's great music and video player of any format, including WMA, AAC, AIF, MP3, and much more on your computer. You can use it as a free screen video capture software with built-in screen recording features.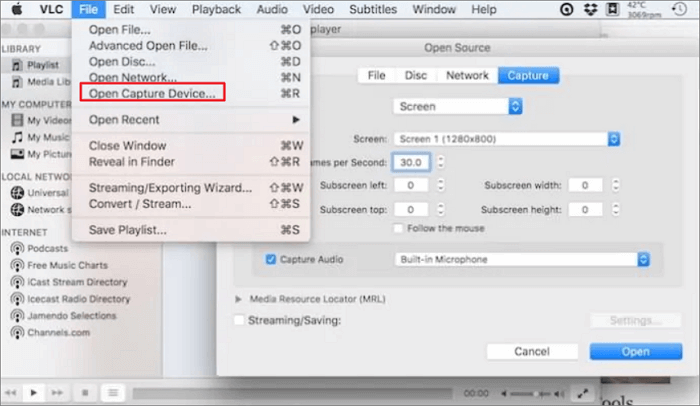 Pros:
Simple and clean user interface
Best free gaming recording software and video player
A simple and efficient way to create screen recordings
Cons:
No audio recording options
No video editing options
Only capture the full screen
15. Camtasia [Windows/Mac] 
Camtasia is the best gaming capture software for those who need advanced recording features. You are free to change the recording settings and adjust the recording window size. It also supports you to record with a camera or microphone.
It offers some advanced video editing features as a comprehensive video editing software to assist users in adding effects, text, transitions, etc., fantastic features to the target video.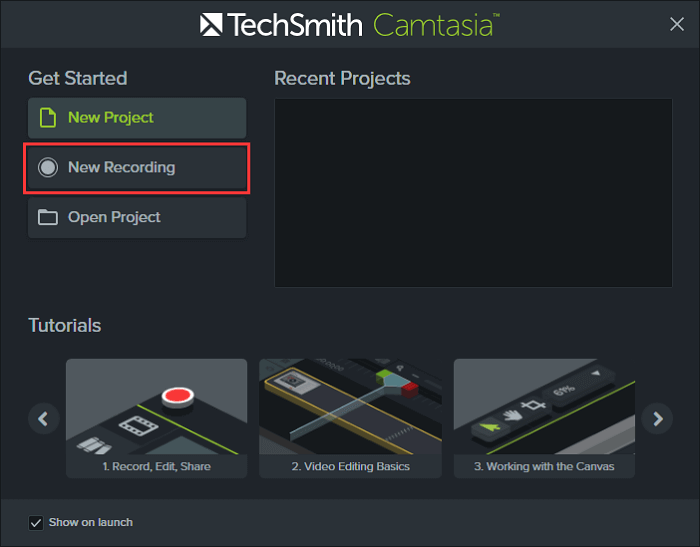 Pros:
Record full screen, window, region, webcam, and microphone
Feature a video editor to edit recorded game videos as imported videos
Support green screen effect of making it seem as if you are a part of the action
Easy to incorporate animated items, like callouts and scrolling text
Cons:
Only free for 30 days with a watermark
Cost is high for ordinary users
16. ShareX [Windows] 
ShareX is a screen recorder software, which is ad-free. This software is for professional developers and power users because the tools are very advanced. The editing features of this software are complex, but if someone has been using a screen recorder and an editor for some time now, they can easily grasp its use.
The screen recording can be turned into a GIF. Users can set their hotkeys, take screenshots, see the software's history, and grab content from web pages.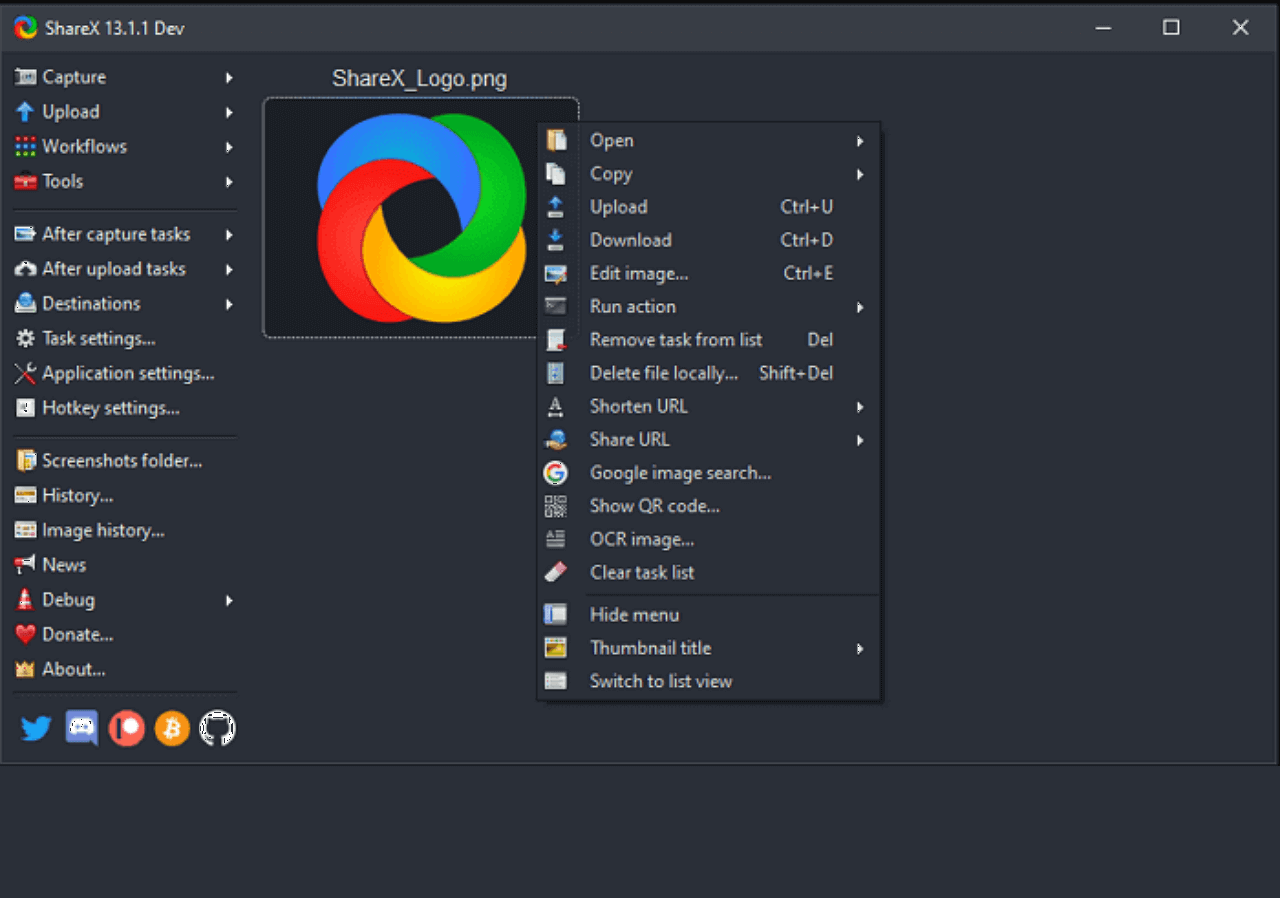 Pros:
Best PC game recording software with rich features
The user can set hotkeys for easy navigation
Users can put up their watermarks
Cons:
There is no option of webcam recording
The video editor option is not available
17. Ezvid [Windows] 
If you are looking for an easy and free game recorder for PCs with Windows 10 OS, Ezvid is the right software. The speed of this software is outstanding, and it can save the time of the user.
The user can record a video and upload it on YouTube within minutes. This software is specifically designed for those who frequently make video clips from their games and try to do it quickly.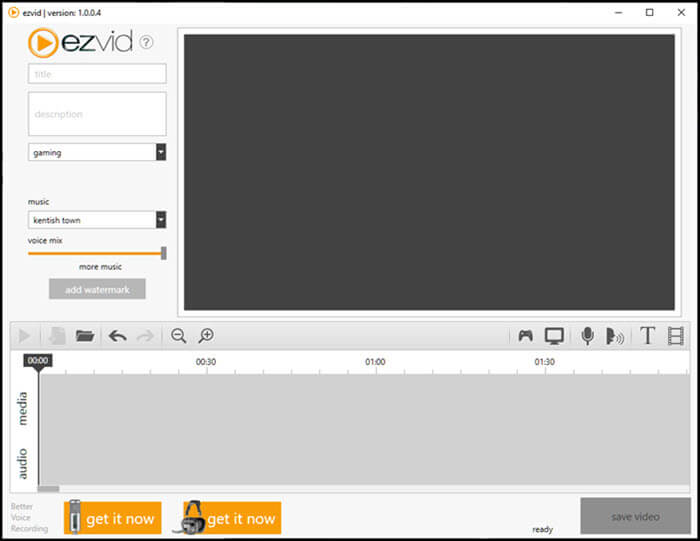 Pros:
The user can control the speed of the videos
It has a very modern interface, which is easy to use
The video can be uploaded to YouTube easily
Con:
There are minor bugs in this software
Gamers can't record the full screen of their PC
18. Movavi Screen Recorder [Windows/Mac] 
Movavi is a friendly PC game recording software that enables you to record various gameplays. It supports resolution up to 4K, and you can make a game recording in high quality.
Besides that, this game capture software provides a lot of video editing features so you can edit the recorded game video, for example, convert a video into GIF; trim, cut, and join videos; add animated titles and special effects, and much more.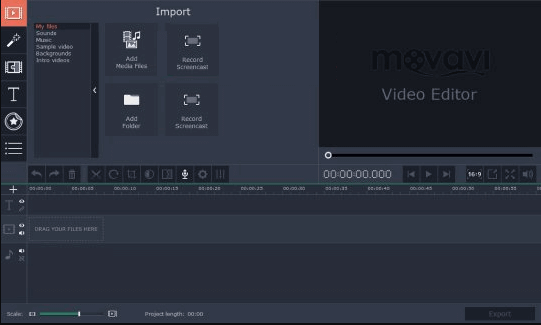 Pros:
Modern user interface and easier navigation
Set up the recording parameters
Record video and audio simultaneously
Come with many editing tools
Support screen resolution up to 4K
Cons:
A bit expensive
Limited features in the free trial version
19. TinyTake [Windows/Mac] 
TinyTake is a unique free gamer recorder in Windows 10, which would help users capture images and videos and add comments. This software comes with an online cloud gallery, where people can store all their screen captures and videos.
The user interface of this software is pretty simple and easy to use. The user can easily edit their screen with shapes, annotations, effects, font thickness, and much more.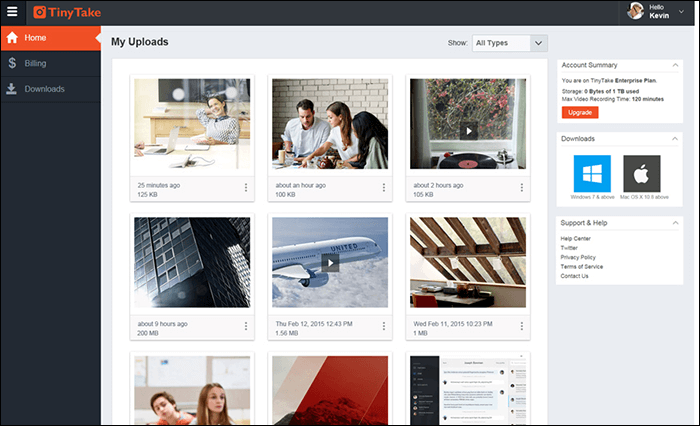 Pros:
Users can share their files in bulk
They can add a public URL, where people can access their files
The user can create their custom short keys
Con:
The free version can record the screen for five minutes only
Users can save files in mp4 format
The editing features are limited
20. Free Cam [Windows] 
If a gamer wants the best gaming capture software which is user-friendly and straightforward, then Free Cam is just what you want. The software comes with a video and audio editor and has a very user-friendly interface.
With this software's help, gamers can easily take screencasts of their game and share them with others. These screencasts are very professional, and a bonus is that it doesn't put a watermark on the screen. It is also ad-free software, which is why so many gamers love it.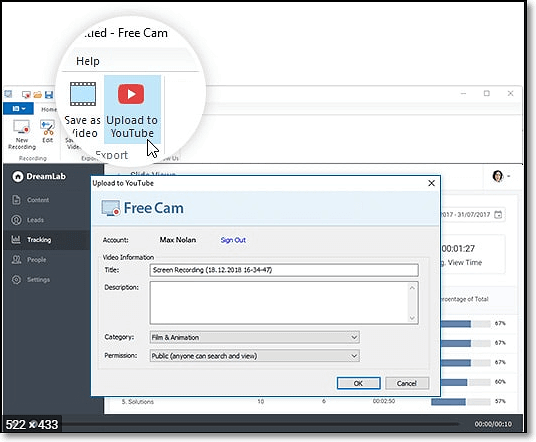 Pro:
There are no watermarks or time limits
No ads
The gamer can do voice recording
Users can remove the background noise
Con:
There is no webcam recording available
The recordings are saved to WMV
To Sum Up
That's it. These are the top 20 best free game recording software for PC. They have their disadvantages and advantages, some with video editing functions, some have no or limited ones. If you are a beginner, you can choose some free and simple-to-use tools. For advanced game recording, you can select high-level tools.
For beginners working on Windows or Mac, we highly recommend EaseUS RecExperts as the best game recording software. This gaming recorder is easy to use yet powerful. You can not only record gameplay but capture your screen, audio, and webcam with it. 
FAQs About Best Game Recorders for PC
If you still have questions about good game recording software for your device, those FAQs may be what you want.
1. What is the best software to record gameplay?
There is a lot of video game recording software available on the market. Here are the best 20 gaming recorders you can use on Windows 10 and Mac.
Top 2. Windows 10 Xbox Game Bar [Windows]
Top 3. OBS Studio [Windows/Mac]&
Top 4. Bandicam [Windows]&
Top 5. QuickTime Player [Mac]
Top 6. Nvidia GeForce Experience [Windows]
Top 7. ACTION [Windows]
Top 8. Monosnap [Mac]
Top 9. LoiLo Game Recorder [Windows]
Top 10. Xsplit Gamecaster [Windows]
Top 11. ScreenFlick [Mac]
Top 12. Fraps [Windows]
Top 13. Dxtory [Windows]
Top 14. VLC Media Player [Mac]
Top 15. Camtasia [Windows/Mac]
Top 16. ShareX [Windows]
Top 17. Ezvid [Windows]
Top 18. Movavi Screen Recorder [Windows/Mac]
Top 19. TinyTake [Windows/Mac]
Top 20. Free Cam [Windows]
2. What software do gamers use to record?
There is the 10 best game recording software free for you.
1. EaseUS RecExperts [Windows/Mac]
2. OBS Studio [Windows/Mac]
3. QuickTime Player [Mac]
4. Monosnap [Mac]&
5. ScreenFlick [Mac]
6. Dxtory [Windows]
7. VLC Media Player [Mac]
8. Camtasia [Windows/Mac]
9. ShareX [Windows]
10. TinyTake [Windows/Mac]
3. Which game recorder is the best?
Top 6 Best Game Recorders for PC and Mac:
1. EaseUS RecExperts
2. Bandicam
3. QuickTime Player
4. LoiLo Game Recorder
5. Fraps
6. VLC Media Player
You can download EaseUS RecExperts by clicking the button below.
About the Author

Melissa is a sophisticated editor for EaseUS in tech blog writing. She is proficient in writing articles related to screen recording, video editing, and PDF file converting.