
Table of Contents

About the Author

Related Posts

Best Audio Recording Software
Rel
Updated on Feb 02, 2023|
min read
Twitter space is a very popular online chat way at present. Twitter allows users to host audio-only discussions online and supports other users to join the space to have conversations or listen to these discussions with others. 
The discussion in Twitter space is very interesting, the topic is free and can cover a wide range of fields. This makes Twitter space a social channel that many young people are passionate about.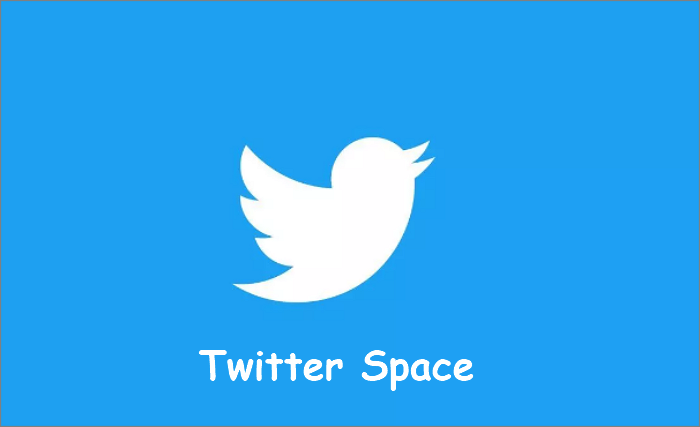 As the depth of people's topics increases, many users begin to think of revisiting these conversations, and even some listeners will feel frustrated because they accidentally missed a discussion. Fortunately, now we have a way to solve these problems.
This post will show you how to record Twitter spaces with detailed guides and clear screenshots. Whether you are the host of Twitter space or just an ordinary listener, you can find an effective way to review those interesting discussions from this article.
How to Record Twitter Spaces As a Host
It is so simple for the hosts to record Twitter Space. They can turn on the recording function when the space is open.
Conditions for Becoming a Twitter Space Host
However, it is worth noting that opening Twitter space requires conditions. First, your account needs to have more than 600 followers; Second, your account cannot be private, that is, it does not have protected tweets; Third, at present, only iOS and Android versions of Twitter support space creating, so you need to use the correct device. Only by meeting the above three conditions can you become the host of Twitter space smoothly.
Steps to Record Twitter Spaces As a Host
When you are qualified to be the host, please follow the steps below to start and record the Twitter space.
Step 1. Open Twitter with iPhone or Android phone and hit the space button at the bottom of the screen.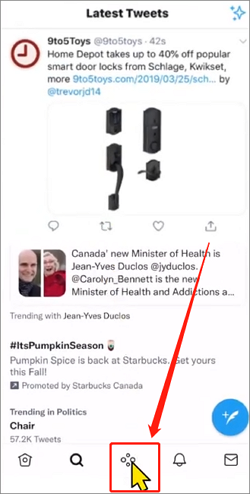 Step 2. First, you should name your space and confirm the topics.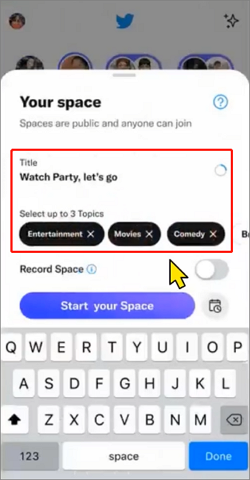 Step 3. Then turn on the Record Space switch.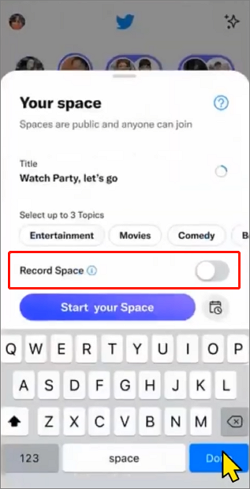 Step 4. Now you can hit the Start your Space button and wait for others to join.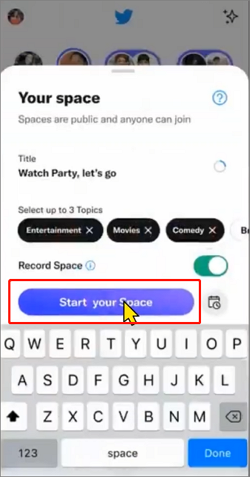 Tips You Should Know
After turning on the recording space function, the recording icon will appear at the top of the screen during the whole process of Twitter space keeping, indicating that your space is being recorded.
Only the voice of the user with permission to speak can be recorded into the Space recording.
The host can download this recording.
After the recording, the host can share the link of this recording with other users through a tweet. Users can freely play the recording at any time point.
All audio copies can only be saved for 30 to 120 days.
How to Record Twitter Spaces As a Listener
Up to now, ordinary listeners can't use the built-in function of Twitter to record Twitter space. Only the space host has the right to record the discussion. Although other users can review the content of the discussion through the link shared by the space host, if the host chooses not to share or the audio copy exceeds the time limit, you will feel disappointed.
But don't be too upset. You can use third-party software, such as EaseUS RecExperts, to record Twitter space.
EaseUS RecExperts is a useful screen recorder for Windows and Mac that has great performance in capturing everything on your computer's screen. 
At the same time, it is also an excellent streaming audio recorder, which can easily record any audio from your computer without sound delay or instability. EaseUS RecExperts supports GPU hardware acceleration, which enables you to record Twitter Space with a high recording quality. You can use this software to make various audio settings to achieve better recording results.
More Key Features of EaseUS RecExperts you should know:
Support all common video and audio formats
Can schedule recording plan
No watermark or time limit.
Support trim videos and audio on Windows and Mac
Now let's see how to record Twitter Space with EaseUS RecExperts.
Step 1. Launch EaseUS RecExperts. Choose a recording mode from "Full Screen" or "Region". If you choose the second one, you will need to select the recording area manually.

Step 2. After selecting the recording mode, you need to choose which audio to record. To record the system sound, click on the loudspeaker sign; to record the microphone sound, click on the mic sign; to record no sound, select nothing.

Step 3. Then, you can click the red "REC" button to start recording. If you want to pause the recording, click on the white "Pause" button; to end the recording, click on the red "Stop" button.

Step 4. After recording, the recording list window will open. Here you can view, split, delete, manage your recordings easily.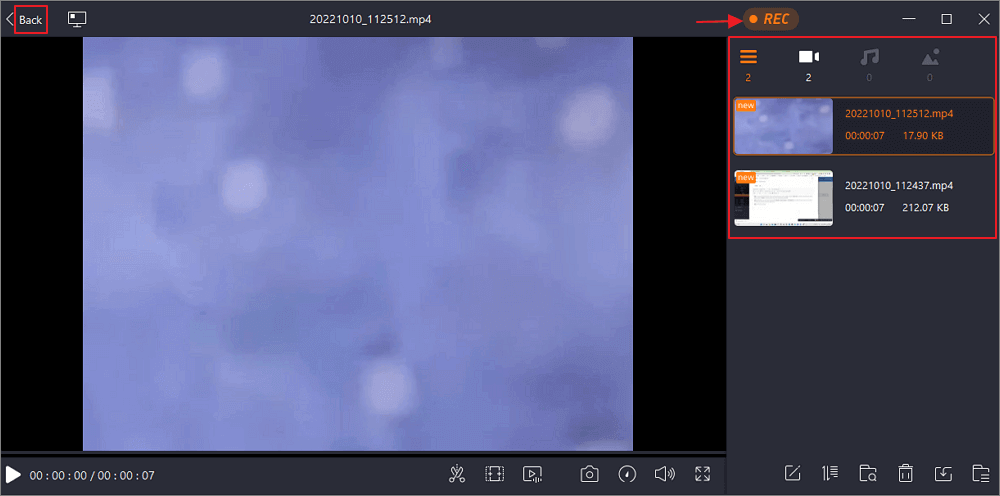 Conclusion
Whether you are a host or a listener, you can find out how to record Twitter spaces from this article. The recording function of Twitter allows the space host to record and share this discussion freely, but it has certain limitations. If you want high-quality recordings without time limits, please use EaseUS RecExperts as your helper.
FAQs
1. How to find recorded Twitter spaces
Follow the detailed guide below to find recorded Twitter spaces.
Step 1. Open Twitter App or twitter.com and click Settings and Privacy> Privacy and safety.
Step 2. Hit the Spaces button and choose the Hosting history option.
Step 3. Now you can find all spaces you recorded before and access them easily.
2. How to download recorded Twitter spaces
If you are an ordinary space listener, there is currently no way to help you download Twitter space audio. But if you are a space host, you can download an audio copy from your Twitter data archive. The following is a brief operation method.
Step 1. Open Twitter App or twitter.com and click Settings and Privacy> Your account.
Step 2. Hit the Download an archive of your data option and select the Request archive button.
Step 3. After receiving the note for download completion, you can open the .zip file
Step 4. Now navigate to data > spaces_media and play the audio.
About the Author

"Hi readers, I hope you can read my articles with happiness and enjoy your multimedia world!"