
Table of Contents

About the Author

Related Posts

Best Audio Recording Software
A powerful MP3 cutter is a must-have tool for both professional and amateur DJs. If you want to make your own unique compilation or remix, you will need to trim MP3 music clips from lengthy songs and add them to your existing playlist in the MP3 cutter software. Given that, we have collected some best MP3 cutter freeware and will share it with you here. Now, check out the rest of the article for our reviews and comparisons of the 6 best MP3 trimmer software.  
Best Recommendation - EaseUS RecExpts
When it comes to MP3 cutter software, you cannot miss EaseUS RecExperts. It provides an inbuilt media trimmer to help you easily cut the wanted part of your audio files. Using this program, you can not only cut MP3 file, but also FLAC, AAC, OGG, or other files with simple clicks. More than that, this built-in trimmer also lets you remove the unnecessary part from videos. You can even remove or delete frames from the video to meet your advanced needs.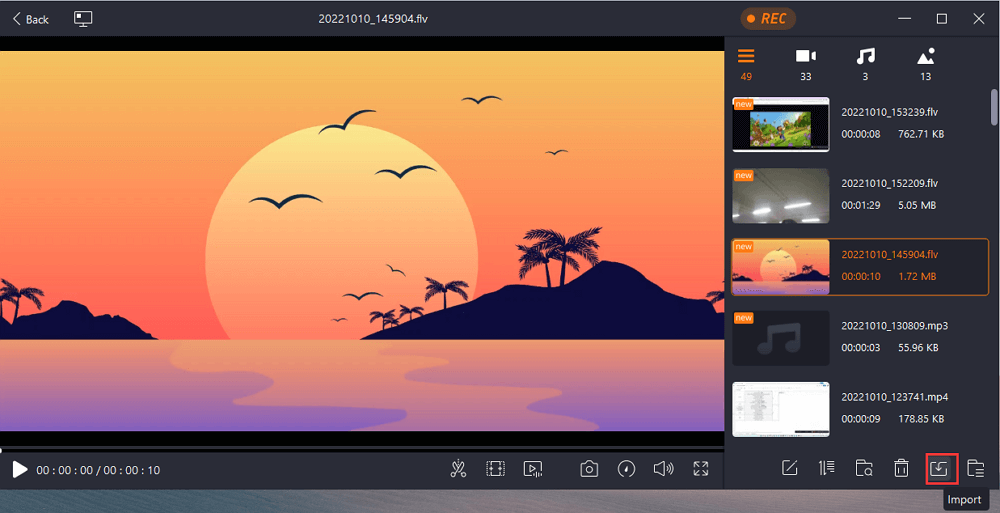 Trimming media files is just a part of RecExperts' functions. In addition, it lets you play various videos and audio, record full or partial screen, capture a webcam, make a step-by-step tutorial, create reaction videos, etc. Now, get it from the below button.
#Audacity
Audacity is an open-source and free MP3 recorder and cutter, available for Windows, macOS/OS X, and Linux operating systems. It is a popular tool among podcasters because of its ease of use and good results. With its help, you can cut out parts of your MP3 music files and save them as individual files. Besides, it also has many features for editing audio files: you can also combine multiple recordings into one file, reduce the volume on certain parts of audio files, remove background noise, apply sound effects to your music file, etc.
Most importantly, apart from MP3, it also supports importing and exporting WAV, OGG, and many other audio formats, which means you can easily cut almost all your audio files via Audacity.
Features:
Multi-track cutting, recording, and mixing
The audio recording feature is available
Edit audio files with cutting/copying/pasting/deleting, etc.
Offer adjustable track heights to aid mixing in stereo or surround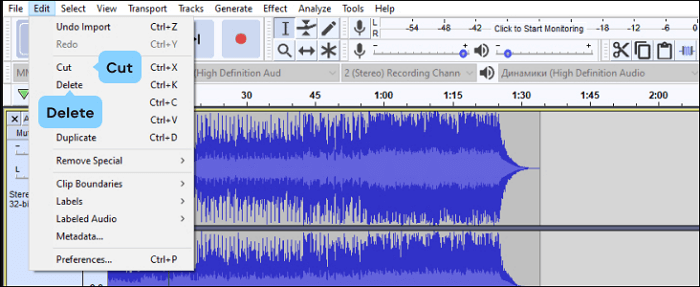 #WavePad Audio Editor
WavePad Audio Editor is an excellent audio editing software that provides a wide range of effects and tools for audio editing, including MP3 cutting. Using this program, you can easily remove unwanted parts of your MP3 files. Moreover, you can even use it to copy and paste, merge, remove noise, and add effects to your edited audio file, if needed.
One of the best things about this audio cutter is that it's so easy to use. The interface looks like most other music production software programs, so you'll be able to figure out how everything works without consulting the manual first. The program also provides step-by-step instructions when you begin using it for the first time, so there's no need to worry about getting lost in all of those buttons and menus!
Features:
Allow you to trim multiple audio files at once
Support almost all music file formats, including but not limited to MP3, VOX, WMA, AU, FLAC, etc.
Scrub, search, and bookmark audio for precise editing
Export the trimmed audio file in the audio format of your choice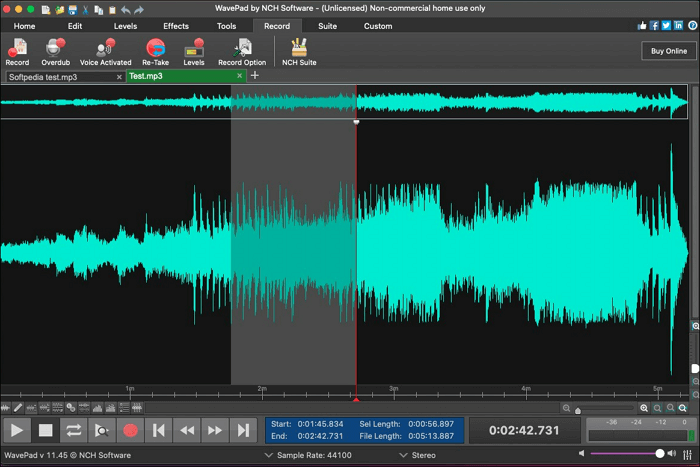 #Adobe Audition
Adobe Audition is a professional audio editor released in 2003. Now, it is used by many people worldwide as a primary tool for sound editing and mixing. While speaking of trimming MP3 files, it is just a piece of cake for this versatile audio editing software. It lets you freely cut any part of the audio file, and then edit it by adjusting sound quality, mixing an audio track, and more. You can achieve professional-quality audio, even if you're not a professional.
Features:
Enable you to edit multiple audio tracks at once
Allow you to record an audio file to process existing MP3 file for editing
Offer a lot of audio editing and fixing tools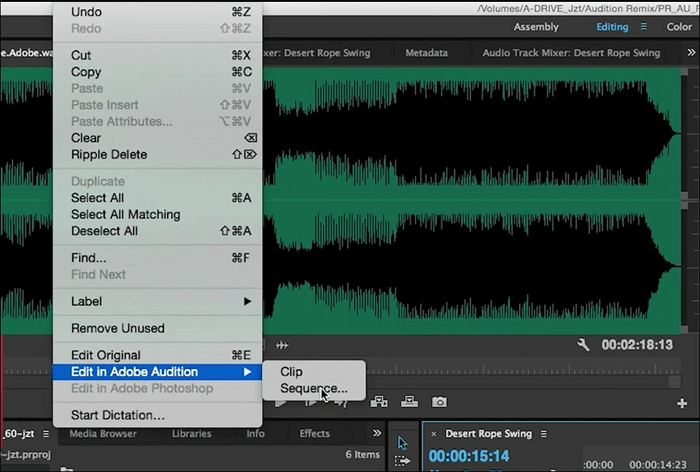 #GarageBand
GarageBand is a digital audio workstation developed by Apple Inc. for OS X and iOS. It allows users to record, arrange, edit, and playback various musical instruments, loops, and vocals. This software can also connect to external MIDI devices, allowing users, for example, to use a keyboard to input music into the application. 
Beyond being an audio editor, it is also a fantastic audio recording software. You can record vocals by clicking on the microphone icon at the top right of an empty track (or double-clicking on an existing track). You'll hear a count-in from 1-2-3, and when it's finished, the recording will start playing back what you said!
Features:
Available for both macOS and iOS devices
Allow you to fix rhythm issues with a click
Finesse your sound with audio effect plug-ins
One click to share the edited/trimmed audio file with friends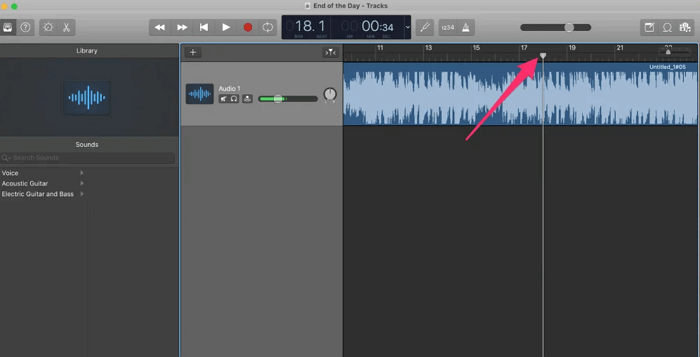 #Audio Trimmer
At last, we will share with you an online MP3 cutter called Audio Trimmer, which makes it easy to cut MP3 or trim WAV file without downloading or installing any software on your computer. To trim an audio file, just select the part you want to cut out, and then click Crop. Then, the trimmed audio file will be ready with a second or two. That's it! However, to cut audio files successfully via this online service, you need to make sure that you have a solid or stable internet connection. Otherwise, you will fail. 
Features:
Compatible with PC, Mac, and even mobile devices
Won't take up any space on your computer
Completely free to use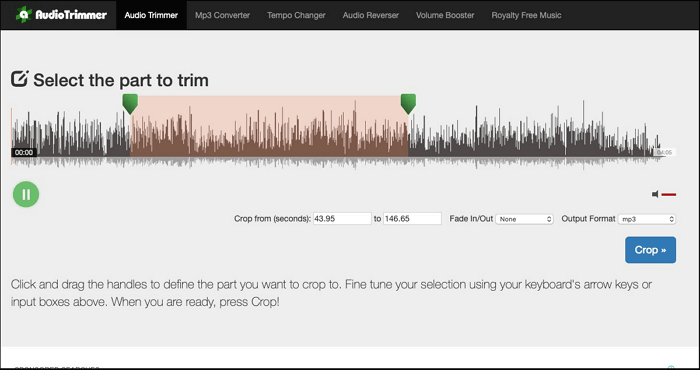 Free MP3 Cutter FAQs
1. Which is the best audio cutter?
There are lots of best audio cutters, and you can pick the one that suits your need best from the following options:
EaseUS RecExperts
Audacity
Adobe Audition
WavePad
GarageBand
2. How can I cut an MP3 without losing quality?
First of all, finding an excellent MP3 cutter is necessary, then you can cut it without losing quality. Here we take Audacity as an example:
Step 1. Open the MP3 File with Audacity. Next, click Selection Tool and click anywhere in your audio to place a marker.
Step 2. Drag your mouse to select the area you want to cut out. Once selected, the region will be grey, then press Ctrl + X to remove the unwanted part.
Step 3. Finally, click file> Save Project or File > Export Audio to save the trimmed MP3 file on your computer.
3. How do you cut music in VLC?
Follow the step-by-step guide below to cut music in VLC:
Step 1. Open the music file you want to cut via VLC.
Step 2. Click View on the menu bar, and then check the Advanced Controls option. Next, you will see four new buttons above the playback.
Step 3. Drag the progress bar to set the beginning point of your wanted part, and click the Record button and play the audio. When it reaches the point where you want the audio clip to cease, click on the red Record button again.
About the Author

Jane is an experienced editor for EaseUS focused on tech blog writing. Familiar with all kinds of video editing and screen recording software on the market, she specializes in composing posts about recording and editing videos. All the topics she chooses