
Table of Contents

About the Author

Related Posts

Best Audio Recording Software
A facecam and screen recorder is useful in making how-to clips, video tutorials, online lessons for remote education, or demonstrating your gameplay skills. We will show you the top 12 screen recorders with facecam and audio on Windows, Mac, iOS, Android, and even online on this page. Now let's take a look together.
Best 4 Screen Recorder with Facecam and Audio for PC
For users of Windows PC, there are numerous powerful and rich-featured screen recorders with facecam they can choose. The real problem is that they usually don't know how to decide and pick out the best free webcam recorder. In this part, we will talk about the top 4 screen recorder with facecam for pc.
1. EaseUS RecExperts for Windows
If you are a Windows 10 PC user and need multipurpose screen recording software with facecam functionality, the best choice is EaseUS RecExperts.
This software can capture a full screen or just part of the screen, along with your web camera. It is suitable for users who need to record facecam for YouTube videos or any other type of videos. In the settings, you can customize the output video's resolution freely so that you can get 1080/4K videos with simple clicks. When you are familiar with the tool, you can learn how to record Zoom meeting without permission on your own.
The target format of the facecam videos is also adjustable so that you can get a video in an appropriate format without converting it. Sometimes you may want to remove some necessary parts in your recordings, and this software offers you a built-in trimmer to do that easily.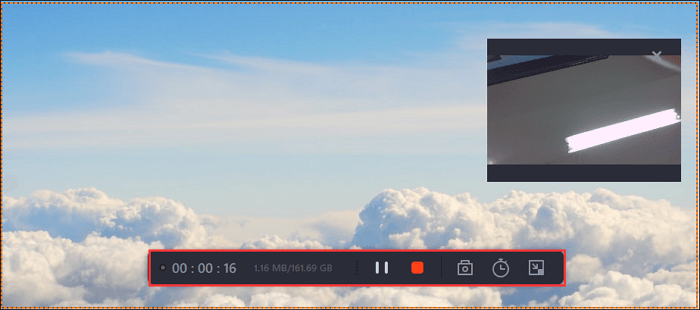 Pros:
Easy to use and suitable for novices

Record facecam for YouTube Videos

Edit the recorded videos by trimming and adding opening titles & closing credits
Support recording high-quality facecam videos in 1080P/4K
 
Cons:
There will be a watermark on the recorded video for the free version
Let's download this powerful facecam and screen recorder on your Windows 11/10/8/7 PC to begin your recording now. 

How to Use Facecam Recorder
Click and read this post if you want to know how to record facecam on Windows PC.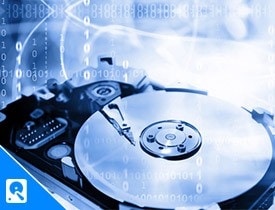 2. Ezvid
This free face camera recorder allows you to capture screens and videos easily. It comes with a built-in editor and helps in recording tutorial videos or school projects. With one click, you can record your screen and capture whatever appears on the computer screen - web pages, games, applications, paint programs, maps. Useful for small projects.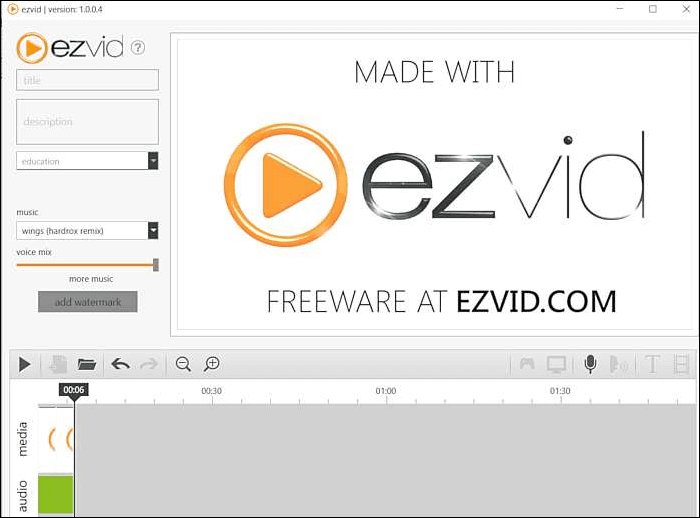 Pros:
A clean interface, ideal for small school projects
Integrated video editor
The Ezvid facecam recorder has a built-in YouTube sharing option
Cons:
Lack of some editing features like transition effects or zooming
Supports upload to YouTube, but there is no option to save on your PC
45 minutes of recording limitation
3. Bandicam
This light facecam recording software for PC helps you simultaneously record your screen video with audio and webcam on your Windows PC. It's simple to use and provides several useful features, like recording high-quality videos, gameplays, videos from external devices (Xbox/PlayStation, IPTV). You can schedule the recording task, as well as real-time drawing and screenshot tools.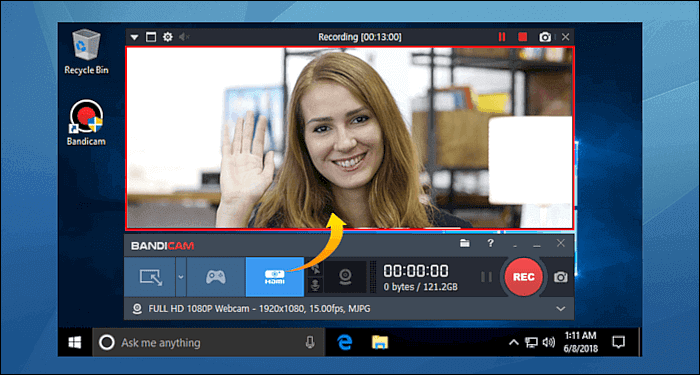 Pros:
A user-friendly interface
Record facecam for gaming videos
Capable of recording high fps games without too much lagging
A webcam recorder uses DirectX/OpenGL graphics to record HD video sessions
Cons:
No editing tools
The free version has a watermark
4. Screen Recorder Pro For Win10
This software, recommended by Microsoft Store, can capture screen, webcam, audio, and cursor movements. You can record selected areas, specific applications, the active window, the webcam. It allows you to capture mouse clicks or keystrokes, mix the voice recorded from the microphone or the speaker output by adjusting the voice's quality of voice.
The software provides a user-friendly yet professional screen recording tool. It lets you record the screen with high-quality audio and save the video in multiple formats, including MOV, MKV, AVI, MP4, and GIF. You can also record screens using your webcam.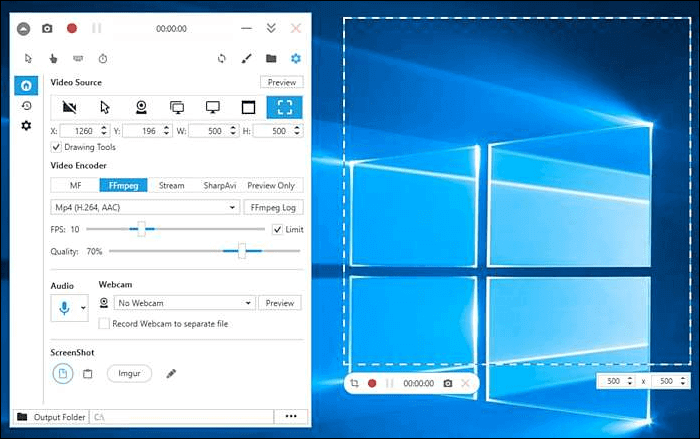 Pros:
You can record with/without the Mouse cursor
Record specific regions, screens, or windows
You can choose a voice input device, such as a microphone, speaker
Cons:
The output directory cannot be set to the root directory of the C drive
No tools for backup and recovery like a cloud
Best 4 Free Screen Recorder with Audio and Facecam on Mac
A great facecam recorder can help Mac users a lot in many aspects. Different people have different needs, so we should select the most suitable one according to our actual situation. Here, we will share with you the best 4 free Mac facecam and screen recorders. Choose the most appropriate recorder for yourself. 
1. Acethinker
Screen Grabber Pro, provided by Aceyhinker, is a desktop screen and facecam recorder, which helps you capture any activity happening on your computer screen. It supports multiple recording modes - capturing the entire screen or a selected region, recording only audio, capturing video from a webcam, or recording a specific area around the mouse.
You can record your gameplay, videos, instructions, tutorials, webinars, meetings, video chats, podcasts, music, etc. You can choose from various output formats like MP4, WMV, AVI, MOV, FLV, MPEG, VOB, GIF, etc., for smooth playback and sharing.
Pros:
A user-friendly interface
Record face camera video easily
Directly share the video with Facebook, Twitter, Google+, or Pinterest
Cons:
You need to purchase the pro version to enjoy most of its features
It doesn't support downloading of YouTube or other videos in the playlist
2. Screencast-O-Matic
This facecam recording software offers intuitive and affordable video creation tools. With an easy-to-use screen recorder, you can capture any area of your screen with the option to add narration from your microphone and video from your webcam. You can enhance your video with a video editor by adding text, shapes, and images. You can also create fun animations or fluid transitions.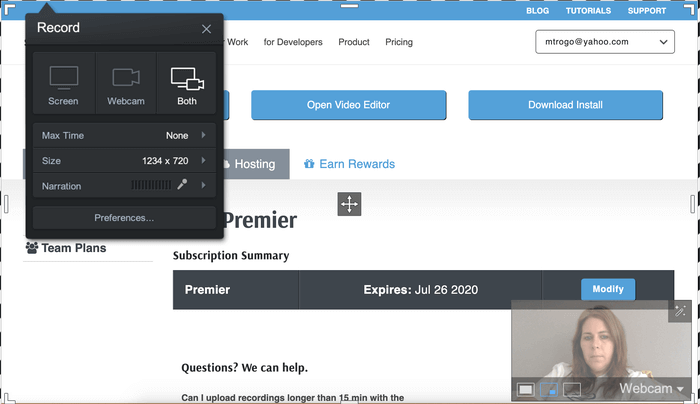 Pros:
Free to use and user-friendly
One-click uploading to YouTube, Google Drive, Dropbox, etc.
A built-in speech-to-text feature
A great Chrome extension that is easy to use
Cons:
Only the paid versions include editing tools
Access to computer audio and full-screen recording is a premium (paid) feature
3. QuickTime Player
QuickTime Player is a built-in screen and face camera recorder on your Mac computer. This freeware allows you to capture any part of your screen, record video and audio any time you like. While recording the screen, you can capture your own voice to add narrations to recordings for making tutorials.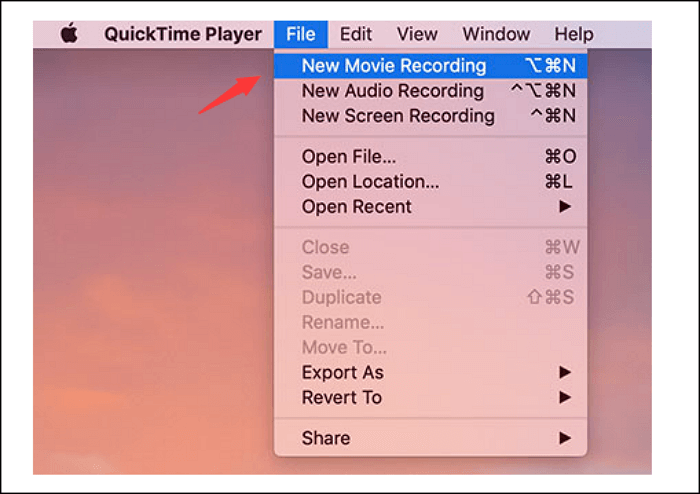 Pros:
Being able to record Skype videos in full screen, including webcam
Facecam recorder for YouTube
Users can crop and resize as well as edit all videos
Features H.264 video compression technology
Cons:
The end-user has to install extra codes manually
Has no playback support, especially for file formats like AVI and FLV
4. Screeny
Screeny is another screen and facecam recording software that makes screen capturing easy and gives you the freedom to capture your videos or images of any size. You can resize the capture area or input the exact pixel dimensions to set the capture area's size.
Screeny's purpose is to capture whatever is displayed on your screen. You can include a video feed from your built-in or external webcam inside your screen capture. Videos are always saved down at the highest possible quality and can be exported for the web.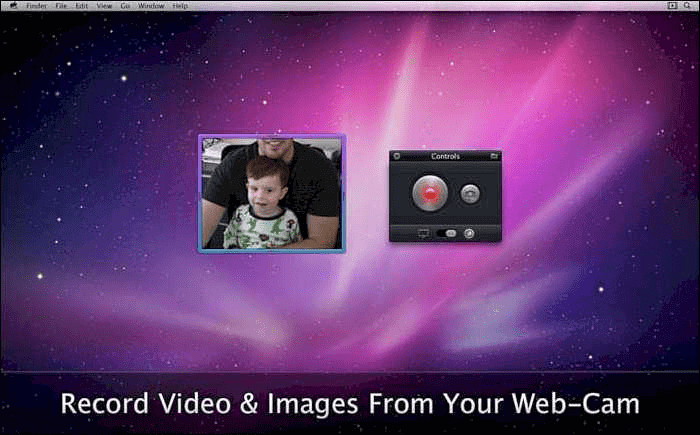 Pros:
The system requirements for running Screeny are low.
There's a built-in Editor
Screeny is free for personal use
Cons:
No demo available 
The last update is from 2013
Top 2 Free Face Camera Recorder with Audio Online
Some people are unwilling to download and install various computer applications, and they prefer to use online tools to address their needs. We carefully select the two of the best online face camera recorders. Check them now.
1. Veed. IO
People usually consider online tools as single-featured and can only complete one type of mission. But Veed. IO exceeds their expectation by providing powerful screen recording and video editing functions.
First of all, it offers you 8 kinds of layouts to record your facecam and computer screen, the differences between them are the position, size, and shape of the facecam window. You need to choose the most suitable one and start recording.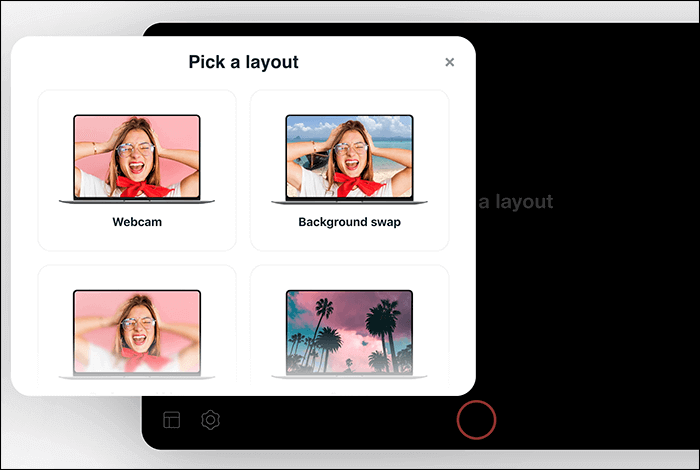 Pros:
Ease of use
Add subtitles, cut scenes, add audio
Clear and simple interface
Cons:
There will be a watermark on your video
No support for many video formats
2. Screen Capture
Screen Capture is a simple-to-use online facecam recorder with a simple and user-friendly interface. When you open its homepage, there will be four selectable options, including "Microphone," "Sound," "Webcam," and "Watermark."
If you want to record your screen with facecam and audio, first of all, you need to make clear the source of the audio you want to record. If you want to record your voice, you can record it using a microphone, and if you want to record the audio from your computer, choose the "Sound" option. Tick the box in the top right corner of the options you need to record.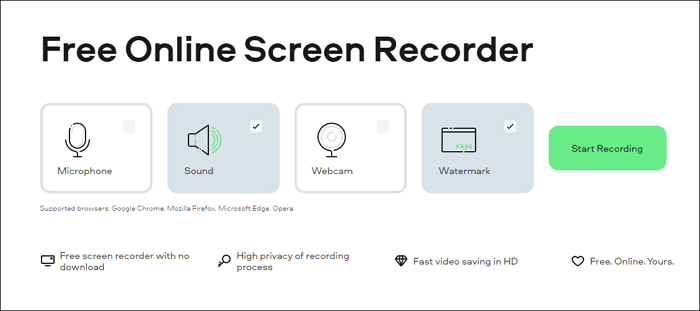 Pros:
Free to use
High privacy of the recording process
Record videos in high quality
Cons: 
Supported browsers are limited: Google Chrome, Mozilla Firefox, Microsoft Edge, Opera
Recording time is limited
Top 2 Screen Recorder with Facecam iOS/Android
More and more people use mobile phones to do screen recording activities for convenience. So in this part, we will share one screen recorder with audio and facecam app for iPhone and Android, respectively.
1. Record it!
This is a face cam app for mobile phones. This app lets you record using your front camera to capture your reactions to the screen while recording your iPhone screen, and you can flexibly adjust the reaction shape, position, and size according to your situation. Besides that, it also allows you to capture a screen with audio and a facecam to enhance your recording. Once done, you can easily share and export the recordings to other apps via email or AirDrop.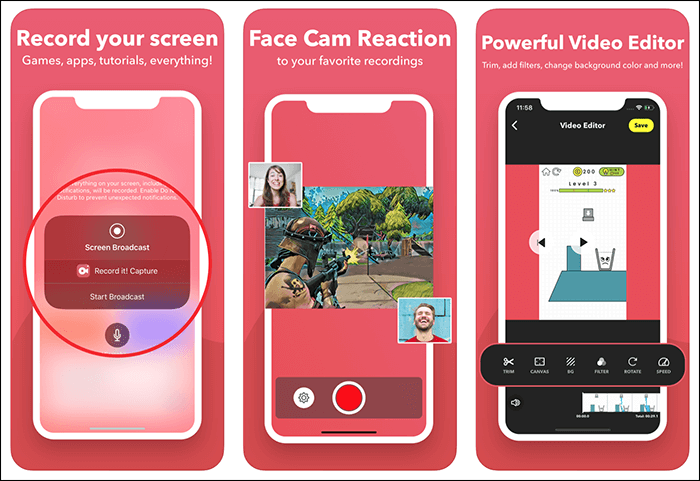 Pros:
Record games, video tutorials, and apps
Capture both sound and facecam while recording screen
Offer some video editing features like trimming, changing speed, etc.
Cons:
Require iOS 12.0 or later
2. Screen Recorder HD
Screen Recorder HD is the best choice for recording a screen with a facecam and audio on an Android phone. This face cam app makes it easy to capture your screen, apps, video games with high quality. Moreover, it even lets you turn on the camera and microphone to record yourself along with screen recording. 
Pros:
Simple to use
HD screen recording
Unlimited recording length
Top of the line user interface
Cons:
Lack of video editing tools
Conclusion
If you want to create a quality video with your webcam and screen, you can install a screen recorder with facecam and audio mentioned above, according to the platform you use – Windows or macOS.
People are often annoyed by the number of options available and can't decide on the right application. This guide can ease your decision. Definitely, for Windows 10 users, EaseUS RecExperts is a great choice on account of its feature-rich but easy and intuitive operation. You can record the face camera for YouTube effortlessly using this program.
Screen Recorder with Facecam FAQs
1. How do I record my screen with Facecam?
To record your screen with facecam, all you need is a screen and webcam recorder. Below are some recommendations for desktop users:
Acethinker
Screencast-O-Matic
QuickTime Player
Screeny
2. How do I record my screen with Facecam on my phone?
We all know that Android and iOS devices provide a built-in screen recorder that lets you record your screen. However, when it comes to recording screen with facecam, the built-in screen recorder might not work. So, to complete the task, you can use some professional screen recorders:
Record it!
Screen Recorder HD
When you get it, you can easily record the screen and yourself on your phone.
3. How do I record my screen and Facecam on Windows?
First of all, download an excellent screen and facecam recorder - EaseUS RecExperts:
Step 1. Launch it, and choose the recording area you want to capture.
Step 2. Next, enable the webcam option and choose audio sources if needed.
Step 3. At last, click REC to start your recording.
About the Author

Melissa is a sophisticated editor for EaseUS in tech blog writing. She is proficient in writing articles related to multimedia tools including screen recording, video editing, and PDF file conversion. Also, she's starting to write blogs about data security, including articles about data recovery, disk partitioning, data backup, etc.