
Table of Contents

About the Author

Related Posts

Best Audio Recording Software
If you start editing your video files, you will probably need to remove some of the unnecessary parts in them. Or, if you find there are some noisy parts that prevent your audience from listening clearly, it's better to cut them off.
If you are using Audacity on your device, you don't have to go to other tools since they can trim audio for you. If you are not good at using it, this tutorial is for you. If you still find it difficult to use this tool, you may try the alternatives given in this article.
PAGE CONTENT:
Part 1. How to Cut Audio in Audacity
Audacity is one of the best open-source audio and screen recorders free download on Windows, macOS, Linux, and UNIX operating systems. Supporting various audio formats like WMA, MP3, AIFF, WAV, and AAC, it is a capable tool that can help you record, edit and create audio files.
Its features are the reasons why users like it so much. It also lets users customize the program interface. No matter whether you want to record or trim audio files, you can rely on it. Now, let's check the detailed steps of how to cut audio in Audacity.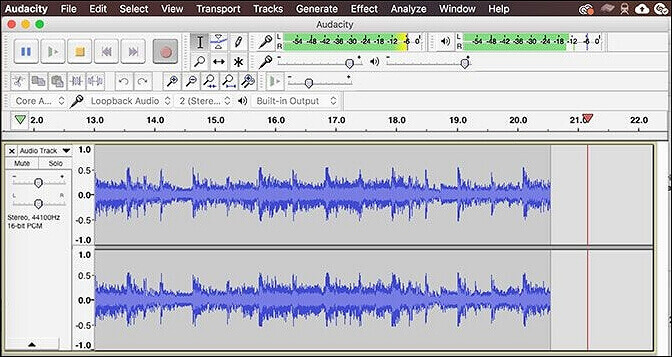 Step 1. Open the audio file you want to cut in Audacity. Click the "Selection Tool", and place a marker to the start and end points.
Step 2. Go to "Edit" > "Clip Boundaries" > "Split" to start.
Step 3. Use the "Delete" key to delete the part or move it to another location.
Part 2. Cut Audio with Audacity Alternatives
Since Audacity is limited in functions and its performance is unstable sometimes, you can have a look at some other alternatives below.
Tool 1. How to Trim Audio in EaseUS RecExperts
Known as screen recording software, EaseUS RecExperts can also be used to edit your audio recordings. Not only recordings but a third-party audio file can also be imported and edited. You can choose to change the playback speed of the audio or cut the audio to get rid of the unwanted parts. Besides, you can edit the audio frame by frame to make it better.
As a recorder, its main functions focus on recording the screen and audio. With this tool, you can record all activities going on on your screen. For instance, you can record Google Meet, record a Zoom meeting, record the webcam, record the microphone, record the gameplay, etc.
Now, download the tool from the button below and follow the steps to cut an audio with it.
Step 1. Launch EaseUS RecExperts, and click on "Recordings" to open the audio trimmer.

Step 2. Import your audio file by clicking the "Import" button in the lower right corner.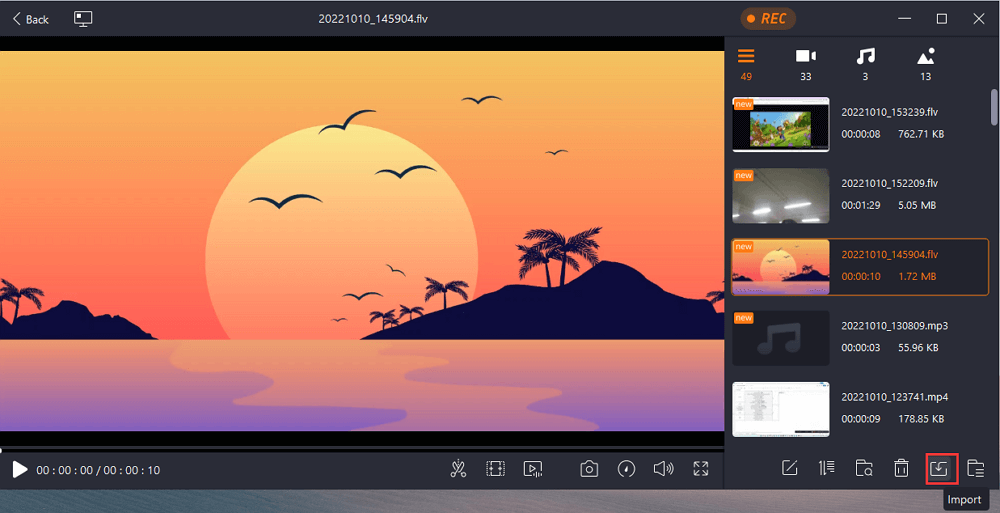 Step 3. Choose the scissor button to cut or trim your audio file. Once done, click "Save" to export the trimmed audio file.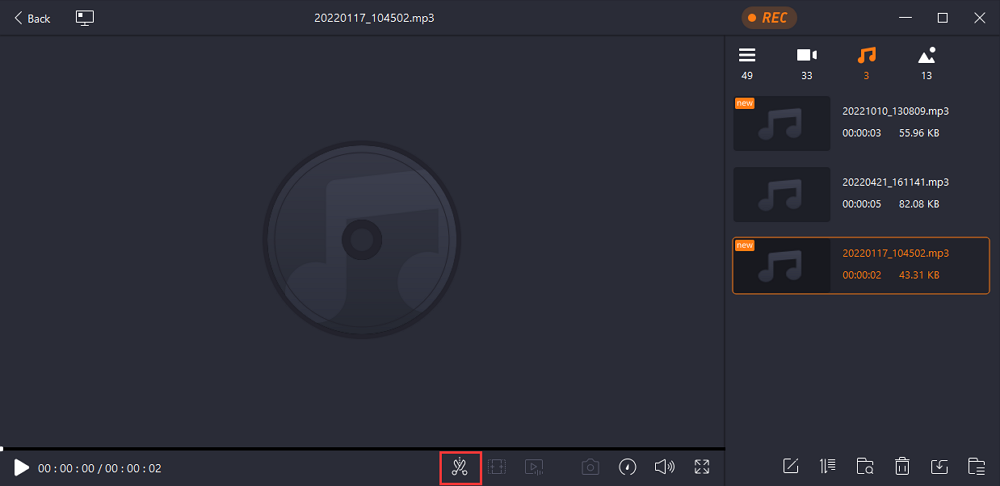 Tool 2. Trim Audio with Audio Trimmer
Audio Trimmer is an online tool that lets you trim audio files without a hassle. With this tool, you can trim audio tracks without installing software on your device. The interface is designed quite clear, so you can cut an audio file with simple clicks.
The whole process is simple, just upload your track, select the part you want to cut out, and click crop to start. And your trimmed soundtrack will be ready within seconds. Audio files like MP3, WAV, WMA, OGG, etc. are all supported. See how to use this tool below.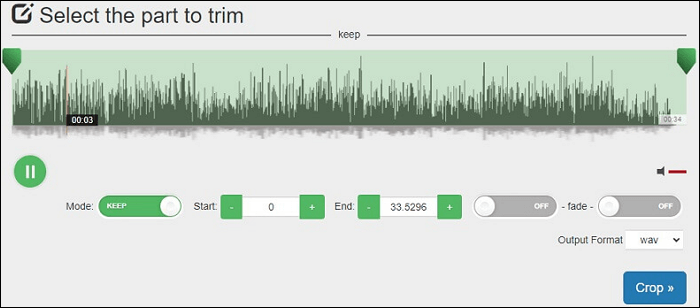 Step 1. Click "Upload" to import an audio file from your device.
Step 2. Drag the handles to select the part you would like to cut and press "Crop".
Step 3. After trimming, you can download your trimmed audio file.
Tool 3. How to Cut Audio with Clideo
Clideo enables you to work with not only MP3 but also with OGG, WMA, WAV, and other popular audio file formats. With the tool, you can also add fade-in and fade-out effects to your music track. Or you can convert an audio file to any format you might need.
As an online tool, it makes the whole process go much faster. The interface of this audio trimmer is quite intuitive, so you won't encounter any problems when you need to cut audio files. Moreover, cutting audio with this tool won't lead to quality loss. Check the following steps.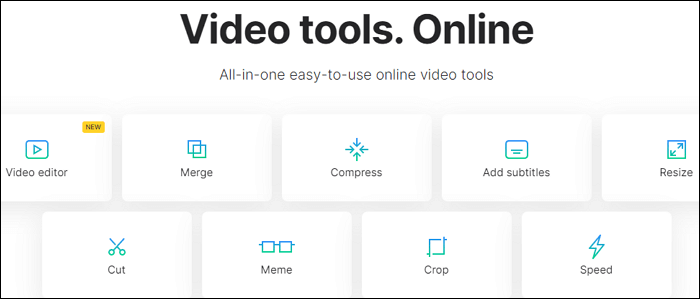 Step 1. Choose a file from your computer by dragging and dropping your file to the website page. You can also select it from Dropbox or Google Drive.
Step 2. Select a part of the audio and let the tool cut it for you.
Step 3. When your file is processed, save it to your device.
Tool 4. Trim Audio Using AConvert
You can also use AConvert to cut MP3, WAV, OGG, AAC, and Trim WAV files, etc. The letter "A" in the domain name stands for "All". It means that all kinds of documents, including ebooks, images, video, audio, and archive files, can be converted online for free.
But more importantly, it is now be used to make changes to an audio file. Trimming is the function you may need. Remember that the audio file size can be up to 200M. The operation is quite simple. Just follow the steps below to cut an audio with AConvert.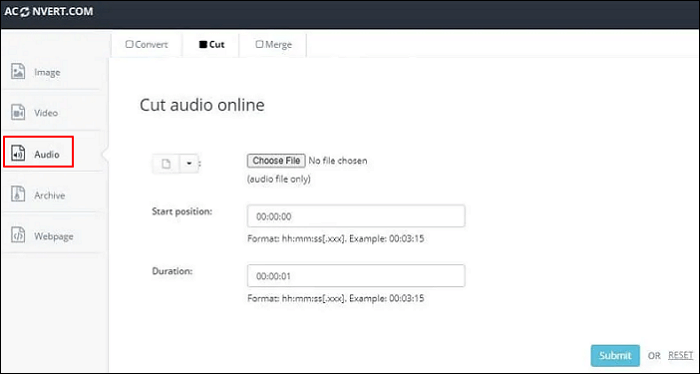 Step 1. Click the "Choose file" button to select a file on your computer. Or you can click the dropdown button to choose an online file from URL, Google Drive, or Dropbox.
Step 2. Set the start point and duration for the trimmed audio fragment.
Step 3. Click the "Submit" button to start processing. You can find the output files in the "Output Results" section.
FAQs about Cutting Audio in Audacity
Here we give you some frequently asked questions and their answers for your reference.
1. How do you cut and remove audio in audacity?
To do it, you need to download and install Audacity on your computer, then follow the steps below:
1. Open the audio file you want to cut in Audacity. Click the "Selection Tool" , and place a marker to the start and end points.
2. Go to "Edit" > "Clip Boundaries" > "Split" to start.
3. Use the "Delete" key on your keyboard to delete the part or move it to another location.
2. How do I cut a part of an audio file?
If you are using a Windows or Mac computer, we suggest you download and use EaseUS RecExperts. With this tool, you can edit your audio files frame by frame, giving you a nearly perfect experience.
Conclusion
With the tools we give you in this article, you can split an audio file into multiple sections, delete fragments or move them to other places. Audacity is a good choice for editing an audio clip. But in case you can't use it well, we suggest you download and use EaseUS RecExperts from the button below.
About the Author

Melissa is a sophisticated editor for EaseUS in tech blog writing. She is proficient in writing articles related to multimedia tools including screen recording, video editing, and PDF file conversion. Also, she's starting to write blogs about data security, including articles about data recovery, disk partitioning, data backup, etc.