
Table of Contents

About the Author

Related Posts

Best Audio Recording Software
While there are many best free screen recorder software available to help capture the screen on your computer, not many of those are available as a full version with all features. If you want a screen recorder free download full version, just hunt for the right tool that comes with all of the options you need.
A professional screen recorder helps record any area on your screen, offering the option to include both system and mic sounds, and allows you to add a webcam overlay. If you have not yet found the right tool, don't worry, as this guide lists 13 of the best screen recorder free download for both Windows PC and Mac machines.
Top 13 Screen Recorder Free Download:
Compatibility: Windows 11/10/8.1/8/7 and macOS
EaseUS RecExperts is a rich-featured Mac and Windows screen recorder. With a friendly user interface, it is easy for both beginners and pros. This software allows you to record full screen on Windows 10, or customize the recording region to record part of screen freely. 
Moreover, it is also a no time limit screen recorder that enables you to capture the screen or video for as long as you like. It also can be used as a smart audio recorder, which lets you grab the system sound, mic audio, or both simultaneously and save the recordings in various popular audio formats. While recording, you are also able to capture the screen with or without audio, microphone, and webcam.

Main Features of EaseUS RecExperts:
Safe and secure screen recorder
Capture the screen and audio at the same time
Record full screen as well as certain areas of the screen
A beneficial and easy-to-use screen recorder no lag
Save recordings in a preferred format like MP4, AVI, etc. 
Also, there are more relevant recording features provided by this screen recorder. Now, hit the below button to download the screen recording software! No registration is needed. 
2. Movavi
Compatibility: Windows 10/8/7 and macOS 10.13 or higher
Movavi is the second screen recorder that you can download for free. Working well on Windows and Mac, it can capture both screen recordings and screenshots. The captured videos will be saved in MKV format by default, providing superb quality to users.
Furthermore, you can convert the recording into formats like PNG, JPG, JPG, MP4, GIF, and lots more if you want. After recording, you can export the videos to Google Drive, YouTube, Whatsapp, and Telegram within a few clicks. Check more below.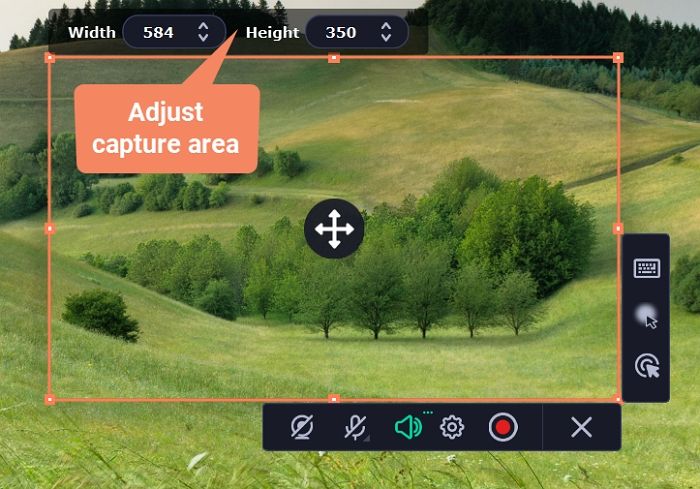 Features:
Offer instant screen capture edits
Support numerous formats and options
Feature a minimalist interface 
Schedule recording in advance
3. Camtasia
Compatibility: Windows 10 or later; macOS 10.15 or higher
Camtasia is a valuable screenshot tool for anyone looking to capture screen and video recordings. Users can download it for free and use it to record both on-screen activity and webcam footage simultaneously. In this way, it allows users to create unique and informative tutorials and lessons.
Moreover, this software also lets users add annotations, transitions, visual effects, etc. You can even use it to convert recorded files into multiple formats and share directly to platforms like YouTube and Vimeo. Check its features below.

Features:
Export recorded video in HD quality
Offer zoom-in and zoom-out feature
Support AVI, MP3, MP4, GIF, etc.
Annotate your videos easily
4. Bandicam 
Compatibility: Windows Vista/7/8/10
Most free download screen recording tools have a generic option to record your screen. However, that is not the case with Bandicam. This tool has been built to specifically help you with various types of recording on your computer. You can use this program to record the screen on your computer, record gameplay, and even record content from your attached devices.
You can do this all from within the same application. During the recording, you can perform real-time drawings to explain your concepts better. You also have an option to add a webcam overlay to your recordings if you want. To some degree, it is one of the best screen recorder for PC on the market.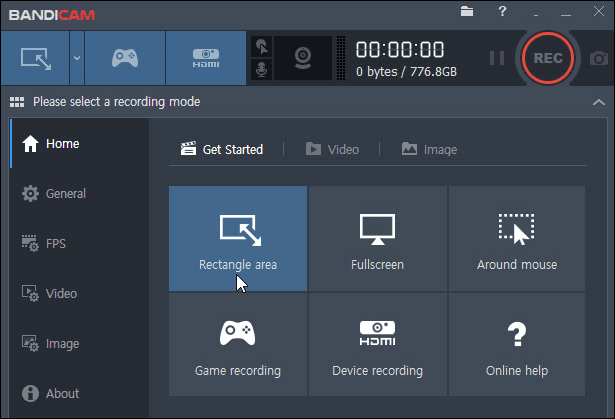 Features:
Modern and compact user interface
Record and save your screen in many formats
Support for recording video from your webcam
Capture footage from your connected devices
5. OBS Studio 
Compatibility: macOS and Windows
If you happen to be someone who does media streaming, you have likely used OBS Studio. This program can let you stream videos from your computer and helps you make many kinds of recordings on your machine. There are several recording sources for you to choose from, and you can record your screen and audio.
This open-source screen recorder allows you to record and broadcast your content without requiring any physical equipment. When opening the tool, you find that there are numerous sources to add. You can add your screen, microphones, system audio, and even a webcam to record content. When the app is set up, all you need to do is click a button, and your recording begins.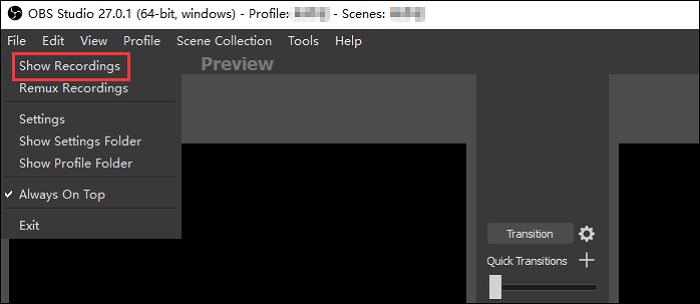 Features:
Screen recorder no lag
Work across many popular platforms
Several recording sources to use in the program
Screen recorder free download on Windows & Mac
Find all your recordings under one roof
6. Screencast-O-Matic
Compatibility: Web
Screencast-O-Matic is another screen recording tool that can help you make screen captures for various purposes. It can be used to capture any part of your screen, or the webcam, or record screen and webcam simultaneously.
Moreover, it also offers basic video editing tools to help you add music, audio narration, captions, etc. You can edit your recorded videos after recording easily.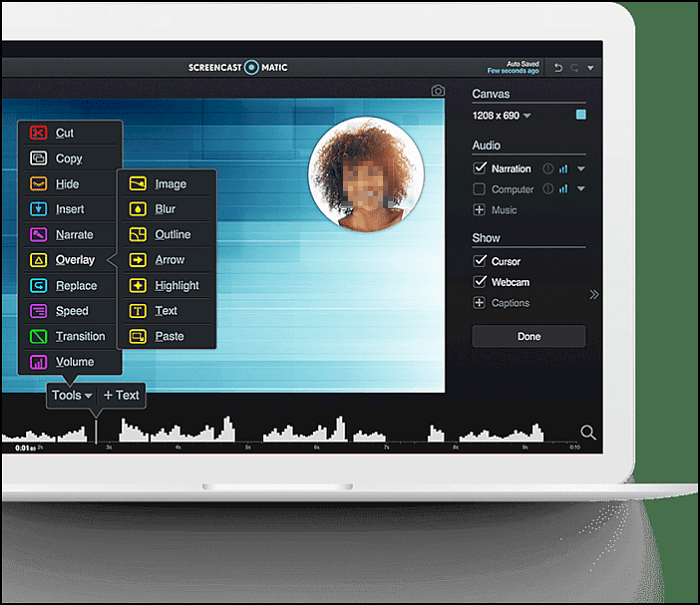 Features:
It is easy to use for novices
Capture your screen as an image
Offer many advanced editing tools
Make your recordings a tutorial
7. Fraps 
Compatibility: Windows XP/2003/Vista/7/8/10
You have probably heard of Fraps, which is a benchmarking software for games. However, it is not limited to that particular feature, and you can use Fraps for free. The tool works just fine to help prepare any screen recordings on your computer. Despite the tool being years old, it is still widely used, relevant, and fully working.
There are many features offered in this software. The first one is to benchmark your setup, which you might or might not want to use. The second one is to capture the screen of your computer. If you are looking to record motions, then the screen recording option will be used the most.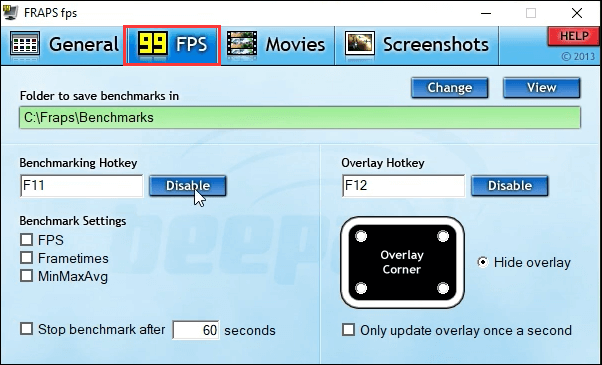 Features:
Find out the frame per second for your gameplay
Record the screen on your machine
High-quality screen recording
8. CamStudio  
Compatibility: Windows XP/Vista/7/8/10
While many full-version programs have gone paid, and some have become unaffordable, CamStudio has remained a free and open-source screen recorder since the beginning.
You can use this software with ease, but you can do many things with it in addition to recording your screen. You can use the program to record all kinds of screen activity, including your sound. It is a perfect tool for screen recording, no matter what purpose you are doing it for.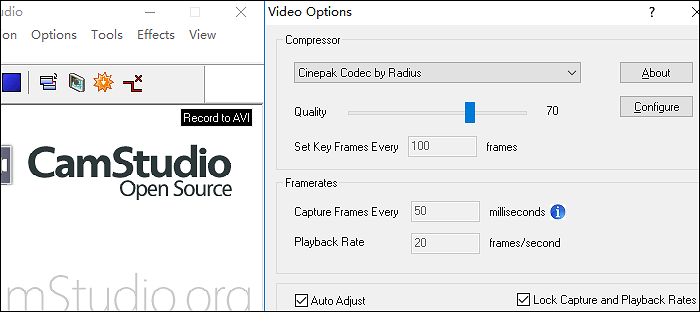 Features:
Full version software with no cost
Lossless video encoding after the recording
Capture the entire screen or certain areas of the screen
Support for on-screen captions
A multi-purpose screen recording tool
9. TinyTake 
Compatibility: Windows 7/8/10
TinyTake might not be as popular as other PC screen recorders for free download mentioned here, but that does not mean it lacks any features. You can definitely download this screen recorder for Windows 10 and enjoy all of the features it has to offer.
From quickly recording your computer screen to assigning custom hotkeys to various tasks, you can do that all in this program on your computer. This portable screen recorder also supports long screen recordings of up to two hours, which should be enough for most people. It is as easy as that to make some nice recordings with this software on your computer.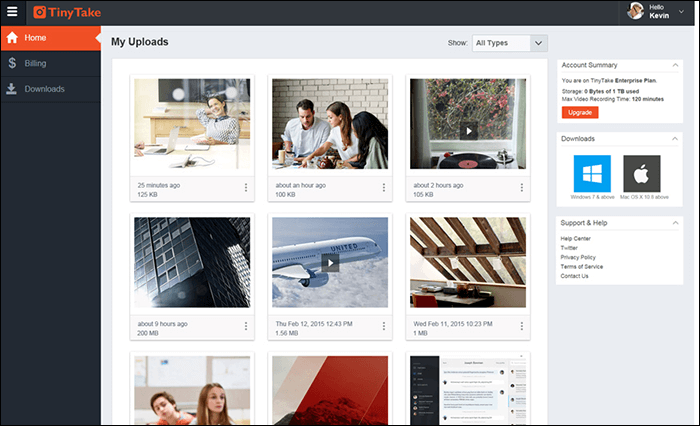 Features:
Record your screen for 120 minutes
Work as a webcam recorder
Flexible options to record your screen
Store your recordings on the cloud server
Zoom in and out of your content
10. EaseUS RecExperts for Mac 
Compatibility: macOS 10.13 or later
When it comes to the recorders you can download for Mac, EaseUS RecExperts for Mac can be one of the most popular tools. This lightweight Mac screen recorder help beginners to start recording without much effort.
This Mac recorder enables you to capture video and audio in optional qualities. Whether you want to save storage space or obtain high-quality files, it can meet your needs perfectly.
The best part of it is that you can select the audio source effortlessly. This tool offers you three available audio sources, i.e., you can record desktop audio and record voice on Mac respectively or synchronously.

Main Features:
Record a GIF easily
Internal audio recorder on Mac
Record screen and audio at the same time on Mac
Screen recorder free download with no registration
Free download this rich-featured and user-friendly screen recorder! If there are things you want to record and save on Mac, don't miss this one. Click on the button to get it on your Mac now.
If you want to learn the detailed steps on recording the screen with audio. Follow the below post.
11. QuickTime Player 
Compatibility: macOS
For a macOS user, you actually do not need to hunt for third-party apps to record your screen. You can use the default recorder, QuickTime Player for full screen recording, allowing you to make various recordings on your machine. You have probably been using this app as a media player, and you can now use it as a screen recorder.
You only need to reveal an option, and that is all. This app lets you record screen as long as you want and show the total size of your screen recording in real-time.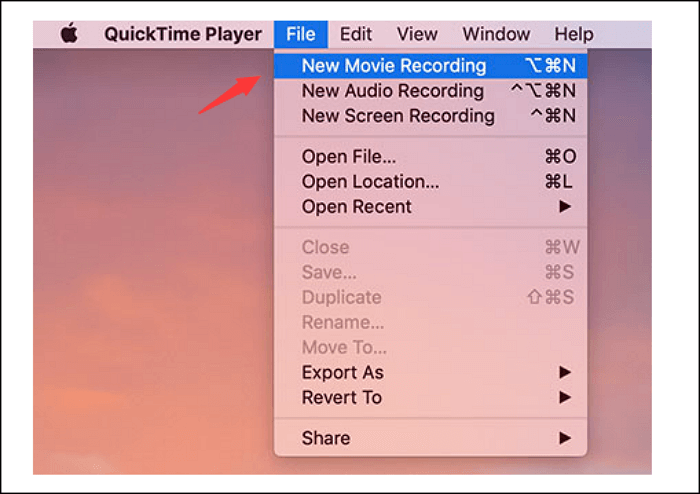 Features:
Fully compatible with all Mac machines
Choose a custom audio source for your screen recordings
Screen recorder on Mac free download
No learning curve is required and even beginners can use it
12. ShareX
Compatibility: Windows 
ShareX is built for those who looking for a method to record videos of high quality. Recording the screen with audio is achievable using this open source screen screencasting software. You can select the area to record, including the full screen and custom area. Also, it's a rich-featured screenshot tool to deal with your screen. It has a built-in screenshot folder to save your images. At the same time, you can edit the image with its default tools.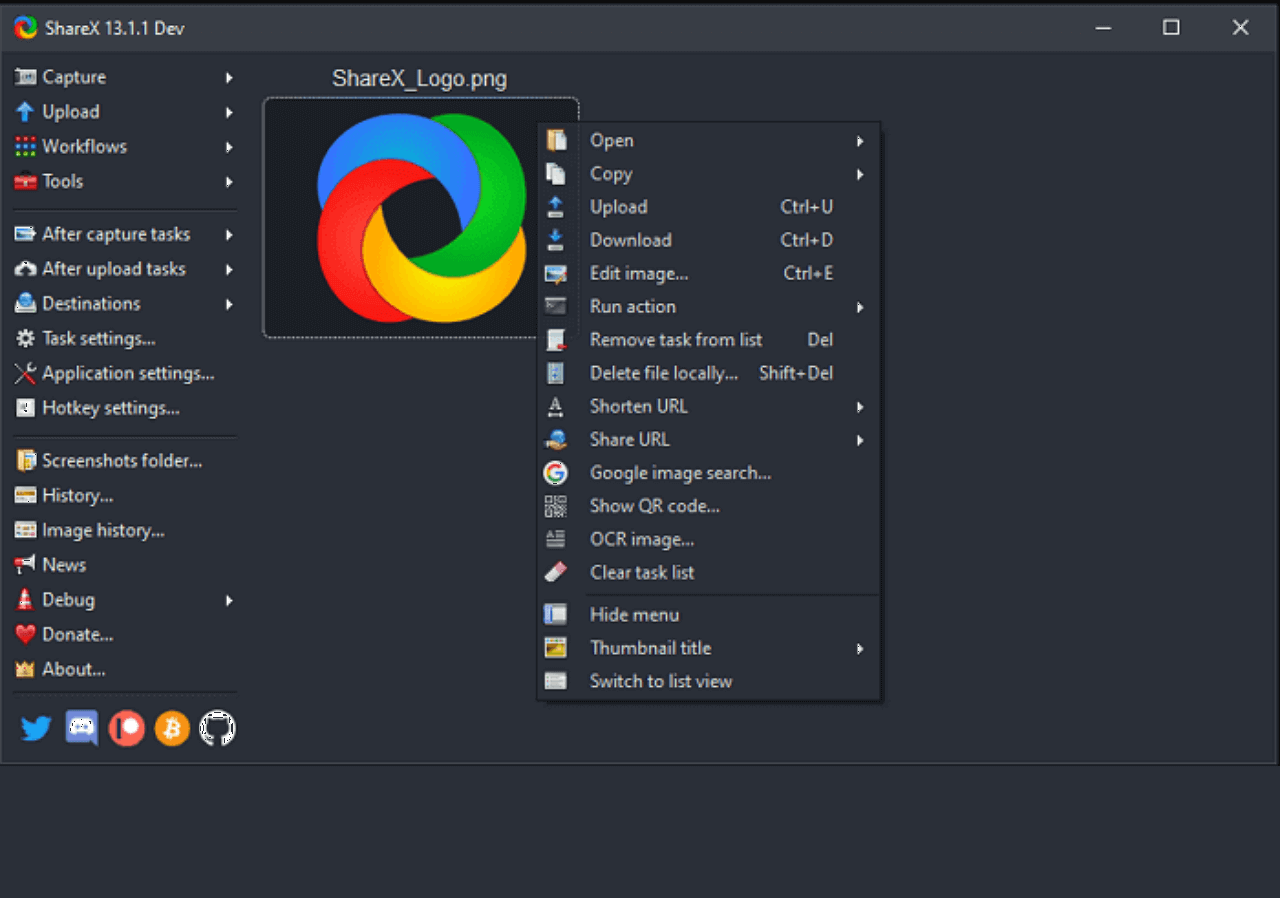 Features:
Take a screenshot of the full screen
Record the screen with audio with ease
Capture the gameplay in high quality
13. Debut 
Compatibility: Windows and macOS 10.15 or later
Whether you are looking to record your full-screen or only want to record a certain portion, the Debut program should help you do that. This is a free screen recorder that lets you make many kinds of recordings without having you go through dozens of phases.
All you need to do is choose what you would like to record, and the tool is ready to do that for you. The tool has support for webcam recording as well, in case you are looking for it.

Features:
Support for all popular video formats
Best free and full screen recorder 
Get footage from other physical devices
Adjust many setting options before starting the recording
Add timestamps to your recordings
FAQs about Screen Recorder Free Download
Check the frequently asked questions related to this topic below.
1. Can I download screen recorder for PC?
The answer is yes. You can download any screen recorder to your PC only if the software is compatible with your system. Just Google the product you want to download and go to the official website to download it.
2. Which is best screen recorder for PC free download?
There are many good screen recorders for PC free download but we suggest you download and use EaseUS RecExperts. This is because it can record all the things on your screen with audio, webcam, and microphone. Moreover, it is easy to handle even for novices.
Conclusion
If you want all features for screen recording, a free and full version screen recorder is necessary.  The above are some of the programs that you can use to record your screen using all of the options available out there. Among them, EaseUS RecExperts has many features yet is very easy to use, and for which you can download it for free to start your recording.
About the Author

Crystal Chen is very interested in technology products. Experiencing many technological applications, She is willing to solve users' problems through writing tech-related articles. Through her words, you can find various solutions to solve one issue.