
Table of Contents

About the Author

Related Posts

Best Audio Recording Software
| Workable Solutions | Step-by-step Troubleshooting |
| --- | --- |
| Fix 1. Turn Background App Permissions | Click Settings > Apps > Installed Apps > Snipping Tool > Advanced Settings, and then go...Full steps |
| Fix 2. Perform a Clean Boot of the System | Right-click on the Windows icon on your desktop and select Task Manager...Full steps |
| Fix 3. Repair and Reset Snipping Tool App | Move to Settings > Apps > Snipping Tool > Advanced options to open the Apps & features menu...Full steps |
| Fix 4. Disable Auto Copy to Clipboard Feature of Snipping Tool | Open the Snipping Tool by searching in the search box...Full steps |
| Fix 5. Uninstall and Reinstall Snipping Tool | Choose Add or remove programs from the Start menu search...Full steps |
| Fix 6. Disable Automatic Time Temporarily | Click Settings > Time & Language > Date & Time...Full steps |
| Fix 7. Try Snipping Tool Alternative | EaseUS RecExperts is such a program that lets you do almost any screen recording activities...Full steps |
Are you encountering an issue where your Windows 11 Snipping Tool isn't working properly? You may have noticed several symptoms, such as the snip getting cut off or being unable to select the window after taking a screenshot. Don't stress out – this is a problem many users are facing, and fortunately, there are ways to resolve it.
In this blog, we will discuss how to fix problems with Windows 11 Snipping Tool not working properly! We'll also explain some of the common causes that can lead to these issues, so you understand how best to avoid them in the future. By following our instructions, you'll be able to get your screenshots up and running again in no time!
Fix 1. Turn Background App Permissions
If your Snipping Tool app doesn't have the access permissions to take pictures or screen cord as a background app, it might not work when you use it. So, to solve it, you can check out the following steps.
Step 1. Click Settings > Apps > Installed Apps > Snipping Tool > Advanced Settings, and then go to the Apps & features section.
Step 2. Make sure the app permissions for the pictures are turned on. Next, enable the background app permissions as Power optimized.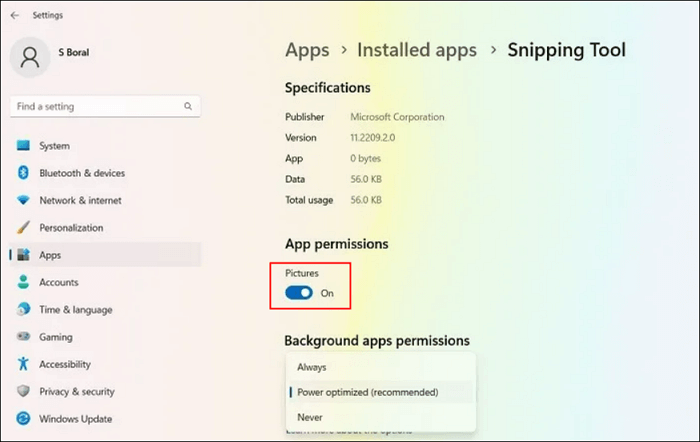 Fix 2. Perform a Clean Boot of the System
If another utility or program on the system is interfering with the operation of the Snipping Tool, then the Windows 11 Snipping Tool might also not work. In that case, ending the conflicting program in the system's task manager may solve the issue about Snipping Tool.
Step 1. Right-click on the Windows icon on your desktop and select Task Manager.
Step 2. Find and end the non-essential processes, like Explorer Patcher, Winaero Tweaker, Winaero, etc.
Step 3. Once done, you can reopen the Snipping Tool and check if it is working fine.
Step 4. If not, check if performing a clean boot of the system solves the problem.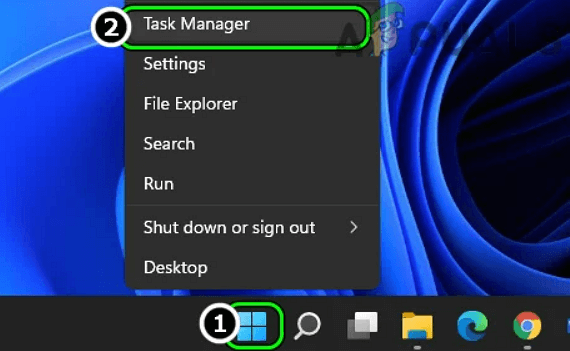 Fix 3. Repair and Reset Snipping Tool App
Another method is to repair and reset the Snipping Tool app by following the below guide:
Step 1. Move to Settings > Apps > Snipping Tool > Advanced options to open the Apps & features menu.
Step 2. Go to the Reset menu and click Repair. Then, wait a few seconds for it to be repaired.
Step 3. Once done, you will see a checkmark next to the Repair button, as shown below.
Step 4. Repeat the same procedure for the Reset button.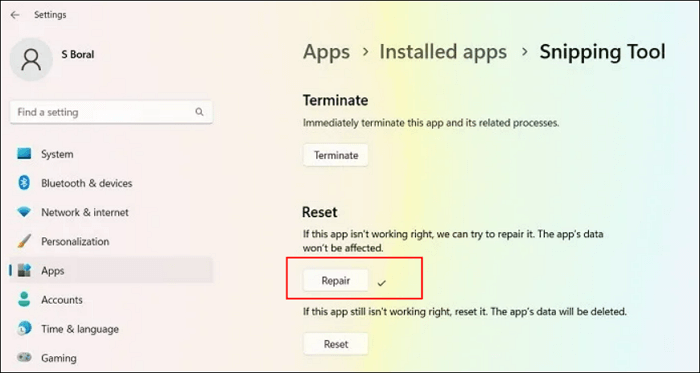 Fix 4. Disable Auto Copy to Clipboard Feature of Snipping Tool
The Auto Copy to Clipboard is a Snipping Tool feature that may break the Snipping Tools operation if it fails to copy the screenshot to the system's clipboard automatically. In such a case, disabling the Auto Copy to Clipboard in the Snipping Tool settings may solve the problem.
Step 1. Open the Snipping Tool by searching in the search box.
Step 2. Next, click the three horizontal ellipses and choose the Settings option from the drop-down menu.
Step 3. Find the Snipping section, and toggle the Auto Copy Clipboard switch to the off position to disable it.
Step 4. Finally, relaunch the Snipping Tool and click on New to check if the issue is fixed.
Fix 5. Uninstall and Reinstall Snipping Tool
Due to a faulty update or other reasons, your Windows 11 Snipping Tool may be improperly installed. The faulty installation can cause the program to abort and should be replaced with a new version.
Step 1. Choose Add or remove programs from the Start menu search.
Step 2. Scroll down to find the Snipping Tool, and select the Uninstall option to proceed with the removal from its three-dot menu.
Step 3. After removing it, you can reinstall the Snipping Tool from the Microsoft Store.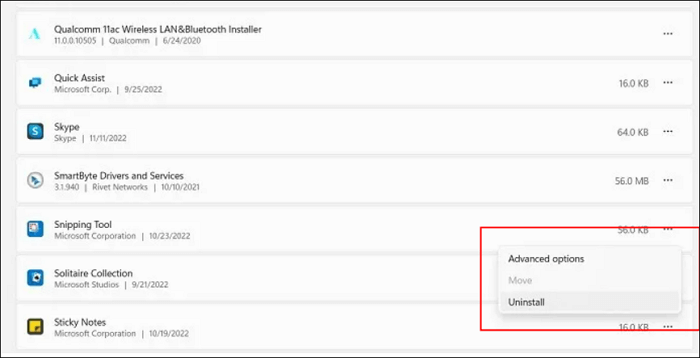 Fix 6. Disable Automatic Time Temporarily
If you may have a wrong date/time issue related to the app's digital certificates, the Snipping Tool may not work, also. You need to temporarily change your date and time from automatic to manual and go back to automatic once the error is gone.
Step 1. Click Settings > Time & Language > Date & Time.
Step 2. Turn off the toggle switch to set time automatically. 
Step 3. Then, manually set the date to October 30, 2021, and leave the time section as is.
Step 4. At last, check whether the Snipping Tool is working or not.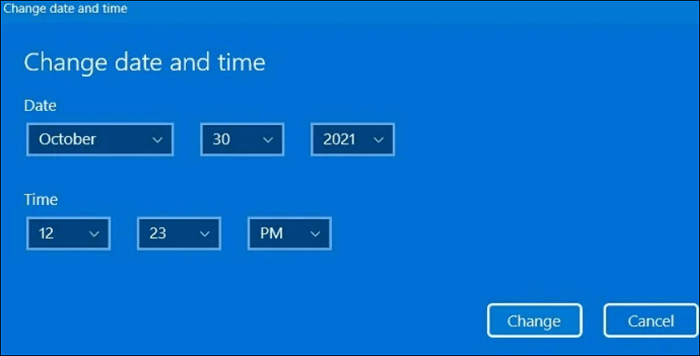 Fix 7. Try Snipping Tool Alternative
The last way is to find a Windows 11 Snipping Tool alternative, which lets you take screenshots and record your screen without hassle.
EaseUS RecExperts is such a program that lets you do almost any screen recording activities with a few simple clicks. With this Windows screen recorder, you can easily capture entire screen, a portion of screen, or a selected area as you want. Moreover, it even offers some real-time editing tools, making it possible to add text, draw lines, and insert shapes to enrich your recordings. Last but not least, this unlimited screen recorder allows you to record screen as long as you want!
Windows 11 Snipping Tool Not Working FAQs
1. Why does my snip tool not work?
Snipping Tool might not work, mainly due to the following:
Outdated graphics driver
Interference from other Apps
Corrupt installation of the Snipping Tool
Expired certificate of the Snipping Tool
2. Does Snipping Tool work with Windows 11?
Yes. Snipping Tool work with Windows 11 perfectly. You can use it to record screen and also take screenshots on your Windows 11 PC.
About the Author

Jane is an experienced editor for EaseUS focused on tech blog writing. Familiar with all kinds of video editing and screen recording software on the market, she specializes in composing posts about recording and editing videos. All the topics she chooses