
Table of Contents

About the Author

Related Posts

Best Audio Recording Software
Quick Navigation:
Whether you want to create a tutorial video or product demo, capture online courses for later reviewing, or record gameplay to demonstrate your excellent skills, you can always get the task done easily by using a screen recorder with a licensed key, like EaseUS RecExperts.
EaseUS RecExperts is an excellent Mac and Windows screen recorder, and is friendly to all levels of users because of its intuitive workflow. Providing plenty of basic and advanced features, this software makes it easy to complete almost all tasks related to screen recording within a few simple steps. To enjoy full features, most people are searching for EaseUS RecExperts activation code crack on Google. However, it may cause your privacy or some confidential information may leak. Given that, you'd better choose the official license key. And in the following, we will show you how to get and use EaseUS RecExperts license code easily.
Caution! Say NO to Any Free EaseUS RecExperts License Key Crack
To get a free EaseUS RecExperts license code, most of you try to enter and search some keywords like "free EaseUS RecExperts license key", "EaseUS RecExperts license key crack" or some similar expressions on Google. Then, you might find some free EaseUS RecExperts license keys on the search result page, and choose one to use easily.
However, is it safe to use a free cracked license code? Do you consider the consequences if you use a cracked EaseUS RecExperts? If not, you can check out the below advantages and disadvantages of using a cracked license key before making a decision:
Pros:
1. Free - You don't need to pay any penny
Cons:
1. Illegal: If an organization is found to be using software illegally activated using inappropriate keys, it may be sued for damages by the software vendor
2. No product updates: The software could not receive updates from the manufacturer if this has been recognized as a cracked license key
3. No technical support: If there are some problems during use, you cannot get any technical support
4. Unsafe: your privacy or some confidential information may leak
As we discussed above, using any free EaseUS RecExperts license may cause more harm than good. So, we hope you stop trying to find and get EaseUS RecExperts license keys from unofficial sources. Instead, you can continue reading to find the ways to get EaseUS RecExperts with a licensed key!
Get EaseUS RecExperts (V3.1.0) License Key
In the following, we will show you 2 easy ways to obtain an official license key for EaseUS RecExperts, so that you can start your recording tasks effortlessly.
Method 1. EaseUS RecExperts Free Trial Code, No License Key Required (Official)
Actually, EaseUS RecExperts offers a free version that lets you record the screen on your PC or Mac with simple clicks. If you don't have high requirements for recording, you can try this version which helps you record your screen without using a license key. 
Method 2. EaseUS RecExperts Pro Licensed Code (Official)
If you want to enjoy more advanced recording features, you can go to the official website to buy the license key. Once done, you can find the EaseUS RecExperts license key on your right. At last, you can activate EaseUS RecExperts to start unlimited recording.
Download Official EaseUS RecExperts to Enjoy Stunning Recording Features
To help you understand and use EaseUS RecExperts better, we are going to show you some highlights and new features of this software:
Highlights:
Support Windows 7/8/8.1/10/11 and macOS 10.13 or later
24/7 technical support
Record anything on your screen without limitation
Let you screen record Netflix, Amazon Prime, Hulu, YouTube Live, etc., without black screen
Export recordings in various formats
What's New in EaseUS RecExperts V3.1.0:
The newest version of EaseUS RecExperts, which is 3.1.0, is released with enhanced screen recording features and a few other features:
Offer a professional game recording mode
Provide an easy yet working way to record protected videos
Add a built-in media player and editor
Now, you can hit the below button to get EaseUS RecExperts for free! If you have already gotten an official license key, you can use it to activate this software to enjoy more features.
How to Use EaseUS RecExperts to Record Anything on Your Screen
Step 1. Launch EaseUS RecExperts. There are two modes for screen recording. Choose "Full Screen", this tool will capture the whole screen; choose "Region", you will need to select the recording area manually.

Step 2. After that, you can choose to record the webcam, system sound, or microphone as you like. Of course, you can turn them off if you only need to record the silent screen.

Step 3. Then, you can click the red "REC" button to start recording. Now you will see a menu bar on your screen. If you want to pause the recording, click on the white "Pause" button; to end the recording, click on the red "Stop" button.

Step 4. After recording, you will be led to the recording list interface. Here you can view or edit your recordings easily.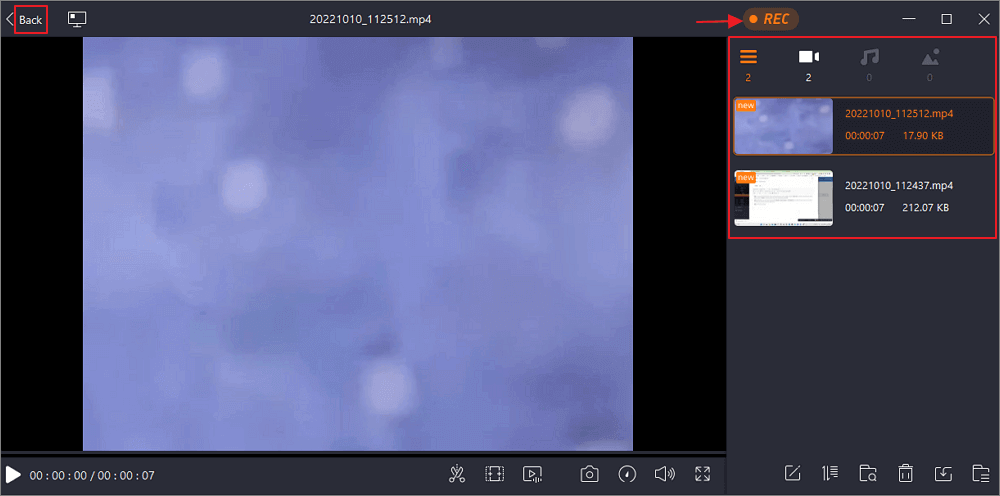 About the Author

Jane is an experienced editor for EaseUS focused on tech blog writing. Familiar with all kinds of video editing and screen recording software on the market, she specializes in composing posts about recording and editing videos. All the topics she chooses