
Table of Contents

About the Author

Related Posts

Best Audio Recording Software
Slow-motion videos are famous for grabbing people's interests by increasing curiosity and slowly leading them to climax. Now, such videos are becoming a norm in the social media industry. Even the latest smartphones offer an in-built slo-mo feature to create these videos effortlessly. However, if you don't have such phones or want to play slo-mo videos, there will be a requirement for a credible slow motion video player.
Though Multiple players are available, it makes the process of finding the perfect slow motion video player overwhelming. But don't worry. Here is the curated list to present the 8 best efficient slow motion video player. These players will work efficiently for everyone, irrespective of your experience level!
8 Best Slow Motion Video Player 
Let's take a plunge into the detailed reviews of the 8 best slow motion video player and decide what suits you!
#1. EaseUS RecExperts
EaseUS RecExperts is actually a screen recorder, but now it also can act as a secure and stable slow motion video player. This video player with speed control lets you play almost all media files in multiple formats with desired playback speed. Also, you will be able to save playback history for later use. It does not only offer video recording but also quick player access for a better viewing experience. You will get lossless playback since it is a 4K video player supports up to 4K HD videos in raw format.
Further to that, you can effortlessly record imported videos while playing. Managing all the files will be easier than ever. Even you can batch import or delete the video or audio files whenever required. Lastly, it allows you to fulfill editing functions, like trimming videos and adding opening/closing credits.
Features
Support 13 formats to import and export videos
Provide you with the complete playback controls
Let you move files to destinations at a specific path
Help you extract audio from video
Adjust the volume and take screenshots during playback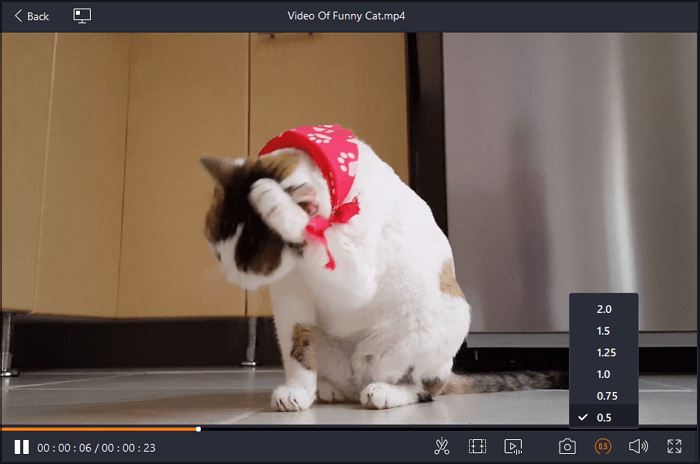 #2. VLC Media Player
Another leading slow motion video player for Windows 10 is VLC Media Player, which helps you choose the playback speed from the five available options. You can rip videos from optical discs and play them at a slower pace. Since it supports almost all popular formats, you won't encounter issues while playing any video.
More so, you can quickly change other video and audio settings like aspect ratio. Along with the playback controls, this open source video player allows you to crop, zoom, and deinterlace your videos.
Pros:
Open-source and free media player
Help you play files via network stream
Let you change subtitle speed easily
Cons:
Settings are a little complex for beginners
It may sometimes crash while playing HD videos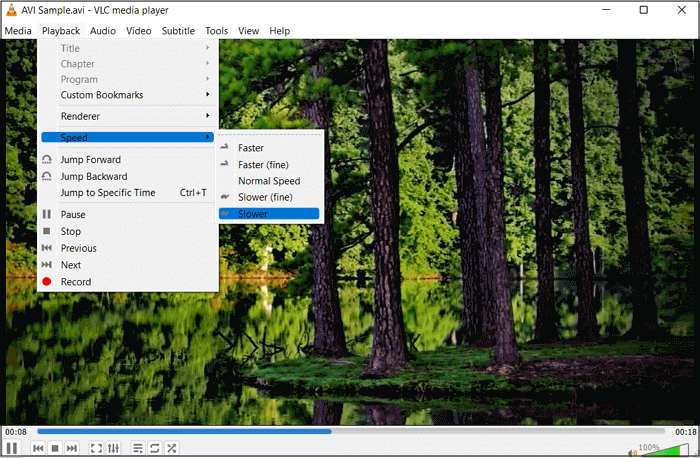 #3. Windows Media Player
Windows Media Player is considered the best slow motion video player for PCs since it either comes pre-installed or you can get it from Microsoft for free. It lets you enjoy good quality videos, even after ripping from DVDs or optical discs. You can speed up video playback as you like.
Some of its advanced features include playlist creation and synchronization with external devices. Also, you can listen to music tracks and stream audio/video easily. Even it offers downloading and purchasing media files.
Pros:
Help you sort media files and manage libraries
Save the playback speed and playlist for future use 
Change video settings, i.e., saturation, brightness, etc.
Cons:
Only support a limited range of video formats
Require extra codec installation to play some media files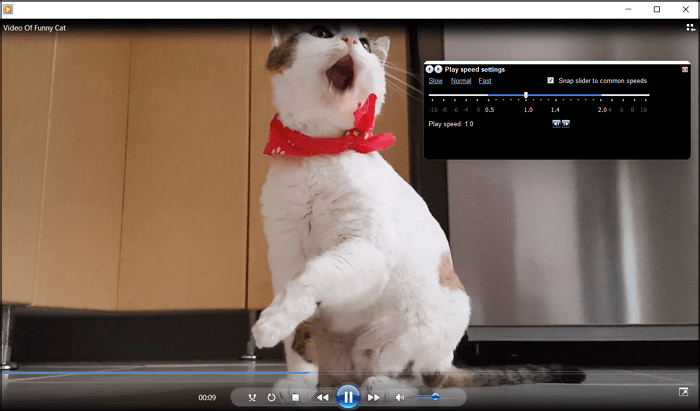 #4. Media Player Classic
MPC-HC will be the ultimate solution if you want a lightweight but open-source slow motion video player for Windows 10. It offers an extensive range of playback rates regarding video motion and frame rate. You can't only increase, decrease, or reset the pace but also adjust settings after playback.
Moreover, it supports almost all devices, so you can play files from the system, URL, DVD, BD, and Directory. Lastly, you can customize its options according to your needs.
Pros:
Offer an ad and spyware-free interface
Allow you to watch videos on old PCs
Work efficiently as a DVB player
Cons:
Sometimes you may face glitches during the playback
The tool is not updated since 2017
#5. Movavi Video Editor
Movavi Video Editor is a fantastic software that not only helps you play your videos in slow motion but also saves them for watching at the same rate later. It offers full zoom features along with playback control over videos. Plus, you can watch videos smoothly by turning on stabilization effects.
Even settings the aspect ratio is easier, just like the picture-in-picture video playback. Along with that, it assists you in editing tasks, like adding effects, filters, animation, transitions, text, subtitles, and much more.
Pros:
Support the high-resolution preview
Let you export in all popular formats
Help you share videos directly on YouTube
Cons:
Suitable for the professional editors
Full features are only available in the paid version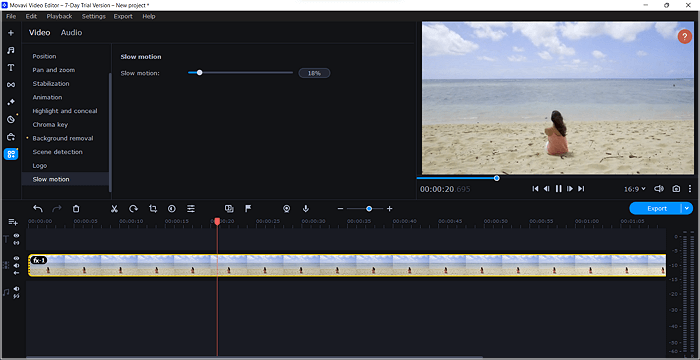 #6. KMPlayer
KMPlayer is a convenient slow motion video player for Windows and Mac users. It aids you in settings the video playback speed from slower to faster, like 0.25x to 4x. Besides playing your favorite video section on repeat, it lets you enjoy the freedom of subtitle size and color. However, you can use its equalizer feature for a realistic experience.
Not only is it possible to play YouTube videos directly via URL but also you can keep playing them in the background without any hassle.
Pros:
Play Blu-ray, DVDs, and optical discs
Let you sort and organize playlists easily
Zoom, rotate, and pan-scan the videos
Cons:
Bring about ad banners on the interface
Require a lot of sources during playback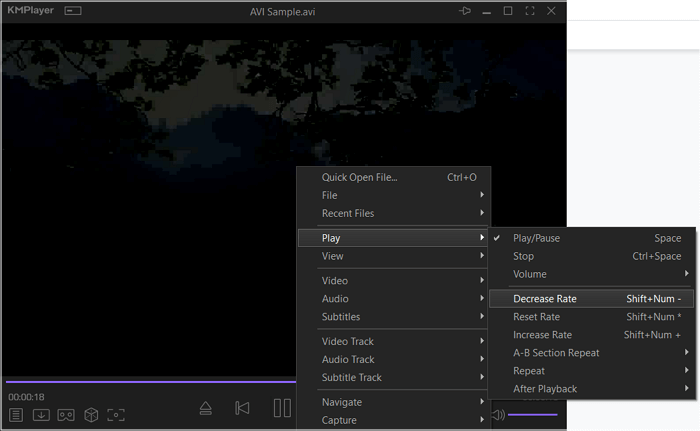 #7. GOM Player
GOM Player must be your way to go if you want a free slow motion video player for Windows 10 that can play almost all video formats. You can avail yourself of the default, fast, and slow playback speed, along with the time jump and A-B repeat feature.
Also, changing the settings of video, audio, and subtitles is easier than ever. Even it helps you flip, rotate, mirror, and sharpen videos. Last but not least, you can play the damaged files on Windows by finding extra codecs.
Pros:
Support MP4, FLV, ASF, MKV, AVI, etc.
Offer 4K UHD display without buffering
Play videos in vivid 360 VR mode
Cons:
Reinstallation is required when it crashes sometimes
Keep displaying an ad at the bottom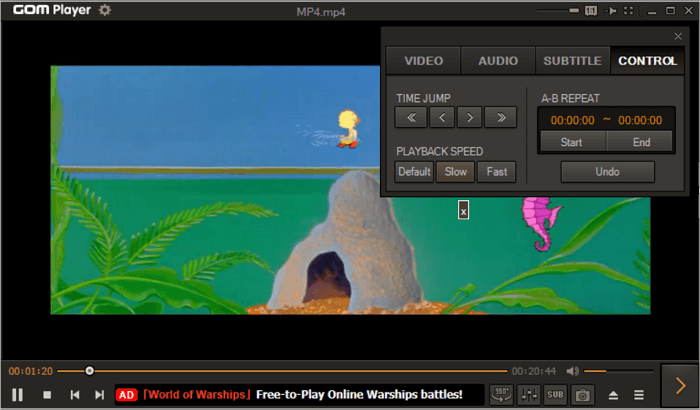 #8. Slow Motion Video
Here is a Microsoft slow motion video player for Windows 10 that fulfills your basic playback needs. It aids you in playing videos in slow motion or 2x speed, saving it to disc for the future. You can increase or decrease the volume as per your choices.
Also, it is possible to cast your video on a big screen effortlessly; however, make sure it's discoverable. More so, it lets you render videos at average, half, 4x, and 8x speeds with no audio.
Pros:
Available on the Microsoft store for free
Support multiple video formats, i.e., MP4, AVI, FLV, etc.
Offer improved video stability and performance
Cons:
The speed is really slow when saving videos 
Support no audio on the save video option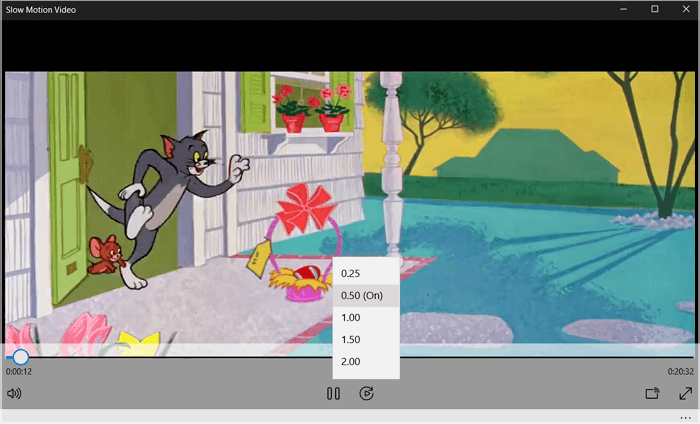 Wrapping Up
Watching slow-motion videos can be an excellent experience; however, looking for the best slow motion video player is tricky. Even though the market offers various players in this regard, the recommended ones are the most credible.
But if you want the flexibility to edit and play your videos, EaseUS RecExperts proves to be the ultimate solution. It offers you not only recording but also lossless playback with quick player access. Also, you will be able to use its wide range of features. So let's try it once!
Slow Motion Video Player FAQs
1. Which video player has slow motion?
The multimedia market provides an extensive range of video players that help you play or edit slow-motion videos. Some of these include Windows Media Player, VLC Media Player, and EImedia Player. However, EaseUS RecExperts offer the flexibility to watch videos at desired playback speed and multiple other functionalities.
2. Can VLC slow-motion?
Yes, VLC Media Player lets you play slow-motion videos on any system, i.e., Mac, Windows, iOS, Android, and Linux. Even you can use some basic video editing features if required. Since it supports multiple file formats, you won't face any issues during playback.
3. How can I make a video play in slow motion?
If you want to play a regular video in slow motion, you need to change its playback speed. While playing videos on VLC Media Player, click Media > Open File and browse to open the video. Once opened, press Playback > Speed to choose the desired pace. It provides you with five options, including slower (fine) and slower.
4. Which is the best slow-motion video maker?
Some free and paid slow-motion video makers are being offered. Clideo is an online solution, Video Speed for Android, iMovie for iOS, and EaseUS RecExperts is for Windows and Mac users. You can opt for the one that best suits you since it depends on your preferences.
About the Author

Jane is an experienced editor for EaseUS focused on tech blog writing. Familiar with all kinds of video editing and screen recording software on the market, she specializes in composing posts about recording and editing videos. All the topics she chooses