
Table of Contents

About the Author

Related Posts

Best Audio Recording Software
PAGE CONTENT:
There are many game players in the world and many of them need to take down incredible moments, high scores, or a hilarious glitch to share with friends or fans.
However, the default setting of Xbox records only a short period of your gameplay. Therefore, you need this essay to show you how to record Xbox One gameplay for different durations.
To be specific, in this tutorial, we will show you how to record longer clips on Xbox One, including recording for 5, 10, 30, or even 60 minutes.
Record Xbox One Gameplay without Time Limit
The first solution we give you is to record without a time limit by using a screen recorder. This Mac and Windows screen recorder is called EaseUS RecExperts. It is an all-in-one Xbox One game recorder that allows you to record video, audio, and webcam simultaneously or separately based on your needs.
With this tool, you can record the full screen, record the part of screen, and record a window you choose. If you want to make a tutorial video, you can even edit the recording with built-in editing tools. Check more features of it below.
Main Features:
Record screen and webcam at the same time
Record 4K and 1080P videos with one click
Record gameplay and microphone together
Schedule recording to record your gameplay automatically
Download it from the button and start recording by following the steps below.
Step 1. Start the gameplay you want to record and launch EaseUS game recorder. Next, select the Game mode.

Step 2. Click the nut icon to open the Settings window, and then click on "Video" to adjust the frame rate (from 1 to 144), video quality, format, etc. 
In addition, you can click on the "Game" button to change some game overlay options. Once done, click "OK".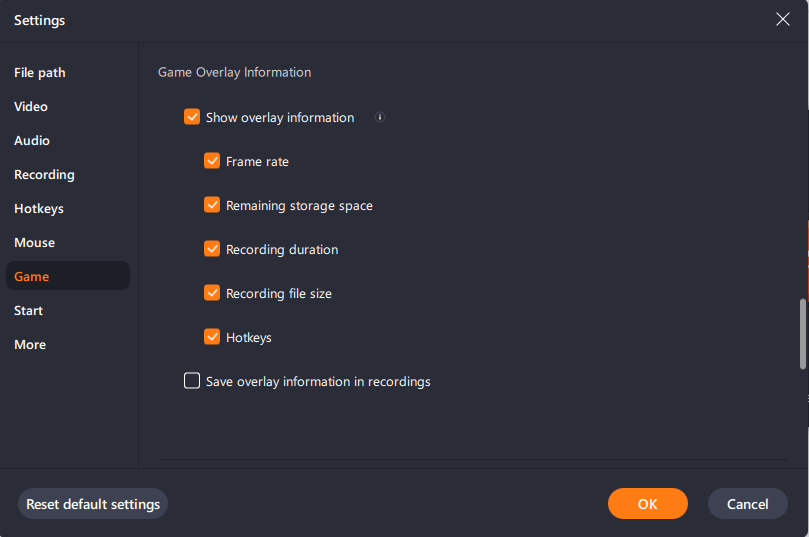 Step 3. Go back to the Game mode interface and click "Select Game" to choose the gameplay you want to capture. Next, click REC to start your game recording.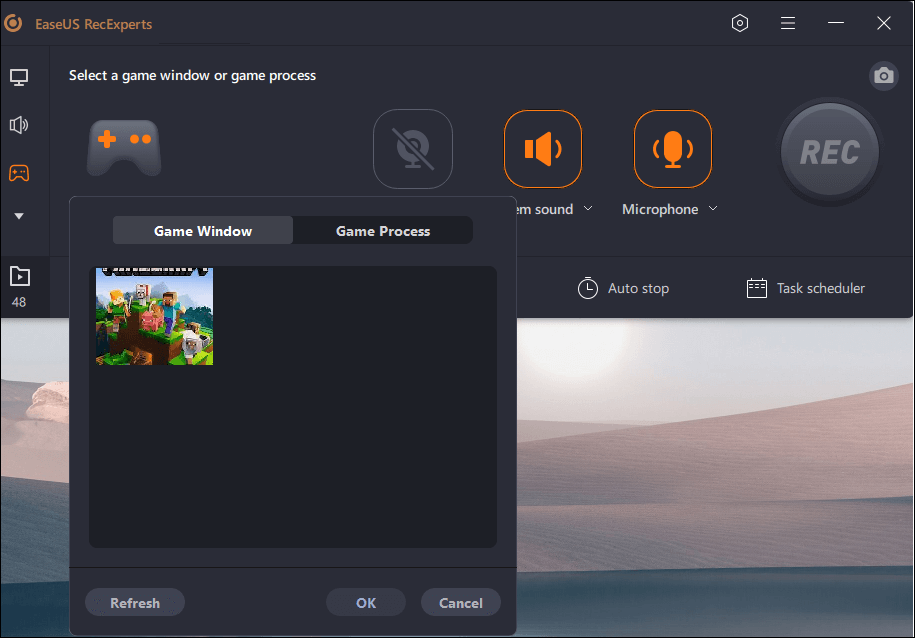 Step 4. You will see a small bar showing the time of your record. If needed, you can take screenshots in recording, or set the specific time to stop the recording by clicking the "Clock" icon on the toolbar.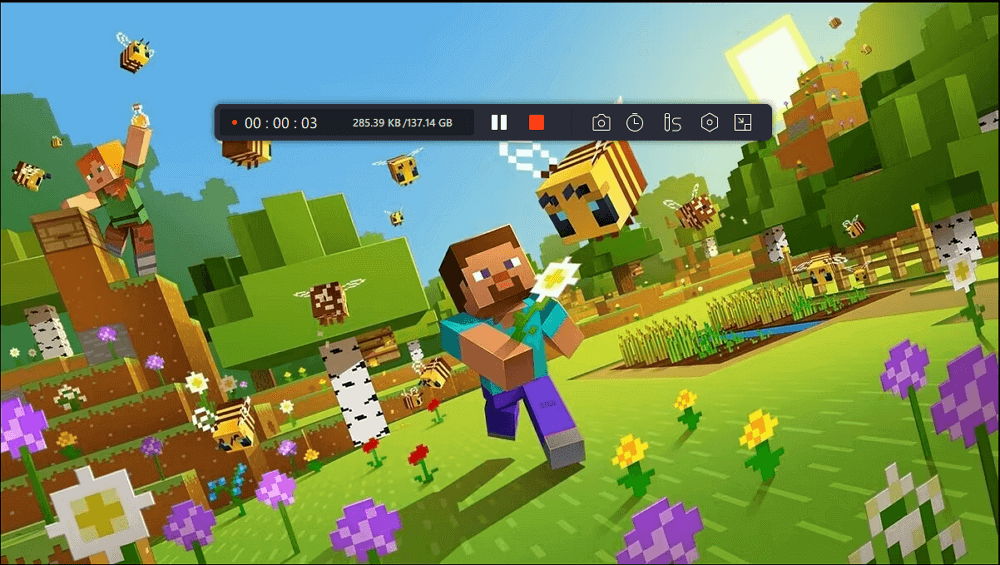 Step 5. Once done, you can watch and edit the recorded footage with the built-in video editor. On the recorded video, you can trim the recordings as you want.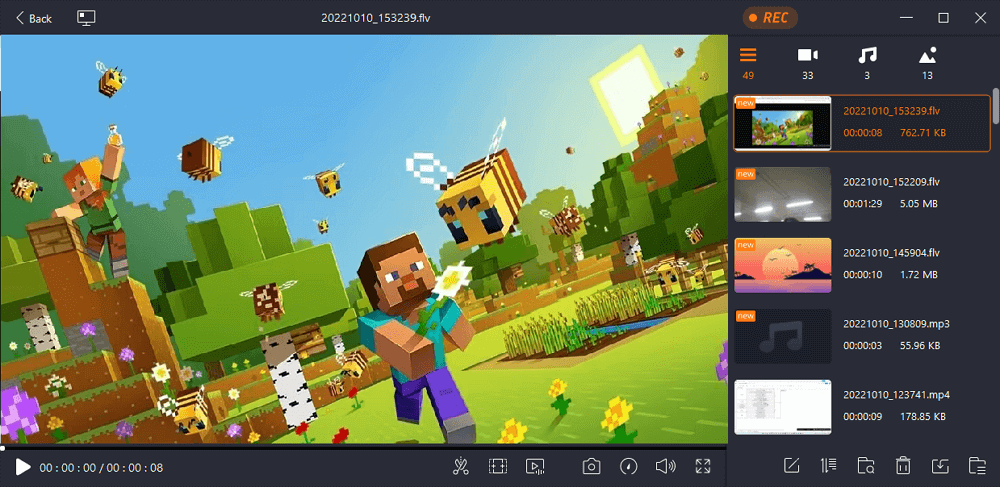 Record Xbox One for 5 Minutes Using Controller
On the Xbox One X, we are able to record for 5 minutes by selecting a lower resolution. To record longer, you need to choose 720P resolution instead of the default 1080P.
Although this "4K screen recorder" allows you to record gameplay at 4K, you can't choose this one as the video recorded will be reduced due to this. Now, you can follow the steps below to adjust the resolution to 720P.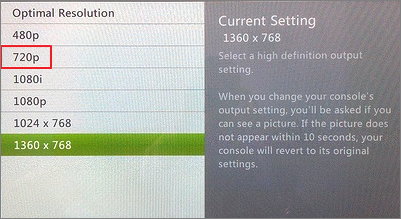 Step 1. Before adjusting the settings, make sure to set the "TV connection" to "Auto detect". Or, the options may not show.
Step 2. Press the Xbox button to open the guide, and select "Profile & system" > "Settings".
Step 3. Under General, select "TV & display" options. Then, choose "720P".
After that, you can record your gameplay using your controller as usual.
Record Xbox One for 10 Minutes
If 5 minutes isn't enough for you, either, you may try to record 10 minutes. You can record the game clips for 10 minutes or longer with Xbox and the X button.
In fact, this is also easy to operate with Xbox One controller. The different part is that you should schedule recordings in advance. If you are OK with that, follow the steps below to proceed.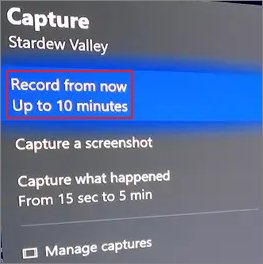 Step 1. Start the game that you want to record a video from. Press the Xbox button on the controller to open the main menu.
Step 2. Then, press the "View" button on the controller to open the "Capture" menu.
Step 3. Choose "Record from now" and press the "A" button on the controller.
Step 4. Play the game, and your gameplay will be recorded automatically. Press the "Xbox" button on the controller again to stop recording.
Record Xbox One for More Than 30 Minutes
To record the gameplay for more than 10 minutes, you will need an external storage device. However, if you don't have one, Xbox Game Bar recording is also a choice.
If you are a Windows 10/11 user, you can find an inbuilt recording feature on your PC. It supports recording the game window with audio for more than 30 Minutes, and you can also take screenshots with it. let's start now!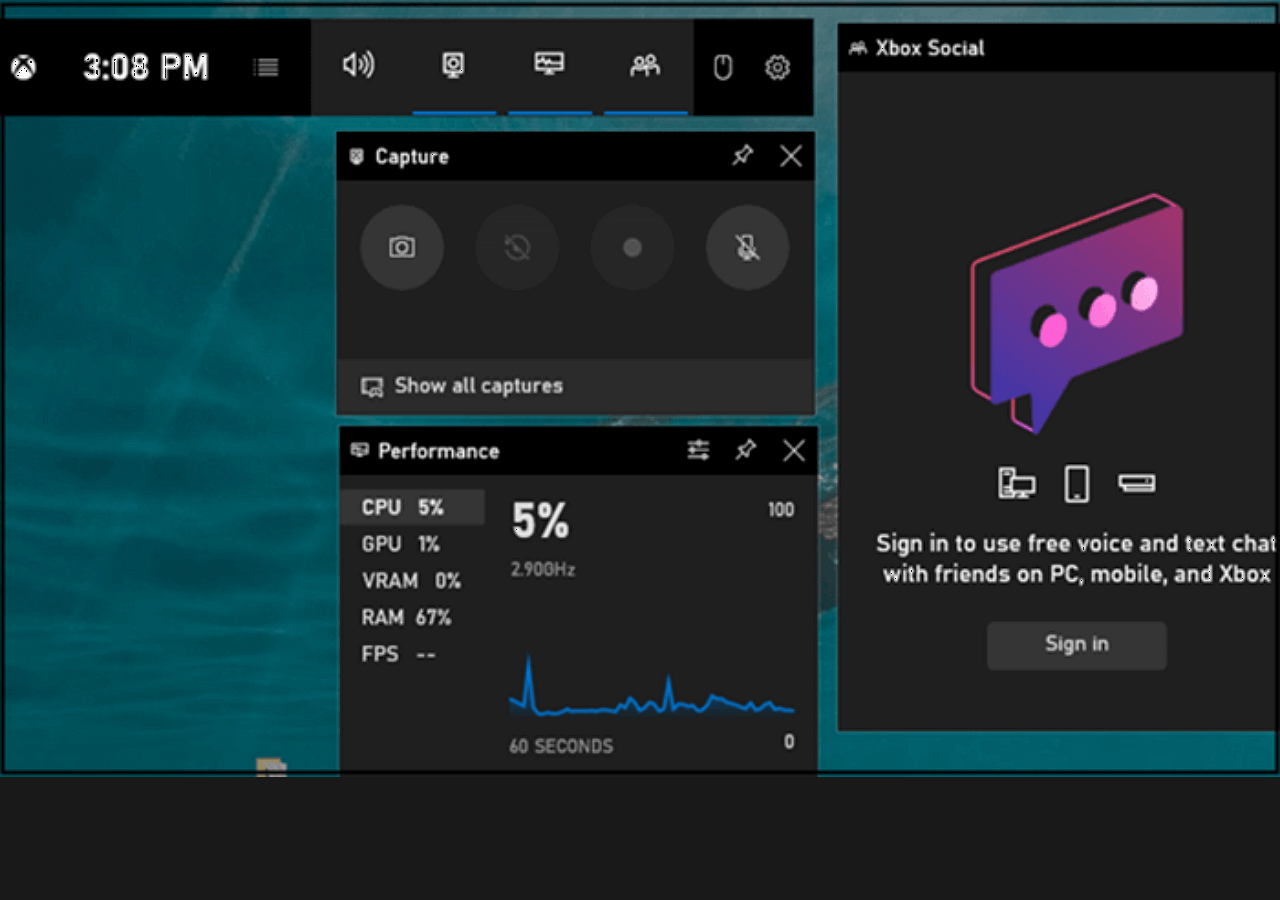 Step 1. Open the game in window mode and press the "Win + G" key on your keyboard to launch Xbox Game Bar.
Step 2. Click on the "Record" button to start recording Xbox One gameplay.
Step 3. To end the recording, reopen Game Bar and click on the "Stop" button.
Record Xbox for More Than 1 Hour
To record Xbox for more than 1 hour, you need to make sure that you are playing on Xbox Series X and S. Also, you will need an external drive to fulfill the task.
We will shoe you how to change the setting on your Xbox and how to connect the external drive. After that, you can follow the steps below to continue.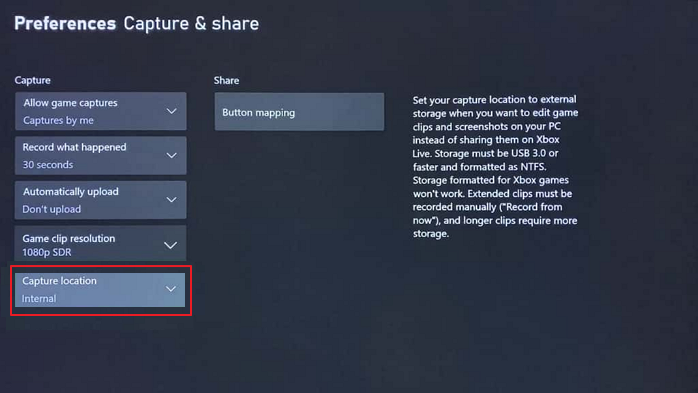 Step 1. Prepare an external drive and plugin it into the Xbox Series X and S.
Step 2. Go to "Settings" > "Preferences" and then the "Capture and Share" menu.
Step 3. Scroll down to the "Capture Location" and choose your external drive here.
After that, you can start recording Xbox for more than 1 hour with your external drive.
How to Record Longer Clips on Xbox One FAQs
Here are some frequently asked questions and their answers. Let's have a look at them together.
1. Why are my Xbox clips short?
There are some possible reasons why this may happen:
If you back out of the game to the Home screen while recording, the time on the Home screen will not be recorded into the clip.
Publishers may disable the recording of certain game segments for various reasons.
If you are recording at a resolution higher than 720P, the duration may be shorter.
2. Can you record longer clips on Xbox?
Yes, you can record longer clips on Xbox. But since the operations are different in order to record clips for different duration, you'd better read the whole article here.
3. Can Microsoft record longer than 15 minutes?
No, screen recordings in Microsoft are limited to a maximum length of 15 minutes. To record longer content, you may record shorter segments and combine them into one video.
About the Author

Melissa is a sophisticated editor for EaseUS in tech blog writing. She is proficient in writing articles related to multimedia tools including screen recording, video editing, and PDF file conversion. Also, she's starting to write blogs about data security, including articles about data recovery, disk partitioning, data backup, etc.