
Table of Contents

About the Author

Related Posts

Best Audio Recording Software
Quick Navigation:
Do you want to capture what is happening on your laptop screen, but don't know how? Learn how to screen record on laptop in this step-by-step guide. You'll be able to share video recordings of your screen with others in no time! Screen recording can be a great way to show someone how to do something on their computer, or to capture video footage for a work project. Plus, it's easy enough that anyone can do it! So if you're ready to start recording your screen, read on.
Screen Record on Laptop with an Excellent Laptop Screen Recorder
For those who don't know how to screen record on HP laptop, Dell laptop, Lenovo laptop, etc., an excellent laptop screen recorder is necessary. And EaseUS RecExperts is such a fantastic Windows screen recorder, which can run perfectly and smoothly on your laptops. 
Whether you want to capture full screen, part of the screen, or a specific region, this screen recording software can always help you complete the task effortlessly. During the recording, you can even add text, draw lines and arrows, or do other real-time editing to enhance your recordings. Most importantly, it is an unlimited screen recorder that allows you to record screen for as long as you want, and there will be NO watermark on your recorded videos. Below are more stunning features of EaseUS RecExperts you can explore:
Compatible with almost all laptops on the market
Allow you to record Teams meeting, record Zoom meeting, or other video conferences in high quality
The schedule recording feature is available here
Export recordings in various formats
Step 1. Launch EaseUS RecExperts on your computer. Before recording, you can choose from two recording modes. To record the whole screen, choose the "Full Screen" mode; to record a part of the screen, select "Region".

Step 2. You can also choose to record the screen with your webcam, system sound, microphone. Just click to select them. You can also set auto split, auto recording with various functions on the interface.

Step 3. Then, click on the red "REC" button to start recording. To pause the recording, click on the white double vertical bar; to end the recording, click on the red square sign. They are located on the menu bar appearing on your screen.

Step 4. After recording, you will be led to the recording list. Here you can view, split, extract audio, take screenshots, ans manage your recordings, etc. To start a new recording with previous settings, click on the "REC" button on the top of the window.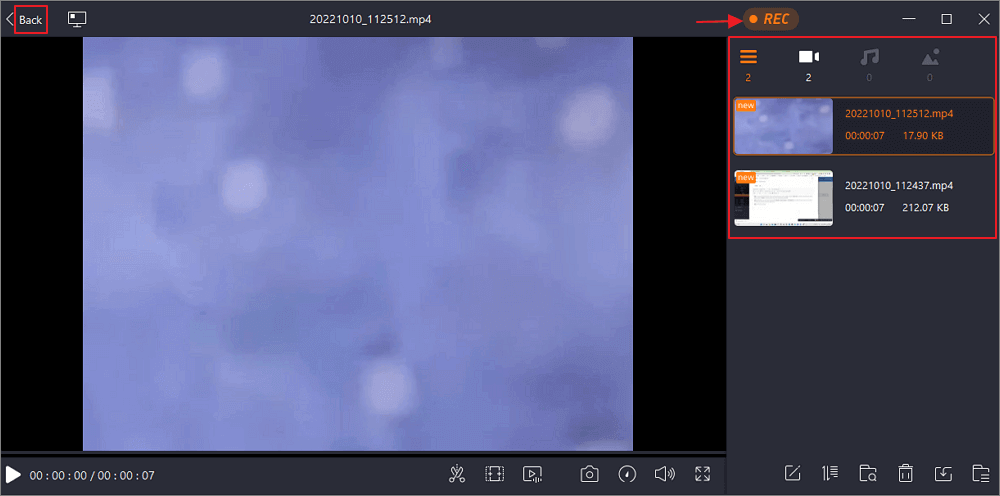 Record Screen on Laptop with Built-in Screen Recorder
If your laptop runs Windows 10 OS or a later version, you can easily screen record on your laptop with the built-in screen recorder - Xbox Game Bar. It is a gaming application created by Microsoft that allows gamers to capture their gameplay, as well as take screenshots. Although it was designed to record gameplay on PC, you can still use it as a laptop screen recorder to capture everything on your screen hassle-free.
With its help, you can record videos, and online courses, and even create your video tutorial as you want. However, this free screen recorder only lets you capture the entire screen, and you can not change the recording mode. 
Step 1. Open the video or window that you want to record on your laptop.
Step 2. Hit the Windows key + G on your keyboard at the same time to open the Game Bar dialog. Next, check the "Yes, this is a game" checkbox to load the Game Bar.
Step 3. When you are ready, you can click on the Start Recording button to begin your recording. Or, you can directly press Win + Alt + R to start it.
Step 4. To end the recording, click on the red recording button that is on the top right of the program window. Once done, you can find your recordings under the Videos folder in a subfolder called Captures.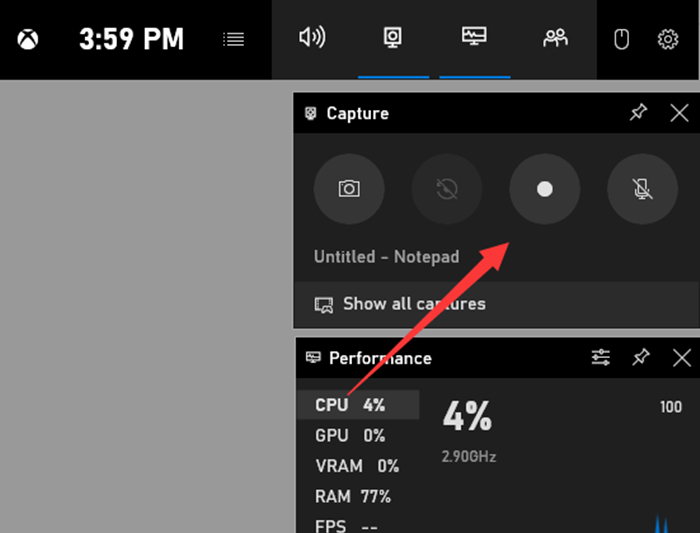 Record Your Laptop Screen via OBS Studio
OBS Studio is a powerful recording tool with a variety of features that makes it ideal for capturing high-quality video and audio. It has the ability to record from multiple sources, including your webcam, microphone, and computer screen. You can also use OBS Studio to create live streams, which can be broadcast to Twitch, YouTube, or Facebook Live.
In addition, this open source screen recorder allows you to add custom graphics and overlays to your recordings, giving them a professional look. And if you need to edit your recordings, OBS Studio includes a basic video editor that lets you trim, crop, and add effects to your videos. Whether you're recording gameplay footage, tutorials, or podcasts, OBS Studio is a versatile tool that can help you create high-quality videos.
Step 1. Download and install OBS Studio on your laptop, then launch it.
Step 2. Find the Sources box and click the "+" icon at the bottom left. Next, click "Display Capture" and create a title in the pop-up window.
Step 3. Then, you need to select your display method and capture method and a checkbox to select whether you want to show your cursor on the recording. Once done, click OK.
Step 4. (Optional) you can go to Settings to adjust some settings about your recording and output file.
Step 5. Once you have made all of your selections, click Start Recording to begin your recording on your laptop.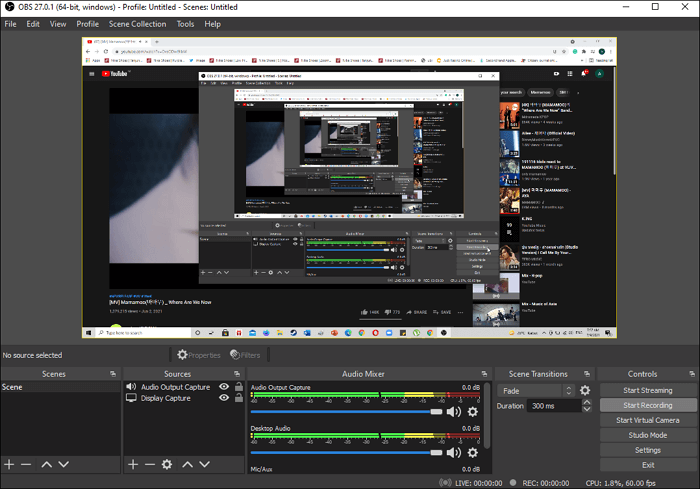 Screen Record on A Laptop using Snagit
Snagit is a screen recorder and screenshot software tool from TechSmith. The software offers various features for capturing images or videos from the computer screen. It can record the entire screen, a selected region, a window, or a scrolling area. Besides, it also allows users to choose whether to capture the mouse cursor or not.
Once the recording is complete, users can edit the recording using Snagit's editing tools. They can add text, arrows, highlights, and other effects. Snagit also includes a library of pre-made graphics that can be inserted into the recording. Users can share their recordings by exporting them to various formats or uploading them to the web.
Step 1. Launch Snagit on your laptop, and then sign in this program.
Step 2. Click "Video" on the left panel, and then choose the Capture button on the left.

Step 3. Next, you can select an area of your screen you want to record, then click on the record button.
How to Screen Record on Laptop FAQs
1. How do I record my screen on Windows 10 laptop?
Xbox Game Bar can help you record your screen on Windows 10 laptop. Just hit the Windows icon + G to open this free screen recorder, then press Win + Alt + R to start your recording. However, it only offers some basic recording features. If you want to use more advanced recording features, you can try other popular screen recorders like OBS Studio, Bandicam, and more.
2. Is screen recorder available in laptop?
Yes. If your laptop runs Windows 10 or a later version, you can find a built-in screen recorder in your laptop, and that's called Xbox Game Bar. It can help you complete some basic screen recording tasks.
The Bottom Line
In this post, we walked you through how to screen record on a laptop step-by-step. If you're looking for an easy and reliable way to screen record on your laptop, try EaseUS RecExperts. It's a powerful yet lightweight tool lets you record your screen with just a few clicks. Plus, it has features like built-in video editing that make it simple to create pro-quality recordings. Ready to give it a try? Get started here.
About the Author

Jane is an experienced editor for EaseUS focused on tech blog writing. Familiar with all kinds of video editing and screen recording software on the market, she specializes in composing posts about recording and editing videos. All the topics she chooses