
Table of Contents

About the Author

Related Posts

Best Audio Recording Software
Regardless of age, many people play the well-liked Game Minecraft worldwide. Developed by Mojang and 4J Studios, this multiplayer sandbox survival game was made available in 2011. Up until this point, it has continued to give its players joy and enjoyment. The combination of an incredible platform and a survival storyline sets this Game apart from others.
Additionally, this is one of the reasons why many gamers look for a screen recorder for Minecraft to share their in-game successes and to instruct other players who are new to the Game. That's why we have brought you the top 7 best screen recorders for Minecraft. Explore all the details below.
Here's a list of Minecraft's seven best screen recorders; you can choose any, depending on your needs. Let's look!
| Screen Recorder for Minecraft | Pros |
| --- | --- |
| 1. EaseUS RecExperts | Set a time for a screen recording to begin automatically...Learn more |
| 2. Movavi | Easy UI and the more direct route...Learn more |
| 3. Camtasia | Excellent tutorial and support resources online...Learn more |
| ... | ... |
1. EaseUS RecExperts
A Mac and Windows screen recorder called EaseUS RecExperts enables users to record an entire screen or a specific portion of it, as well as the narrator's voice or system noises, and enhance the overall quality of each clip. In addition, the system can be used on a PC to produce polished films.
For example, EaseUS RecExperts supports camera video recording, enabling users to record movies inside the webcam or as an overlay, enabling more profound levels of involvement. In addition, it allows you to record full screen on Windows 10, a specific area, or even a locked window.
Main features:
Flexible PC screen capture with individualized settings
Set a time for a screen recording to begin automatically
With advanced editing, you can shorten videos, add watermarks, etc.
Boost audio and eliminate background noise
Video compression without sacrificing the video's quality
Click the button here to download this Minecraft recorder and follow the tutorial to start recording now!
Step 1. Launch the gameplay that you want to record. Next, open EaseUS RecExperts and click on the "Game" button on the left.

Step 2. Click on the "Select Game" option to choose a Game Window or Game Process. Then, you can enable the audio and webcam recording if needed. When all are done, click the big REC button to start the gameplay recording.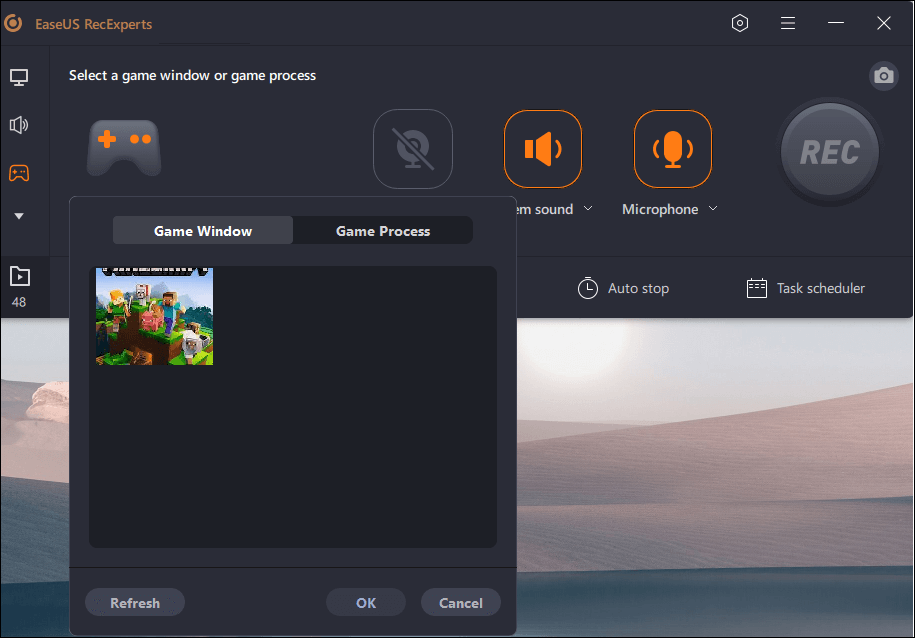 Step 3. A floating toolbar will appear, and you can pause or stop the recording. Besides that, the camera icon enables you to take a screenshot, and the timer icon lets you stop the recording automatically.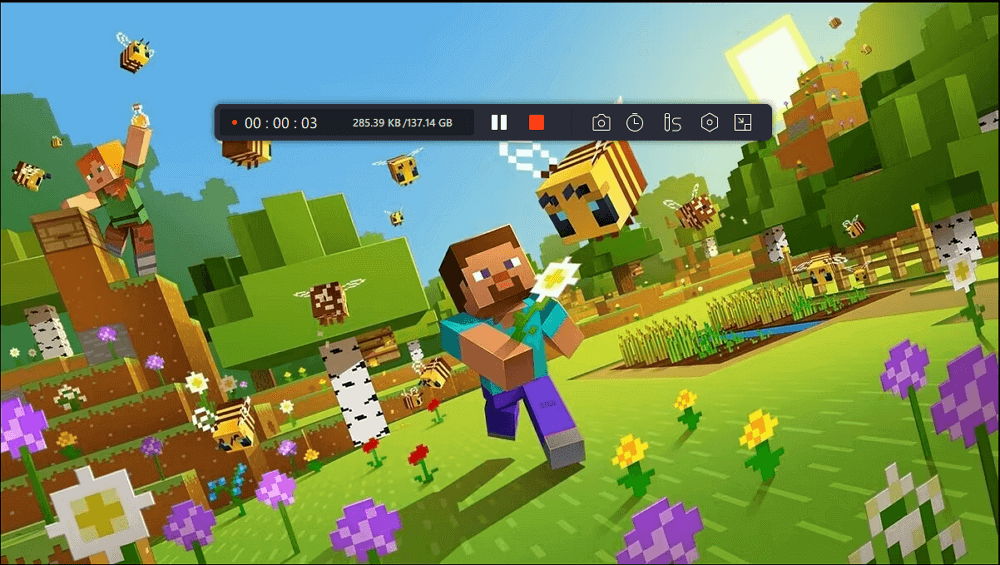 Step 4. After saving the recorded gameplay video, a media player will pop up. It gives you a built-in tool to trim the recording, extract audio from the video, and add an opening & ending part. You can find the tool at the bottom of the player.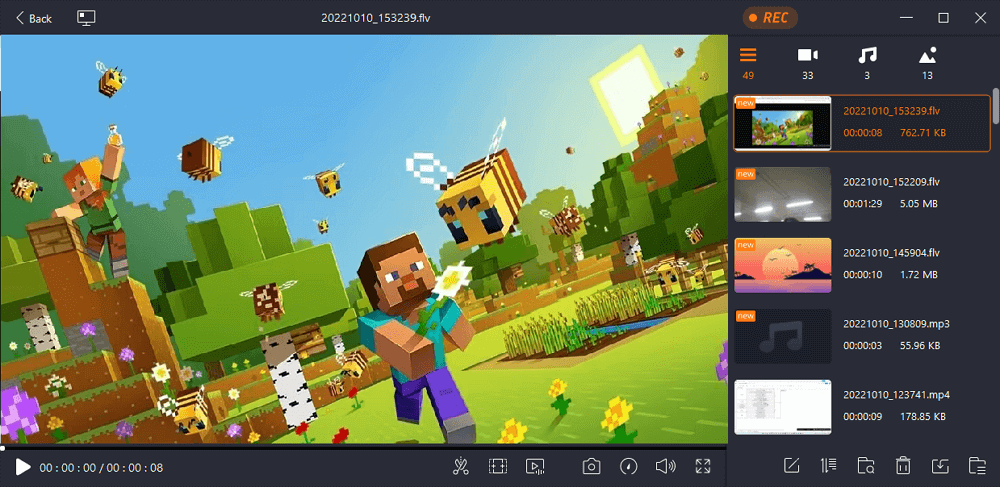 2. Movavi
It allows you to record everything that happens on your screen, change accounts using the powerful video proofreader, save documents in any organization, send them to your phone, or transfer them online - all from one program, Movavi Screen Recorder Studio 10!
This is one of the best game recorders and offers a tonne of video editing features so you can change the game video that was captured, for example, convert a video to a GIF, trim, cut, and join recordings, add animated titles and enhancements, and much more. The Movavi screen recorder 11 software is straightforward to use, as usual.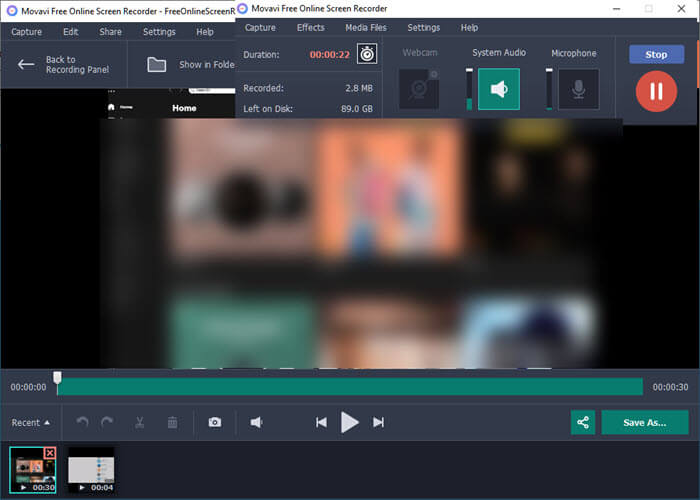 Pros:
Easy UI and the more direct route
Simultaneous sound and video recording
Watch screencasts, videos online, video chats, and webcams
Cons:
A little pricey in terms of features available
In the free preliminary adaptation, there are restricted elements
3. Camtasia
Using a screencast or direct recording plug-in, typically used with PowerPoint, you can make an instructional video with screen recording and presentations using Camtasia, a TechSmith product. A beginner-friendly video editing program with an easy setup and user interface is Camtasia.
Camtasia has the best screen recording capabilities, easily beating out the competition. Their cursor effects, however, are exceptional. Interactive tests in Camtasia give users a chance to provide insightful feedback. It is accessible on Android and iOS and has a sizable library.
Camtasia is an effective video editing program that works with various media formats.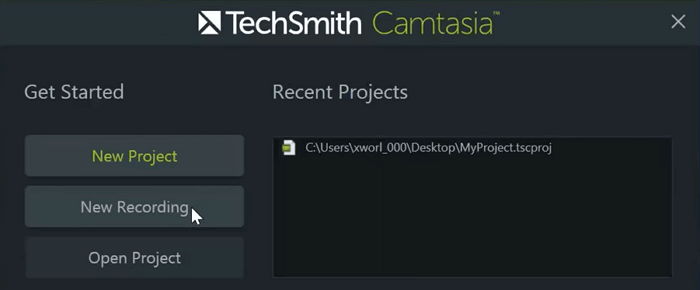 Pros:
Excellent tutorial and support resources online
Simple to use but strong enough for a particular purpose
Faster video production
Cons:
Compared to similar tools, its license price is a little higher
Lack of sophisticated audio mixing and color grading tools
4. Bandicam
The Bandicam Company created the well-known screen recorder and best game recorder Bandicam, which features a screen capture and recording utility that can take screenshots or record screen changes.
If you're making a Minecraft gaming video with players, Bandicam's ability to record both webcam and screen simultaneously is ideal. Bandicam's "HDMI" feature also allows you to record Minecraft gameplay when played on a console.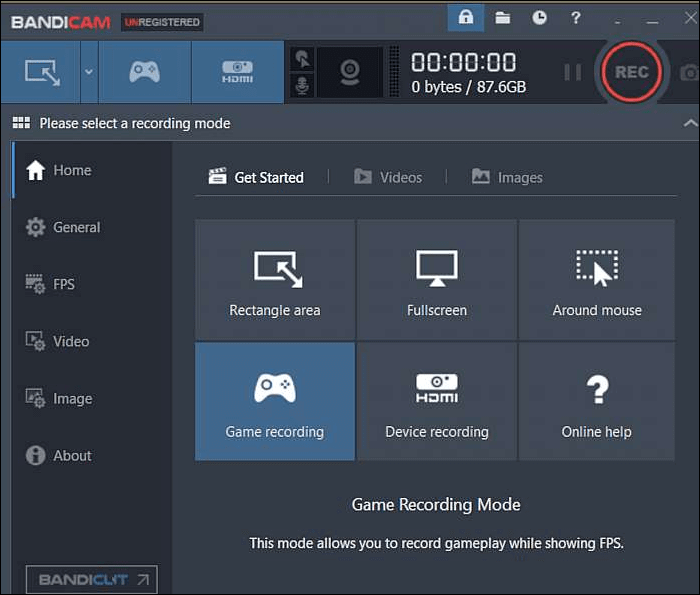 Pros:
Freely size of the capture screen
Possibility of exporting Minecraft gameplay recordings as MP4 and AVI files
Cons:
Not accessible on a Mac
only accepts MP4 and AVI file formats
5. OBS Studio
It is an open-source technology and supports multiple platforms, which sets it apart from all other options. The program allows you to choose which desktop application and audio sources to use while the session progresses. It also allows you to create layered videos to use the webcam for other purposes.
With the aid of obs studio, it is possible to capture the entire screen or record a specific application, in addition to having the webcam and microphone turned on. This software supports multiple audio sources and allows users to share the desktop application while streaming. Layered videos can be created with a webcam and Obs Studio.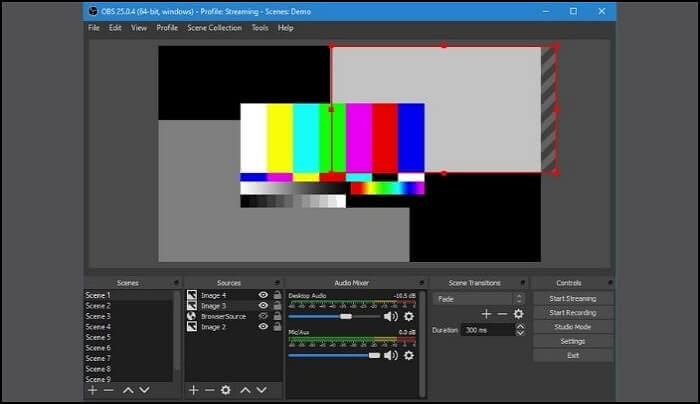 Pros:
Cross-streaming accessibility to websites like YouTube, Mixer, DailyMotion, and Twitch
Access to a single-touch hotkey for quicker in-game interactions and movements
Cons:
There isn't a built-in video editor, so we must use another program to edit the recorded video
When registering, you cannot pause the video, making it difficult to stop for a moment and resume
6. Screencast-O-Matic
Screencast-O-Matic is a fantastic option if you're looking for an online free screen recorder compatible with all devices and operating systems. It functions well on all operating systems, from Windows and Mac to Android and iOS to Chromebooks.
Real-time drawing of shapes and graphics is possible while recording. You can edit your videos on Screencast-O-Matic by adding pictures, changing the speed, adding transitions, cropping the video, and inserting clips. The best screen recorder currently on the market.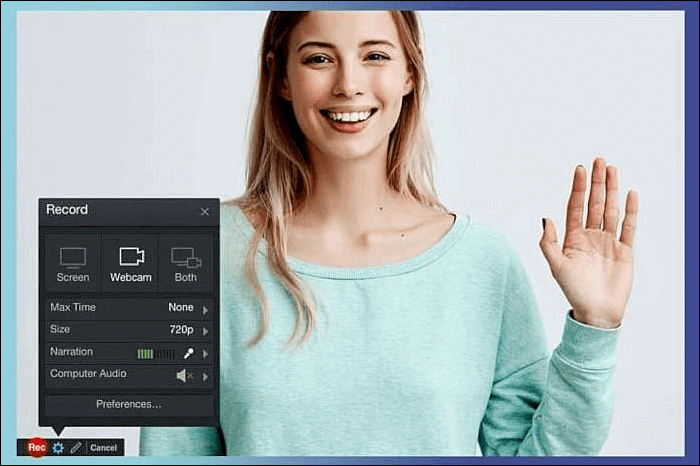 Pros:
The free version allows you to create up to 15 minutes of recordings
Limited publishing options for the free version
capturing video from the webcam and the screen
Cons:
On videos created with the free version, the watermark is visible
Windows Vista or later is required for computer audio recording
7. CamStudio
CamStudio is a simple, minimalist, yet efficient Minecraft video recorder. It is perfect for recording games since it can also include a webcam window in the recording. Camstudio features a "Picture-in-Picture" technology.
It syncs your webcam window into the Minecraft game recording without any lag. Additionally, it can automatically compress the file size and optimize them so you can save storage space. This is possible thanks to the function that can customize the video quality of the recording.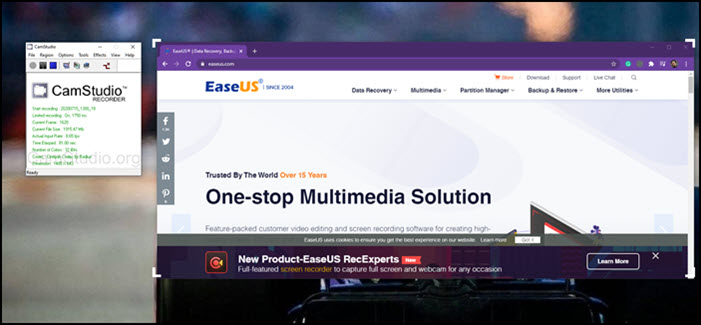 Pros:
CamStudio is free of charge and open source
The interface is straightforward, and users can find what they want quickly
It won't add a watermark or limit recording time
Cons:
It can only record screens in AVI or SWF format
The output file size is enormous, and it takes time to load
Screen Recorder for Minecraft FAQs
Are there still any doubts left? Let's check some FAQs to clear further queries.
1. Is there a screen recorder in Minecraft?
Right-click the Game Capturing button in the VSDC taskbar and select the Game. After that, open the Minecraft window and press the Start recording hotkey, typically Ctrl+F5. Press the Stop recording hotkey, Ctrl+F8, once you have finished recording your video.
2. What do YouTubers use to record Minecraft?
Minecraft YouTubers use EaseUS RecExperts because it provides unique features and quality service to the users. Moreover, its user-friendly interface is what pleases most users.
3. Is there free screen recording software for Minecraft?
Gecata is a robust, user-friendly, and cost-free screen recorder for Minecraft. Getting the hang of the software and recording your voice and webcam while playing Minecraft will consume some time. On a PC, recording gameplay has never been more straightforward.
Conclusion
Due to its fantastic gameplay, Minecraft may be one of the most popular games, and many young players enjoy playing it for extended periods. In fact, more and more game streamers are broadcasting their games, which is another reason there are more and more Minecraft tutorials available.
Amongst the tools mentioned above, we recommend EaseUS RecExperts. It is one of the most used and trusted screen recorders for Minecraft globally for recording gameplay & sharing Minecraft with other players.
About the Author

Melissa is a sophisticated editor for EaseUS in tech blog writing. She is proficient in writing articles related to multimedia tools including screen recording, video editing, and PDF file conversion. Also, she's starting to write blogs about data security, including articles about data recovery, disk partitioning, data backup, etc.