
Table of Contents

About the Author

Related Posts

Best Audio Recording Software
To record audio on Windows 10, you can use the built-in Windows voice recorder. Although it is easy to handle, it lacks some efficient operations and may negatively impact audiences, or the built-in recorder is not working. Thus, finding a dedicated voice recorder for Windows 10  to make high-quality audio tracks is needed.  
Here you will find out the most suitable Windows voice recorder that produces extraordinary audio tracks. Let's look at the top 10 that record high-quality audio tracks within minutes!  
Top 1. EaseUS RecExperts
EaseUS RecExperts is the software that comes at the top in the list of best voice recorder for Windows 10. It not only produces high-quality audio output but also allows you to choose the audio resource from the system or a microphone, select the output format of audio, trim the recordings, and so on. Besides, it can act as an internal audio recorder, which helps you to record system sound on Windows with no hassle. Apart from that, it is also an excellent Windows screen recorder, which lets you capture any of your screen with a few simple clicks.
Main features of this all-in-one screen and audio recording software:
In-built audio trimming options are available
Easy-to-use audio recording software
Do screen and webcam recordings in seconds
The game recorder for PC to capture various gameplay
Choose the output format, bitrate, and sampling rate of an audio
If you like this voice capture, you can download it! In the trial version, you don't need to register an account. 
Top 2. Windows 10 Built-in Voice Recorder
If you only need to capture your voice instead of other complex audio-capturing activities, you can use the built-in Windows 10 voice recorder. It is extremely easy, and you don't need any third-party software on a PC. 
To record audio on Windows PC, you need to find the Voice Recorder, then click the Record button to begin your recording. Also, you can capture the external sound by adding a microphone.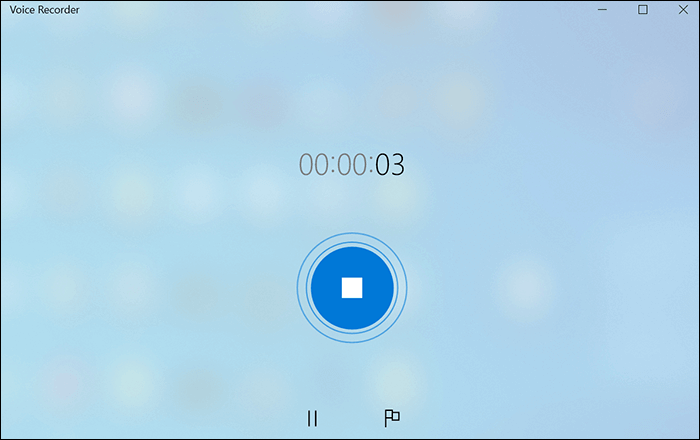 Pros:
Record voice quickly and easily
Simple interface for beginners
Capture voice over a long time
Cons:
Hard to capture the system sound from PC
Lack of advanced settings for audio
Top 3. RecordPad 
RecordPad is a Windows 10 sound recorder. The tool can easily capture audio from notes, sounds, or any form of music. It's suitable for recording digitized representations and supports MP3 and WAV soundtracks. Compared to the Windows default recorder, it has more sound capturing options. With its aid, you can even save audio from YouTube effortlessly, if needed. To conclude, this Windows voice recorder easily captures audio tracks using a PC, laptop, or other devices.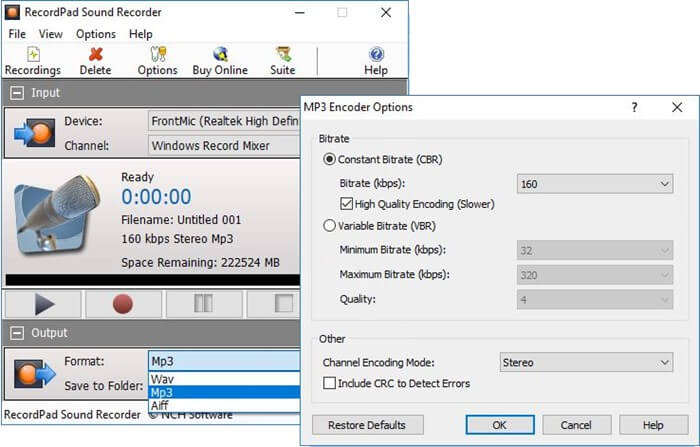 Pros:
The output file can be saved on hard drives
Simple and robust recording software allows to record audio tracks for personal and professional use
Burn the file directly to CD/DVD while operating the recording
Cons: 
Work better for small-size audio files
The output formats for audio are limited
Top 4. Ardour 
To extract audio from video, Ardour can turn out to be quite handy. This software is an easy-to-use audio recorder for Windows 10 that allows the user to record audio tracks through multiple channels. 
You can easily record clear audio tracks and save them on your Windows 10 desktop/ laptop or keep it for future editing tasks. The best thing is that the files recorded by this software occupy very little space on your PC and can be deleted anytime when there's a space issue.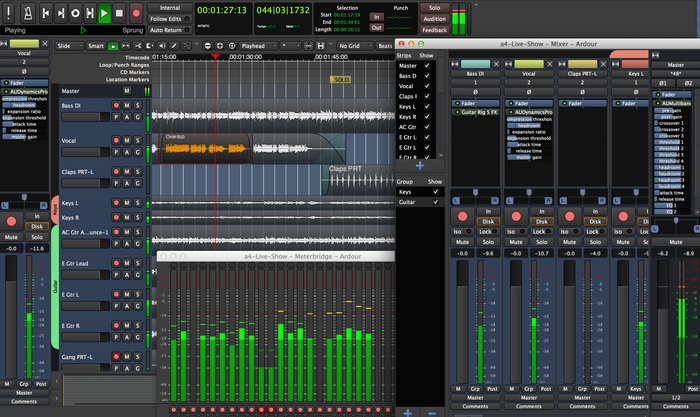 Pros:
Capture any audio track quickly
Professional interface to capture audio
Powerful sound editing features are available
Cons:
A mobile application is not available
Difficult to capture audio without a guide
Top 5. Audacity
As one of the best open-source voice recording software for Windows 10, Audacity is available for common users. There is an option of donating funds for this audio recorder to support the development. Otherwise, it is 100% free, and it allows professional audio recordings through any device of your choice. 
Besides, you can edit your sound files by cutting, trimming, copying, etc., and saving them in your desired audio formats. Like the Windows 10 default recorder, it captures your voice from an external device like a microphone.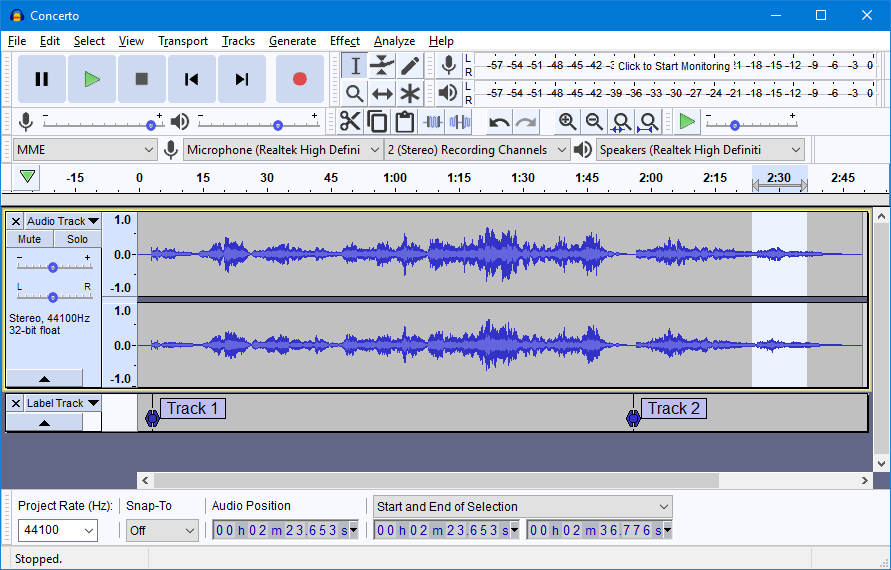 Pros:
Completely free and open-source audio recording software
Live recordings can be done through microphones or any other devices
Cons:
There's no premium version available for privileged users
Top 6. WavePad 
WavePad is a free voice recorder that works perfectly on Windows 10, macOS, and Linux operating systems. Plenty of features make this tool appreciated worldwide, whereas one can get more advanced features integrated with this easy-to-operate audio recorder when purchasing its premium version. 
The audio recorder supports types of file conversion and produces high-quality outputs with the most popular audio formats, such as MP3, OGG, WAV, AIFF, GSM, WMA, and a lot more. 
Pros:
Batch processing is supported
Satisfy most of your sound recording needs
Control the track by amplifying, normalizing, or equalizing when recording the audio
Cons:  
The free version of the software has limited functionalities
Sometimes there are distortions that can be found after applying the noise-cancellation
Top 7. GoldWave
GoldWave is the old and renowned voice-capturing software for Windows PC. This voice recorder application for Windows 10 is dedicated, and there is also a paid version of the software available with many advanced features and functionalities.
Apart from voice recording, you can use it for kinds of audio through different devices and make awesome audio tracks for your social media channels. Then, you can upload the voices to social media platforms like YouTube.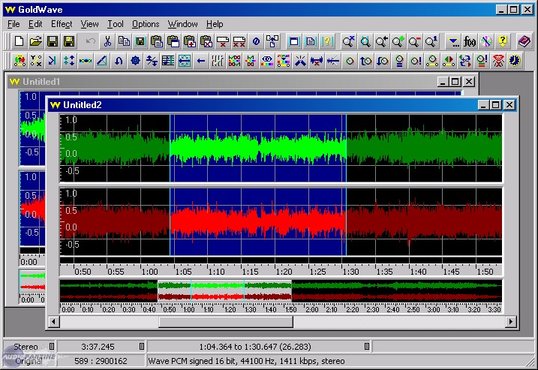 Pros:
Free solution for simple audio recording
Plenty of editing options are available with multiple effects
Support almost all types of file formats and export with common file formats
Cons: 
Limited features and functionalities on the free version
Lack of directly online support
Top 8. Zynewave Podium Free
Zynewave is a top-class audio recorder and editor that is compatible with many operating systems and works completely on Windows 10. It's free software with lots of freeware plugins available on its official website. 
This Windows 10 voice recorder produces high-quality audio tracks when blended with powerful editing features. In spite of performing all the basic capturing and editing functionalities, this free voice recorder for Windows 10 lacks more professional audio editing features.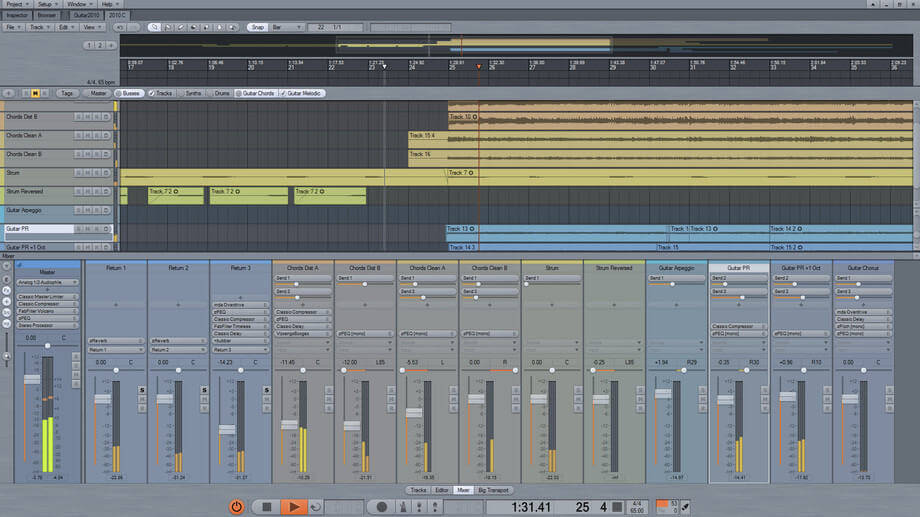 Pros:
Perform basic sound recording and editing features
Simple interface for users
Cons: 
Basic and limited functionalities in the trial version
Not very friendly for your total CPU usage while using this software
Top 9. Recorder Ones 
To make long audio recordings, you can definitely try Microsoft's Recorder Ones. This software is available for free and allows creating awesome audio tracks and saving them within the DropBox.
You can get this tool from the Microsoft Store, and it supports formats like WAV, WMA, MP3, FLAC, etc. What's more, it can export your recorded audio to a phone disk in a music folder.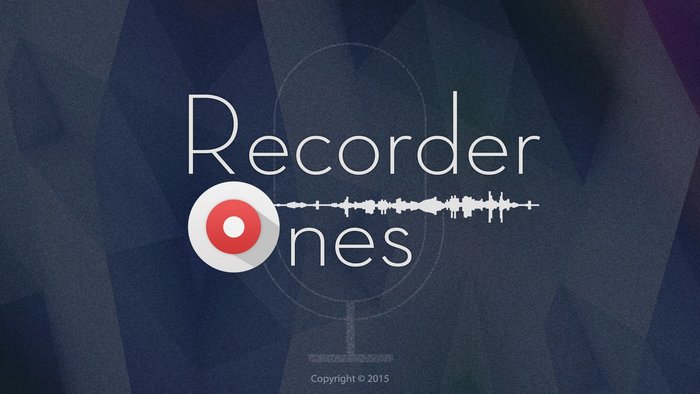 Pros:
Auto-saving feature for capturing audio
Work with the OneDrive
Change the quality of audio from low to high
The output file can be saved on the PC or mobile phones
Cons:
Work only on specific system requirements 
Top 10. Lucky Recorder
Lucky Recorder is a very simple and powerful audio recorder powered by Microsoft, mainly serving the purposes of making high-quality playbacks, recording long meetings, class lectures, online lessons, and more.
This beneficial voice recorder for Windows 10 supports many types of file formats and allows sharing recorded audio files with your friends through social networking platforms without losing quality.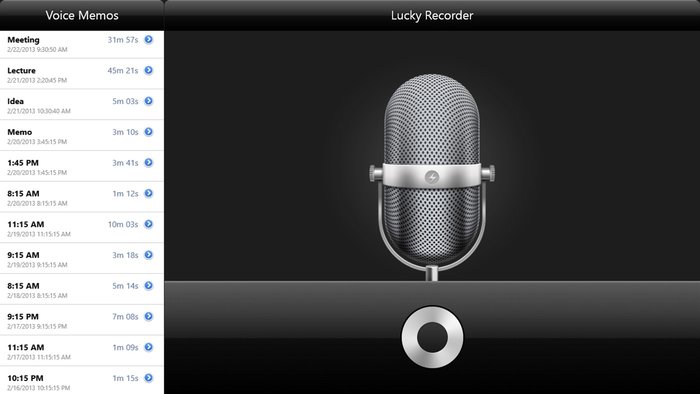 Pros:
One-click capturing features
Support very lengthy recordings
Cons: 
Very simple and easy user interface
Provide limited editing advanced options
A few functions in the free version
Conclusion
Recording audio is not just about making it noise-free. The audio track should also be pleasing, soothing, making people understand each sound with accuracy and perfection.
There are 10 voice recorder for Windows 10 given in this post. Choose the dedicated one like EaseUS RecExperts (mentioned at number one in the list above). Download it and start capturing audio. 
FAQs About Voice Recorder Windows 10
Keep on reading if you have more information about the audio recorder on PC. 
1. Does Windows 10 have a voice recorder?
Yes, Windows 10 does have it. It is a default tool on Windows, and you can easily use it to capture your voice. After capturing, you can use it to export, or delete your audio files.
2. How to use Windows 10 Voice recorder?
It is easy and quick to use Windows 10 Voice recorder. 
Step 1. Find the Voice Recorder on your Windows PC. By using the Windows searching bar. Type its name.
Step 2. Download it and then perform this tool. Click the Record button to begin your capturing.
Step 3. Once done, you can hit the Stop button to end the recording. It saves in your computer files. 
3. Where do I find sound recorder files in Windows 10?
If you use the default Windows 10 voice recorder, you can find all your audio files in the path of the C>Users>YourUserName>Documents>Sound recording.
About the Author

Crystal Chen is very interested in technology products. Experiencing many technological applications, She is willing to solve users' problems through writing tech-related articles. Through her words, you can find various solutions to solve one issue.