
Table of Contents

About the Author

Related Posts

Best Audio Recording Software
| Workable Solutions | Step-by-step Troubleshooting |
| --- | --- |
| Fix 1. Check if the Audio Is Mute on the PC | Find the Audio icon at the bottom corner of your PC. Check whether...Full steps |
| Fix 2. Check if Discord Is Working With Other Games | Check whether Discord is working with other games or not. If it is...Full steps |
| Fix 3. Reset Discord Audio Settings | Open Discord on your PC and log in....Full steps |
| Fix 4. Change Discord Voice Settings | Open Discord on your PC, and in the left pane, under APP SETTINGS...Full steps |
| Fix 5. Reinstall Discord | Open Windows Settings and go to the Apps section. Then click on Installed apps...Full steps |
Discord is a software focused on regular online text, voice, and video communication. Probably the most stunning feature of Discord is screen share. Users can effortlessly stream their screen to a friend or even to everyone on the same speech channel; for instance, stream Netflix on Discord, and many more.
Making your Discord server and chatting with your friends is simple enough, but while Discord faults are uncommon, they can still prevent you from accessing the platform.
Discord users may experience streaming sound problems, preventing them from hearing audio when they share their screen on Discord (and vice versa). The voice settings on the Discord application or Windows might be messed up. So, in this article, I have shared two methods to help you resolve this issue. Read on to find out more!
Top 5 Fixes About Discord Stream No Sound Issue
Given below are five fixes on how to fix Discord stream no sound:
Check if the Audio Is Mute on the PC
Check if Discord Is Working With Other Games
Reset Discord Audio Settings
Change Discord Voice Settings
Reinstall Discord
1] Check if the Audio Is Mute on the PC
The first method is quite simple, where you have to check whether the audio on your PC has been set to mute accidentally.
You will find the Audio icon at the bottom corner of your PC. Check whether it is on mute or not. If it is, unmute it and check whether the audio streams on Discord.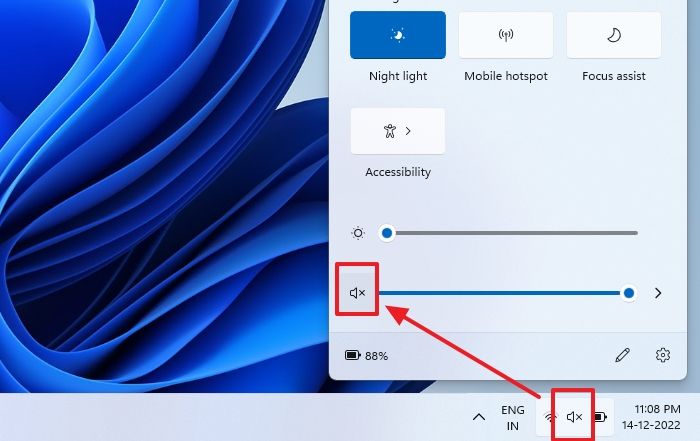 2] Check if Discord Is Working With Other Games
If the above method does not help, the next thing you need to do is to check whether Discord is working with other games or not. If it is, perform the following methods below to enable sound for the application that is not streaming sound on Discord.
3] Reset Discord Audio Settings
Be careful while you alter Discord's audio settings, as it can cause several issues if the settings are faulty. Making changes to Discord's audio settings can enhance the audio quality of a stream or a call, so the best solution to this problem is to restore Discord's audio settings to default. So, this is how to go about it:
Step 1. Open Discord on your PC and log in.
Step 2. On the left pane, under APP SETTINGS, click on the Voice & Video option. Next, scroll down and click the Reset Voice Settings button on the right.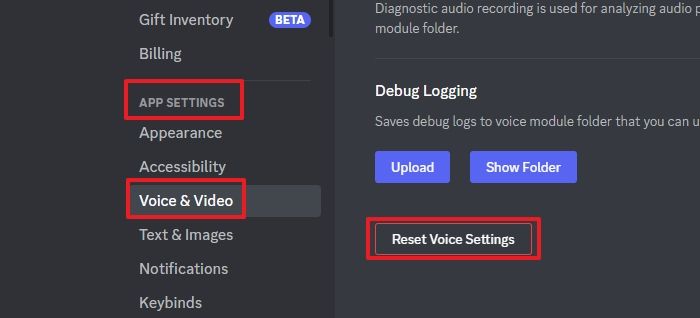 Step 3. A prompt window asking for confirmation will pop up. To restore your settings, click on the Okay button. You can check whether the sound works on Discord.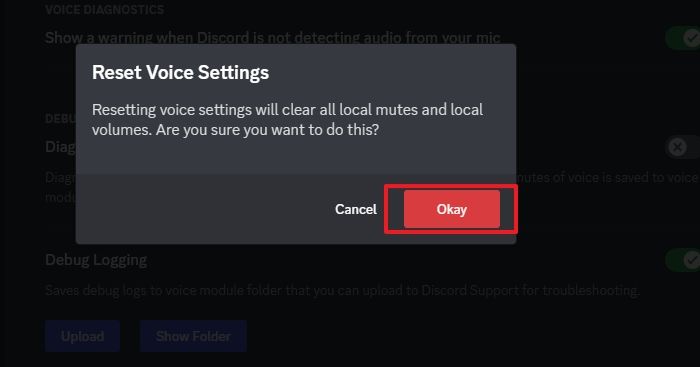 4] Change Discord Voice Settings
The following method you may have to perform is manually adjusting some audio settings if your Discord stream has no sound after resetting Discord's voice settings to their default state. Here is how to go about it:
Step 1. Open Discord on your PC, and in the left pane, under APP SETTINGS, click on the Voice & Video option. 
Step 2. Scroll down, and you will find two options under VIDEO CODEC. If you are using the desktop app, toggle off the OpenH264 Video Codec slider to change to a different audio codec.

Step 3. Additionally, you can turn off a few voice processing features. If specific audio devices (like your Discord mic) are not operating as intended, toggle off Advanced Voice Activity and Automatic Gain Control options.

Step 4. Quality of Service (QoS) is used by Discord to ensure that calls and streaming are prioritized above other local network traffic, but this occasionally results in problems. So, toggle off the Enable Quality of Service High Packet Priority slider to disable the feature and check whether the sound is working.

5] Reinstall Discord
The Discord software itself will occasionally cause issues. To ensure the most recent updates are installed, reinstalling the Discord app is a helpful fix for any potential streaming issues. Here is how to uninstall Discord from the Control Panel.
Step 1. Open Windows Settings and go to the Apps section. Then click on Installed apps.
Step 2. In the next window, you can find a list of installed applications. Search and find the Discord app, click on the name, click on the three-dot menu, and then the Uninstall button to uninstall the Discord app.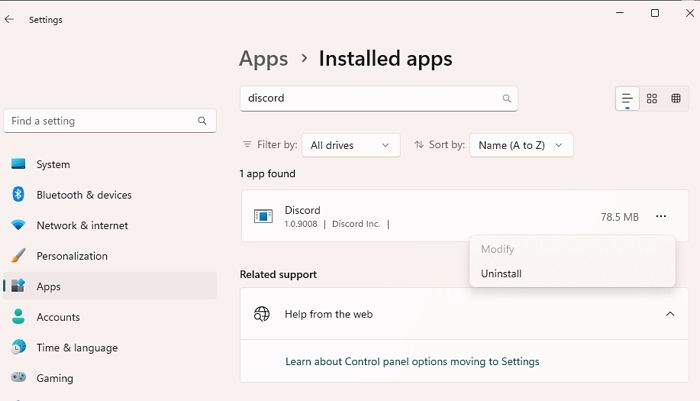 Step 3. Afterward, go to the official Discord website to download and install Discord on your PC again. Check whether the sound works on Discord.
Final Words
So, the issues like no audio and audio settings in Discord may affect your activities on the application. You can follow the instructions in the article to fix the no audio on the Discord stream issue. You can always try restarting your PC, which may fix minor issues. So, I hope this article helps!
About the Author

Jane is an experienced editor for EaseUS focused on tech blog writing. Familiar with all kinds of video editing and screen recording software on the market, she specializes in composing posts about recording and editing videos. All the topics she chooses