
Table of Contents

About the Author

Related Posts

Best Audio Recording Software
Rel
Updated on Feb 03, 2023|
min read
You might already know of iMovie if you are a budding content creator and use an iPhone to record your videos. Even if you do not have a professional camera or recorder, you can do all these things with iMovie.
iMovie, developed by Apple, is one of the most used video and audio editing platforms for budding video makers who cannot afford fancy and advanced tech gadgets. People can also directly capture a video, record audio, or trim a video in iMovie. Its numerous features and filters are available to edit your file to enhance your videos effortlessly. You can add and edit the videos and audio recorded on other platforms to this application.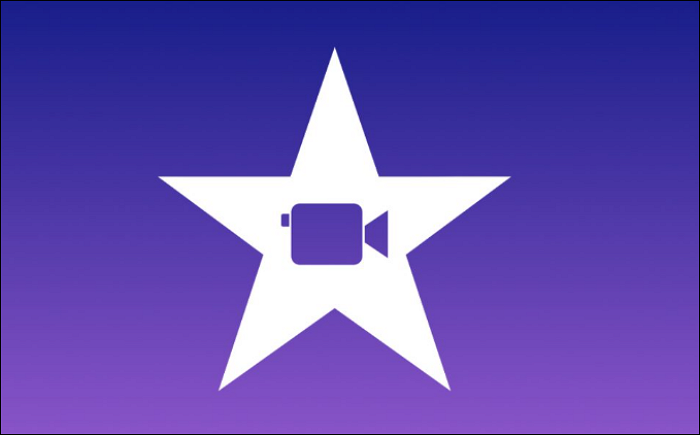 In this guide, we can learn how to record audio on iMovie on Mac, iPhone, and iPad. We will also discuss the best iMovie alternative to get even better audio and video configurations for your videos, which you can use to overcome the shortcomings of iMovie.
How to Record Audio with iMovie on Mac
You can record audio on iMovie on Mac with the voiceover option. To know the details steps to do this action, follow the instructions below:
Step 1. Open the iMovie application on your Mac.
There are two ways you can do this, either record audio and add it to the video outline or start the video and start recording the audio simultaneously from the point you want to add audio to the video outline.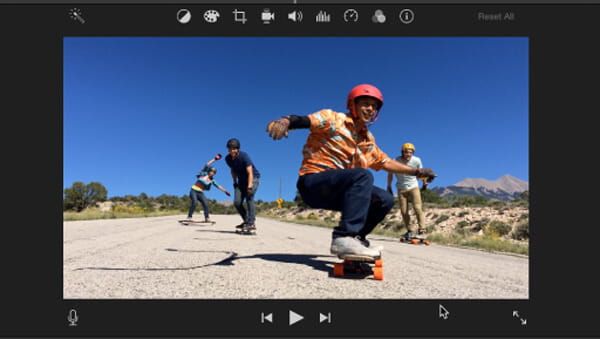 Step 2. To add audio directly to a video, open the Project you want to add audio to, position the cursor on the timeline, and click the Record Voiceover (Microphone symbol) below the viewer to start recording.
To save an audio file, go to View options and click on the Record Voiceover button. You can see various recording settings to adjust the quality of your audio.
Step 3. Now, in the Record Voiceover options, you can see various settings like a record from (receiver input device), adjusting levels of the input volume, Noise reduction from outside, and voice enhancement options. Customize all these settings as you wish.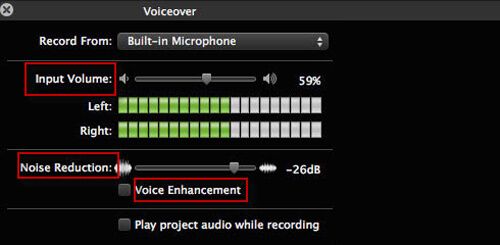 Step 4. Click on the Record button (Red) to start the voice recording, you can start talking after the 3-second countdown.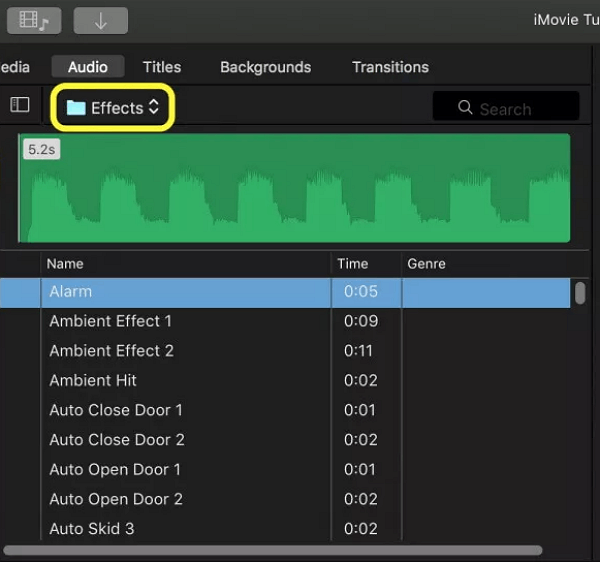 Step 5. Click the same Red button again once you are done recording the audio. You can use the spacebar on Mac.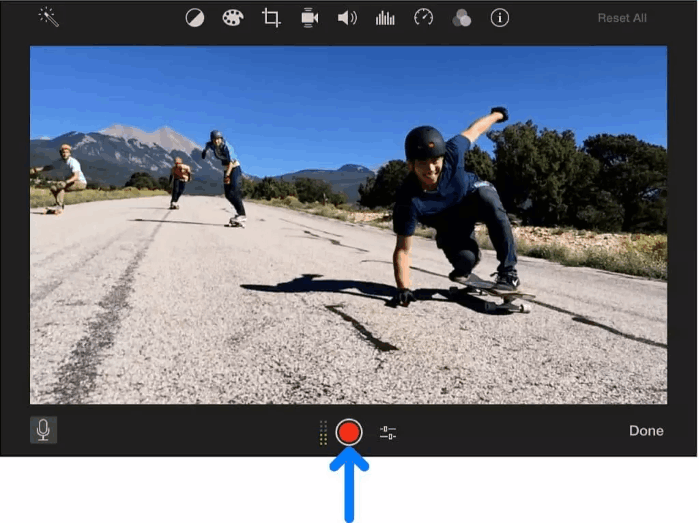 Step 6. Open and preview the audio file, visible as a new clip in the timeline. Click Done once you have the required output. If you add to a video clip, open your Project and overlay it on the video timeline.
Here is a video tutorial, you can watch it and understand this method better.
How to Record Audio with iMovie Best Alternative on Mac
iMovie is primarily a video editing tool for short films and videos. Still, it has some things that could be improved in audio regarding and video editing. The drawbacks include the following:
Limited audio editing options: It only has basic features like adjusting the volume, etc., but not advanced features like compression, equalization, and noise reduction.
We have limited audio formats.
No simultaneous audio and video recording feature for live gaming, etc.
No multitrack recording and fewer audio effects.
To avoid all such shortcomings and improve your final output, we recommend a professional Mac Screen and Audio Recorder - EaseUS RecExperts.
EaseUS RecExperts for Mac is a screen recorder that can record your Mac with audio, video, and webcam. It is a free recorder on Mac that can record internal audio or Microphone sound, and can record Twitter Space, zoom, gameplay and so on in 10+ formats. It also offers video editing, multiple audio processing formats, taking screenshots, etc.
The Key features of EaseUS RecExperts for Mac include:
Allows users to extract audio files while recording and also from a recorded video file.
Supports video trimming 
You can schedule recording tasks for certain time durations.
Without watermark and recording limit
Here are the simple steps to follow and record audio with EaseUS RecExperts.
Step 1. Launch EaseUS RecExperts and choose "Audio" (looks like a speaker) from the left side of the interface. Select the sound source by clicking on the speaker sign (the system sound) or the mic sign (the microphone). Or, you can record them both at the same time.

Step 2. Hit "REC" button to start recording audio. To finish it, you just click on the red square icon to stop the recording.

Step 3. After that, the recording list window will pop up automatically. You can listen to or edit the recording with built-in tools.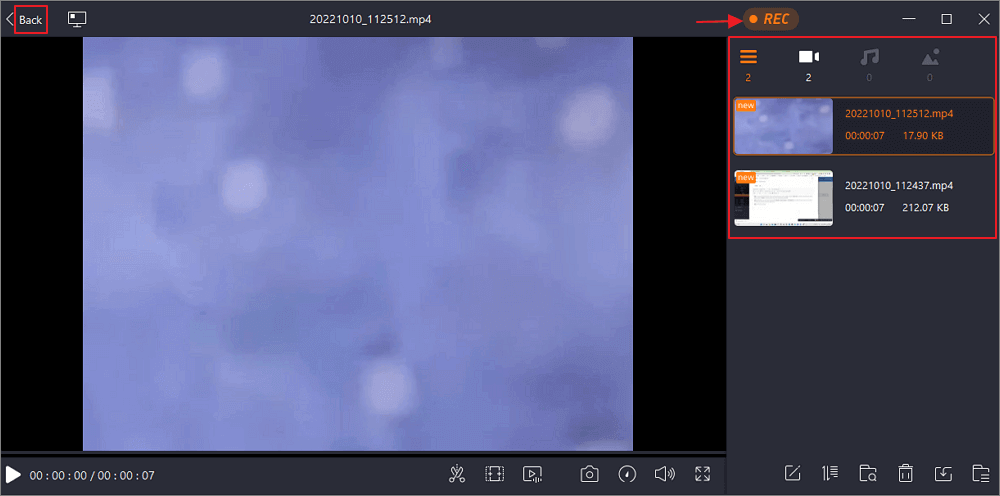 How to Record Audio with iMovie on iPhone/iPad
You can also record the audio in iMovie on iPad/ iPhone. Follow the steps below to understand this process in a simple way:
Step 1. Open the iMovie and open the iMovie project to which you want to add the audio.
Step 2. Now, scroll over the video runtime (the white vertical line) such that the playhead is where you want to start the recording.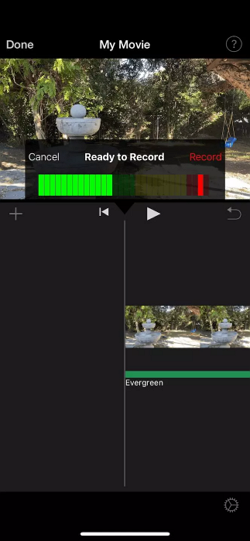 Step 3. Click on the Plus(+) button and tap Voiceover (Microphone) symbol.
Step 4. Tap Record and start talking after the 3-second countdown ends. After completing the recording, click on Stop to stop recording.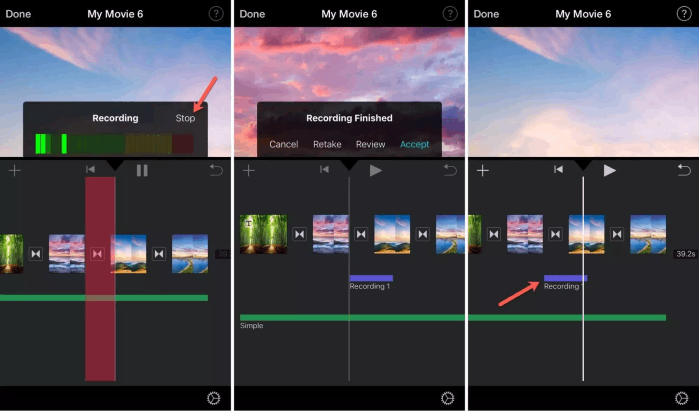 Step 5. Now, tap Review to preview the audio file and Click on Accept if you wish to keep it. Click on Cancel to delete it and Retake to start again.
Once you are satisfied with the output of the audio and video, click Done to save it.
The Final Verdict
Though there may be some limitations, iMovie is a powerful, all-in-one tool for video and audio editing. If you want to know how to record audio on iMovie, you can follow the above steps to record audio on iMovie on Mac, iPhone, and iPad. But if you want to use a professional screen recorder along with audio, you can opt for EaseUS RecExperts for Mac to overcome the shortcomings of iMovie.
If you find this post helpful, share it with your friends and leave a comment about it. If you have queries regarding the topic, feel free to ask them in the comment box, and do let me know of the future issues you wish to see articles from EaseUS.
FAQs
Here are some of the most frequent FAQs asked on the topic. If you have similar queries hope this will help you.
1. Why won't my iMovie let me record audio?
There are two possible reasons why iMovie won't let you record audio. If iMovie does not recognize the microphone you are speaking into, and if your video timeline is muted. Resolve the two situations to record audio using the voiceover option.
2. How do you unlock audio in iMovie?
Whenever you import any video into the iMovie, it imports the audio and video from the same source into one clip. Suppose you want to unlock the audio from the video. In that case, you can Detect the audio file and use it as a separate audio and perform all operations on it just like any other audio file.
To detach the audio clip, from the video clip follow the steps below:
Step 1. Open the iMovie app and select the video clip you want to detach the audio clip from.
Step 2. Click on Modify and then choose Detach Audio from the options. This will save the audio as a separate file.
About the Author

"Hi readers, I hope you can read my articles with happiness and enjoy your multimedia world!"