
Table of Contents

About the Author

Related Posts

Best Audio Recording Software
Larissa
Updated on Feb 01, 2023|
min read
PAGE CONTENT:
Are you looking for an easy way to record your Mac screen without having to use QuickTime? Screen recording can be a great tool for tutorial videos and presentations, but depending on the software you're using, it can often seem like a hassle. Thankfully, there are plenty of alternative methods for Mac users who don't want to use QuickTime. In this blog post, we'll go over how you can screen record on Mac without the need for additional software – guiding you through the simple steps required so that you have everything up and running in no time!
You can also read: How to Stop Screen Recording on Mac with QuickTime
This article is an exposition on how to get the best of screen recording through EaseUS Recexperts. But first, why do you need to do a screen recording? Let's say you have a call via Skype, and the other person (your client, wife, friend, etc.) mentioned two important things during the conversation, and you are neither with a pen nor a book. Or, have you noticed that you do not get the best out of the Zoom meeting recordings you usually have at work? These are good reasons to screen records with EaseUS Recexperts. You'll get to know why it is highly recommended in this article. Enjoy the read!
Best QuickTime Alternative for Mac Screen Recorder
EaseUS Recexperts for Mac, a Mac screen recorder, is designed to screen record on Mac with quality audio, videos, and webcam features. These audios and videos can convert up to about 13+ form themes, making them compatible with various media formats.
Aside from the amazing clarity this platform gives when screen recording on your Mac, you do not need to worry about a watermark being on the videos recorded. All screen-recorded videos on EaseUS Recexperts do not have a watermark.

Here are some of the features of EaseUS RecExperts;
Full and region capture: With EaseUS Recexperts, you can fully record the whole of the screen or any portion of your Mac screen. Moreover, you can make HD screen recordings and simultaneously capture multiple screens on your Apple device.
Scheduled recording: The advanced settings on EaseUS Recexperts allows you to schedule your recordings.
Record audio only: Screen recording has never been better than what EaseUS Recexpert offers. It enables a user to record audio (especially internal audio) with either the sound from the microphone or the system audio. It can also use both! Whether M1 or M2 MacBook, EaseUS Recexperts allows you to screen record the audio with a flexible mechanism.
Screenshot feature: On this platform, you can also quickly take screenshots even as you record videos on your screen.
Extract audio from recordings: EaseUs Recexperts is very suitable for extracting the audio of any recorded video file in any format. In addition, you can save another audio file in any audio format while recording.
Save recordings in multiple formats: With EaseUS Recexperts, you can not only set your recorded footage videos according to your frame rate but also save the recorded footage in several file formats such as FLAC, AAC, MP3, MP4, MOV, WAV, OGG, FLV, AVI, WMA, etc. as a matter of fact, you can save up to about 13 file formats. You agree that screen recording has never been easier.
Switch Video to GIF: It is also a GIF recorder that can convert screen recordings or images to animated Gifs. With EaseUS Recexperts, screen recordings come with ease.
Auto-split: You can also auto-split your video captures on EaseUS. This allows you to multitask as you do your screen recording on your Apple device.
You may be interested:
[Step Guide] Screen Record on Mac with EaseUS Rec Experts
Whether you're anchoring a presentation on Zoom or you're having a chit-chat on Skype or you'd like to make video tutorial for your mentees or associates, the versatility and vastness of EaseUS Rexcexperts guarantee a smooth execution of your video recording goals. How about you try it and also recommend it to your folks after your first experience? We'd be sure you will do so because every experience on EaseUS Recexperts must be relished!
Step 1. Run EaseUS RecExperts on your device and you will see two recording modes. You can choose "Full Screen"to record the whole screen or choose "Region" to select the recording area manually before recording.

Step 2. After that, you can choose to record the webcam, system sound, microphone or record none of them as you like. You can also set auto split, auto recording with various functions on the interface.

Step 3. Then, you can click the red "REC" button to start recording. Here will be a menu bar on your screen. To pause the recording, click on the white double vertical bar; to end the recording, click on the red square sign.

Step 4. After recording, you will be led to the list interface. Here you can view or edit your recordings. To start a new recording, just click on the "REC" button on the top of the interface.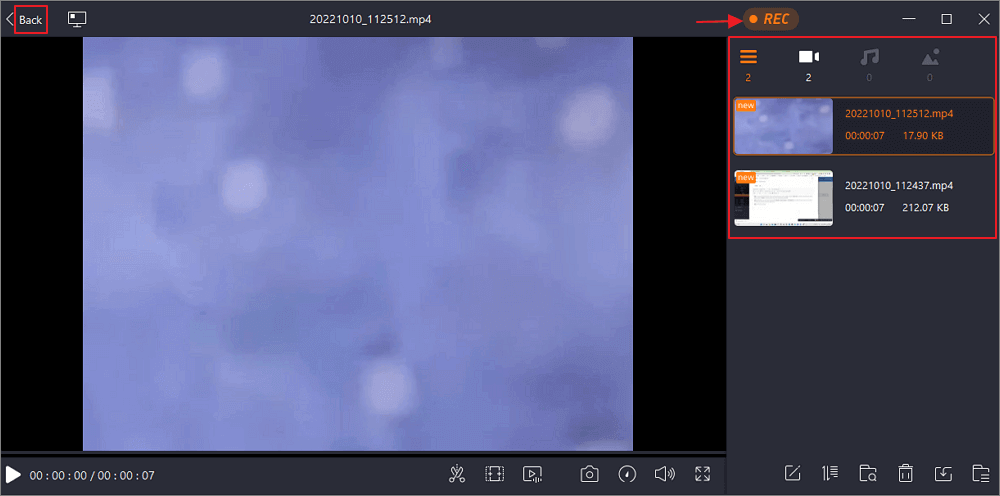 Final Words
If you don't want to use QuickTime Player on Mac, EaseUS Recexperts can be the most beautiful experience you have ever had. Whether you are trying to duplicate a tutorial video for someone or you want to multi-task even as you are present in a Zoom, Skype or Google Meet online meeting, EaseUS Recexperts offers the most convenient screen recording experience with flexibility.
On EaseUS Recexperts, you can auto-split, save recordings in up to 13 formats, switch the video to animated gifs, and so much more! Try using EaseUS Recexperts for your recording tasks. It doesn't cost a lot; rather, it saves a lot!
Screen Record on Mac without QuickTime FAQs
Screen recording on Mac is quite simple if you follow instructions promptly. You can use EaseUS Recexperts or the MacBook in-built screen recorder (QuickTime player). Either way, ensure you follow the instructions. However, if you have questions about this task, this section has answered some of the probable questions. Please read through carefully!
1. Can I screen record on Mac?
Yes, there is. You can screen record on your Apple device by using the EaseUS screen recorder for Mac gadgets. All you need to do is download and install EaseUS Recexperts. Launch it and follow instructions promptly.
You can also screen record on Mac by using the QuickTime player. QuickTime player is a screen recorder that comes with MacBook devices.
2. How do I manually screen record on my Mac?
You can manually screen record on Mac and also stop recording manually. Launch the Mac screen recorder and click "Record Screen", and voila! Your enjoyable screen recording experience has just begun!
3. How do you record on Mac without the app?
You can record on your Mac without the app with the following steps:
Open QuickTime player on your MacBook
If you are using headphones, drag the volume to monitor the input.
Double-click on the red button to begin the recording task.
Click "File" to save the new recording.
About the Author

Larissa
Larissa has rich experience in writing technical articles. After joining EaseUS, she frantically learned about data recovery, disk partitioning, data backup, screen recorder, disk clone, and other related knowledge. Now she is able to master the relevant content proficiently and write effective step-by-step guides on various computer issues.