
Table of Contents

About the Author

Related Posts

Best Audio Recording Software
Sometimes you may want to share the happiness of playing games with others, and broadcasting a live stream on Twitch is a good way to do that. It's well known that you should choose suitable streaming software to do that, such as OBS Studio and Streamlabs. To ensure the excellent video quality of your live stream, it's advisable to change the OBS settings according to the game you are playing.
How to stream CSGO? What are the best OBS settings for CS Go? If you are searching for the answers to that questions, this post is for you. Keep reading, and you will know the best methods of Counter-Strike streaming.
| Workable Solutions | Step-by-step Troubleshooting |
| --- | --- |
| Fix 1. With Best OBS Settings | After opening OBS Studio on your PC, you can find a "Sources"...Full steps |
| Fix 2. With Streamlabs | Firstly, launch this software. Like using OBS Studio, you will also see a...Full steps |
| Fix 3. Record CSGO Live Stream on Windows/Mac | Although both the two streaming apps mentioned in this post....Learn more |
How to Stream CSGO with Best OBS Settings
If you are a huge fan of Counter-Strike: Global Offensive, you must know that Valve, the developer of CS: GO, added the "Trusted Mode" to the game. The Trusted Mode is designed to combat cheaters and block third-party software from interacting with the game. This is an excellent update for most gamers, but the content creators of GS: GO get in trouble. OBS Studio is prevented from streaming the gameplay as long as the Trusted Mode is enabled. Is there any way to solve that problem? The answer is yes.
Step 1. For streaming CS: GO using OBS Studio, you should first choose the game as the source.
After opening OBS Studio on your PC, you can find a "Sources" section on its interface. And you only need to click on the "+" icon in this section and choose the "Add" > "Display Capture" options. Then, OBS Studio will capture the whole screen as the source.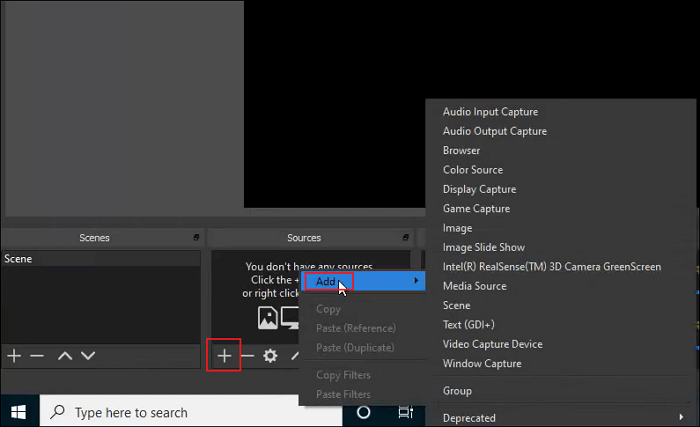 Step 2. After selecting the video source, it's time to adjust the stream settings.
Go to "File" > "Settings" to customize the options for your live stream. If you want to broadcast a live stream on Twitch, you need to get a stream key from that platform and fill it in OBS. 

OBS Studio also gives you many options for adjusting the video and audio quality for your streaming. Of course, you can also customize OBS mic settings for streaming. To do these, you can go to the "Audio" or "Video" tab to set them. If you don't know the best resolution and video bitrate that fits your needs, the table below may benefit you.
Best OBS Settings for CS GO (for Video):
| Quality | Resolution | Video Bitrate |
| --- | --- | --- |
| Ultra-High Definition | 4K | 8000 |
| High Definition | 1920x1080 (1080P) | 3000/3500 |
| High Definition | 1280 x 720 (720P) | 1800/2500 |
| Medium |  640 x 360 (360P) | 600/800 |
Best OBS CSGO Settings (for Audio):
| Quality | Audio Bitrate |
| --- | --- |
| High Quality | 320 |
| High Quality | 256 |
| Medium | 128 |
Step 3. Now, you can go back to the main interface and click on the "Start Streaming" button to start the broadcasting.

Notably, you should choose the "Display Capture" option to stream the CS: GO gameplay instead of selecting the "Game Capture" option. With this method, you will be able to stream CS: GO on Twitch, even when the Trusted Mode is enabled.
How to Stream CSGO on Streamlabs
Another popular app for streaming CS: GO gameplay is Streamlabs. As this software is designed on the basis of OBS Studio, the steps to adjust the settings in Streamlabs are similar to the operations on OBS Studio. Although there is little difference between the interfaces of those two streaming apps, Streamlabs provide you with more helpful and advanced functions. For instance, Streamlabs allows you to customize the appearance of the software freely, and it also gives you some tools to chat with the audiences conveniently.
Now, follow the steps below to stream CS GO with Streamlabs.
Step 1. Firstly, launch this software. Like using OBS Studio, you will also see a "Sources" section on the interface. Click on the "+" icon and move to the next step.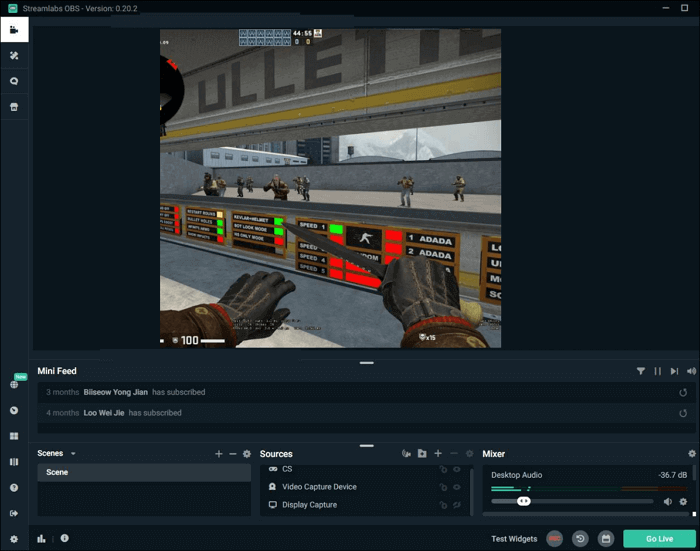 Step 2. There will be a pop-up window where you can choose from different types of sources. Though this software offers you more options, you need to select "Display Capture" as the same.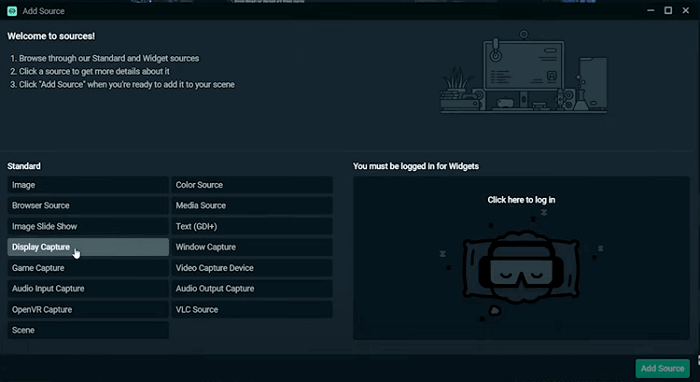 Step 3. Go to the "Settings" window, and fill in your stream key. In addition to Twitch, this software also helps in streaming on many other platforms, such as YouTube, Facebook, Twitter, etc.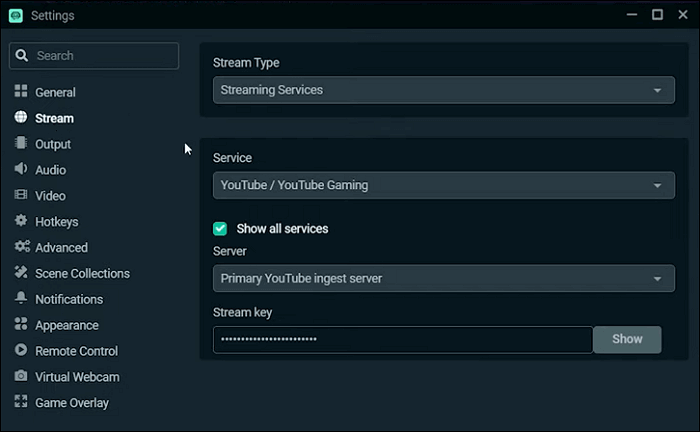 Step 4. Many options are available in the "Video" and "Audio" tabs for you to customize the streaming settings. Two detailed tables for the best CSGO streaming settings are offered above, and you can customize the settings according to the tables.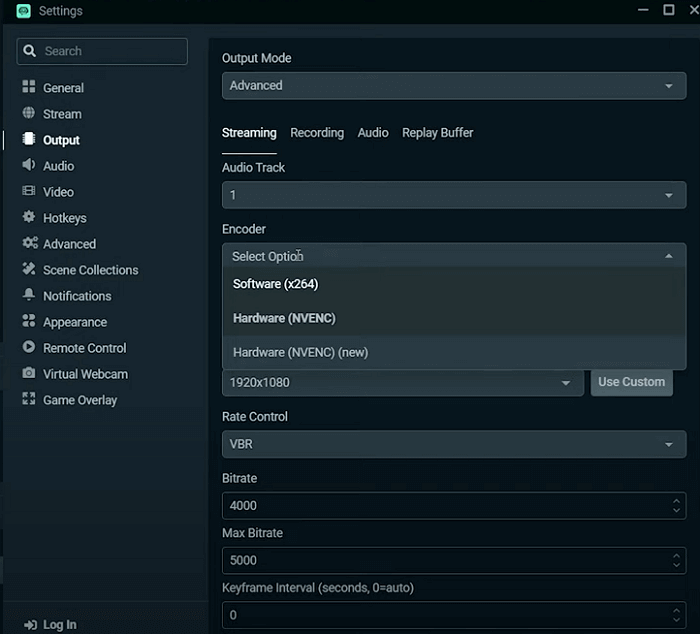 Bonus: How to Record CSGO Live Stream on Windows and Mac
Although both the two streaming apps mentioned in this post can record the gameplay during the streaming, they are likely to affect the performance of your device and even slow down your computer. 
For those who want to capture the screen along with the broadcasting process, a more lightweight recorder, which is named EaseUS RecExperts, could be the best choice. This screen recorder is compatible with both Windows and Mac, and it gives you a complete set of tools for recording screens.
For instance, a Task Scheduler is available to automatically start and end the recording. If the recording is too long, this software can help you split it into multiple clips along with the recording process. Besides those tools, a built-in video trimmer and a media player are also what you can use in this software. 
EaseUS RecExperts
Record screen, audio, and webcam
Export high-resolution video up to 4K and 1080P
Support more than ten output formats
FAQs about How to Stream CS: GO
Check the frequently asked questions related to this topic below.
1. How do I show CSGO on OBS?
Follow the steps below.
1. Open OBS and locate your CSGO scene and sources.
2. Add a display capture source by clicking the "+" symbol in the sources box.
3. Click "OK" after you've added the display capture source. A new window will pop up, click "OK" once more.
2. Does CSGO have streamer mode?
Yes, but there is a strict restriction on streamer mode. A streamer may have to join a lobby twice or sometimes even three times to start a queue.
3. Why does OBS not capture CSGO?
Since OBS is technically a third-party software, it was not exempted from the Trusted Mode update. So, OBS does not capture CSGO.
Conclusion
This post introduced the Best OBS settings for CS: GO and walked you through streaming the gameplay step by step. Although both OBS Studio and Streamlabs can stream CSGO, those two apps have a common disadvantage: streaming and recording the gameplay at the same time may slow down your device.
To avoid this problem, EaseUS RecExperts can help. This lightweight screen recording app can capture the gameplay without lag or frame drop. Download it and try advanced tools you may need for screen recording.
About the Author

Melissa is a sophisticated editor for EaseUS in tech blog writing. She is proficient in writing articles related to multimedia tools including screen recording, video editing, and PDF file conversion. Also, she's starting to write blogs about data security, including articles about data recovery, disk partitioning, data backup, etc.