
Table of Contents

About the Author

Related Posts

Best Audio Recording Software
Jerry
Updated on Jan 29, 2023|
min read
OBS, an abbreviation of Open Broadcaster Software, is a free and open-source program for offline video recording and live streaming. If you're looking for an app to record your screen, OBS is a perfect choice. However, sometimes, you will encounter some problems when using OBS, such as OBS game capture black screen and OBS not recording screen issues. This post will tell you how to fix OBS Studio not recording screen errors.
Why OBS Is Not Recording Screen
For many young individuals who play games, OBS is a must. However, occasionally OBS will not record audio or screen, detracting from the quality of your recording. Since the issue arises without warning, the causes are difficult to identify. OBS Studio can stop recording your screen if you don't have administrator rights, use the wrong software version, or have incorrect graphics settings.
Here are some essential and prevalent causes of OBS not recording screen or audio issues.
An expired audio driver.
Audio device selection.
Improper sound settings.
Conflict with other software.
Mute this application mistakenly.
The system is compatible with the installed OBS version.
After knowing what causes the OBS not recording screen issue, it is time to figure out how to fix it. Please keep reading.
6 Ways to Fix OBS Studio Not Recording Screen
Here are 6 simple solutions to help you troubleshoot the OBS not recording screen issue. Try going through the solutions below if you've encountered a similar problem. Then, let's move to the details:
Fix 1. Restart OBS Studio
You can restart OBS Studio before delving further into the troubleshooting procedure. The most effective method is to stop any OBS Studio-related processes using Task Manager. Then, attempt to start OBS once more to see whether the issue still exists. Finally, continue to the solutions below if OBS still won't record your screen.
Fix 2. Run OBS as an Administrator
OBS won't be able to record your screen as expected if it doesn't have the necessary administrator rights, but you can address this by running OBS as an administrator. You can perform the following steps to run it as an administrator.
Step 1. Right-click on OBS and select Properties.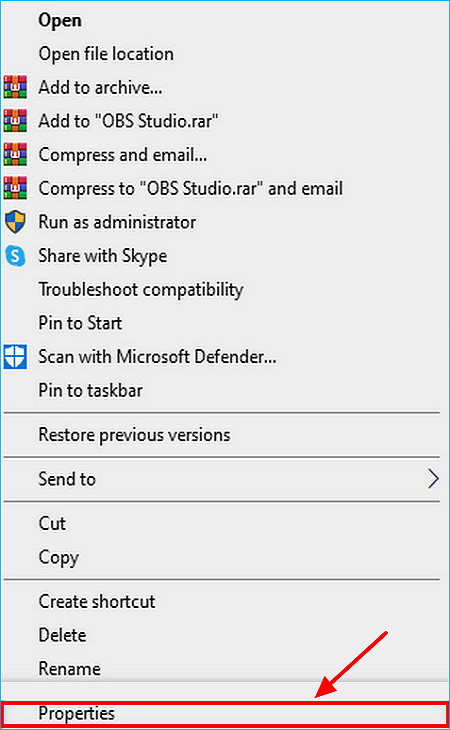 Step 2. Under the Compatibility tab, select the Run this program as an administrator option.
Step 3. Click Apply to save the settings.
Fix 3. Close Unnecessary Background APPs
Software conflicts may also be to blame. Before using OBS, you can close any unnecessary background programs to prevent this. Below are the steps:
Step 1. Type Task Manager in the Windows search box and click Open to launch it.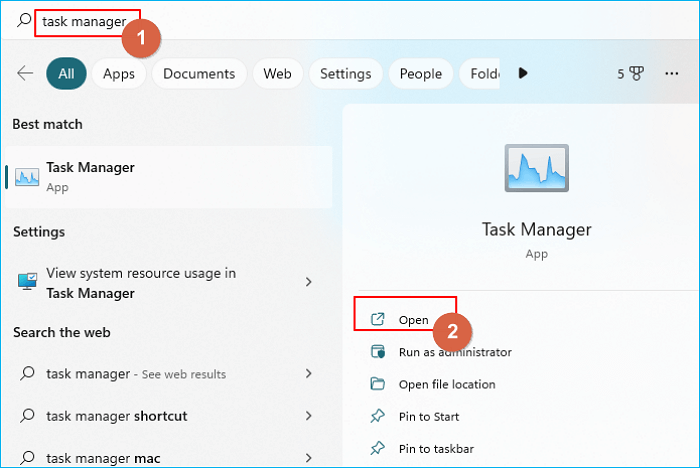 Step 2. Right-click on a program you want to close and then click End task.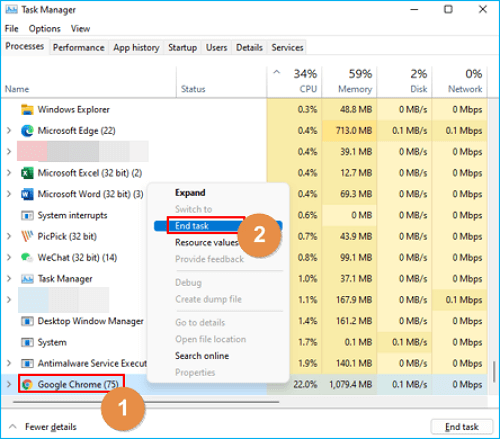 Once done, restart the OBS to test.
Fix 4. Change Graphics Settings
Performance issues will arise when using the specific graphics card with a certain capture type while running OBS on a laptop or multi-GPU machine. OBS may thus fail to record your screen. Correct this by choosing the dedicated graphics card in Windows settings. The steps are as follows:
Step 1. Press Win + I to open Settings and head for System > Display.
Step 2. Scroll down to Multiple displays and click on Graphics settings.
Step 3. Under Choose an app to set preference, select Desktop app.
Step 4. Click Browse and locate the OBS Studio executable file.
Step 5. Click on OBS Studio > Options.

Step 6. Let Windows decide is the default setting. Choose High performance if OBS Studio Game capture is what you intend to use. Select the power-saving option if you want to use Display Capture. Then, click on Save.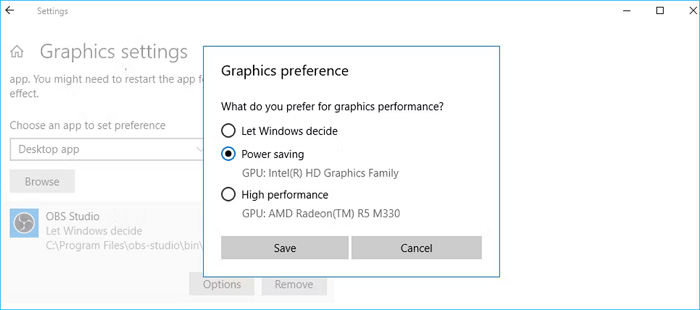 Fix 5. Update your Device Drivers
You may encounter the OBS black screen issue, and it won't be able to record the screen correctly if your device drivers are old, broken, or missing. Here are two methods for updating device drivers for you:
Option 1 - Manually. You can update the drivers manually by visiting the company's website that makes the PC or the hardware and then looking for the most current, accurate driver. Make sure to select only drivers compatible with the version of Windows you are using.
Option 2 - Automatically. If you do not have time or effort to update your device drivers manually, you can also do it automatically.
Step 1. Type "Device Manager" in the Windows search box and press "Enter".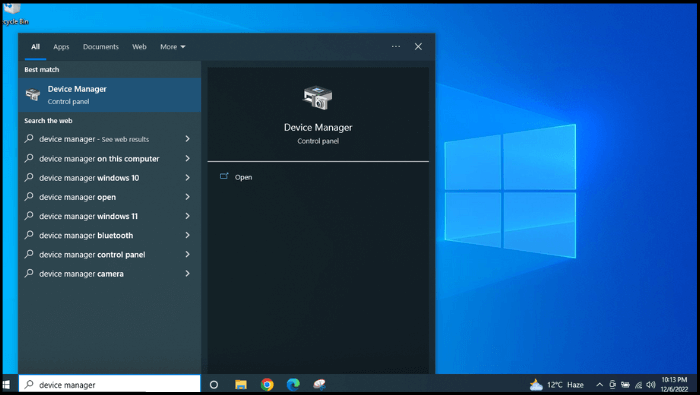 Step 2. You will see a list of devices. Choose and expand "Display adaptors" and right-click on "Graphics".
Step 3. Click on "Update driver".
Note: You should click "Uninstall device" and repeat the installation process if your drivers are current and you are still experiencing the problem.
Fix 6. Reinstall OBS Studio
You should reinstall the app if you cannot identify issues with OBS Studio or your system settings. To ensure you're installing the most recent version after uninstalling the app, download it once more from the OBS Studio website.
Alternative to OBS Studio for Recording Screen
Although OBS Studio is an open-source and popular recording tool for Windows and Mac users, its interface is relatively complicated. Therefore, it is not suitable for new users. Besides, users may encounter issues like OBS not recording the screen and OBS game capturing a black screen. Under such circumstances, it is imperative to find an alternative to OBS. EaseUS RecExperts is precisely the one that can meet your needs.
EaseUS RecExperts is a screen recorder enabling you to record anything on your PC's screen. It allows you to record a video with a virtual background. It has a variety of supported output formats: MP3, MP4, MOV, FLV, MKV, AVI, AAC, WAV, FLAC, OGG, WMA, GIF, and PNG. In addition, it also allows you to screen record on Windows 7. Most importantly, it lets you screen record a protected video.
You can perform the following steps to screen record your computer.
Step 1. Run EaseUS RecExperts on your device and you will see two recording modes. You can choose "Full Screen"to record the whole screen or choose "Region" to select the recording area manually before recording.

Step 2. After that, you can choose to record the webcam, system sound, microphone or record none of them as you like. You can also set auto split, auto recording with various functions on the interface.

Step 3. Then, you can click the red "REC" button to start recording. Here will be a menu bar on your screen. To pause the recording, click on the white double vertical bar; to end the recording, click on the red square sign.

Step 4. After recording, you will be led to the list interface. Here you can view or edit your recordings. To start a new recording, just click on the "REC" button on the top of the interface.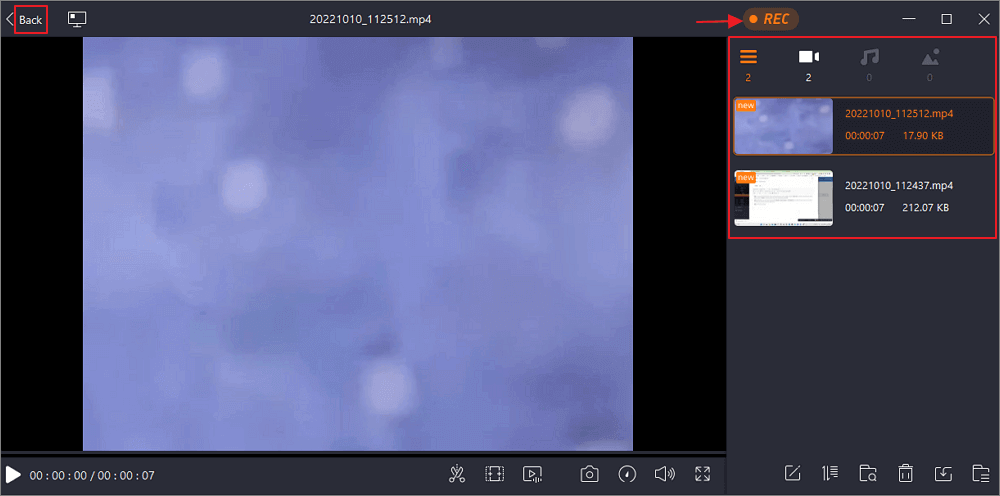 The Bottom Line
That is all about how to fix OBS not recording screen. You can try the above methods to help solve this issue when using OBS to record your screen. However, as mentioned above, OBS Studio is complex for new users, and its interface is not so straightforward. Therefore, you can try the OSB alternative - EaseUS RecExperts. It is a professional screen recorder with an easy-to-use interface. This screen recorder can help you record everything on your computer, even with limited technical knowledge. Just try it; it will not let you down.
FAQs
1. Why does OBS only record a black screen?
The majority of game software uses a dedicated GPU. The graphics card used by the game software will be different if the OBS Studio is in integrated condition. The result is that the screen will seem black. You must move the graphics card in OBS Studio to fix that problem.
2. Should I record OBS in MKV or MP4?
While MKV is a superior choice for high-definition content, MP4 is a fantastic choice for videos with much movement. Any format you choose should be tested before ensuring it is compatible with your OBS software.
About the Author

"I hope my articles can help solve your technical problems. If you are interested in other articles, you can check the articles at the bottom of this page, and you can also check my Facebook to get additional help."