
Table of Contents

About the Author

Related Posts

Best Audio Recording Software
Adobe Connect is a rich-featured application that enables users to create presentations and online tutorial videos. With Adobe Flash's help, Adobe Connect also allows you to hold a video conference conveniently. Some users may want to record the Adobe Connect video sessions and save those recordings on their computer to review them whenever they want.
Which is the best way to record the Adobe Connect session and download Adobe Connect recording? You will find the answer to that question in this post. 
How to Download Adobe Connect Recording on Windows 
It's straightforward for Windows users to record Adobe Connect meetings and save Adobe Connect recordings as there are plenty of great recorders you can use. Among all those options, two wonderful conference recording tools are worth noting.
1. Built-in Recorder
Perhaps you don't know that there is a built-in recorder in Adobe Connect, and this software can work as the default Adobe Connect video downloader that is easy to use. This tool can satisfy some of the basic demands for recording the screen. And the operations of recording the web conference using this built-in tool are not so different, and you can try to follow the steps below.
And there is something worth noting: you need to record the session as a host. When you have finished recording, it will save the recorded Adobe Connect video to your local drive, and you can watch it when necessary. The tutorial below will teach how to use this Adobe Connect video downloader, and you can follow the steps to get what you want to save.
Follow the steps below to download Adobe Screen Recording:
Step 1. Check your microphone and launch the software.
Step 2. Then click the "Meeting" option and choose "Recording meeting" from the drop-down menu.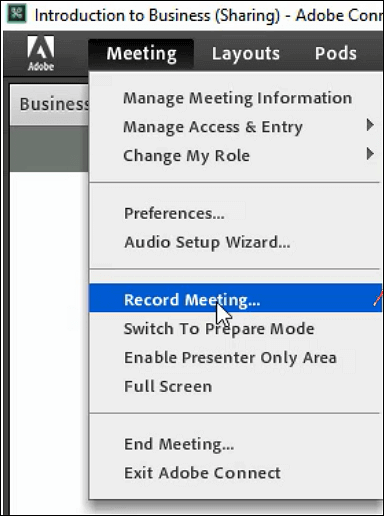 Step 3. Add the title and description of the conference into the dialog box. Don't forget to click on the "Turn on Audio Conference" feature if you want to capture the audio simultaneously.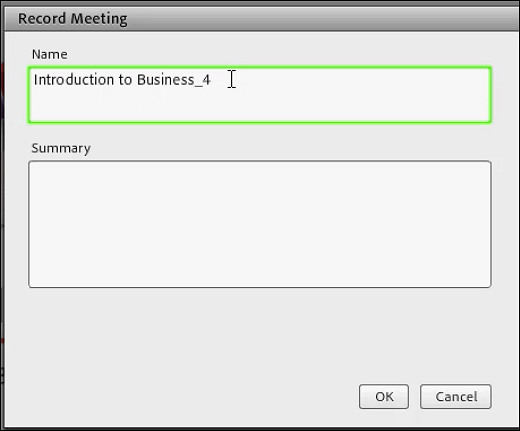 Step 4. Click on the "Record Meeting" button to start the recording. When you obtain all the contents you need, click the "Stop Recording" to save the recorded video.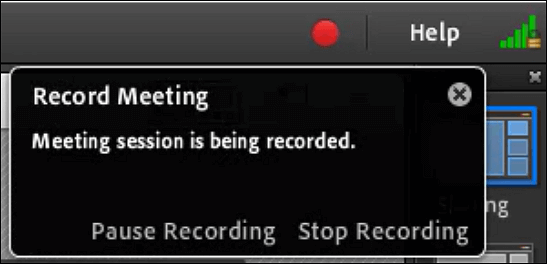 What if you are not the host of the meeting you want to record? How to capture the meeting without permission using a fantastic Adobe screen recording tool? Third-party software on Windows can help you do that effortlessly. Such as the following one.
2. EaseUS RecExperts for Windows
As a competent Windows screen recorder that can create recordings in 1080p and 60 fps, EaseUS RecExperts can faithfully keep every detail in the meeting to find everything you need when reviewing the recorded videos. More importantly, you can freely use this Adobe screen recording software without permission from the host.
This recorder offers more functions than a powerful online meeting recorder. For instance, when you finish the recording, it will provide you with a primary video editing tool to remove unwanted parts and keep the important content.
How to Use Adobe Screen Recording Software:
If you don't know how to record Adobe Connect meetings and download Adobe Connect videos, you can follow this tutorial.
Step 1. Launch EaseUS RecExperts on your computer. Before recording, you can choose from two recording modes. To record the whole screen, choose the "Full Screen" mode; to record a part of the screen, select "Region".

Step 2. You can also choose to record the screen with your webcam, system sound, microphone. Just click to select them. You can also set auto split, auto recording with various functions on the interface.

Step 3. Then, click on the red "REC" button to start recording. To pause the recording, click on the white double vertical bar; to end the recording, click on the red square sign. They are located on the menu bar appearing on your screen.

Step 4. After recording, you will be led to the recording list. Here you can view, split, extract audio, take screenshots, ans manage your recordings, etc. To start a new recording with previous settings, click on the "REC" button on the top of the window.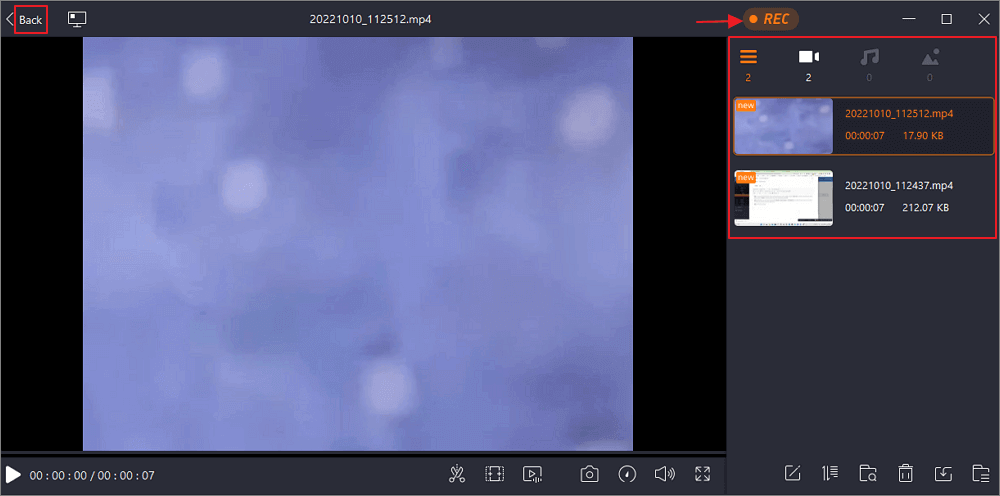 How to Record Adobe Connect Meetings on Mac 
Recording Adobe Connect meetings on Mac is not difficult when you choose the Mac version of EaseUS RecExperts to capture what you need.
This intuitive and user-friendly recorder is suitable for all Mac users, whether a beginner or a pro. This Mac screen recorder allows you to capture an Adobe Connect meeting in high quality while simultaneously recording the sound from various audio sources.
You can record sound from computer and a microphone simultaneously or separately, so you can save others' presentations and yourself. 
Key Features:
Don't miss this great Adobe screen recording tool. Click on the following button to download it.
How to Save Adobe Connect Videos on Mac:
Step 1. Before joining the meeting, download and launch EaseUS RecExperts for Mac. Then, choose a suitable meeting recording area from two options: "Full Screen" or "Region".

Step 2. Then, click on the "Sound" button at the bottom left corner to select the suitable audio source. The two buttons on the "Select recording sound" window are available to decide if you want to capture system sound, microphone audio, or both of them.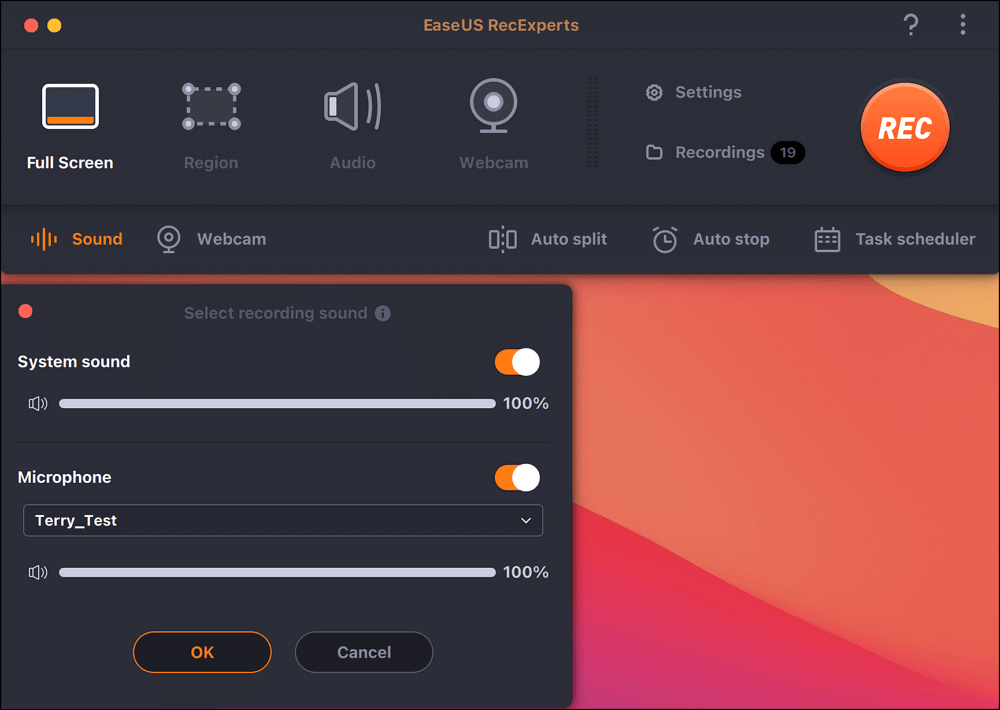 (Optional) To capture the webcam along with the meeting screen, the "Webcam" icon beside the "Sound" button can help activate a built-in camera or an external camera.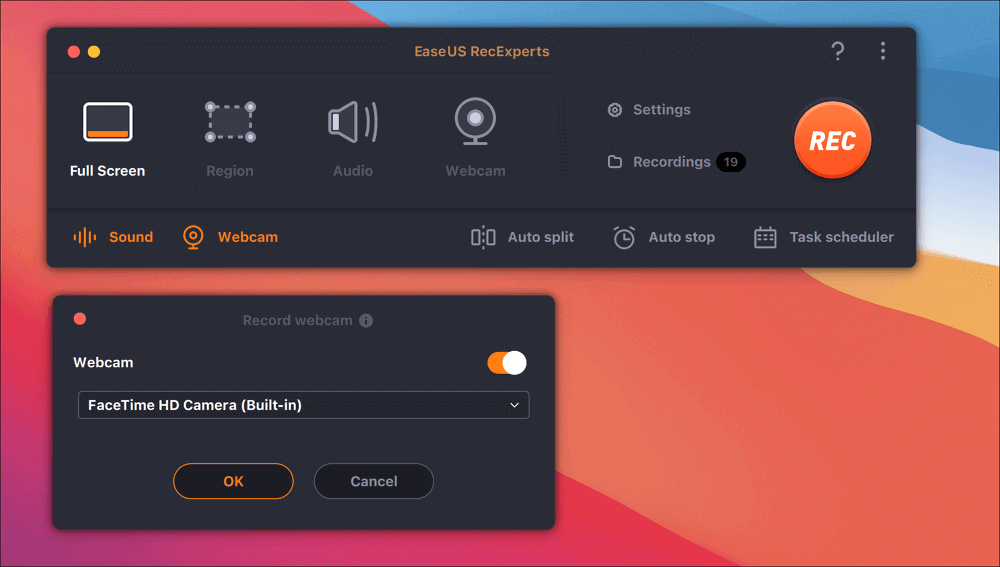 After adjusting the settings, hit "REC" to start recording.
Step 3. During the recording, there will be a floating toolbar that enables you to pause or stop the recording, as well as take screenshots. When you want to save the video you captured, click "Stop" on this toolbar.

Step 4. When the recording stops, a built-in player will pop up, and you can view the recorded video directly.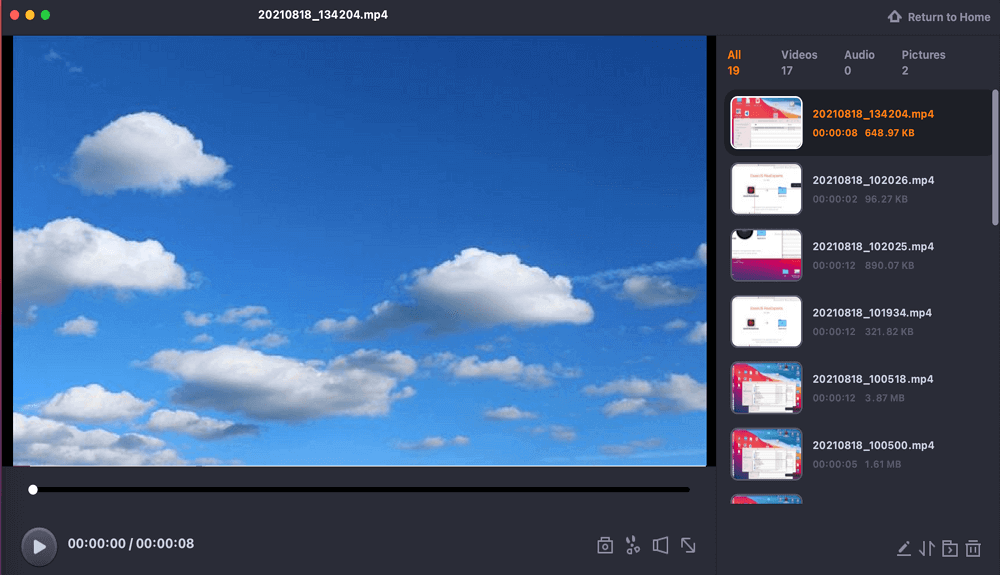 Tutorial for Adobe Screen Recording Online 
People who don't want to waste the storage space to download and install any third-party software can also try to use another method to record the Adobe Connect web conference online.
Since there are plenty of online screen recording tools available, we choose one example and guide to use it. This online is known as Screen App. This tool's homepage is straightforward and user-friendly, and you can get a lot of helpful information quickly.
You can click the red button in the middle of the screen to start recording. However, due to some reasons, you have to limit your recording to 15 minutes, and your recordings risk the possibility of losing your recordings.
How to Download Adobe Connect Recording Online:
Step 1. Open the page, and click the "Get Start" button to start recording. 

Step 2. Choose to share the window of Adobe Connect, and then click the "Start Recording" button.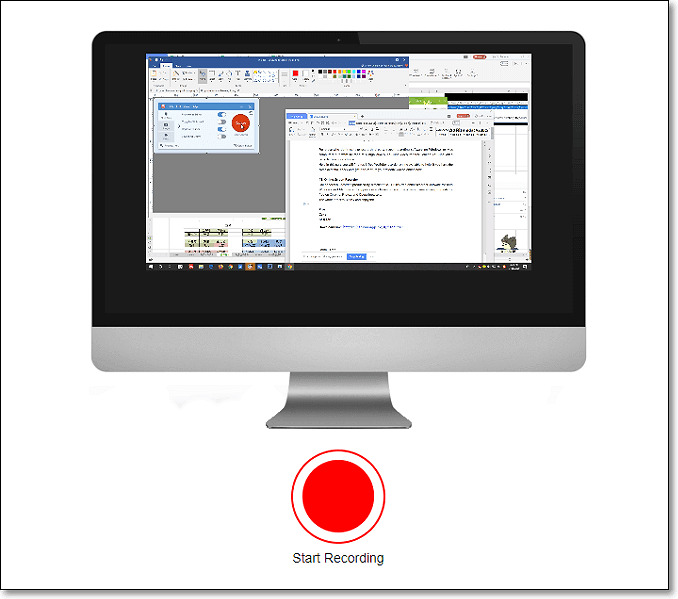 Step 3. When you want to save the recorded video, click "Stop Recording." There will be a box on the left screen. Click the icon below"Your Video is Ready" to download it in WebM format. If you want to convert it to another format, you can read this article: >> Convert WebM to MP4 Windows 10.
Try: https://screenapp.io/#
Conclusion
There are many ways available to obtain the Adobe Connect recording. You can use the built-in Adobe Connect video downloader or online tool to complete that. There are countless helpful screen recorders on Windows.
However, EaseUS RecExperts must be the most suitable for people who want to get high-quality recordings, and it can help you get 4K/60fps videos with simple clicks. Don't hesitate to download it now.
FAQs About Adobe Screen Video Capture 
Those FAQs can answer some of the questions about Adobe video capture. Keep reading if you want to know more information.
1. Can you record Adobe Connect sessions?
Yes, Adobe Connect offers you a built-in recording tool for capturing and downloading the sessions quickly. Besides it, you can also use EaseUS RecExperts instead. This software can record high-quality videos of your Adobe Connect sessions, and you adjust the settings freely to make the output file more satisfying.
2. Can I download Adobe Connect recording?
Yes, you can download Adobe Connect recordings. First of all, you need to launch EaseUS RecExperts on your Windows PC and select a suitable recording mode, such as recording the entire screen, recording part of the screen, or recording the webcam. Then, you only need to select a suitable audio source and start recording.
3. Can you screen record on Adobe?
Yes, you can use EaseUS RecExperts to record the Adobe meetings. You only need to launch this powerful recording software on your PC and decide if you want to capture the whole screen or only part of the screen. Don't forget to adjust other settings, such as the audio source, output format, and video quality. Then, you can start recording Adobe meetings with ease.
About the Author

Melissa is a sophisticated editor for EaseUS in tech blog writing. She is proficient in writing articles related to screen recording, video editing, and PDF file converting.