
Table of Contents

About the Author

Related Posts

Best Audio Recording Software
Recording iconic moments in videos, games, and live streaming on PC is a usual task. Almost everyone records to save the clips as memory or share it on social media. Even professional content creators want to get the most out of the audio/video clips since they result in better reach.
However, you will require efficient PC clipping software because only the right tools offer the best experience and usability. Given that, this write-up covers the top 6 clipping software for PC. Whether you are a beginner or a professional, let's dive right in!
1. EaseUS RecExperts
Best for users who want to find a lightweight yet powerful clipping software for PC
EaseUS RecExperts is a stable and versatile clipping software for PC and Mac users. Offering simple and advanced features, this Windows screen recorder helps you fulfill multiple clipping & recording tasks effortlessly.
Whether you want to clip last 30 seconds on PC, or even longer, this software can always help you get it done with a few simple clicks. This software lets you quickly record screen with/without the system audio, microphone sound, or webcam. You can record protected videos, TV shows, movies, and more online. Clipping multiple screens playing simultaneously is easier to create unique video clips. Also, you can record audio clips with an audio mixer option. It takes the lead with better performance due to its hardware acceleration function.
As a result, you will be able to achieve high-quality clips in a smooth manner. More so, you can annotate in real-time by adding shapes, arrows, and text. Also, scheduling single or multiple recordings is possible to save time. Lastly, you can use this tool even if you don't know how to record on a PC.

Features
Support 13+ formats, i.e., MP4, MKV, FLV, MP3, etc.
Let you export clips without leaving any watermark
Offer auto-split and auto-stop functions for easy clipping
Record Amazon Prime videos, YouTube Live, and more
Help you manage video/audio clips easily in the library
2. Adobe Captivate
Best for Product Demos and Presentations (eLearning)
Adobe Captivate is another clipping software for PC users to aid in screen recording for various purposes, especially eLearning. You can clip on PC by inserting questions and other interactions. Also, it helps you capture screens, along with the webcam, to create an engaging screencast video.
However, its simulation module adds to the usability since you can record on-screen actions. These include keyboard activity, system audio, mouse movements, etc. Hence, all these features it offers assist you in making the best tutorial clips or videos.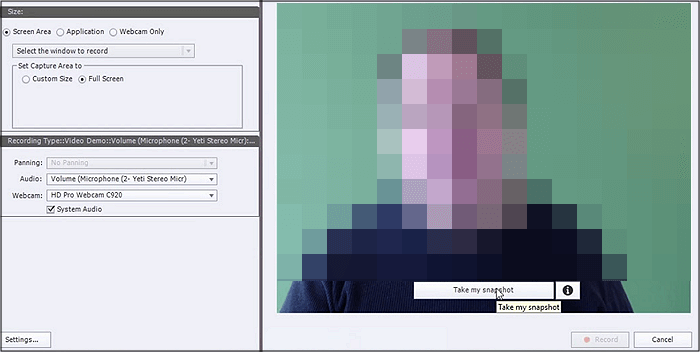 Pros:
Offer Adobe Cloud integration
Help you create interactive tutorial clips
Publish clips to YouTube without compressing
Cons:
Need to improve the user interface
Difficult to use for beginners without training
3. NVIDIA ShadowPlay
Best for High-Quality Gameplay Clips
NVIDIA ShadowPlay is an excellent choice because it allows you to do live streaming and broadcasting besides screen recording. The good thing about this clipping software for gaming is that it doesn't mainly affect the PC performance while running in the background.
Plus, you will get the best quality videos because it lets you record up to 4K resolution at 60FPS. Even you can capture 15 seconds GIF and add text to share on social media. With its replay and record feature, you can make a clip out of the last 30 seconds of the video.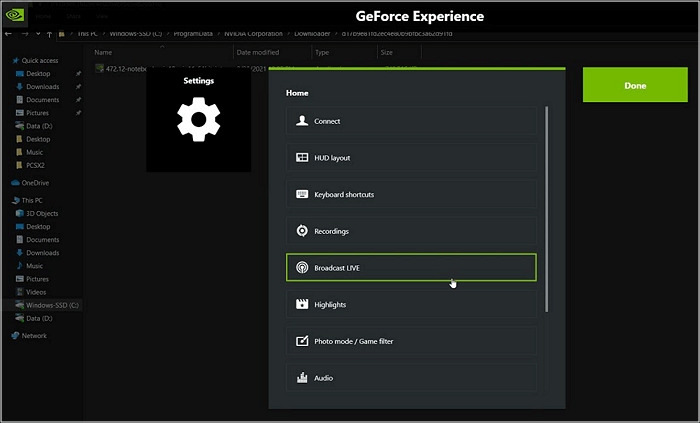 Pros:
Upload video clips to Twitch, YouTube, Google, etc.
Let you record the long videos manually
Take screenshots of up to 8K resolution
Cons:
Unable to work without NVIDIA graphics card
Users may notice a little lagging issue in recording
4. Icecream Screen Recorder
Best for: Free and Simplest Clipping Services
Icecream Screen Recorder should be your way to go if you want to record your screen in the simplest manner. It helps you record everything, such as video tutorials, apps, Zoom meetings, Webinars, live streams, Whatsapp calls, and more. Clipping any particular area or the complete screen is not difficult.
Furthermore, you can annotate while recording, i.e., inserting bullets, arrows, text, etc. It lets you change video speed, mute, and trim if required. Even you can upload videos to Dropbox, Google Drive, and more.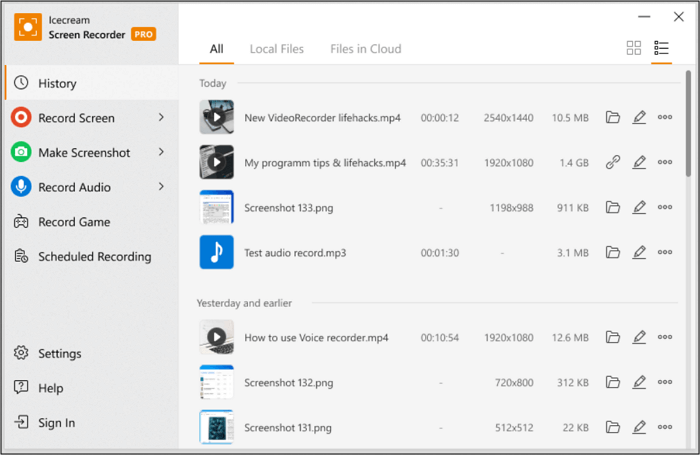 Pros:
Offer free services without registration
Allow you to add a logo to clips as a watermark
Rebuild and optimized perfectly for Windows 10
Cons:
Audio may get distorted while editing
Customer service is not good
5. OBS Studio
Best for: Live Streaming Feature
OBS Studio is an open source screen recorder, famous among users because of its versatile usability. Its ability to offer multiple features without affecting system performance makes it one of the most efficient clipping software for PC users. Since it supports audio and video sources, you can record the system & microphone sound in your clips.
In addition, the hotkeys make it accessible to start or stop recording whenever required. Even its support for native plugins takes your clip recording and editing to the next level.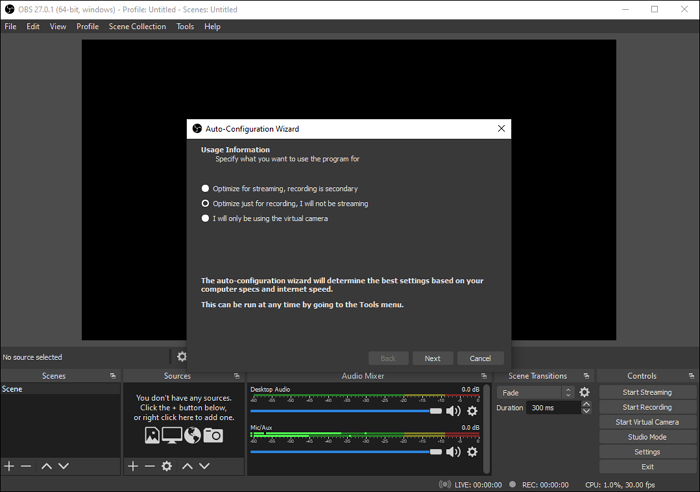 Pros:
Capture 4K clip quality at high FPS
Provide you with a built-in audio mixer
Support extra customization with powerful API
Cons:
The interface is complex to understand
It sometimes crashes due to a wide range of features
6. Bandicam
Best for: Good Quality Video/Gaming Clips
Bandicam is a fantastic PC clipping software used by professionals to record good-quality screen footage. The supported resolution of the clips is up to 4K UHD; however, at 480 FPS. You are only supposed to open the software and press the record button. So it will record everything that is being displayed on the screen.
More so, it supports audio recording only (without video) if required. Even you can add webcam overlay, your voice, drawing, and mouse effects in real-time to create informational clips.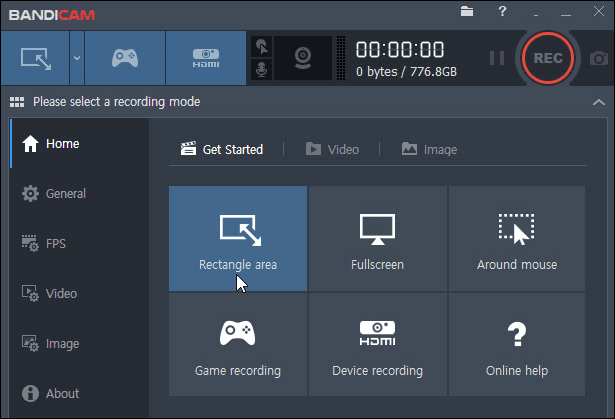 Pros:
Support three clip recording modes
Help you schedule the recording at a specific time
Upload the video clips directly to the YouTube
Cons:
One may experience lag spikes
Offer certain limitations in the free version
Wrapping Up
Above are the detailed reviews of different clipping software for PC that will help you select the best one. Also, you must know your goals and requirements regarding PC clipping software before opting for the one. However, you can first try the top recommendation of EaseUS RecExperts.
It assists you in making high-quality clips without any hassle. Even you can go for post-editing if required. The downloading process is also easier; you need to go to its official website and download the Windows version.
PC Clipping Software FAQs
Below are some common queries with their answers regarding clipping software for PC:
1. What is the best clipping software for PC?
Though there is multiple popular PC clipping software, the leading one is EaseUS RecExperts. However, other best options include OBS Studio, Bandicam, Adobe Captivate, Icecream Screen Recorder, and NVIDIA ShadowPlay.
2. What can I use to clip on my PC?
You must use credible and efficient software for PC clipping. EaseUS RecExperts is the ultimate solution since it allows you to record videos at up to 144 FPS. You won't have to face any time or watermark limitations. Even exporting clips to the desired audio or video format is possible.
3. How do you clip PC gameplay?
The Windows system offer hotkey of "Windows + Alt + G" to start and stop recording full-screen games. You can also use this logo key to clip PC gameplay.
4. What is a good clipping app?
Various good clipping apps have been introduced in the market. The best among all are Film Movie Editor Movavi Clips, iMovie Maker, Clip Stack, Clipper, and Web Clipper.
About the Author

Jane is an experienced editor for EaseUS focused on tech blog writing. Familiar with all kinds of video editing and screen recording software on the market, she specializes in composing posts about recording and editing videos. All the topics she chooses