
Table of Contents

About the Author

Related Posts

Best Audio Recording Software
Audacity is an open-source and cross-platform program to record audio tracks and edit them on Windows, Mac, and other operating systems. If you want to apply different features, try some alternatives to Audacity. 

Here, in this article, you see the 7 best tools that are similar to Audacity. Also, it includes the introductions on alternatives' features. Generally, you can use one of them to record and edit audio. 
Top 7 Audacity Alternatives on Windows and Mac:
7 Best Alternatives to Audacity to Record Sound on Windows/Mac
Here, you see seven audio recorders that are similar to Audacity. Check the features listed to ensure that these tools are suitable for your requirements.
Tool 1. EaseUS RecExperts (Windows/macOS) ★★★
EaseUS RecExperts is famous for its screen recording feature. It's also a streaming audio recorder to deal with audio from the system and external like the microphone. It allows capturing the screen and audio simultaneously or separately. There're also many options when recording the audio. For example, it can record game with audio.
Also, choosing the bitrate and sampling rate of audio is accessible. Apart from the audio capturing function, you can use it to capture a webcam. Look at more functions within this tool. 
Main features of this beneficial audio recorder:
Download this best Audacity alternative and start capturing your sound right now. For Windows 11/10/8.1/8/7.
This is a simple guide to record audio on Windows, using the alternative to Audacity, EaseUS RecExperts. 
Step 1. Launch EaseUS RecExperts on your computer, and click "Audio" (looks like a speaker) on the left side of the main interface.

Step 2. To record the internal audio, you need to select the "System sound" option on the next window. You can adjust the volume by clicking on "System sound" > "Advanced options".

Step 3. Next, click on the red "REC" button to begin your recording. While recording, you can pause or stop the recording by clicking on the according buttons.

Step 4. Once done, you can find the recordings in the pop-up recording list window.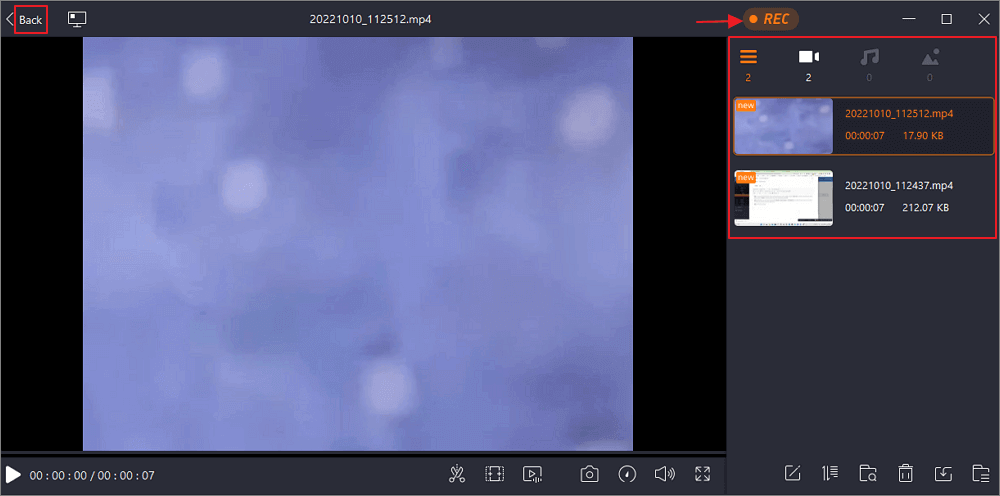 This recorder is also a great choice for capturing audio on Mac. The following post will guide you to record audio on Mac with simple steps.
Tool 2. Adobe Audition (Windows/macOS)
Adobe Audition is a comprehensive tool to create, mix, and edit audio tracks. Like Audacity, this tool can also enrich your audio recording with various features. With a simple interface, you deal with your audio tracks easily.
One of its functions is to reduce the noise when capturing. It helps to remove some noise or background sound, to produce a high-quality project. Some other features are in the below part.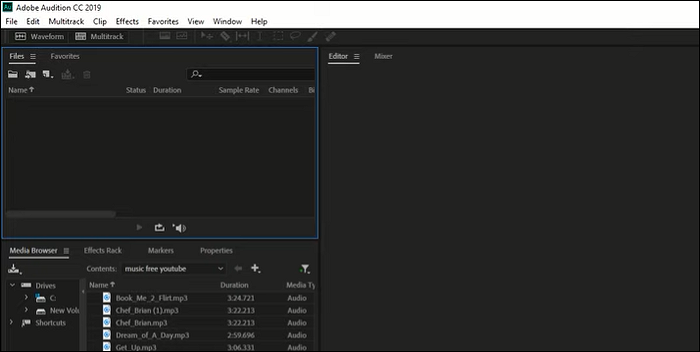 Pros:
Mix, record, and edit audio with various tools
Select the podcast template to capture a podcast
Record game audio effectively
Cons:
Expensive for the advanced functions
Some terminology can be confusing
Tool 3. OBS Studio (Windows/macOS)
OBS Studio is open-source software that allows you to record, edit, and mix audio. It is set to capture the system audio and the external one, such as the microphone sound. However, there is a limitation for Mac users as OBS Studio cannot capture desktop audio directly. So, you need another tool to overcome that. 
The most benefit of this tool is its advanced settings. Like the settings of Audacity, you are allowed to choose the bitrate of video and audio. Also, changing the hotkeys of some operations is possible.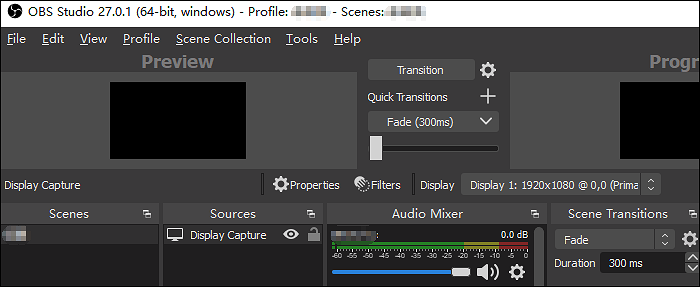 Pros:
Some hidden options in advanced settings
Complete functions to deal with audio and video
Record Webex meeting and other online discussions
Cons:
Complex interface
Hard for beginners to mix audio
Tool 4. QuickTime Player (macOS)
As a default tool on Mac, QuickTime Player offers abilities to capture screen, audio, and webcam. Similar to Audacity, you can use the Audio Recording function to deal with the external sound. While it's limited in capturing the desktop audio. 
Besides, it provides you with the screen capturing function to record screen with audio on Mac. You can use it for presentations, online meetings, and other discussions. Overall, it's a functional screen and audio recorder. 

Pros:
Capture screen and audio on Mac easily
Simple interface for a starter
Cons:
Only a few formats for the output audio
Cannot deal with system voice
Tool 5. Ocenaudio (Windows/macOS)
To find alternatives to Audacity on Windows and other operating systems, Ocenaudio is your choice. As the cross-platform software, it offers functions to edit and record audio tracks with ease.
There're some options when capturing the audio, including setting the sample rate, channels, and resolution. Also, the showing time of this tool helps analyze the duration of your audio functionally. 

Pros:
Suitable for Mac and Windows users
Easy to operate functions
Simple interface
Cons:
Limited editing functions for audio
Quality can be affected sometimes
Tool 6. Wavosaur (Windows)
The sixth substitute for Audacity is Wavosaur that allows you to edit, process, and record audio. This audio recorder and editor is very functional as it can produce sound loops and various converting sounds. It's helpful for sound design and mainly deals with formats like .wav and .mp3. Below is an image.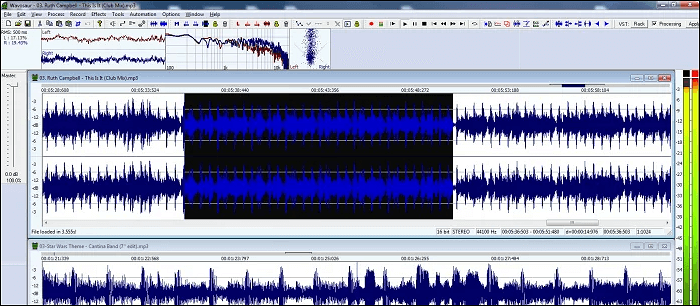 Pros:
Allow capturing the soundcard input
Export the audio format in .mp3
Stop, play, and record audio
Cons:
The functional interface is hard to understand
Not suitable for Mac users
Tool 7. AudioDope (Windows)
This tool is famous for its audio editing functions, while it can also record sound. You can select the input of your audio recording, including CD, microphone, and stereo Mixer. To start capturing audio, go to the Control option. 
Also, you can select the sample rate and channels in terms of the audio stream. From the toolbar, there are other options like viewing and controlling the audio. Try it to find more options. 

Pros:
Capture audio from many sources like the microphone
Allow using the hotkey to start the mission (CTLR+R)
Advanced settings for the audio
Cons:
Not for Mac computer
Difficult for common users
Conclusion
In this post, you learn the 7 best Audacity alternatives and the related operations. You can use one of them to record or edit your audio. Whether you are a Windows user or a Mac user, EaseUS RecExperts can be the best choice for you. Click on the button below to download it now.
FAQs About Alternatives to Audacity
To know more information about the substitutes for Audacity, follow this part. 
1. Is Audacity the best free software?
Audacity is one of the best audio recorders. However, some tools are similar to Audacity and can also be considered the best, including the Adobe Audition, OBS Studio, EaseUS RecExperts, etc. 
2. Is there a better program than Audacity?
Audacity is a powerful audio recorder and editor. For some aspects, some tools can be better than Audacity. If you are a beginner, try tools that have simple interfaces like EaseUS RecExperts which meets all the basic needs.
About the Author

Crystal Chen is very interested in technology products. Experiencing many technological applications, She is willing to solve users' problems through writing tech-related articles. Through her words, you can find various solutions to solve one issue.