
Table of Contents

About the Author

Related Posts

Best Audio Recording Software
PAGE CONTENT:
Want to know how to record an audiobook? You'll be surprised to know that you can do so in the comfort of your own house or maybe rent a professional studio for it.
It's pretty easy to record an audiobook. Today we are going to discuss what you need to record an audiobook, how to record an audiobook, and so much more. Stick around for full information.
Part 1. Things You Need to Prepare Beforehand
So if you are recording an audiobook, here's what you need to be ready with and do:
Sounds easy and fun, right? Because it actually is. But let's dive deep into this so you may get a clearer picture.
Get a Studio Room
If you've listened to an audiobook, you would have noticed its high-production quality, meaning no echo, background noise, or speaking fast. To get this kind of effect, you can either rent a professional studio room or convert your room into a studio. To turn your room into a "professional studio," you will first have to reduce the echo or remove background noise.
To reduce the echo, you can either fill the room with things or install acoustic panels on some areas of the wall, which will reduce the echo by a huge margin. If you want your audiobook to sound completely professional, soundproof the entire room by installing acoustic panels.
If you are not sure or don't have time, you can hire a specialist who can do things better on your behalf, or better yet, rent a studio. Capturing clear audio is not all dependent on the room. Your recording equipment also matters, and how you edit it in post-production also counts.
Before we discuss anything about post-production, let's talk a little bit about recording equipment.
Get a Recording Equipment
Equipment is the heart of audiobook production. All you need is:
Microphone
Headphone
An audio recording and editing software
Microphone: For recording an audiobook, you should select condenser microphones instead of dynamic microphones. The condenser microphones usually detect subtle sounds, which the dynamic microphones don't.
And remember to buy a standalone microphone, not a headphone and microphone combination. The microphone and headphone combination has many nuances, and one amongst them is the cancellation of background noise. It doesn't do so well.
There are many microphones that are in the $100-$200 range that you can pick up from an electronic store. Also, don't forget to grab a pop filter with the microphone for a proper microphone setup.
Headphones: Having good and decent headphones will help you weed out any imperfections and adjust the audio in post-production. So, it is necessary that you get a decent pair of headphones that can show any imperfections.
Audio recording and editing software: There is both free and paid software on the market that has a built-in audio recorder for Windows and other devices. Or you can also select standalone software as well.
Start an Audiobook Recording
Now that you have your equipment ready, it's time to record your audiobook. If you are recording your audiobook in your room, make sure there is nobody in the room with the narrator and that it is silent.
If it is a professional recording studio, you will have no problem recording your audiobook. The rooms are constructed in such a way that it is impossible for outside noise to creep in, and you wouldn't even require any extra equipment like microphones, headphones, or others.
Part 2. Record an Audio Book with EaseUS RecExperts
So, here's one of our recommendations to record your audiobook - EaseUS RecExperts. This is an all-in-one Mac and Windows screen recorder that can also record an audiobook for you.
With this tool, you can record audio on PC, screen record your monitor, your zoom meetings, YouTube, gameplay, and so much more. Once recorded, you can also edit the video or the audio with this software.
Standout Features of EaseUS RecExperts:
Now, you can download the tool from the button below.
In case you want to play music as BGM, we will show you how to use it to record the system and mic sound at the same time. 
Step 1. Launch EaseUS RecExperts and choose "Audio" (looks like a speaker) from the left side of the interface. Select the sound source by clicking on the speaker sign (the system sound) or the mic sign (the microphone). Or, you can record them both at the same time.

Step 2. Hit "REC" button to start recording audio. To finish it, you just click on the red square icon to stop the recording.

Step 3. After that, the recording list window will pop up automatically. You can listen to or edit the recording with built-in tools.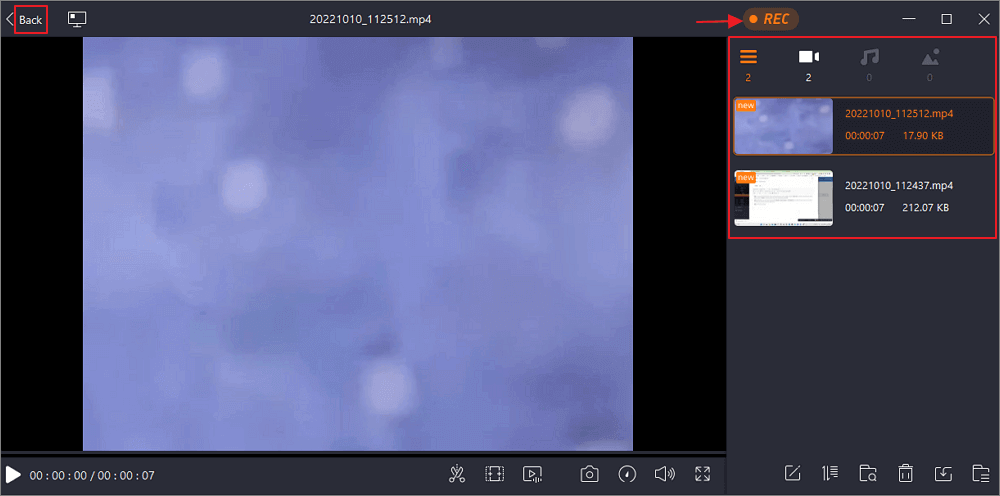 Part 3. Alternative Programs to Record an Audio Book
Apart from EaseUS RecExperts, which is a great tool for all kinds of recording and editing, here are our chosen standalone voice recording and editing programs for your audiobook.
Audacity
This app is a free audio recorder that can be downloaded on both Mac and Windows. It was designed and created for basic editing and mastering of audio and music files.
This program is loaded with effects and other features that will help you fix your audiobook recording if you find something wrong with it. It is very user-friendly and you will not have any problems getting started with it.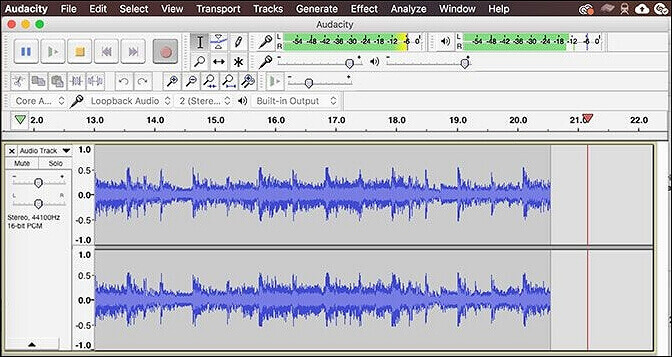 Pros
Easy to use
Simple interface
Record internal and external audio
Cons
Not for professionals
Professional tools are not available
It is buggy at the time
Pro Tools
Built by AVID, the Pro Tools is one of the most preferred screen and audio recorder among audio engineers. Pro Tools is packed with lots of advanced tools like automating the mixing, Dolby Atmos rending, and more. There are a total of three versions that you can select from, which are free, standard, and advanced.
Although the audiobook is not so demanding and is very easy to edit, you can download the free or standard version of this program to record and edit your audiobook. If you want more professional tools, you can easily upgrade them in the future as well.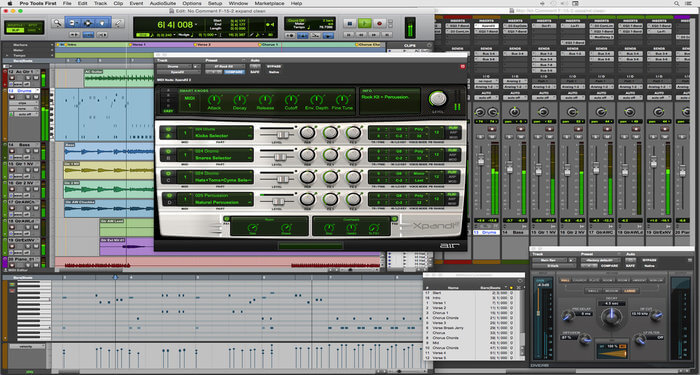 Pros
Available for both Windows and Mac
It has all the professional tools
Offer an easy-to-use interface
Cons
There is a learning curve
May have trouble working with a few third-party plugins
The composition tools can be a bit better
Garageband
Developed by Apple for its Mac and iOS devices, Garageband is well-known among Apple device users. Even if you don't own an Apple device, you must've heard about Garageband by now.
You can create music using Garageband as well as record voice on Mac. It is good software overall. You can record your audiobook using Garageband without any problems.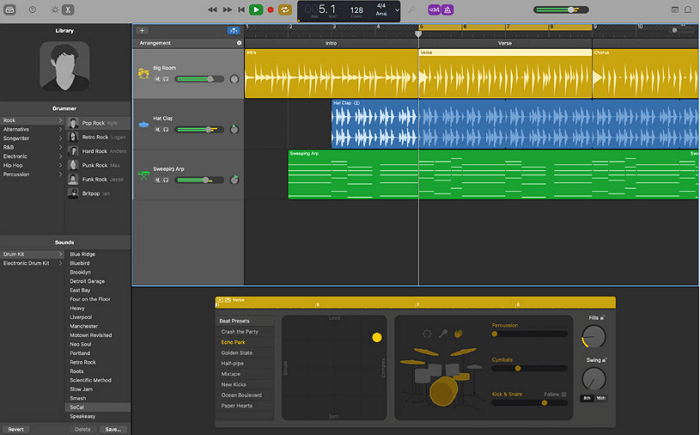 Pros
Great for both beginners and semi-professionals
Simple interface
Packs a decent amount of professional features
Cons
Only available on Mac
Project files can come out large
Lack of a more comprehensive help menu
Reaper
Reaper is available for both Windows and Mac for $60. It is loaded with all the bells and whistles and has a beautiful interface. For the price it is available, it is shocking, as it has all the features that are found in more premium recording and editing software.
If you want all the tools at your disposal, Reaper is your go-to, but for an audiobook, this could be overkill.

Pros
Fast and light
Extremely customizable
Multi-channel audio recording, recording and more at an affordable price
Cons
Lack of built-in instruments and loops
UI needs an improvement
There is a slight learning curve
FAQs about How to Record an Audio Book
Here we give you some frequently asked questions that may be helpful to you. Let's check them together.
1. What program should I use to record an audiobook?
Audacity is the app most popular will look for when they want to record an audiobook. There is also some other popular recording software, including EaseUS RecExperts, Reaper, Twisted Wave, Pro Tools, etc.
2. What equipment is needed to narrate an audiobook?
To narrate an audiobook, you will need headphones, a quality microphone, and a computer, and most importantly, recording software.
3. What is the best way to record yourself reading a book?
The best way to record yourself reading a book is using a recorder that can record the webcam and the microphone at the same time. EaseUS RecExperts is what you need.
With this tool, you can launch it on your computer and use the webcam recording function with audio. The image and sound will both be recorded.
Conclusion
Wasn't that simple and easy? I knew it! To record an audiobook, you don't need expensive tools and software. You could do everything very affordably.
If you are limited on budget, we would suggest you give EaseUS RecExperts a try as there is a free version and even the premium license doesn't cost much. This is a great audio recording program for recording an audiobook, and I believe you will thank us later.
About the Author

Melissa is a sophisticated editor for EaseUS in tech blog writing. She is proficient in writing articles related to multimedia tools including screen recording, video editing, and PDF file conversion. Also, she's starting to write blogs about data security, including articles about data recovery, disk partitioning, data backup, etc.