
Table of Contents

About the Author

Related Posts

Best Audio Recording Software
PAGE CONTENT:
Garry's Mod, or GMOD, is a game that provides the player with a world in which to freely manipulate objects. The player is able to spawn non-player characters, ragdolls, and props, and interact with them by various means.
If you'd like to keep all these fun memories from Garry's Mod, you can record the gameplay process as a video. And today we are here to show you all you need to know about how to record Garry's Mod as easily as possible. Some of the best game recorders are introduced. Just pick one to start.
Best Game Recorder to Record Garry's Mod
EaseUS RecExperts is the first tool we recommend to you. This Mac and Windows screen recorder provides you with a game-recording function with easy steps. You can even let the tool record the game automatically. Just set up the task scheduler, and the recorder will do the rest for you.
Apart from that, it can be used to record Google Meet, Zoom, and other online meetings and lessons. After recording, you can view and edit the video with inbuilt video editing features. For example, you can trim the video or extract audio from the video. Check more information about it below.
Main Features:
Now, you can download the screen recorder and use it to record GMOD by following the steps below.
Step 1. Launch the gameplay that you want to record. Next, open EaseUS RecExperts and click on the "Game" button on the left.

Step 2. Click on the "Select Game" option to choose a Game Window or Game Process. Then, you can enable the audio and webcam recording if needed. When all are done, click the big REC button to start the gameplay recording.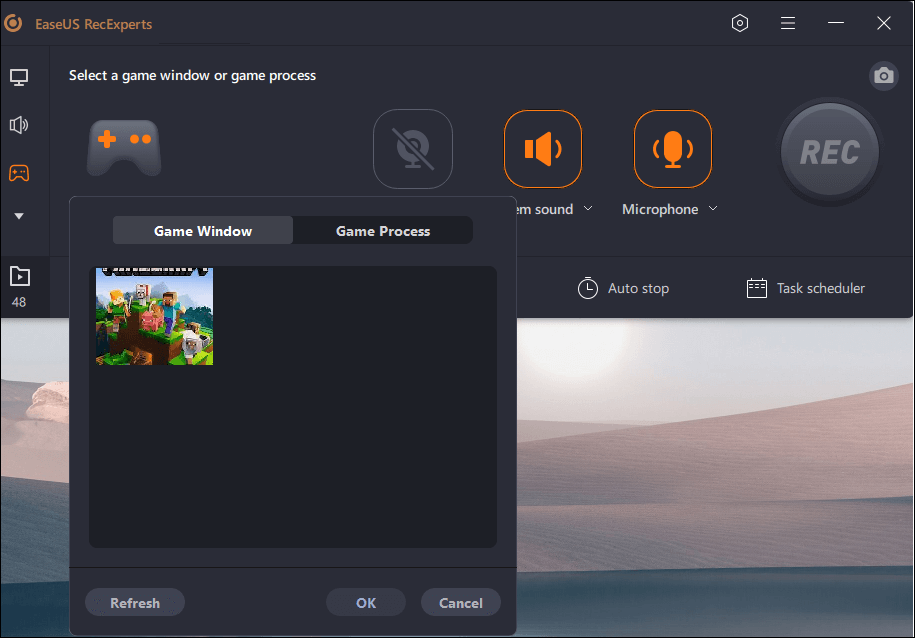 Step 3. A floating toolbar will appear, and you can pause or stop the recording. Besides that, the camera icon enables you to take a screenshot, and the timer icon lets you stop the recording automatically.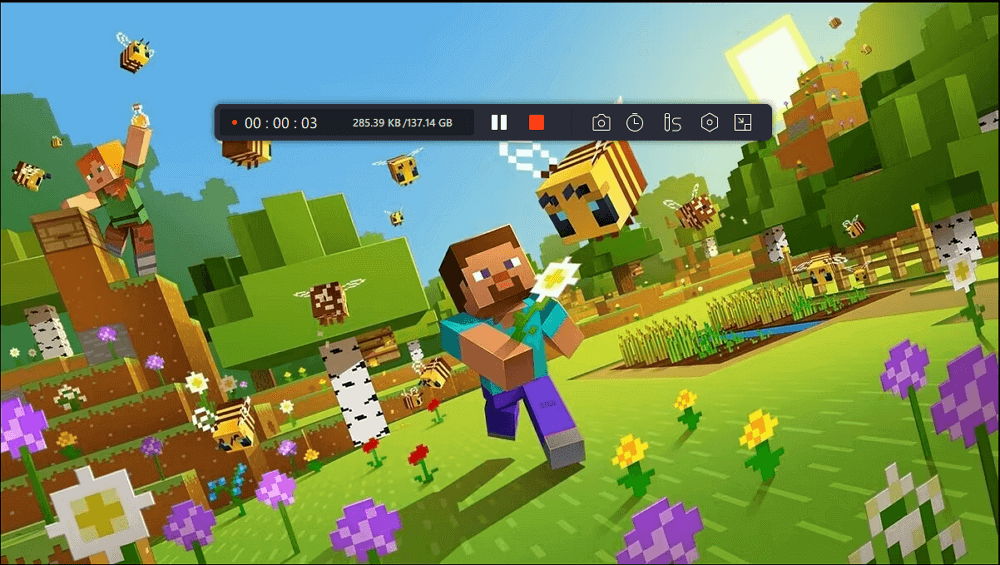 Step 4. After saving the recorded gameplay video, a media player will pop up. It gives you a built-in tool to trim the recording, extract audio from the video, and add an opening & ending part. You can find the tool at the bottom of the player.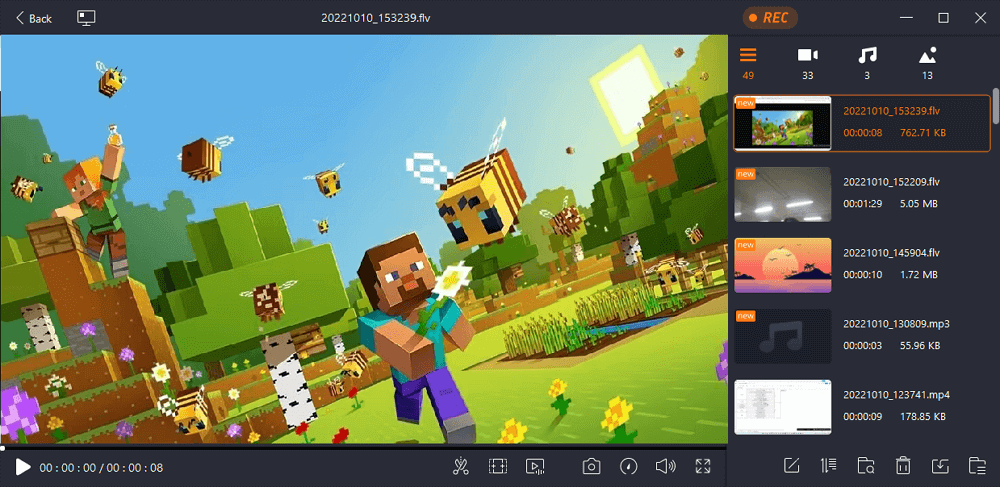 How to Record Garry's Mod with OBS
As one of the best free video recording software, OBS Studio works well for gameplay recording. You don't need to change any settings in fact, just select the source which you would like to record and start recording by pressing the right buttons.
This open-source screen recorder is also capable of recording live-streaming videos. Just choose the streaming video recording mode when you need to. Your gameplay will be recorded in MP4 and FLV formats at a 1:1 ratio. Check the steps to record GMOD with OBS.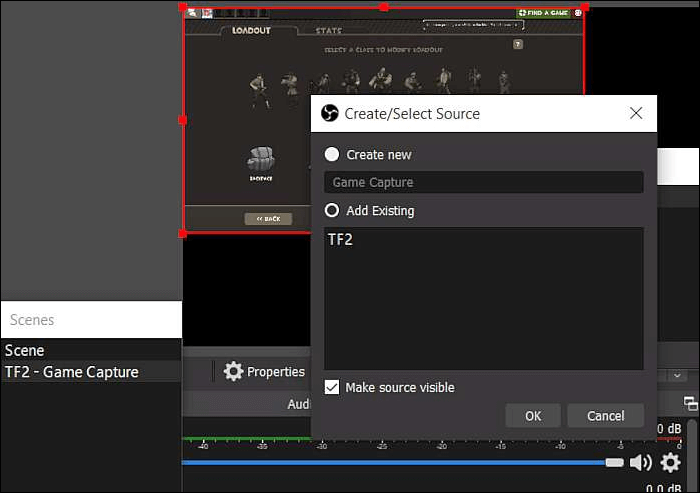 Step 1. Download and install OBS. From the main menu of OBS, select the "+" icon under the "Sources" tab.
Step 2. Click on the "Game Capture" option, write anything into the field and confirm it.
Step 3. Click on "File" in the upper left corner and select "Settings".
Step 4. Press down the keyboard hotkey or click on the "Start Recording" button from the main menu of OBS. After that, end the recording any time you want.
Record Garry's Mod with Bandicam
Bandicam is another good game-recording app that enables users to record GMOD at high bitrates and frames. You can record a gameplay on PC devices at flexible frame rates. What's more, You can use its compression feature to save the recorded game video in a small size with no quality loss.
Also, if you don't want to record the gameplay with your background, the green screen feature is here to create a virtual background for recording. Let's check how to record GMOD gameplay on your device using Bandicam.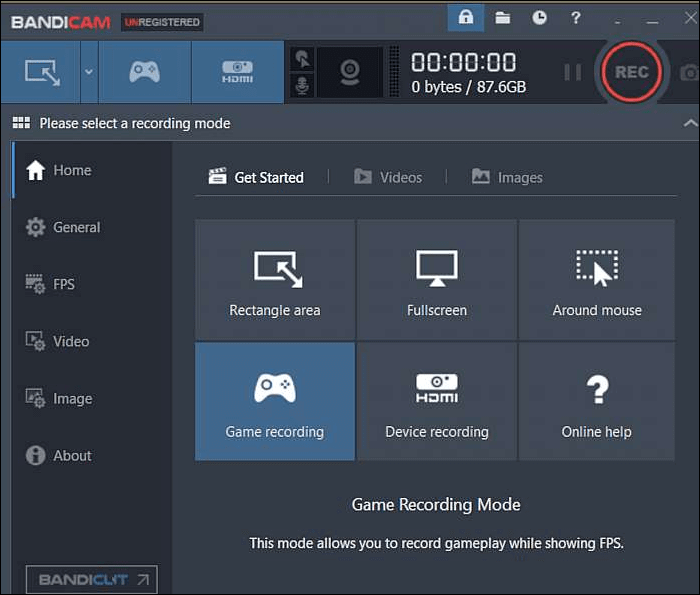 Step 1. Download and install Bandicam from the official website. Choose the "Game Recording" mode.
Step 2. Click the "Record" button or press the hotkey (F12) to start the recording.
Step 3. Click the "Stop" button or press the hotkey (F12) again to complete the recording.
Step 4. Go to "Home" and then "Video" to view, edit, or upload the captured videos.
Record Garry's Mod Using Fraps
Fraps is the last great gaming screen recorder we'd like to introduce to you. It provides a wide range of resolutions for users to choose from. You can also set the frame rate manually from 30 to 120fps if you want.
It is one of the most popular game recorders, but a purchase is required if you want to record more than 30 seconds of video at a time. Moreover, you also can use this gameplay recording software to record screen and audio at the same time. Let's see how to record GMOD using Fraps.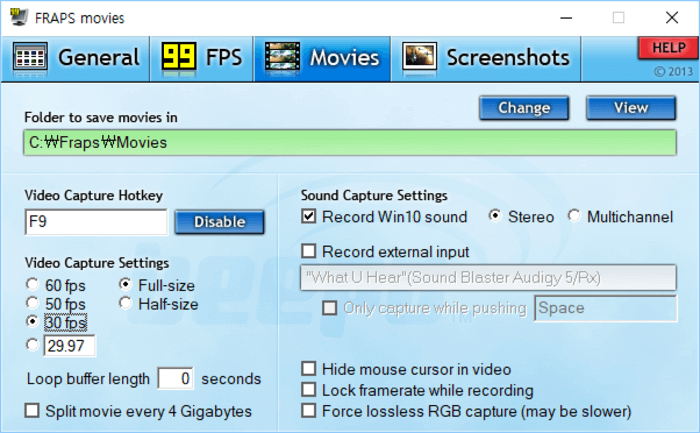 Step 1. Download and install the latest version of Fraps and launch it.
Step 2. Click on "Movies" at the top-center part of the window.
Step 3. Customize your video capture hotkey. It is F9 by default.
Step 4. Once done, you can record gameplay by clicking the "Recording" button or with the hotkey. Stop it by clicking again.
FAQs about How to Record Garry's Mod
In this part, we give you some related questions people often ask and the answers to them. Check them one by one together!
1. How do I record my gameplay?
The most comprehensive way is to use EaseUS RecExperts. With this tool, you can record the screen, audio, and webcam along with your gaming screen.
2. How do you record demos in GMOD?
Follow the steps below.
1. Ensure Developers Console is enabled and click "Advanced..", then simply click the "Checkmark" next to "Enable Developers Console".
2. Once you're ready to record, hit your "~" key on the keyboard.
3. Next, a new menu should pop up. Click on the text field at the bottom of the menu and type "record name" without hitting the "Enter" key.
4. Enter the name you would like your Demo to be. Hit "Enter" and it will begin recording.
5. Once finished, simply hit your "~" key once more and type the word "stop" and hit "Enter".
3. How do I record myself playing a game on my computer?
You can use a recorder that supports recording the game screen and the webcam at the same time. In case you don't know, programs like EaseUS RecExperts and OBS Studio can do this for you.
Conclusion
From the content above, you can see that recording Garry's MOD gameplay is not a difficult task if you have got a capable recorder app. Among all the game recorders mentioned in this article, we suggest you download and use EaseUS RecExperts as it can record your gameplay to create a tutorial video.
About the Author

Melissa is a sophisticated editor for EaseUS in tech blog writing. She is proficient in writing articles related to screen recording, video editing, and PDF file converting.