
Table of Contents

About the Author

Related Posts

Best Audio Recording Software
YouTube TV is the best and popular live streaming service and it has over 85 top channels of entertainment, news, and live sports. Watching a TV show on YouTube has become daily entertainment for many people. In case you are not at home, how can you watch YouTube TV videos?
You record YouTube videos with a screen recorder. It's beneficial when using its built-in schedule recording function. Here, you know how to record on YouTube TV in detail. 

How to DVR on YouTube TV on Mobile Devices 
The DVR of YouTube TV makes it extremely easy for users to download shows, movies, and sports events. With the help of cloud storage, you can save unlimited downloaded or recorded files on it. This built-in DVR records multiple files simultaneously and you can stream those recordings to different devices as you like.
You can have a try on mobile devices including Android phones, iPhone, and iPad. The YouTube TV's unlimited cloud DVR can capture TV shows easily. 
How to download YouTube TV recordings on a mobile device:
Step 1. Open YouTube TV on a mobile device like iPhone and tap the search icon in the upper right corner.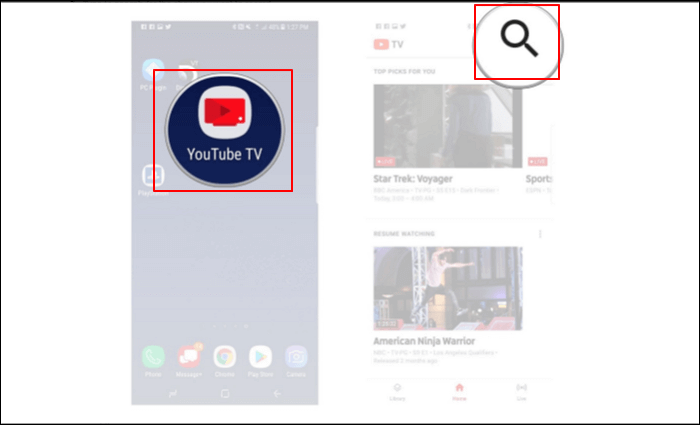 Step 2. Search the TV show you want to record in the search box and single-click to select one.
Step 3. Tap the "+" icon to add the show to your DVR list. You can find the show in "Library" after recording.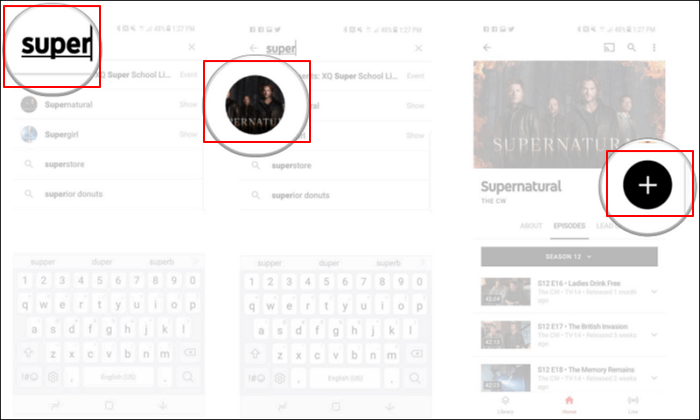 How to Record on YouTube TV on Windows 
To record YouTube shows on PC, a powerful YouTube TV recorder is needed. EaseUS RecExperts is one fantastic Windows screen capturing tool. It's user-friendly for beginners, and you can capture screen, video, and audio. At the same time, choosing the audio resources is accessible. 
You can record streaming video from YouTube, Vimeo, or other video posting platforms with ease. Also, the biggest advantage of this tool is that you can use its schedule recording function to choose the start and end times. Even if you are not at home, this tool can help capture the TV shows with the scheduled setting.  
Main Features:
Support recording videos in 1080P and 4K
Capture audio and video from YouTube on Windows 10
Take a screenshot of a YouTube TV show without notification
Download this recorder and start capturing YouTube TV shows you like! No registration is required. 
How to record YoTube TV on your Windows computer:
 Notice:

Please keep in mind that this tutorial for recording videos is for personal use only. We do not encourage the capturing of streaming video for any commercial purpose.
Step 1. Launch EaseUS RecExperts. Choose a recording mode from "Full Screen" or "Region". To get a better experience, we suggest you choose recording the full screen.

Step 2. Mostly, you will need to record the system sound when recording a video. Just click on the speak sign to select it. You can also tick the "Record silently" function, so that the recording process will be muted without muting the recorded video.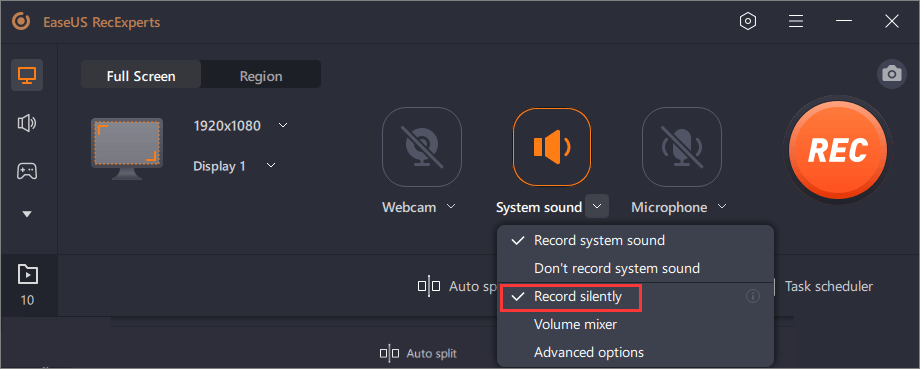 Step 3. After these settings, you can press the red "REC" button to start recording. If you want to pause the recording, click on the white "Pause" button; to end the recording, click on the red "Stop" button.

Step 4. After recording, the recording list window will open. Here you can view, split, delete, manage your recorded videos.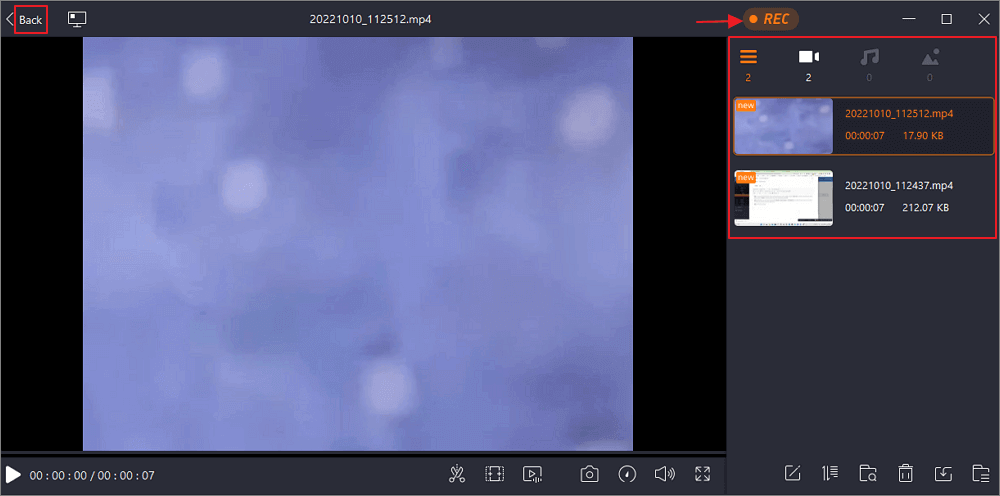 How to Screen Record YouTube TV on Mac
For Mac users, there are two optional methods of recording YouTube TV shows, including EaseUS RecExperts and QuickTime Player. You can follow the detailed steps and ensure you have installed the competent recorder.
Tool 1. EaseUS RecExperts for Mac
Recording videos from YouTube TV with a MacBook is an easy task since you can use a helpful Mac screen recorder, which is EaseUS RecExperts. Its simple and elegant interface makes it user-friendly for people who are a novice and want to capture what they need on Mac screen.
To record shows on YouTube TV, it can serve as a full screen recorder. And when you want to capture only a part of the screen, it supports selecting the capturing region flexibly. If you need to schedule a recording, you can set the start capturing time and the duration and this recorder can execute the task automatically. Or it even lets you edit your recordings once you finish your recording tasks.
Main Features:
Support recording YouTube TV shows easily
Choose the output format of audio and video as you like
Capture the screen, gameplay, audio, and webcam
Download it to capture your favorite shows now! In the trial version, you don't need to register an account. 
How to download YouTube TV recordings on Mac:
 Notice:

Please keep in mind that this tutorial for recording videos is for personal use only. We do not encourage the capturing of streaming video for any commercial purpose.
Step 1. Open the streaming video that you want to capture. Then launch EaseUS RecExperts to get used to its interface on your Mac. If you want to record the whole screen, you can click the "Full Screen" option. If you want to customize the recording area, hit "Region". Then, select the recording area with your mouse. 
At the same time, to capture the screen with audio, you just hit the Sound icon in the lower left corner.

Step 2. Click "Settings" to apply more options, including changing the output format of the video, the quality, etc.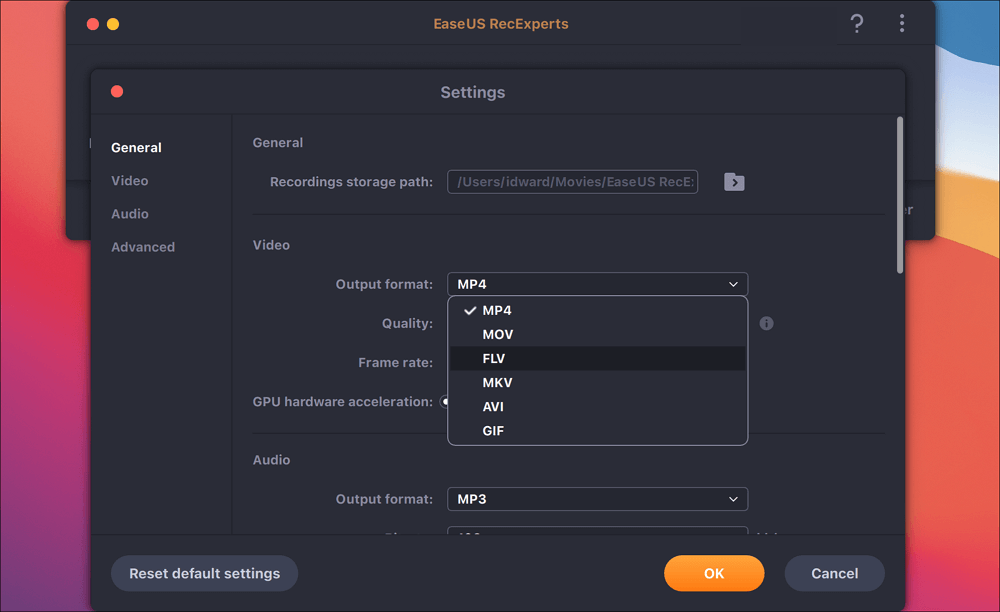 Step 3. Once you are satisfied with the settings, go back to the main screen and click the Sound icon. Then, enable the system or microphone sound if you want to record audio and screen at the same time. Click "OK" to ensure the audio options. After that, hit "REC" to start recording.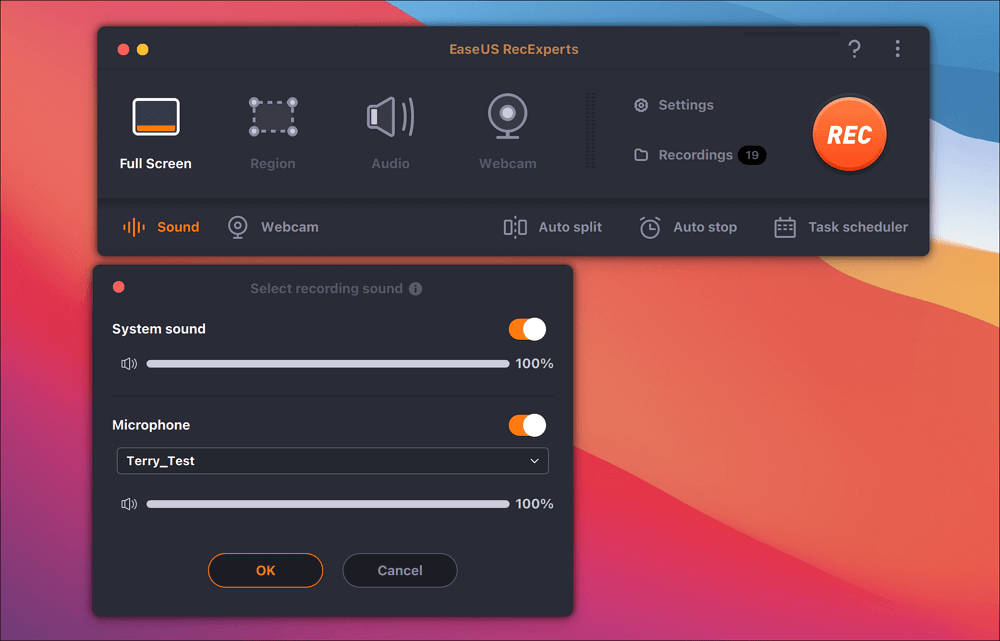 Step 4. Hit the Stop icon when you want to end the recording task. Then, watch the recorded video in "Recordings". The button can be found in the main interface. You can review the target saving from the lists.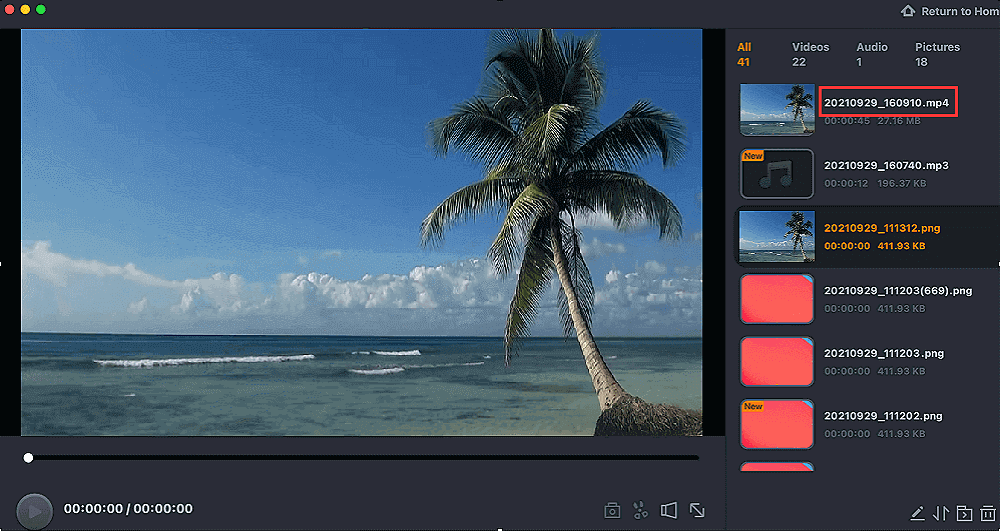 QuickTime Player is an extensible multimedia framework developed by Apple Inc. It is capable of handling various formats of digital video, picture, sound, panoramic images, and interactivity. You can use it to capture screen, video, audio, and webcam. 
This program can do almost any video capturing and editing on a macOS computer. Since it is quite useful and free, most Mac users are familiar with this software.
The limitation is that you cannot use it for system sound. 
To solve it>> Go to learn how to record internal audio on Mac.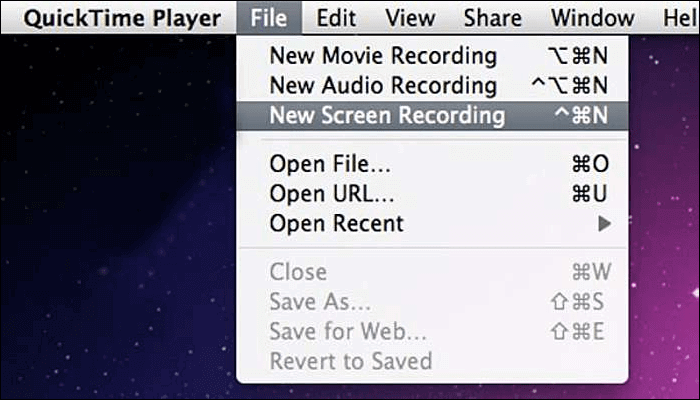 Recording the YouTube TV with QuickTime Player:
Step 1. Open QuickTime Player, and then choose "File" > "New Screen Recording" from the menu bar. You will see either the screen controls or the window.
Step 2. Before recording, you can click the arrow next to "Record" to change the recording settings:
Capture your voice or other audio with the screen recording, and choose to record with a microphone or not.
To show a black circle around your pointer when clicking, choose "Show Mouse Clicks" in "Recording".
Step 3. To start recording, click the "Record" button and then take one of these actions:
Click anywhere on the screen to begin recording the entire screen.
Drag to select an area to record, and then click "Start Recording" within the area you selected.
Step 4. To stop recording, click "Stop" in the menu bar, or press Command-Control-Esc (Escape).
Step 5. Eventually, QuickTime Player automatically opens the recording. You can play, edit, or share it.
Conclusion
In a word, you can capture a YouTube TV show in two ways. The first is to use the inbuilt recorder within the YouTube TV show, and the other one is to use some screen recorders for TV shows you like. EaseUS RecExperts is a nice tool for both Windows and Mac users with its fantastic features. Click the button to download it now.
FAQs About How to Record on YouTube TV
Follow this part if you want to know more information on YouTube TV recordings. 
1. Can you record TV shows on YouTube TV?
Can you screen record YouTube TV? The answer is Yes. However, only YouTube TV shows without DVR settings can be recorded. YouTube videos with DVR protection can not be recorded for limitations. 
2. How does YouTube TV DVR work?
When recording programs on YouTube TV, all shows you selected will be automatically added to the DVR media library. YouTube TV provides unlimited storage space, therefore, you can capture TV shows easily. 
3. How do you record on YouTube?
For Windows users, you can capture YouTube TV shows with screen recording software like EaseUS RecExperts, OBS Studio, etc. However, you need to notice the DVR protection and avoid capturing TV shows that are under DVR protection. Because they cannot be used to capture shows successfully.
For Mac users, you can choose QuickTime Player or EaseUS RecExperts for Mac. While the Mac default tool cannot help capture the internal audio. Therefore, EaseUS RecExperts is your best choice.
About the Author

Melissa is a sophisticated editor for EaseUS in tech blog writing. She is proficient in writing articles related to screen recording, video editing, and PDF file converting.