
Table of Contents

About the Author

Related Posts

Best Audio Recording Software
Many people love to play Minecraft and explore in the game, looking for resources and running from creepers. Sometimes, you may want to share your achievements and happiness in the game with your friends. If so, try the Minecraft screen recorders and make a video for YouTube or other social networks. Using the game recording software mentioned on this page, you can screen record on Minecraft with simple clicks. Follow those tutorials and start your recording.
Related Article: How to Record Clash Royale on PC & Mac
How to Screen Record Minecraft on Windows 10 PC 
The easiest way of recording Minecraft is no doubt recording it with EaseUS RecExperts. This excellent Minecraft recording software can capture almost everything on your screen, including video, audio, and webcam. By the simplicity of operation, all you need to do when recording a game is launch it and enjoy it.
You can also use it to record the full or a part of the computer screen. This software will record every detail on your screen whether you play the game in full-screen mode or window mode. And you can select a suitable frame rate that is compatible with the preference of your computer. In this way, you don't need to worry that the recording process will slow down your device.
The built-in video trimmer helps you edit the recordings and remove some unnecessary parts. You are also able to add opening titles and closing credits to the recorded videos if you need them.
How to Record in Minecraft with Windows PC:
Step 1. Start the gameplay you want to record and launch EaseUS game recorder. Next, select the Game mode.

Step 2. Click the nut icon to open the Settings window, and then click on "Video" to adjust the frame rate (from 1 to 144), video quality, format, etc. 
In addition, you can click on the "Game" button to change some game overlay options. Once done, click "OK".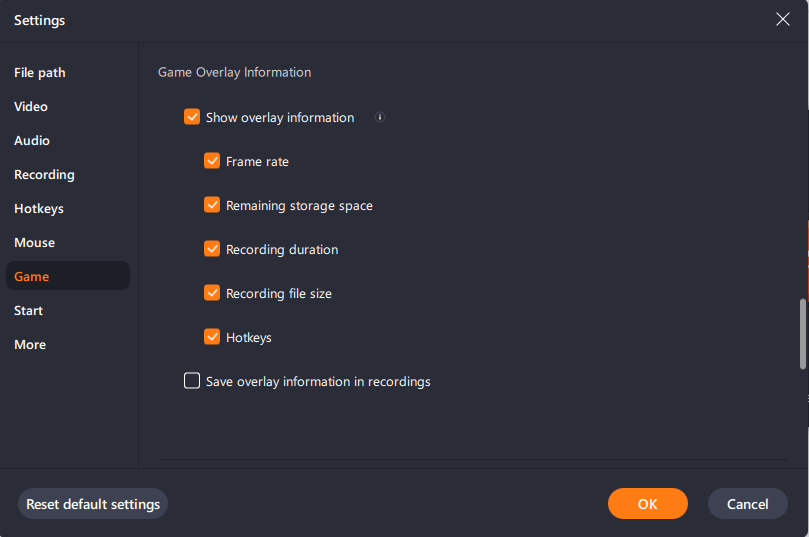 Step 3. Go back to the Game mode interface and click "Select Game" to choose the gameplay you want to capture. Next, click REC to start your game recording.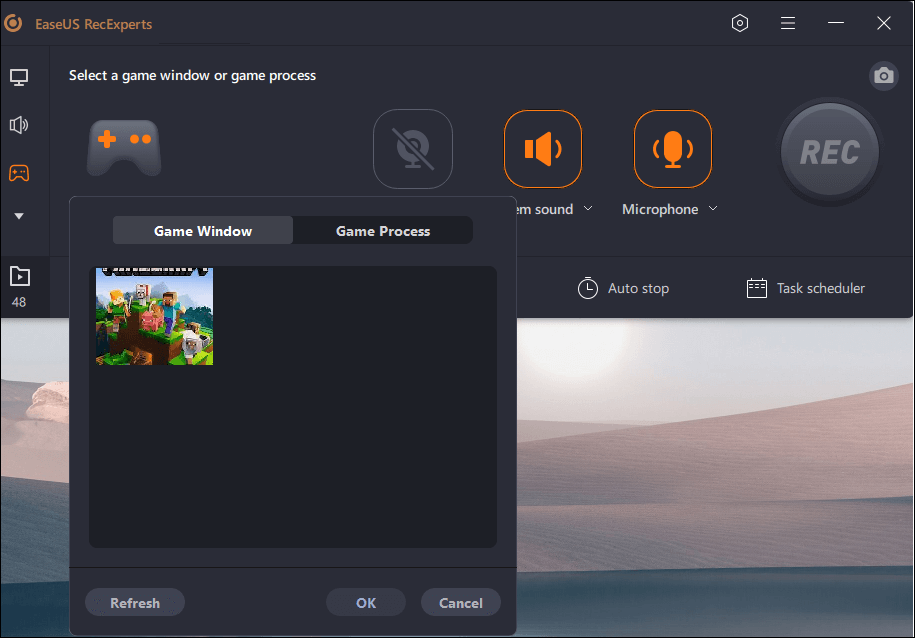 Step 4. You will see a small bar showing the time of your record. If needed, you can take screenshots in recording, or set the specific time to stop the recording by clicking the "Clock" icon on the toolbar.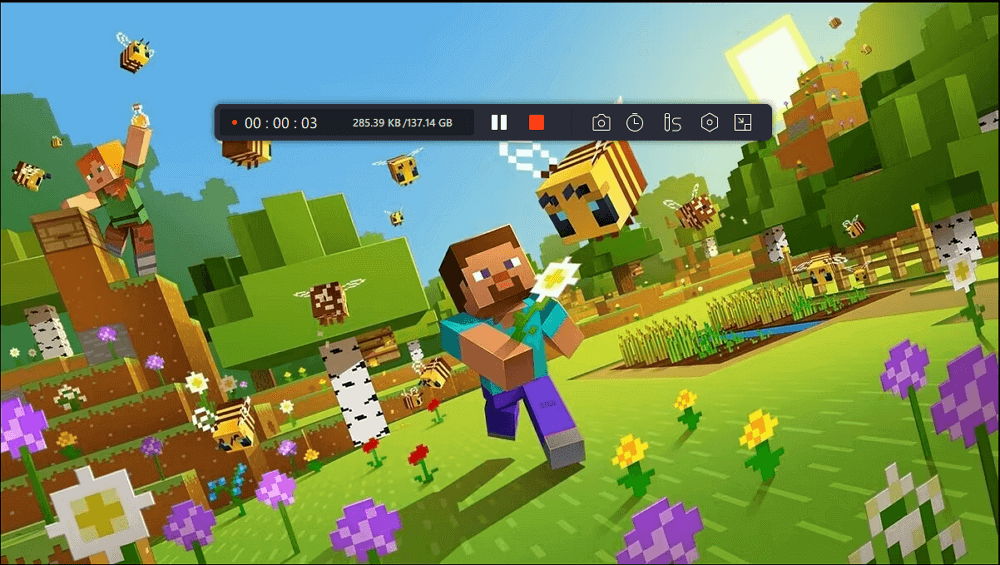 Step 5. Once done, you can watch and edit the recorded footage with the built-in video editor. On the recorded video, you can trim the recordings as you want.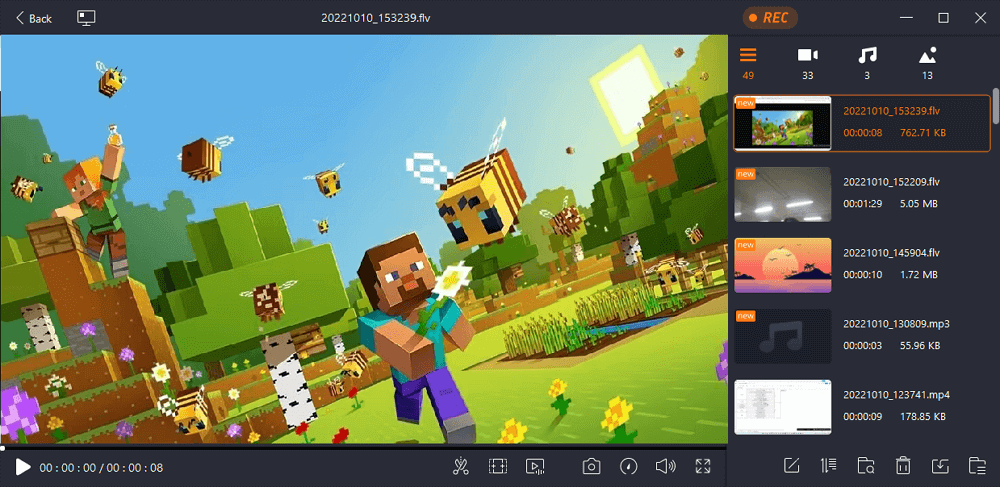 How to Record Minecraft Videos on Mac
If you want to find a lightweight but full-featured Minecraft recording software on Mac, EaseUS RecExperts for Mac is a great choice. Its flexible screen recording function gives you the ability to select the recording region freely. Whether you want to capture the whole screen or record part of the screen, it can perfectly satisfy your needs. Most importantly, there is no time limit for your recording, also no watermark on your recorded videos.
Sometimes, you may want to record the whole course of a game and export it as an MP4 file to upload to websites like YouTube. As this Mac screen recorder supports more than 10 formats, you are capable of choosing the most appropriate target format based on your demands.
How to Record in Minecraft on Mac:
Step 1. Download and launch EaseUS RecExperts on your Mac. To capture the whole screen, click on the "Full Screen" button from the main interface. If you want to customize the recording area, choose the "Region" button. 

Step 2. To record the screen with audio, hit the Sound icon from the bottom left side of the toolbar. The audio resources can be your external sound or system audio. Based on your needs, enable the target option.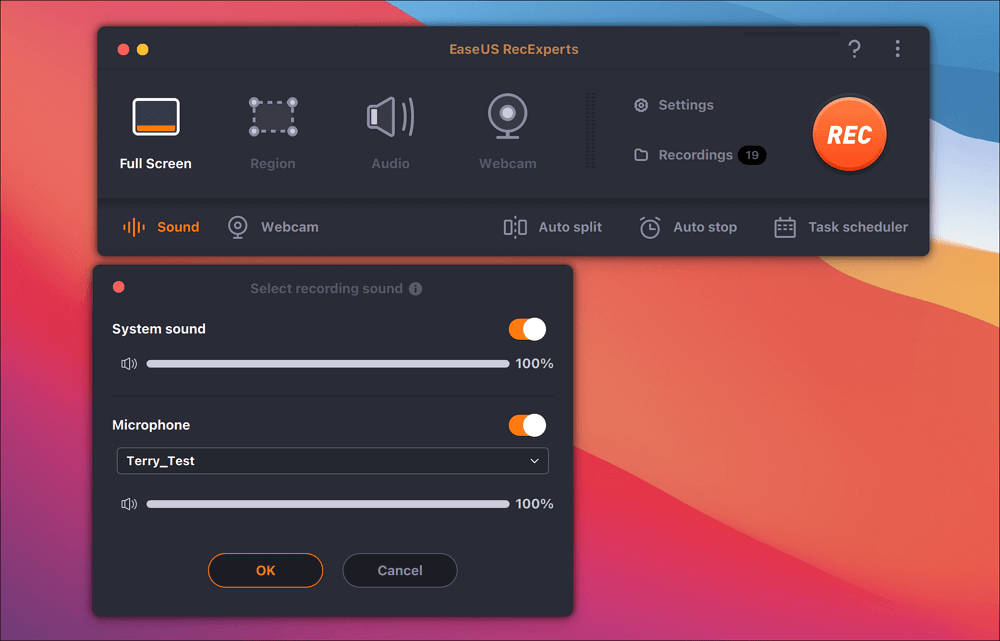 Step 3. Before capturing, you can change the output format of the recorded video by clicking "Settings" from the main interface. Then, scroll down the menu of Output format for Video. Choose the output type as you like.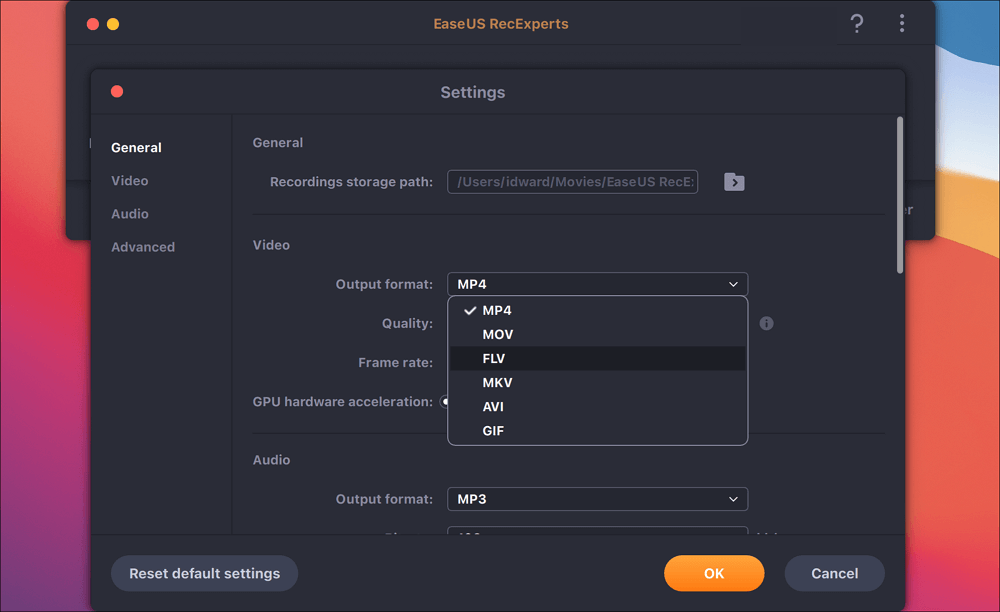 Step 4. Once done, click the REC button to begin recording. It captures anything displayed on your Mac screen. When you are done, click the Stop button. Then you can watch the recorded video from "Recordings".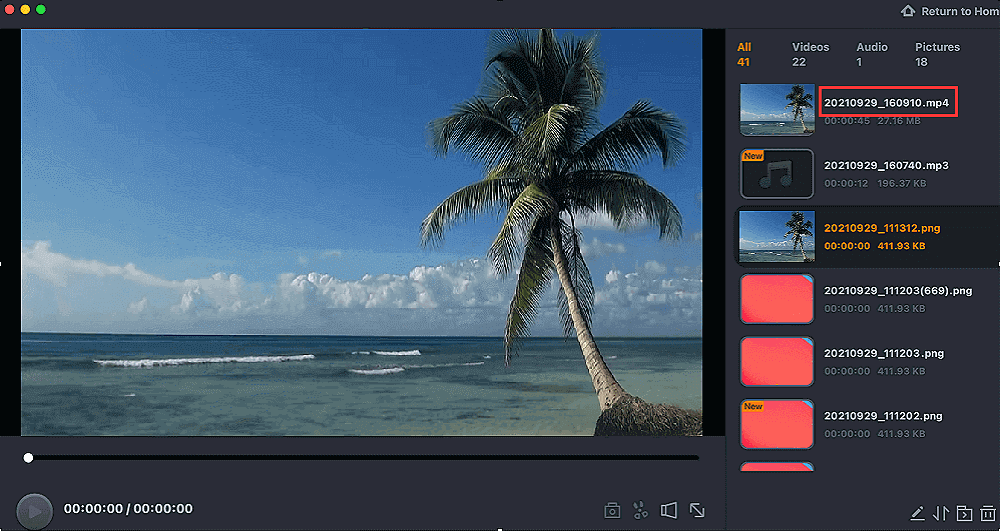 Best Free Minecraft Screen Recorder [With How-to Guide]
Apart from the Minecraft screen recorder we mentioned above, some other effective free Minecraft recording software is also available. You can choose one recorder to help you in Minecraft filming.
#1. Record Video in Minecraft using Bandicam
This lightweight Minecraft recording software works perfectly in the Windows environment and can provide high-quality results for all video recordings. You can also make a customized selection for recording any particular area from a device screen. Bandicam supports game recording with a higher compression ratio, and the content quality stays almost equivalent to the original work.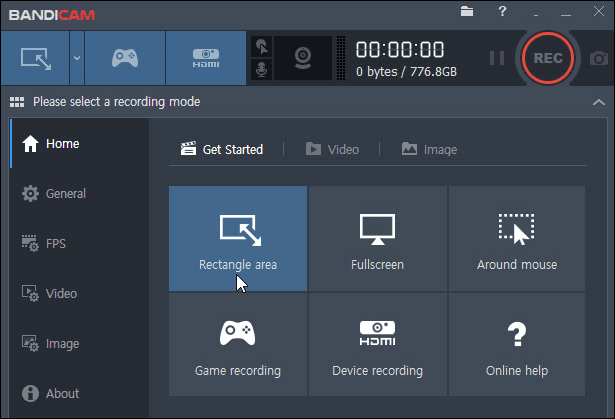 How to Record on Minecraft with Bandicam:
Step 1. Choose the "Game Recording" mode to tune to a high-quality video. Then, run Minecraft on your device.
Step 2. Make adjustments for frame rating using the "FPS" tab displayed on your device screen.
Step 3. Hit the "F12" button on the keyboard or press the "Record" button to initiate the recording process. During recording, the numbers displayed in green color will turn red.
Step 4. If you want to stop recording, hit the "F12" button on the keyboard again or click again on the "Record" button. The software will save your recorded video on your computer, and you can post it on YouTube.
#2. Record on Minecraft with OBS Studio
This free-to-use open-source video recording software allows both high-quality video recording and impressive live streaming services. It works perfectly with Linux, Mac, and Windows. It supports so many custom transitions with easy-to-use color keying, color correction, and image masking filters. Therefore, you can be sure that the video recorded will meet your satisfaction.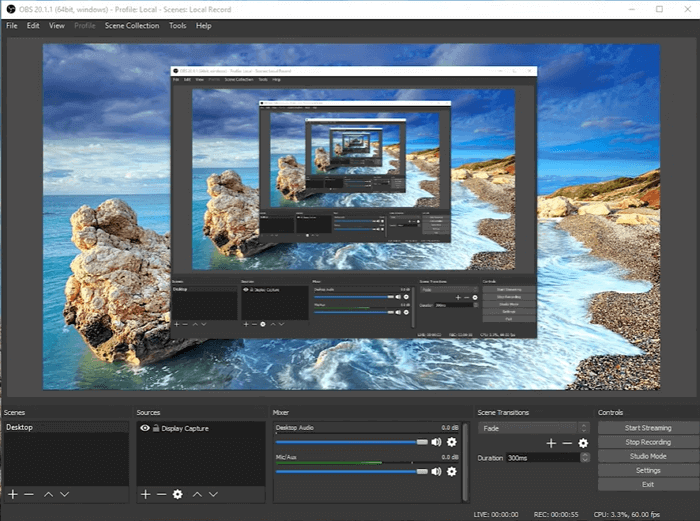 Tutorial of Recording Minecraft Video with OBS:
Step 1. Get the OBS screen recorder tool installed on your system and then launch it.
Step 2. Define hotkeys for an easy start and stop functionality.
Step 3. If you want to add text and images to your recordings, right-click on the source area and select the game capture option.
Step 4. Now open Minecraft and then choose it from the application list. Start playing in full-screen mode.
Step 5. Click the "Record" button to start recording and click it again to stop the recording process.
#3. Record Minecraft Gameplay with Game Bar
Xbox Game Bar works with most PC games, giving you instant access to widgets for screen capture and sharing. Windows 10 lets you use the Game bar to record gameplay footage and take screenshots of Windows PC games. Before recording the Minecraft video, you may need to download and install the Game Bar first.

How to Record on Minecraft with Xbox Game Bar:
Step 1. Press "Windows Key + G" to open the Game Bar while playing a game. It will pop up above the game you're playing.
Step 2. Click the red "Record" button. You can see a timer at the top-right corner of your window while it's recording.
Step 3. Bring up the Game Bar and click the red "Stop" button to stop recording the game. You can also start and stop the recording with "Windows Key + Alt + R" hotkeys.
Step 4. Windows saves all videos you record to your account as MP4 files. Each is tagged with the game's name and the time you captured them. When the recording is completed, post it on YouTube.
#4. Screen Record Minecraft using Icecream Screen Recorder
Since game recording is a complicated technological process that is quite resource-intensive, you need a trustworthy game recorder to help. Icecream Screen Recorder has a standalone Game Capture mode to record PC gameplay, and using this program as a game recording software is extremely easy. Follow the steps of recording Minecraft with Icecream Screen Recorder.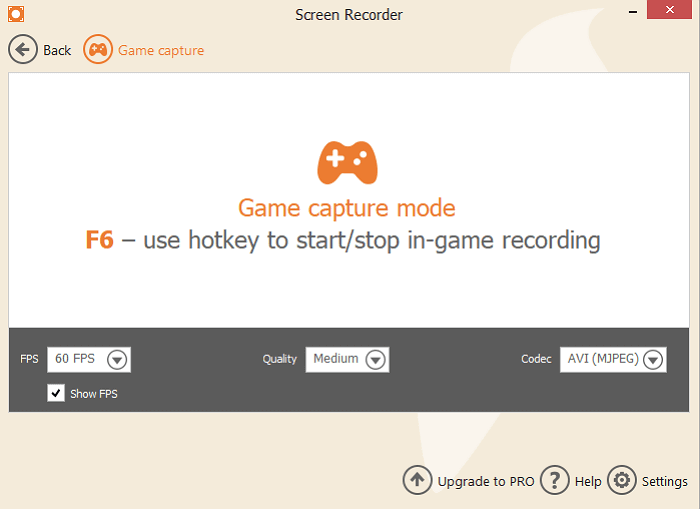 How to Record in Minecraft with Icecream Screen Recorder:
Step 1. Download Icecream Screen Recorder from the official website. Launch it as soon as it is installed.
Step 2. Go to the "Audio" tab in the "Settings" panel of the game recorder and check the "Record audio" option. You can also enable the "Record microphone" option so that it will record your voice too.
Step 3. Launch the game you want to record in full screen on your PC and press the "F6" hotkey button to start the recording session. As soon as you are done with the recording, click the "F6" button again to stop the game capture.
Step 4. Click the "Save" button to save the recorded videos on your computer. After that, you may share the video with YouTube or other social media platforms.
Conclusion
In a word, if you want to record Minecraft on PC, you need a game recorder. This post shows you how to record Minecraft videos on PC with the best Minecraft video recorder. EaseUS RecExperts is undoubtedly the best recording software for Minecraft on Windows and Mac among all the recorders we mentioned.
FAQs About How to Record Playing Minecraft 
There are some frequently asked questions about recording Minecraft videos. If you need to learn more about this topic, those answers may be helpful.
1. How do I record my Minecraft gameplay?
How to record while playing Minecraft? You can use a great Minecraft game recorder to do that, such as EaseUS RecExperts for Windows.
Step 1. Install this Minecraft screen recorder on your computer and launch it.
Step 2. Click on the "Full Screen" or "Region" button to select the recording area.
Step 3. You can also select the microphone and camera you want to use in the recording.
Step 4. Click on the "REC" button to start recording, and click on the "Stop" button after recording the video you need.
2. Does Minecraft have a built-in recorder?
Although Minecraft doesn't offer you a built-in gameplay recorder, you can use the Xbox Gamebar to record your Minecraft videos. This built-in tool provided by the Windows system helps you capture the game easily. You only need to search it in the Windows search box and launch to use it.
3. Which is the best screen recorder for Minecraft? 
Best Minecraft Recording Software Free on PC and Mac:
EaseUS RecExperts for Windows
EaseUS RecExperts for Mac
Bandicam
OBS Studio
Game Bar
Icecream Screen Recorder
......
About the Author

Jane is an experienced editor for EaseUS focused on tech blog writing. Familiar with all kinds of video editing and screen recording software on the market, she specializes in composing posts about recording and editing videos. All the topics she chooses