
Table of Contents

About the Author

Related Posts

Best Audio Recording Software
PAGE CONTENT:
Keynote is a presentation program designed and built by Apple. It is a competitor of Google Slides and Microsoft Presentation, but Keynote is available only on Macs.
If you use Keynote a lot to make a video presentation and you want to know how to record your Keynote presentation, this article is all about it. Continue reading to learn more.
Record Keynote Presentation with a Screen Recorder
EaseUS RecExperts is an intuitive and easy-to-use Mac and Windows screen recorder. It can be used to record any activity displayed on your computer screen. If you want, you can also use it to record audio, webcam, and gameplay along with screen recording.
It can be used in many scenes. For example, you can use it to record Google Meet, Zoom, and Teams meetings. Or, you can use it to record a presentation like a Keynote presentation. Check more information about it below.
Main features of EaseUS RecExperts:
Now, click the button below to download the software and follow the steps to start recording!
Step 1. Launch EaseUS RecExperts on your computer. Choose a recording mode from "Full Screen" or "Region". To record a part of the screen, select the recording area manually.

Step 2. After selecting the recording mode, click on the camera sign on the interface. This will let the tool record your screen and the webcam at the same time.
Step 3. Then, you can click the red "REC" button to start recording. To pause the recording, click on the white "Pause" button; to end the recording, click on the red "Stop" button.

Step 4. After recording, the recording list window will open. Here you can view, split, delete, manage your recordings easily. You can even import and play third-party videos with this tool if you want.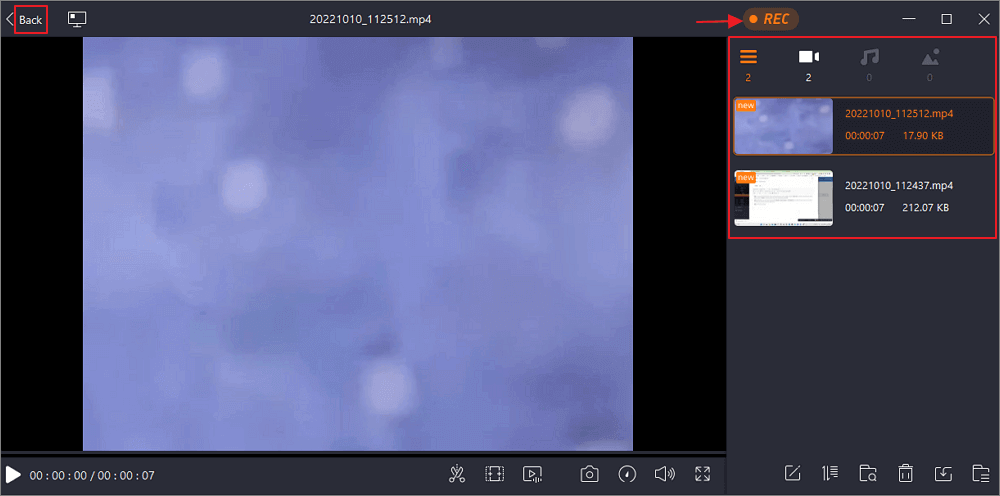 Official Way to Record Keynote Presentation
Keynote is a powerful program. It doesn't only let you create and edit your presentations; you can also record your presentation with a voiceover.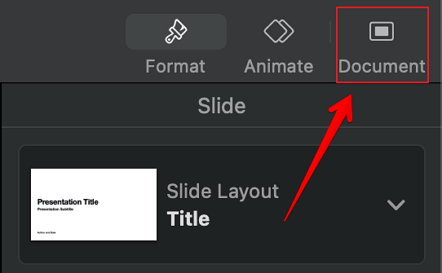 Here's how to do that:
Step 1. Click on "Document" > "Audio" and then click on "Record". If you want to record each slide individually, click on "Record" and follow the below steps.
Step 2. A new window will open with recording controls. On the top-left side, you will see a "Show Navigator" option.
Step 3. Click on the "Show Navigator" option and select the slide you want to record with a voice.
Step 4. Now click on the "Pause" icon, select the slide you want to record with your voice, and again click on the "Pause" icon to resume recording.
Step 5. Repeat this for all the slides that you want to record with your audio.
Screen Recorders That Can Record Keynote Presentations
If you want a dependable third-party tool to record your Keynote and don't want to use Apple's own solution built into Keynote, you can use EaseUS RecExperts. But if you want more options to pick from before deciding to settle on EaseUS RecExpert for its powerful features and ease of use. Here are a few of our personal favorites.
1. QuickTime Player
Apple's QuickTime Player is the native solution to record your Keynote presentation without downloading anything from 3rd-party services. However, unlike other free video recording software from third-party services, QuickTime Player is severely lacking in features. It can only perform basic functionalities, such as recording a video.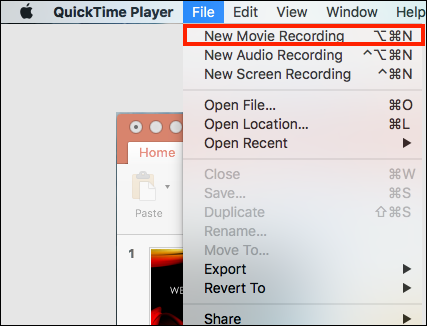 Pros:
It is convenient to use
Easy to use for most people
Offer simple UI
Cons:
Only basic features are available
File sizes are large
You have to wait for the files to process and save
2. OBS Studio
Gamers and live streamers regard OBS Studio as one of the best programs to record streaming video or their gameplay. This is an open-source, free-to-use program that users can take advantage of all the professional tools and use to record their Keynote presentations.
OBS Studio includes a plethora of tools that you can use to record your presentation professionally and properly. Unlike other programs that fulfill the task of recording, which a lot of programs can do, OBS Studio offers a little more to the users to help them record what they want, how they want.

Pros:
Users can use it easily
Wide configuration option
Availability of an Audio Mixer
Cons:
Customization can be difficult
Changing a language requires a restart
It can randomly crash
3. ManyCam
ManyCam, a free webcam recorder Windows 10 and a video switcher, is an excellent tool for capturing and recording your presentations, screen, or video chats. With the help of ManyCam, you can also easily create a livestream if you do that for Twitch, YouTube, or any other website.
ManyCam is a one-stop solution for all your web recording needs and is available for both Mac and Windows.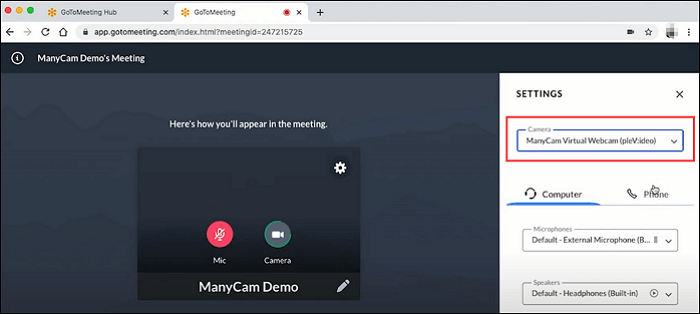 Pros: 
High-quality live streaming
Broadcast simultaneously across a number of channels
Offer audio effects
Cons:
does not support HD resolution
Can only add 3 effects to the favorites list
No free trial is available for premium editions
4. Movavi Screen Recorder
You can record and take screenshots of videos, games, presentations, tutorials, and much more with Movavi. It is very simple and easy to record webcam, your browser window, your desktop, or more importantly, your Keynote presentation, using features like recording only your current tab or the entire screen with the audio.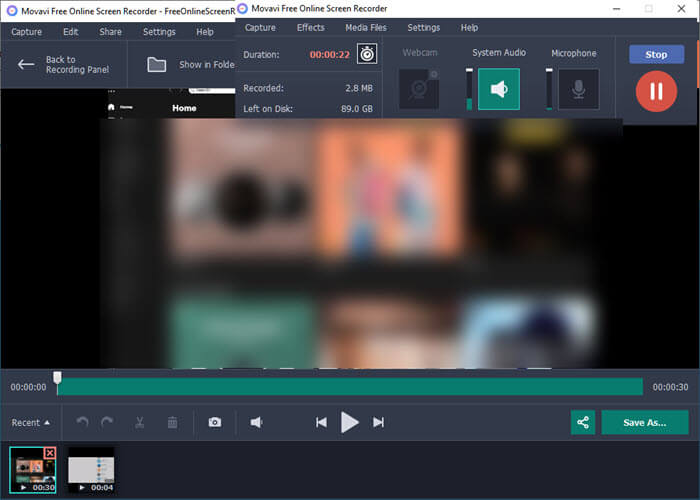 Pros:
It is lightweight
Supports a wide range of output resolution
Easy-to-use for novices
Cons:
In the free version, your videos will be watermarked
The editing tool offered is sub-par
Most of the features are locked on the free version
5. Bandicam
Bandicam is known for its ease of use and simplicity. No matter if you're new to screen recording or have used a few before Bandicam, you will be pleased with Bandicam because of its ease of use.
Record your Keynote presentation in full HD, and you can also record your streams from PlayStation, Xbox, Apple TV, your smartphone, and your PC.
Bandicam is an excellent HD screen recorder to record high-quality video available for download on both Mac and Windows.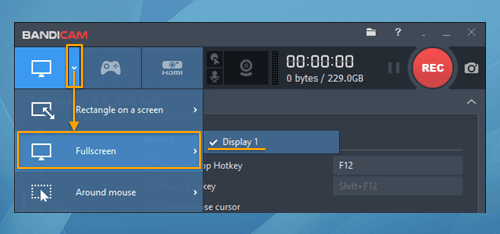 Pros:
Record screen in full resolution
Offer real-time drawing tools
Record multiple screens
Cons:
The interface is not so clear
Novices may find it not so easy to use
It costs time to get used to it
FAQs about Recording Keynote Presentation
Here is some more information about recording a Keynote presentation.
1. Can you record a Keynote presentation with audio?
Yes, we would recommend you use EaseUS RecExpert to record your Keynote presentation with audio. It is one of the most sophisticated and easy-to-use programs.
2. How do I save a Keynote presentation as a video?
If you're using QuickTime Player to record your Keynote, it will automatically save to the desktop if you haven't already set the default save location.
On third-party applications, once the recordings are completed, it will ask where we want to save the file and under what name and format. Enter the information and click on "Save".
3. How do you record the camera on Keynote?
You cannot record a video using a camera in Keynote. If you want to add a video, you'll need to record it first and then add it as media in Keynote. Or you can also record the video and the Keynote presentation and then use editing software to add the video to the Keynote presentation.
Conclusion
Keynote is Apple's own version of Microsoft PowerPoint and Google Sheets. It is only available on Mac devices, and it is a pretty decent and feature-rich program.
If you're creating your next presentation with Apple Keynote to share online or to share with your class, you don't need to look elsewhere. You can use QuickTime Player or one of the easiest and most comprehensive programs, EaseUS RecExperts.
About the Author

Melissa is a sophisticated editor for EaseUS in tech blog writing. She is proficient in writing articles related to multimedia tools including screen recording, video editing, and PDF file conversion. Also, she's starting to write blogs about data security, including articles about data recovery, disk partitioning, data backup, etc.