
Table of Contents

About the Author

Related Posts

Best Audio Recording Software
Quick Navigation:
Zoom is a convenient video conference software that makes smooth audio & video calls. Especially, Corona outbreak made it more famous for board meetings and conference calls. However, people need to record important meetings. So you can share the recordings with the ones who were not present and also listen to the lengthy meetings in fragments for better understanding.
But the question arises, does Zoom offer any screen recorder? If yes, how to record a zoom meeting on iPhone? It is possible via Zoom Cloud on iPhone, but with the correct procedure. So whether you need to record a Zoom meeting of an online course or a professional meeting on iPhone, below is the process to use the Cloud recording feature!
Method 1. Use Zoom's Cloud Recording Feature
Though it's possible to record Zoom meetings on iPhone, there are multiple limitations. It doesn't allow local smartphone recordings, so you can only record via Zoom's Cloud feature. Also, this option is only valid for authorized members. The host must grant your permission to record; otherwise, only hosts and co-hosts can complete this task. Lastly, remember to enable the Cloud recording option.
Let's follow the steps for how to record a Zoom meeting on iPhone via Zoom's Cloud feature:
Step 1. Open the Zoom application on iOS and start/join the meeting here. From the toolbar, click the "More" tab or three-dots menu. Also, tap "Record on the Cloud" to proceed further.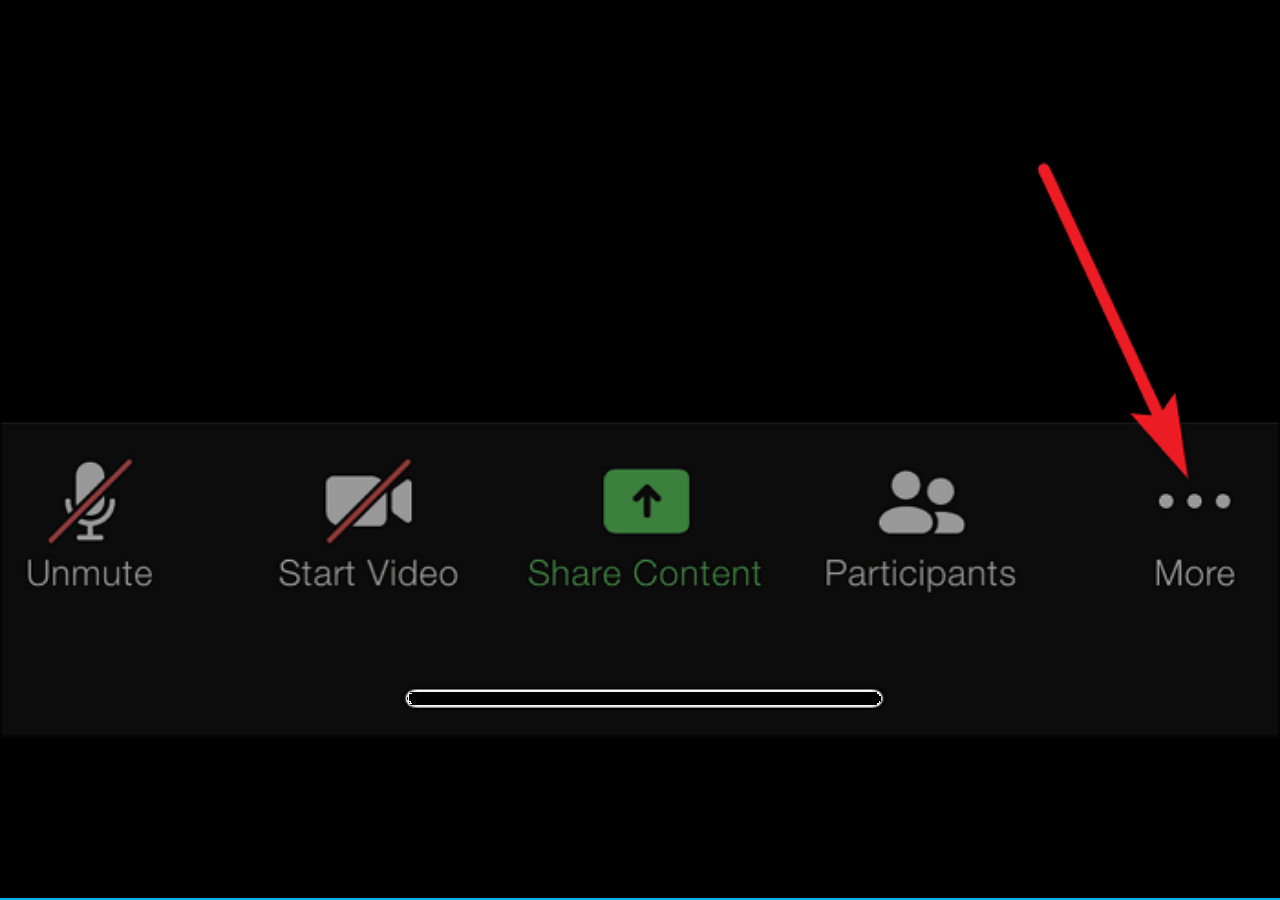 Step 2. Secondly, you need to select the "Record to the Cloud" option to start the recording of meeting audio, video, and chat. You can stop or pause the recording anytime by clicking the "Recording" feature from the upper left screen corner.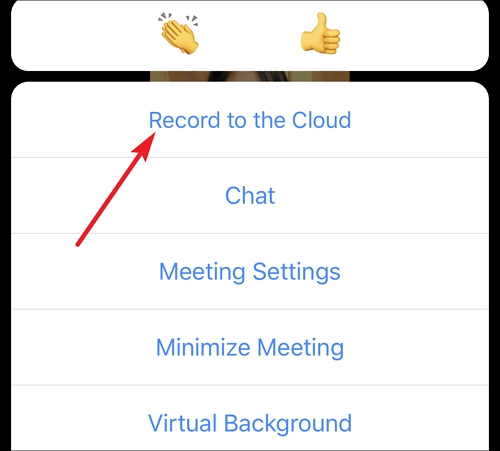 Step 3. The last step is to export the recording; however, it takes a little processing time when you stop the recording. It will be accessible via the Zoom web portal of the host or allowed members. That's all!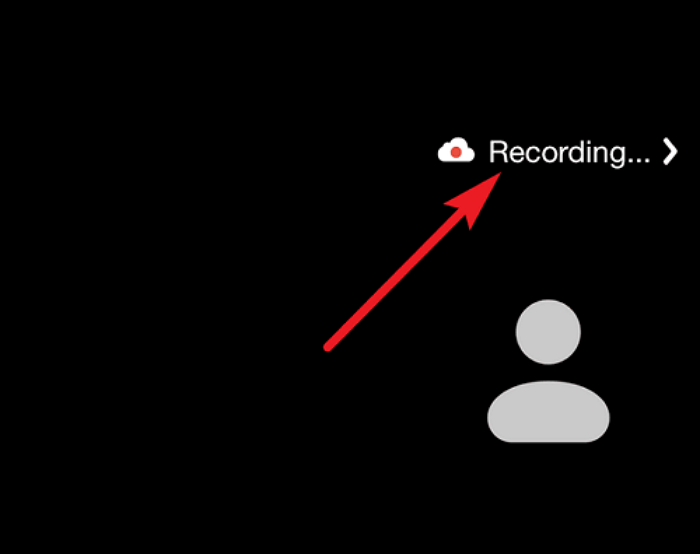 Method 2. Use iPhone Built-in Screen Recorder
It's a fact that not everyone has a Zoom paid account or recording permission from hosts. In this situation, iPhone offers an in-built iOS screen recorder that helps you do sound-quality recordings of not only Zoom meetings but also anything on the screen. You only need two things to consider, enough free space and a recording toggle in the control center on iPhone. Now, let's check how to record Zoom meeting without permission on iPhone.
Here is the procedure for using an in-built screen recorder to record Zoom gatherings:
Step 1. Firstly, you must check the storage of your iPhone by opening "Settings," heading on to "General" and "iPhone Storage" tab. At the top right, look at the free storage space.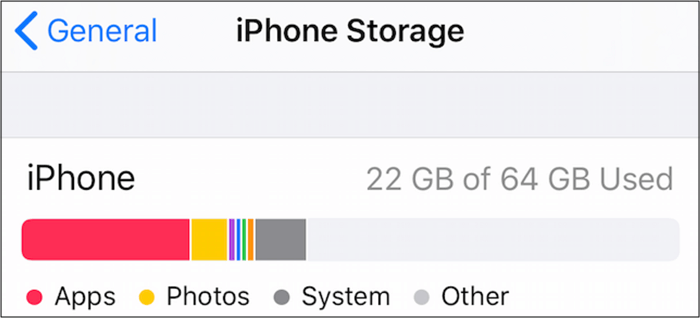 Step 2. The second step is about adding the recording button to the control panel. From "Control Center" in the "Settings" section, go to "More Controls." It's to ensure that the screen recording is available; otherwise, click the plus tab to add from the list of control.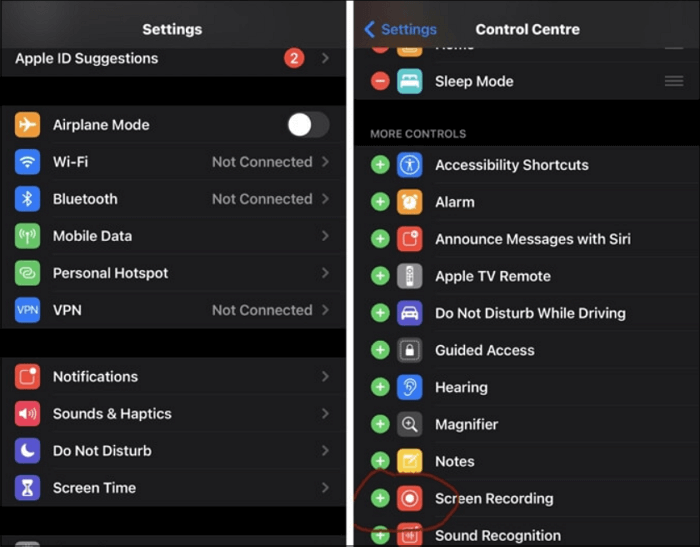 Step 3. When the Zoom meeting starts, swipe below from the right corner and press "Record Control" from "Control Center." A red highlight timer will appear to indicate ongoing recording. Stop it whenever you want. All done!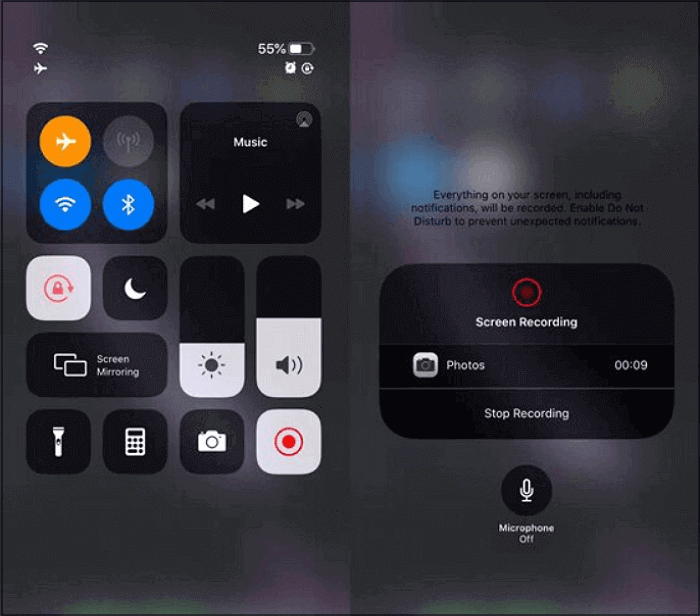 Method 3. Use A Screen Mirroring Application
Since most people don't prefer to use the in-built apps for recording purposes, a screen mirroring app comes in handy. ApowerMirror is a secure and stable recording app that helps you cast iPhone to Smart TV, PC, and other similar devices. The recording quality will be excellent, along with an incredible experience. Even taking screenshots and adding notes is also easier than ever!
Let's consider the step-by-step guide on how to record a Zoom meeting with ApowerMirror:
Step 1. Firstly, install & launch the ApowerMirro app on your PC/Mac and iPhone. Also, connect both devices to the same internet connection. Now, it's time to open "Control Center" on your iPhone. Also, click the "Screen Mirroring" option to look for the device.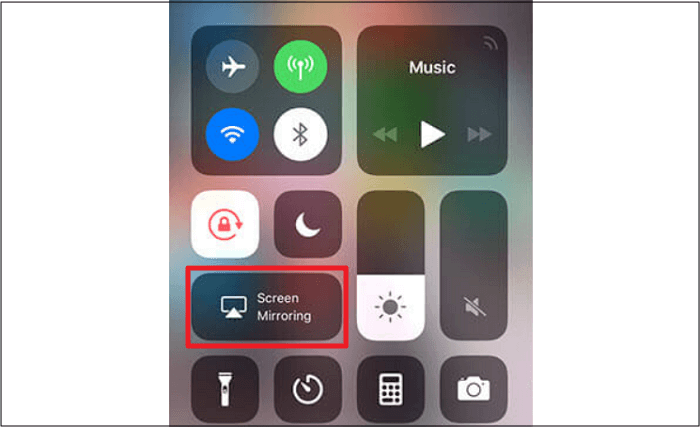 Step 2. Choose the name of your PC, and you will see iPhone streaming on your PC. Next is to attend your Zoom meeting, the display of which will be on the PC.
Step 3. From the right side of the ApowerMirror interface, tap the "Recorder" icon to begin recording. When you stop recording, it will be accessible on your PC. That's all!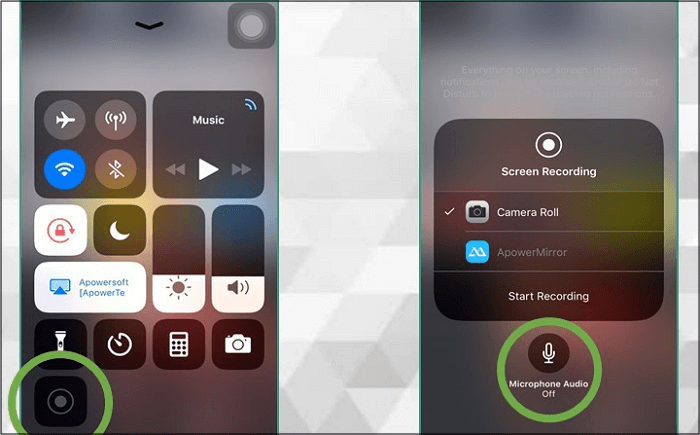 Method 4. Try Third-Party iOS Screen Recorder
Whether you prefer using a third-party video conference recorder or your iPhone version is below 11, TechSmith Capture must be your way. Even if you are a naive user who doesn't know how to record a Zoom meeting on your iPhone, this app lets you do quick recordings. Even it helps you share on Camtasia for editing purposes. Last but not least, it keeps the recordings organized.
Here are the detailed steps on how to record a Zoom meeting through TechSmith Capture:
Step 1. First of all, install & launch the app on your iOS and register for a free account. After allowing the necessary permissions to proceed, it's required to check the "Screen Recording" feature from the "Control Center."
Step 2. Also, enable the feature if it's not. Next, you can launch Zoom on your iPhone and participate in a particular meeting you wish to record.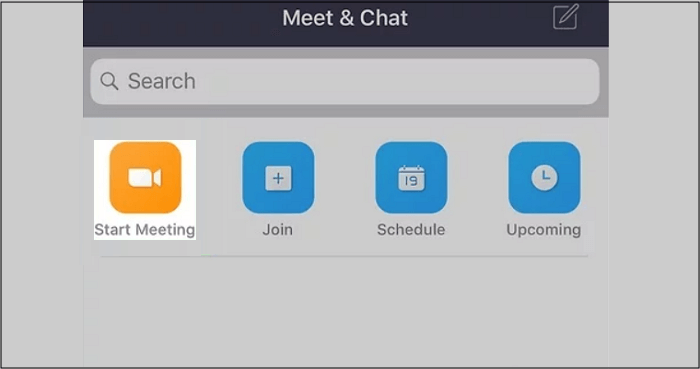 Step 3. Lastly, tap the "Record" tab, and if you also want audio, remember to click the "Microphone" icon. To stop the recording, press the red button, and save your Zoom recording. All done!
Pro Tip: How to Record Zoom Meeting on PC/Mac
Whether you attend a meeting on your Mac or PC, you will require an external screen recorder if you want to record a Zoom meeting without permission on a PC or Mac.
EaseUS RecExperts is a robust software to overcome limitations and achieve the best output quality. During your Zoom meeting, you can capture a specific region or the complete screen. The multi-screen recording is also supported. Even the microphone and system sound can be recorded or muted as desired.
Furthermore, you can schedule recording to save time and effort. It also offers the in-built feature to take screenshots. Even you can save the recordings to 10+ formats, including MOV, FLV, etc. Lastly, the advanced video editor and embedded media player add extra usability to this software.
Step 1. Go to the meetings that you want to record. Then, launch EaseUS RecExperts on your devices. Choose the "Full Screen"  recording mode or select the recording area in the "Region" mode.

Step 2. Choose to record the system sound, microphone sound or none by clicking on the according buttons. When it's time to start recording, click on the red "REC" button to begin.

Step 3. If you need to pause the recording, click on the white double vertical bar. To end the recording, click on the red square sign. You can also use the hotkeys "F10" and "F9" to pause or stop recording.

Step 4. After recording, you can view the meeting videos in the pop-up recording list.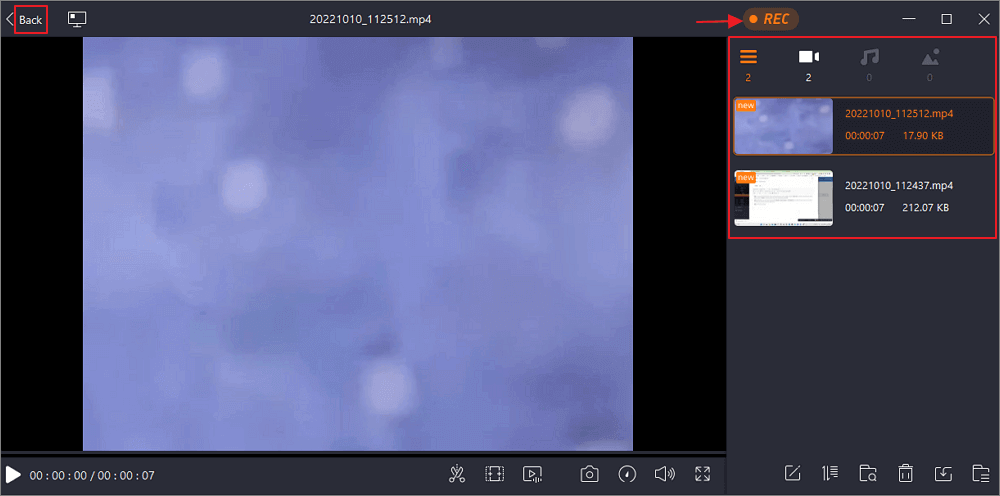 Final Words
In short, you can record zoom meeting on your iPhone using the above-mentioned Cloud recording feature. However, certain limitations of Zoom make external video recorders the better ones. The approaches of an in-built recorder, screen mirroring app, and third-party iOS recorder are available for the best results. You can opt for the one that suits your needs.
And for recording a zoom meeting on PC or Mac, EaseUS RecExperts is the ultimate solution. Offering a wide range of functionalities, it helps you record the perfect captures easily.
How to Record Zoom Meeting on iPhone FAQs
Let's find the answers to some of the users' common queries!
1. Can I record Zoom meeting from my iPhone?
Yes, you can record zoom meeting in Cloud on your iPhone using the Zoom mobile app. This way, you can view, download, and share the recordings with your Zoom account. However, you can also use an in-built or third-party iOS app.
2. Can I record a Zoom meeting on my phone?
Whether you have an Android or iPhone, Zoom helps you record meetings with its Cloud feature. However, some prerequisites include a host or co-host's permission for the meeting, being a licensed user, and enabling the Cloud recording feature.
3. How do I record a Zoom meeting as a participant in iOS?
You can record a Zoom meeting as a participant on iOS in two ways. Firstly, you are the host yourself, and secondly, there is a requirement for recording permissions from the host. Also, you need to be a licensed user.
4. How do I record a Zoom meeting on my iPhone without the host's permission?
It happens multiple times when you need the host's permission to record a Zoom meeting on your iPhone. Various other approaches are present in this scenario, including a built-in iOS screen recorder, screen mirroring application, or third-party iOS recorder.
About the Author

Jane is an experienced editor for EaseUS focused on tech blog writing. Familiar with all kinds of video editing and screen recording software on the market, she specializes in composing posts about recording and editing videos. All the topics she chooses