
Table of Contents

About the Author

Related Posts

Best Audio Recording Software
PAGE CONTENT:
CrossFire is an online tactical first-person shooter game first released in 2007. Since its release date, it has become one of the world's most widely played video games. This game offers players an immersive gaming experience, many people spend a lot of time playing it.
Have you ever wanted to share your significant CrossFire kills without a capture card? If so, now it's time to accomplish that. This post will introduce you to some best game recording software and teach you how to record CrossFire on your devices with some screen recorders.
Easiest Way to Record CrossFire Gameplay
The easiest and most comprehensive game recorder we want to introduce to you is EaseUS RecExperts. This Mac and Windows screen recorder is capable of recording CrossFire gameplay in HD quality and you can share the recorded videos with your friends.
Moreover, when screen recording gameplay, it enables you to adjust the output format, quality, frame rate, hotkeys, and more. After that, you can record various high-quality games in 4K UHD resolution. While recording gameplay on PC, you also can record game and face if you have a webcam installed.
After recording and modifying the videos, you can share them on social media platforms or save them to your computer with one click.
Features:
Now, you can download this software by clicking the button below.
Follow the steps below to record CrossFire with EaseUS RecExperts.
Step 1. Launch the gameplay that you want to record. Next, open EaseUS RecExperts and click on the "Game" button on the left.

Step 2. Click on the "Select Game" option to choose a Game Window or Game Process. Then, you can enable the audio and webcam recording if needed. When all are done, click the big REC button to start the gameplay recording.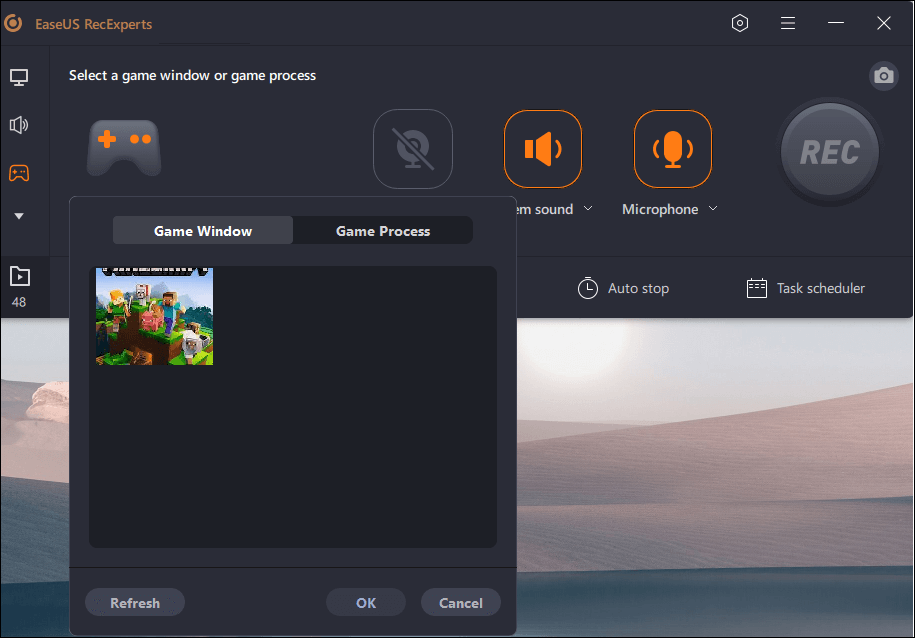 Step 3. A floating toolbar will appear, and you can pause or stop the recording. Besides that, the camera icon enables you to take a screenshot, and the timer icon lets you stop the recording automatically.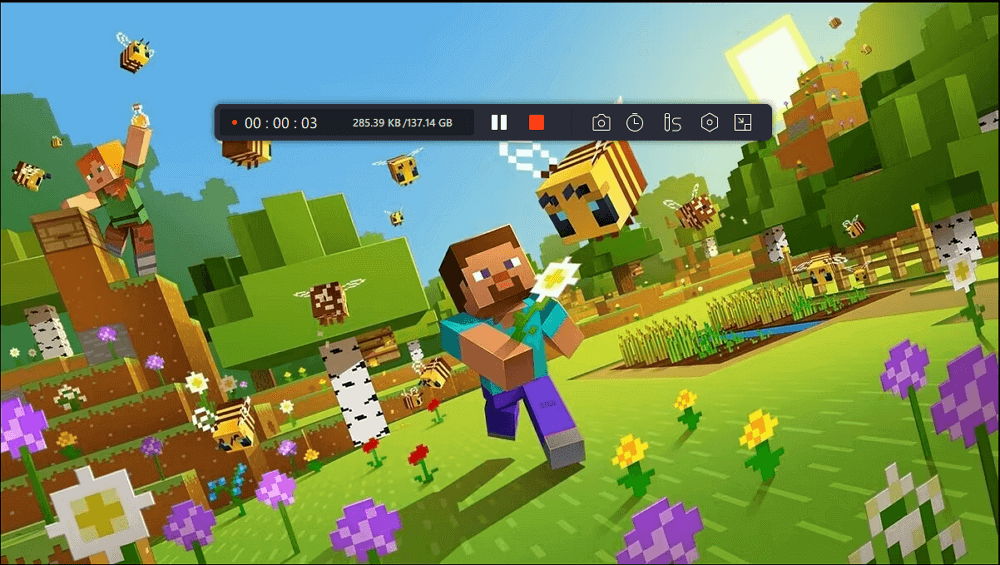 Step 4. After saving the recorded gameplay video, a media player will pop up. It gives you a built-in tool to trim the recording, extract audio from the video, and add an opening & ending part. You can find the tool at the bottom of the player.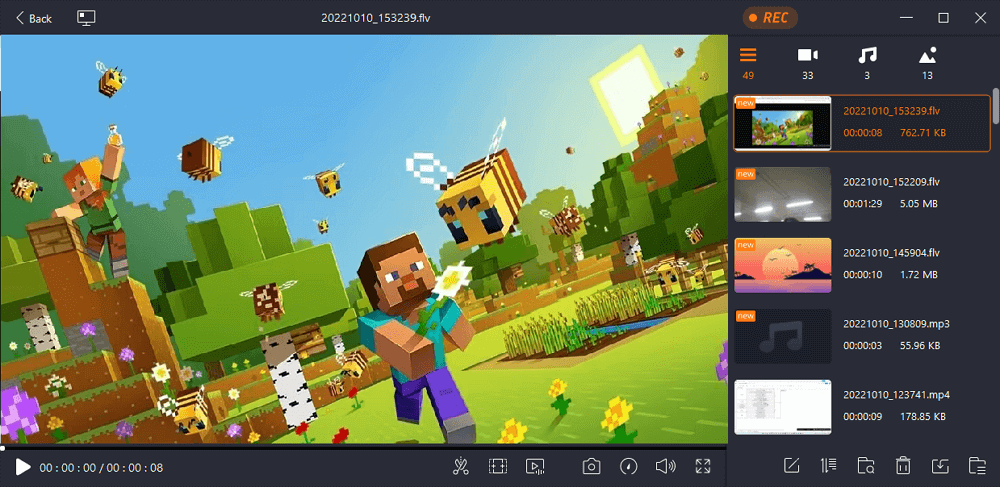 Record CrossFire with an Inbuilt Screen Recorder
Xbox Game Bar is the built-in screen recorder for Windows 10 and later. If you only need a basic recording function, that is to say, record the whole screen from the beginning to the end and don't modify the recording, then you can use this feature to record CrossFire.
If you need to take a screenshot on PC Windows 10, you can also use the hotkey combination to do so. After recording, you can save your gameplay videos to your computer. Now, let's check the steps to record CrossFire with Game Bar.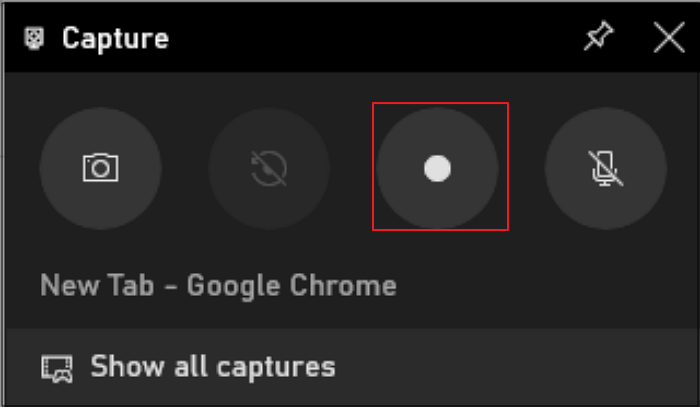 Step 1. Playing your game, when you need to take a recording, press "Windows Key + G" to open the Game Bar.
Step 2. Click the red "Record" button and a timer will appear at the top-right corner of your window while it's recording.
Step 3. To stop recording the window, click the red "Stop" button again. You can also use the hotkey combination "Windows Key + Alt + R".
Record CrossFire with Mirillis Action!
Mirillis Action! gives you an outstanding screen and gameplay recording performance. You may use it to record CrossFire with simple operations. This screen recorder allows users record streaming video and real-time recording of Windows desktop, that is to say, you can use it to record and stream your gameplay, web videos, music, etc.
It also offers a Greenscreen Mode. You can use it to cut out the background while recording. With this tool, you can record screen and webcam at the same time. This is convenient for you if you want to make a tutorial with the recorded video.
 Notice:

The game or application must be active or previously selected to start or stop video recording. When game is not active HUD displays current game framerate in gray color.

Now, follow this tutorial to learn about how to record games and applications with this program.
Step 1. Launch Action! and switch recording mode to "Games and Applications".
Step 2. Run your game, and press the "F9" hotkey to start the gameplay recording. Press it again to stop recording.
Step 3. After recording, open "File manager" in the main interface and check the video recordings list.
Record CrossFire with Shadowplay
ShadowPlay is the last easy way to record and share high-quality CrossFire gameplay videos and screenshots with your friends. With this tool, you can record a GIF from your gameplay and save it to your computer.
Nvidia Shadowplay is a screen recording feature that's available through GeForce Experience. Therefore, you need to install GeForce Experience before using this feature. If everything is prepared, you can head on to find out how you can record CrossFire gameplay in just a few simple steps.

Step 1. Open up the Nvidia GeForce Experience app and click the "Settings" cog.
Step 2. Turn on the "In-Game Overlay" toggle to ensure that you will be able to see the menu while you're gaming.
Step 3. Play the game you want to record and click the "Alt and Z" keys at the same time on the keyboard to open up Nvidia GeForce.
Step 4. Hit the "Record" button from the menu or press "Alt+9"  to start recording. Press again to stop recording.
FAQs about How to Record CrossFire
Check some of the frequently asked questions related to the topic of this article.
1. How do you record a game and face at the same time?
Download and install EaseUS RecExperts. Then, follow the steps below to proceed.
1. Launch EaseUS RecExperts, go to the screen recording function, and select the little webcam icon by clicking the down-arrow button on the left panel.
2. Click on the "REC" button when you are ready to start your webcam recording. Click it again to end the recording.
3. Preview and edit the recorded videos in the pop-up window.
2. Can you record gameplay with a camera?
Yes, I can. Just find a screen recorder that can record both the screen and the camera. Of course, this tool should be compatible with the game you are playing.
Conclusion
In this article, we give you some feasible ways to record CrossFire gameplay with easy steps. Among all the tools and methods, we suggest you download and use EaseUS RecExperts as you can record the screen, webcam, audio, and gameplay on your computer with one easy click. What are you waiting for? Download it now!
About the Author

Melissa is a sophisticated editor for EaseUS in tech blog writing. She is proficient in writing articles related to multimedia tools including screen recording, video editing, and PDF file conversion. Also, she's starting to write blogs about data security, including articles about data recovery, disk partitioning, data backup, etc.