
Table of Contents

About the Author

Related Posts

Best Audio Recording Software
Amazon Prime Video offers a broad selection of movies and TV shows to stream your Windows PC, Mac, and mobile devices. However, Amazon poses rigid restrictions on downloading and offline viewing video, allowing you to download Amazon Prime Video to four types of compatible devices, including Android, iPhone, etc. 
But how to enjoy Amazon Prime Video offline on Windows PC or Mac? The most practical way is to record Amazon Prime Video or rip Amazon Prime Video. This post offers the best 5 methods of recording Amazon Prime Video on different platforms. If you want to get step-by-step tutorials, keep reading!
Best 5 Amazon Prime Video Ripper & Recorder:
How to Record Amazon Prime Video on Windows PC
To easily record or rip Amazon Video to Windows PC for offline viewing, EaseUS RecExperts is the best choice. It is the all-in-one recording software equipped with many video recording modes, such as recording the full screen, part of the screen, and the webcam.
With this tool, you can capture Amazon videos anytime since the Task Scheduler feature of this recorder can automatically perform the recording tasks. This software also offers you a built-in media player and a video trimmer which you can use to cut the recordings and remove unwanted parts. After editing, this tool allows you to save the recorded video in formats like MP4, MOV, AVI, etc. 
Moreover, to screen record your Amazon video, there is no time limit. It can save your Amazon recordings efficiently. In short, this is a lightweight and versatile application for recording Amazon videos.
Key Features:
Schedule recording to start recording automatically
Capture videos in high resolution: 1080P & 4K
Record streaming audio with system/microphone sound
Set a split plan to split the video automatically during recording
Now, start recording Amazon videos with no time limit! This software supports various formats so that you can freely choose the target format for the output and play the recordings on kinds of devices. 
 Disclaim:

Amazon protects some video content against recording with DRM protection. When using EaseUS RecExperts, you need to follow this streaming video recording guide to apply some settings. 
Most importantly, follow Amazon's Terms of Use and Digital Millennium Copyright Act (DMCA) in your country. 
How to Record Amazon Streaming Video on Windows:
Step 1. Launch EaseUS RecExperts on your computer. The first option, "Full Screen", can help you capture everything on your screen. If you play the streaming video in full-screen mode, this is suitable for you.

Step 2. If you play the streaming video in a window, it would be better to select the "Region" option to record only the specific area.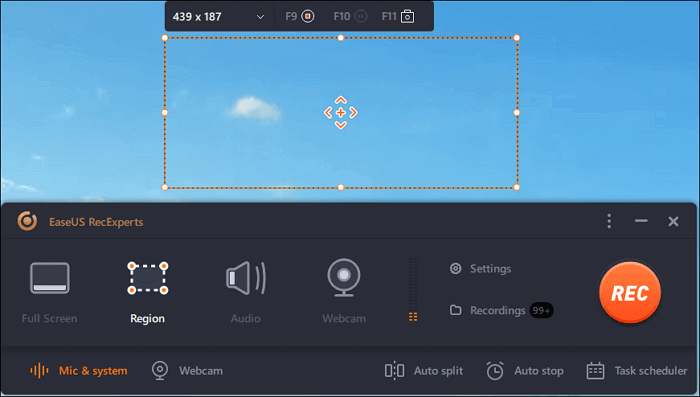 Step 3. Ensure that you are in "Region" mode. Then, click on the button in the bottom right-hand corner to select a suitable sound source and adjust the volume. After that, click on the "REC" button to start recording.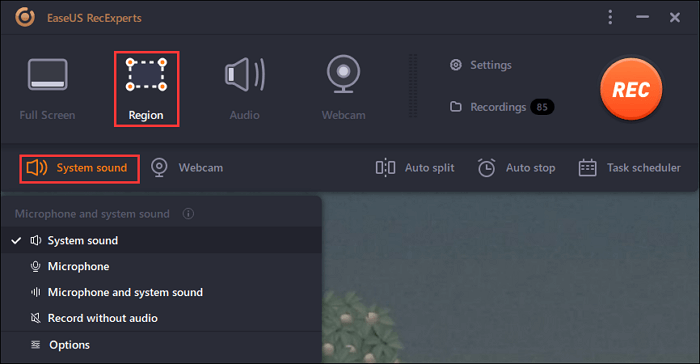 Step 4. There will be a floating toolbar on your screen when you are recording the video. The two buttons on it can help you pause or stop the recording.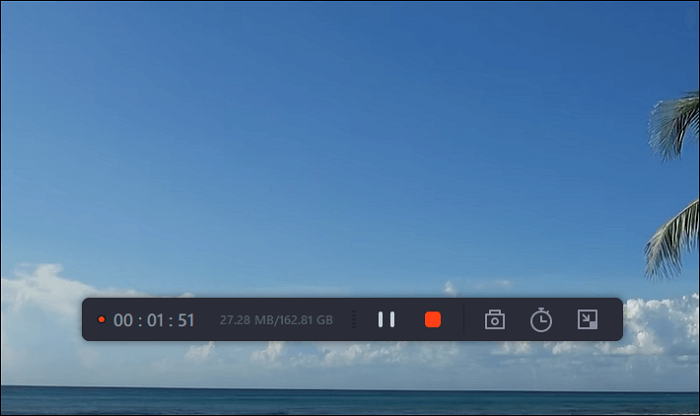 Step 5. If you click on the red stop button, the recording will be ended, and the captured video will be saved on your computer. When the built-in media player pops up, you can view the recording and use tools to trim it, extract audio from it, or add an opening and ending part.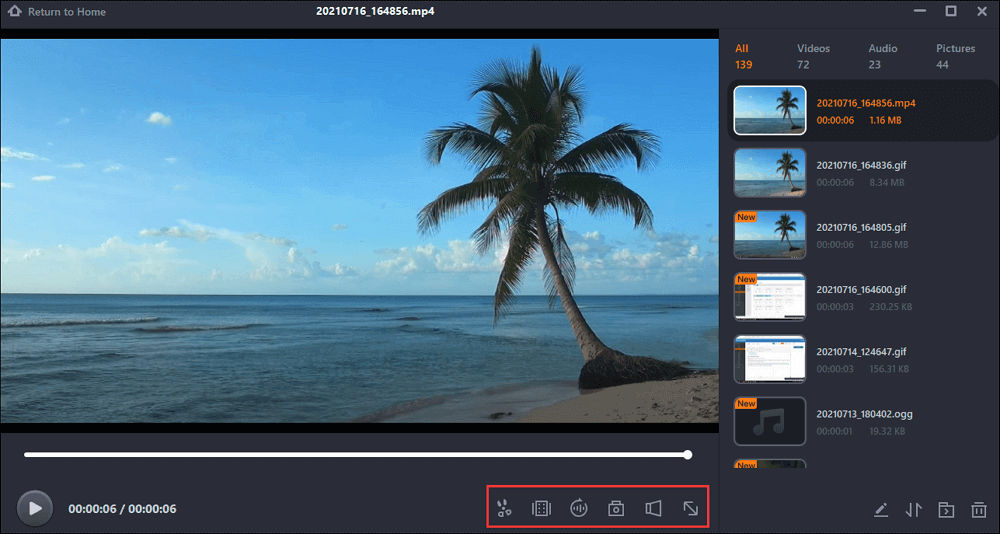 How to Record Amazon Prime Video on Mac
When recording Prime Amazon Video on Mac, two powerful screen recorders are advised- EaseUS RecExperts for Mac and OBS Studio can come in handy. 
Method 1. How to Capture Amazon Video with EaseUS RecExperts for Mac
This tool can work as one of the most powerful Amazon Prime Video recorders on Mac. Its neat user interface allows you to utilize it easily. Capturing videos with this Mac screen recorder efficient and time-saving. It supports recording videos in high resolution, so you can effortlessly rip Amazon Prime Video in desired quality. The great video quality makes it enjoyable when you review the recorded Amazon Videos.
By the way, it can deal with other streaming video platforms, such as screen record YouTube TV or record Instagram live on a computer. You won't see any black screen as it can operate as an effective task. 
Key Features:
Capture the screen, gameplay, audio, and webcam on Mac
A full-featured streaming video recorder for Mac users
Support recording video and audio from internal and external sources 
Screen record Hulu with sound and webcam
Don't miss this powerful screen recording software for Mac. Download it to record Amazon Prime video now!
 Disclaim:

You can record the full screen or capture the selected region to rip the Amazon video of high quality. Follow this streaming video recording guide to learn how to capture protected videos. 
Most importantly, follow Amazon's Terms of Use and Digital Millennium Copyright Act (DMCA) in your country. 
How to Record Amazon Streaming Video on Mac:
Step 1. Open the streaming video that you want to capture. Then launch EaseUS RecExperts to get used to its interface on your Mac. If you want to record the whole screen, you can click the "Full Screen" option. If you want to customize the recording area, hit "Region". Then, select the recording area with your mouse. 
At the same time, to capture the screen with audio, you just hit the Sound icon in the lower left corner.

Step 2. Click "Settings" to apply more options, including changing the output format of the video, the quality, etc.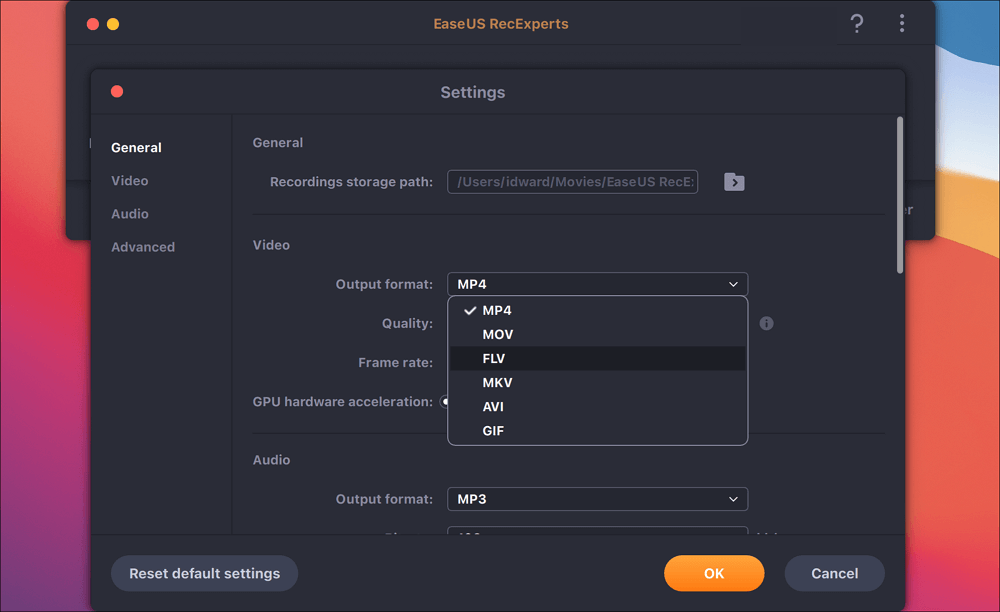 Step 3. Once you are satisfied with the settings, go back to the main screen and click the Sound icon. Then, enable the system or microphone sound if you want to record audio and screen at the same time. Click "OK" to ensure the audio options. After that, hit "REC" to start recording.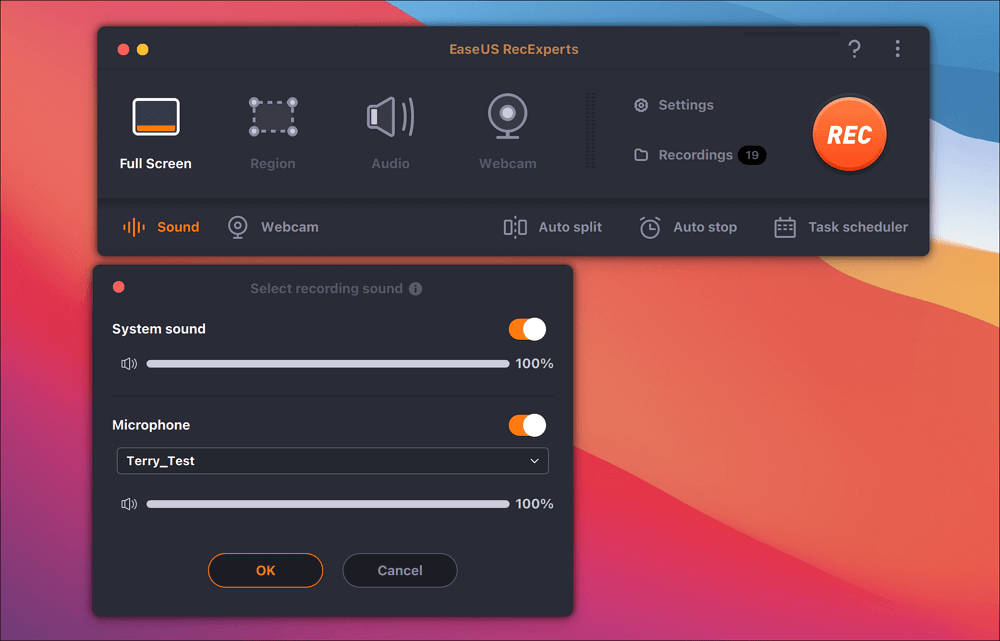 Step 4. Hit the Stop icon when you want to end the recording task. Then, watch the recorded video in "Recordings". The button can be found in the main interface. You can review the target saving from the lists.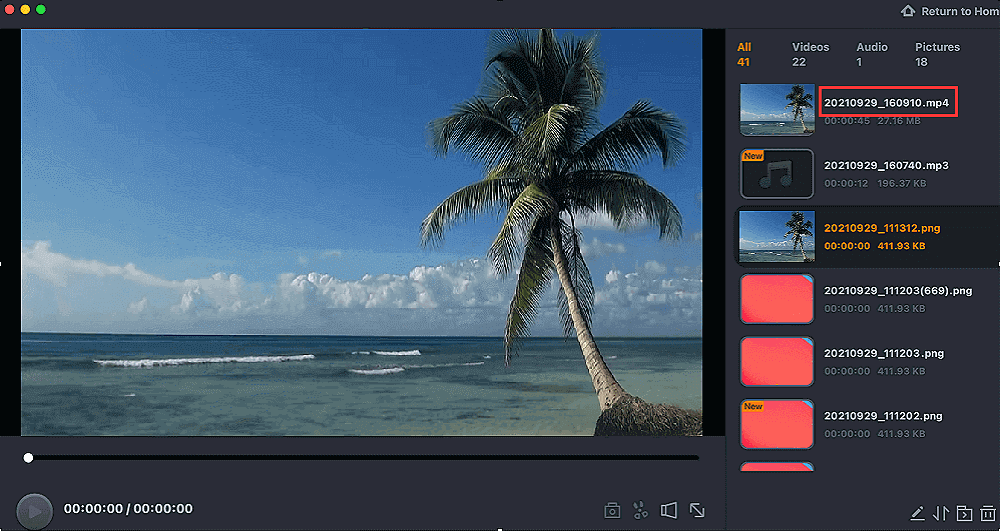 Method 2. How to Record from Amazon Prime with OBS Studio
Acronym for Open Broadcaster Software, OBS is a free and open source screen recorder equipped with more appealing features. It is now known as OBS Studio. The software comes with numerous types of filters and entails multiple themes to create the video more captivating. In short, it has a lot of settings and features.
And if you're willing to invest time to learn how to use it, this software can benefit you in many scenarios. The best part is that it incorporates a wizard to optimize your whole setup for recording your Amazon Video. 
Key Features of OBS Studio:
Support HD streaming and recording 
Screen record Netflix and other platforms
An entirely free and open-source screen recording tool
So, ready to learn how to use OBS Studio to record and save Amazon Prime Video on Mac? If yes, follow the below instructions on your system:
How to Screen Record Amazon Prime Video with OBS:
Step 1. To commence the process, you need to download and install the OBS Studio on your Mac. 

Step 2. OBS uses a system of Sources and Scenes. When you first launch OBS, you'll notice there is already a scene by default. With the default, added scene selected, tap the + button at the bottom of the tab labeled Sources.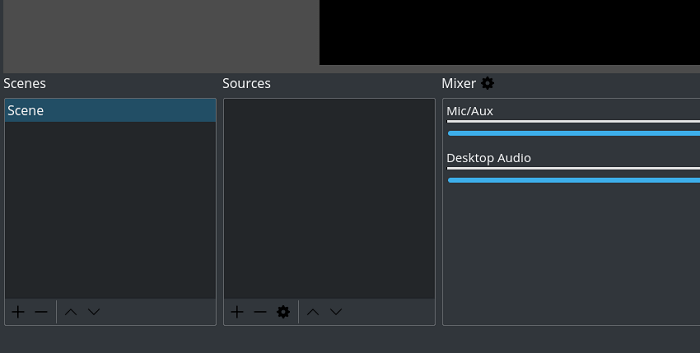 Step 3. Choose Display Capture and then name it.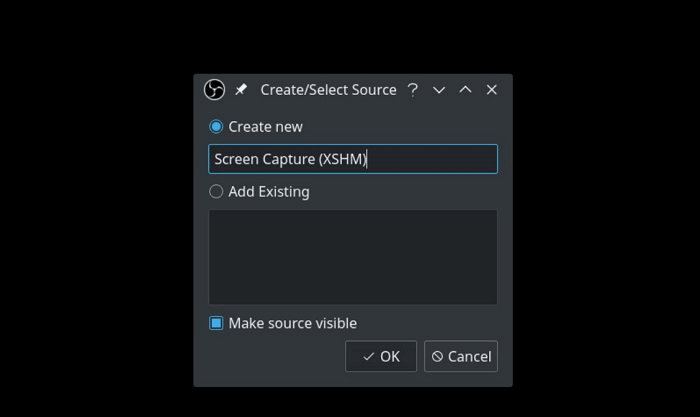 Step 4. Right-tap on it, then choose transform to fit to screen. Once you are ready to record, hit Start recording.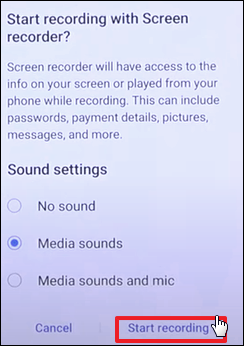 Step 6. Go to the Amazon Prime Video and then play or stream the video you would like to record. 
The recorded footage will be stored in local storage, and you can watch the recording TV show or movie whenever you like to watch them. 
Easy Way to Download Amazon Video with Amazon Prime Video App
Every TV show and movie can be downloaded on Amazon Prime Video, but this only applies to paid members or more commonly known as prime members. If you're a Prime member, then go ahead and follow the below step-by-step guide to learn how to download and save Amazon Prime video on your iPhone or Android device. 
Step 1. Sign-in to the Amazon Prime Video App
On both Android and iPhone, the Amazon Prime Video app can be downloaded from their respective stores. Thus, if the app isn't installed on your device, then install it first. 
Once successfully installing the app, sign in to your Amazon account with the correct email and passcode. If you have enabled two-factor authentication, then you'll receive a 6-digit verification code via email or text and enter that code when requested. 
Step 2. Configure Download Settings 
Before you commence download your favorite movie or TV show, you'll first like to check the download quality and modify it to your preference. 
Go to the "Settings" tab (on iPhone) or click the hamburger menu and then "Settings" (on Android)
Thereafter, click on "Streaming & Downloading" (on iPhone) or "Stream & Download" (on Android)
Here, choose "Download Quality" and select the quality you would like to have 
On iPhone:
If you're using an iPhone, then there's a switch for "Allow the highest quality when on Wi-Fi". It means exactly what it sounds. Irrespective of what quality you choose, whenever a download happens on Wi-Fi, it'll always download the media in the "Best" quality.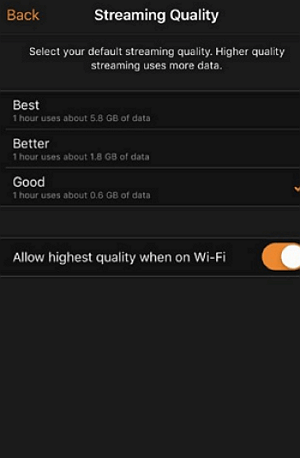 On Android:
There is an "Always Ask" option on Android devices, and it is turned on by default. It implies that you can change or verify the quality based on a case-by-case scenario whenever you download a video.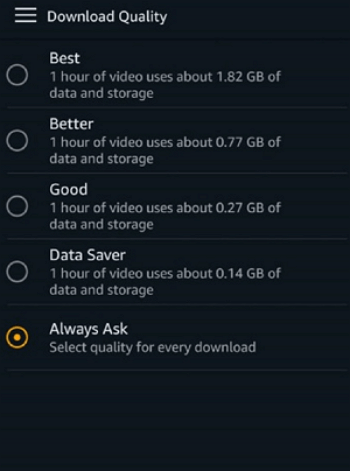 There are other settings concerning downloading. For instance, in the "Streaming & Downloading" (on iPhone) or "Stream & Download" (on Android) menu, you'll find the "Download on Wi-Fi Only" option. You can decide to turn it on or off according to your preference. 
Step 3. Download Your Favorite TV Show or Movie
Click on the title you would like to download. In the Description Page for that, you'll find the "Download" button. If it's about downloading movies, then you'll have the "Download" button.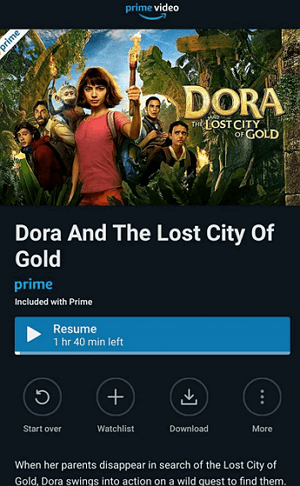 However, for TV shows, you'll have the choice to download a whole season. If you want to download a particular episode, then it's possible as well.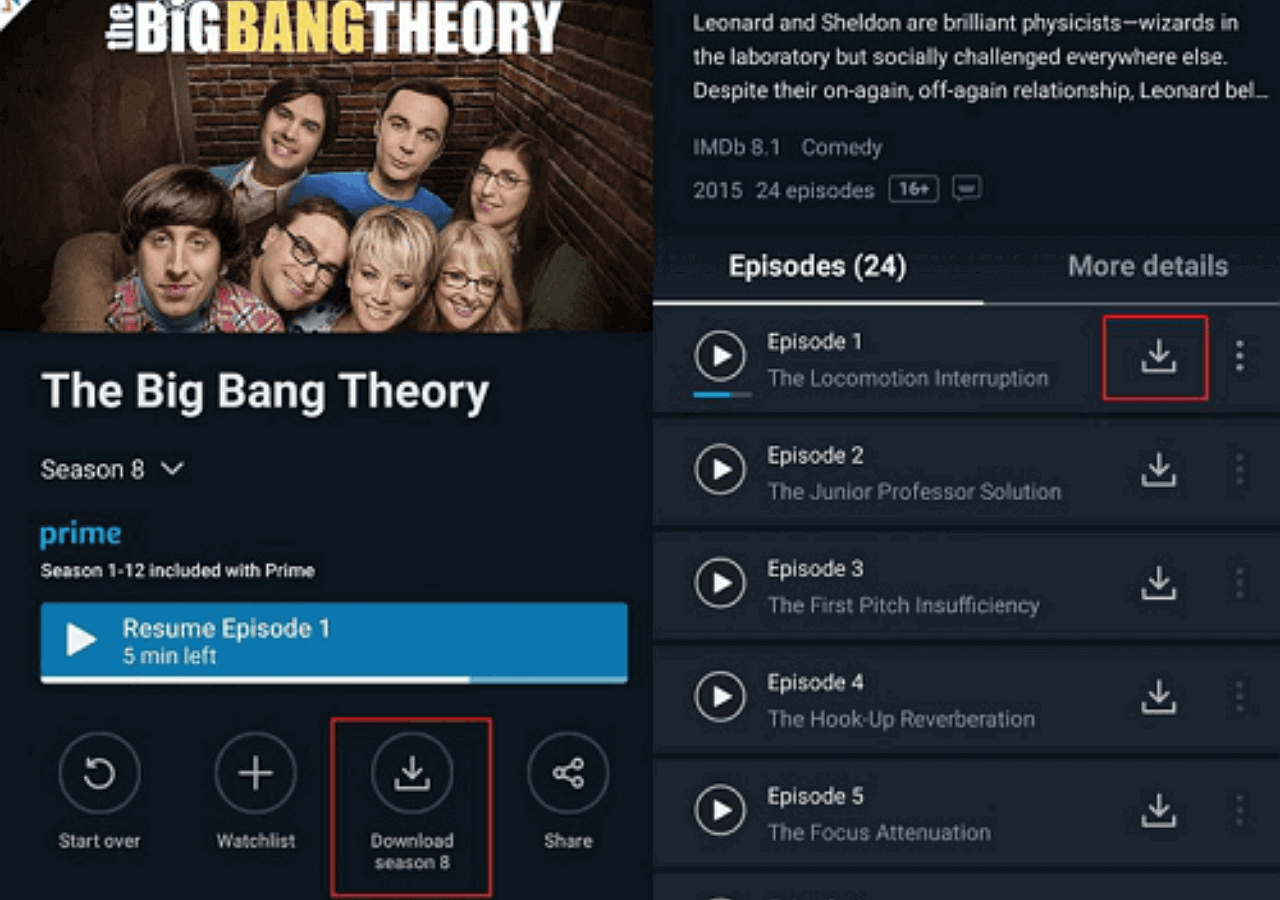 How to Rip Videos with Amazon Prime Video Ripper
Can I download Amazon movies to my iPhone and Android phones with third-party software? If you are troubled by this question, an Amazon Prime Video downloader that can solve the problems is worth mentioning. 
PlayOn Cloud is an easy-to-use Amazon Prime Video ripper that can help you download full HD videos from a great number of video-sharing sites. It supports downloading videos in high quality, as long as the original video's resolution is high enough. 
How to Rip Videos from Amazon Prime on iPhone/Android:
And we also prepared a guide for users who want to know how to rip movies from Amazon Prime easily. Read on to get more details.
Step 1. Download and install the PlayOn Cloud app on your iPhone or Android. You can create an account and start the free trial.
Step 2. Tap on the Prime Video channel from the Channels tab and select the Amazon Prime Video you want to rip. Don't forget to sign in to your Prime Video account.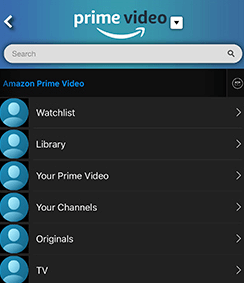 Step 3. Tap on the Record button after you selected the video you want to rip. If you need to download the entire season, you can tap on the "Record All" button.
Step 4. Wait for a moment. When the recording is complete, you will find the videos in the Recordings tab, and you can watch them whenever you like.   
Download: www.playon.tv
Wrap Up
You can now see it's possible to enjoy your favorite Amazon movie or TV show on the computer as well, thanks to tools like EaseUS RecExperts. With this software, you can capture Amazon Prime Video and enjoy watching offline on Windows PC and Mac.
If you want to apply the best way of recording Amazon Prime Video with no time limit, you can't miss this tool!
FAQs About Record Amazon Prime Video
If you still have problems with how to rip movies from Amazon Prime or how to record Prime Video on Windows and Mac, those FAQs may help you.
1. Can you record from Amazon Prime?
Videos from Amazon Prime are protected. If you want to record from this streaming service, you need to follow Amazon's Terms of Use and copyright laws in your country. Otherwise, there may be a violation of related laws. 
Here, in this post, you learn the screen recording method for Amazon capturing. You can download and install EaseUS RecExperts following your operating system. Then, open the video you want to record on Amazon Prime, and choose the suitable recording area to capture your screen.
2. How do I record my screen on Amazon Video?
You can use EaseUS RecExperts to help you record Amazon Video. After you download and install it, you can open the recording tool and Amazon Prime Video, then choose the recording region to capture the video. Play the video and record it.
You can start and stop the recording process by clicking on the Start and Stop buttons. Finally, you can find the recorded video on your computer.
3. Can I record streaming video?
If you want to learn how to record Amazon streaming video, the following steps can be useful.
1. Launch EaseUS RecExperts and select the appropriate recording region.
2. Open the web page that contains the video that you want to record.
3. Click on the Rec button to start the recording, then click on the Stop button to save the recorded video. You can find the recorded video in the Video List.
4. How do I record a prime video on my iPhone?
You can use the built-in Amazon Prime video downloader to download the video directly to your iPhone. After you sign in to the app and configure the settings, you can click the "Download" button on the Description Page to save what you like to your iPhone.
5. How to Convert Amazon Video to MP4 HandBrake?
Before converting, you have to make sure that the Amazon Video you want to convert is already saved to your computer, and then, you can follow the steps to do that conversion.
1. Open up HandBrake, and you will see the "Source Selection" interface. Click on the "File" option to open a single video file.
2. When the video you want to convert is loaded, you can see a "Format" option under the "Summary" tab, and you need to set it as "MP4".
3. Under the "Video" tab, there are many options you can customize, such as framerate, video resolution, etc.
4. Click on the "Start Encode" button to start the conversion. A few moments later, you will get an MP4 file from the Amazon Prime Video.
About the Author

Crystal Chen is very interested in technology products. Experiencing many technological applications, She is willing to solve users' problems through writing tech-related articles. Through her words, you can find various solutions to solve one issue.