
Table of Contents

About the Author

Related Posts

Best Audio Recording Software
Quick Navigation:
Dota 2 is one of the most popular video games in the world, and millions of gamers enjoy playing it every day. If you're one of those gamers who want to improve your gameplay and share your skills with others, you can record your in-game footage to achieve your goal.
In this blog post, we will show you how to record Dota 2 gameplay with some professional game recorder for PC. Besides, we will give you some tips about Dota 2 replays in the FAQs part. Let's get started!
Record Dota 2 Gameplay with EaseUS RecExperts - Recommend
When it comes to recording gameplay, like Dota 2, Apex Legends, and more, you cannot miss a great Mac and Windows screen recorder - EaseUS RecExperts. 
This software helps you do any perfect capture without any hassle, including capturing gameplay highlights, because it provides a professional game mode. With its help, you are able to record almost all 2D or 3D gameplay up to 144 FPS without lagging. Besides, this clipping software for gaming offers you options to record gameplay with your audio narration or webcam overlay to make it stand out. 
Once your recording is done, you can directly watch the video with the built-in media player, or even trim your recordings as you want here.
Stunning Features:
One-click to record 4K UHD quality gameplay
Provide a schedule recording feature to start/stop your recording automatically
Choose the FPS flexibly from 1 - 144
Export your recordings in various formats, such as MP4, MOV, MKV, AVI, and so on
Now, just hit the below button to get it, and follow the step-by-step guide to create your Dota 2 highlight video:
Step 1. Start the gameplay you want to record and launch EaseUS game recorder. Next, select the Game mode.

Step 2. Click the nut icon to open the Settings window, and then click on "Video" to adjust the frame rate (from 1 to 144), video quality, format, etc. 
In addition, you can click on the "Game" button to change some game overlay options. Once done, click "OK".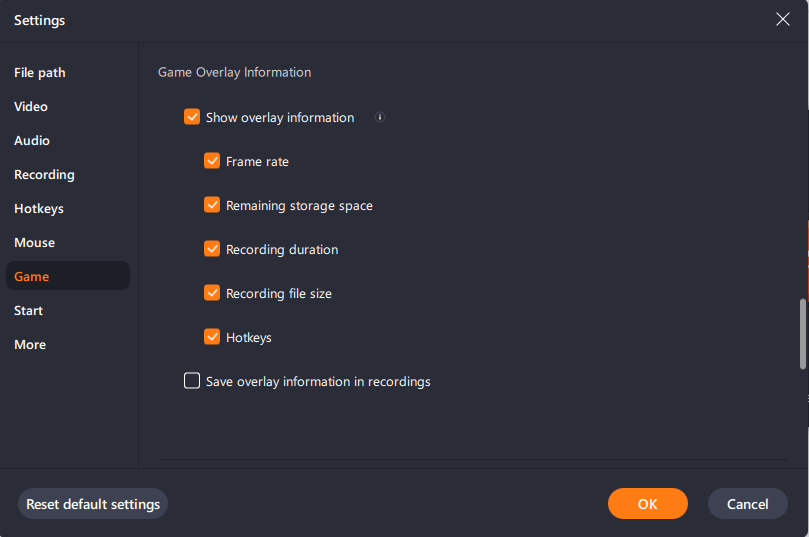 Step 3. Go back to the Game mode interface and click "Select Game" to choose the gameplay you want to capture. Next, click REC to start your game recording.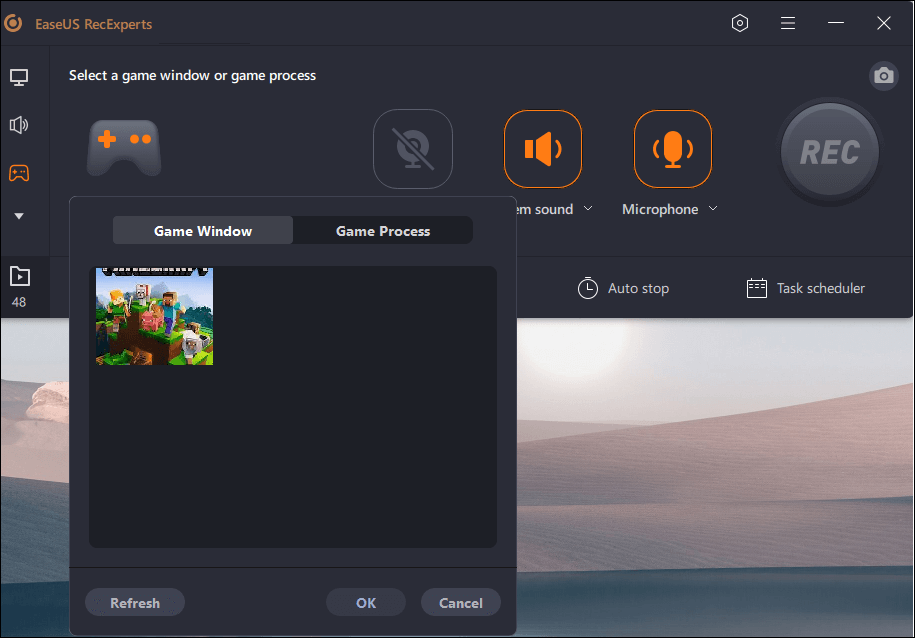 Step 4. You will see a small bar showing the time of your record. If needed, you can take screenshots in recording, or set the specific time to stop the recording by clicking the "Clock" icon on the toolbar.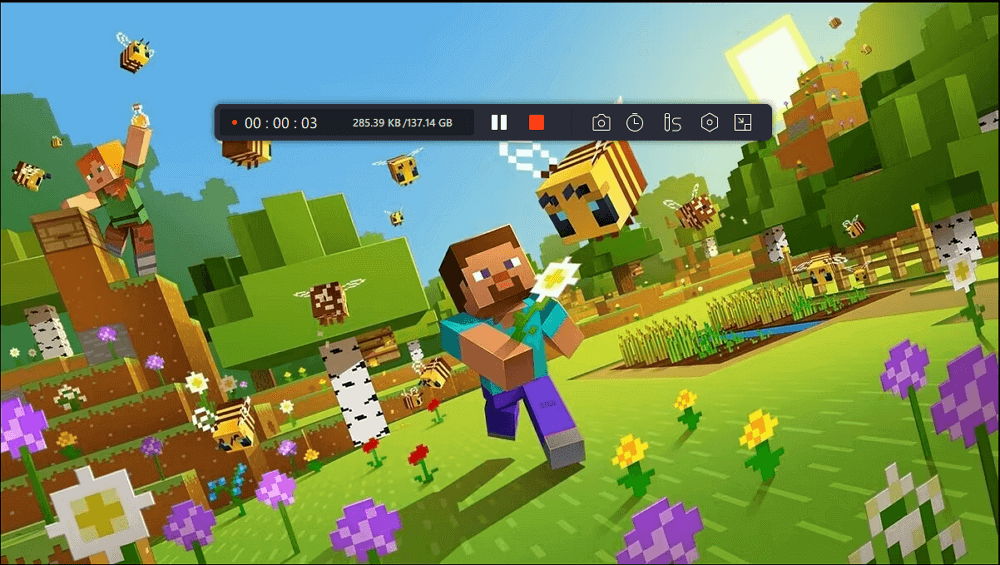 Step 5. Once done, you can watch and edit the recorded footage with the built-in video editor. On the recorded video, you can trim the recordings as you want.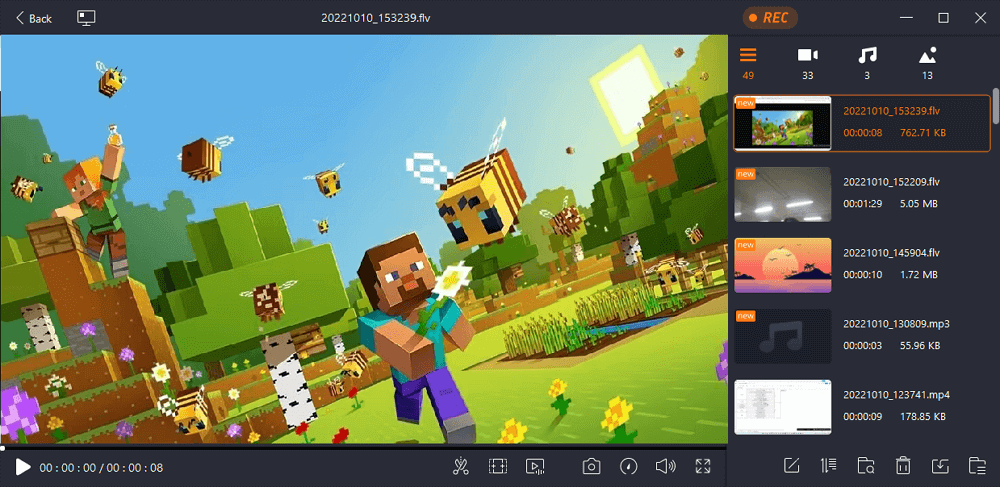 Record Dota Gameplay on PC with Xbox Game Bar
If you want to record Dota 2 gameplay for free on your PC, look no further than the Xbox Game Bar. It is pre-installed on your PC, making it easy to capture screens for free. Whether you want to record LOL gameplay or capture Dota 2 gameplay, you can always get the tasks done effortlessly with Game Bar.
This freeware can be accessed by pressing the Windows + G keys while playing a game on any Windows 10 device, bringing up a customizable overlay with options to record, take screenshots, and broadcast gameplay. Moreover, thanks to its integration with Nvidia's Shadowplay technology, gamers can record their gameplay in high quality without compromising performance. Now, let's check how to use it to record Dota 2 gameplay:
Step 1. Launch and play Dota 2 on your PC.
Step 2. Press the Windows + G on your keyboard to open the built-in game recorder. Next, choose the option that says, "Yes, this is a game".
Step 3. Then, you can click the red button on the bar to start or stop your recording as you like. Once done, the recorded video will be automatically saved in MP4 format.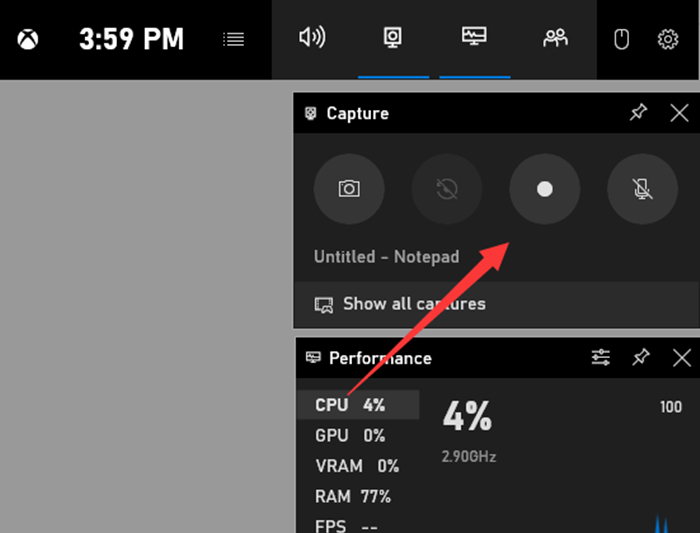 Capture Dota 2 Highlights Video with OBS
OBS Studio might be the first choice for those who want to find a free yet multifunctional game recorder. 
It is a free and open source screen recorder designed specifically for recording and live-streaming games. With OBS Studio, you can capture video directly from your gaming device as well as your computer's desktop. And with its built-in audio mixer, you can easily adjust the sound levels of your game and microphone. The software also supports an array of customizable transitions, filters, and effects to enhance your videos. So whether you're looking to record Dota 2 highlights for personal use or share them with the gaming community, give OBS Studio a try for all of your game recording needs.
Step 1. Install and launch this freeware on your computer.
Step 2. (Optional) Click Settings > Output to adjust some parameters for your recordings, including encoder, bitrate, format, resolution, quality, etc. Once done, go back to its main interface.
Step 3. Find the Source tab at the bottom, and then click "+" to select the Game Capture option. Next, choose the gaming mode displayed by the software.
Step 4. When you are ready, click "Start Recording" on the lower right to begin your recording now.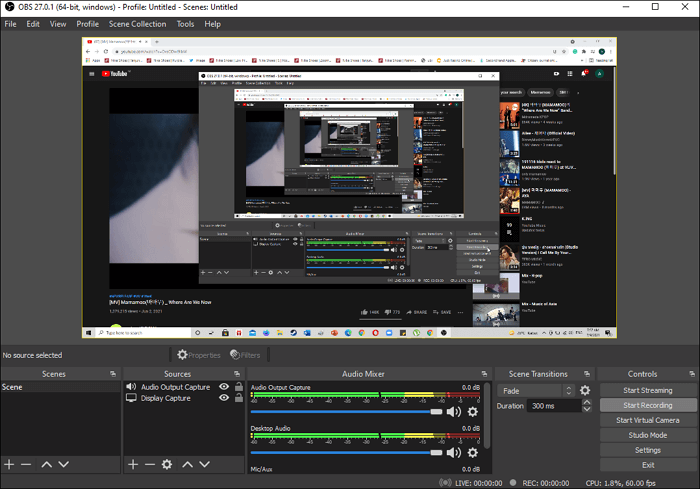 Verdict
If you want to start recording your Dota 2 gameplay, we recommend trying EaseUS RecExperts. It's a powerful and easy-to-use screen recorder that can help you capture high-quality videos of your gameplay. Plus, it comes with a lot of features that can be helpful for gamers, like video editing tools and the ability to record in Full HD. So if you're looking for a good screen recorder to start capturing your Dota 2 gameplay, give EaseUS RecExperts a try.
Record Dota 2 Gameplay FAQs
1. How do I record my gameplay?
To record high-quality gameplay, you first need a great game recording program. If you use a Windows PC, Xbox Game Bar is an excellent choice that lets you capture gameplay highlights with simple clicks. But it only provides some basic recording features. If you want to record gameplay with facecam, you can choose the following advanced game recorder:
EaseUS RecExperts
Bandicam
OBS Studio
FBX game recorder
Movavi screen recorder
2. How do I watch my Dota 2 replays?
You can enjoy your Dota 2 replays quickly and easily by checking the below steps:
Move to game details, and click Download Replay
When you have downloaded the replay, you can see the Watch replay button
Finally, click on Watch replay to enjoy your Dota 2 replays
3. Can you download Dota 2 replay as a video?
No. Dota 2 replays cannot be downloaded as videos directly. If you want to save it as a video, you can use some screen recording software to complete the task in a snap.
About the Author

Jane is an experienced editor for EaseUS focused on tech blog writing. Familiar with all kinds of video editing and screen recording software on the market, she specializes in composing posts about recording and editing videos. All the topics she chooses