
Table of Contents

About the Author

Related Posts

Best Audio Recording Software
Quick Navigation:
Are you looking for audio recording software to record your desktop audio smoothly? Then you must have already tuned in to Open Broadcasting Software (OBS). Nevertheless, OBS is a lightweight yet powerful screen recorder that records and streams videos seamlessly. But can OBS record the desktop audio too? Let's find out!
This post will unveil the answers on how to record desktop audio with OBS on Windows and Mac devices quickly. We will also introduce an effective OBS alternative if you encounter the "OBS stopped recording the desktop audio" issue. So stay tuned for a worthy read!
How to Record Desktop Audio with OBS on Windows/Mac
OBS is a free, open source screen recorder to record videos and enjoy live streams from multiple platforms like Twitch, YouTube, and more. Instead, it supports all your favorite streaming platforms. Using it, you can capture real-time audio and video and create scenes consisting of multiple sources like window captures, images, texts, webcams, browser windows, and more.
#1. Use OBS to Record Desktop Audio on Windows
Check the quick process on how to record desktop audio with OBS on Windows PC.
Step 1. Download and open OBS. Run the auto-configuration wizard and follow the steps to complete the setup on your Windows. Select Optimize just for recording… to record desktop audio.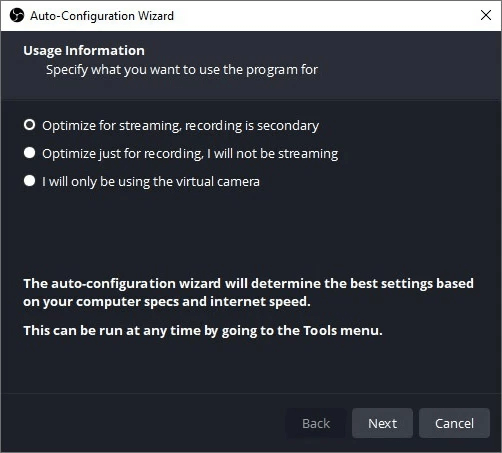 Step 2. Set up the app for audio recording. Desktop Audio will automatically add to the Audio Mixer menu, monitor its volume meter and measure the loudness of its sound. Alternatively, click File at the window's upper-left, choose Settings, and click audio. Then, open the Desktop Audio field and manually select your audio device input.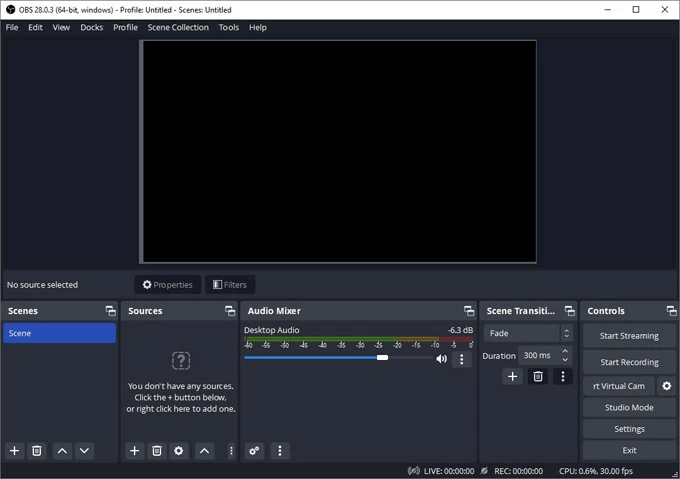 Step 3. Now tap the + icon in the Sources menu (at the bottom) and add a source to record the desktop audio. You can choose Display Capture and Window Capture to record audio according to your needs.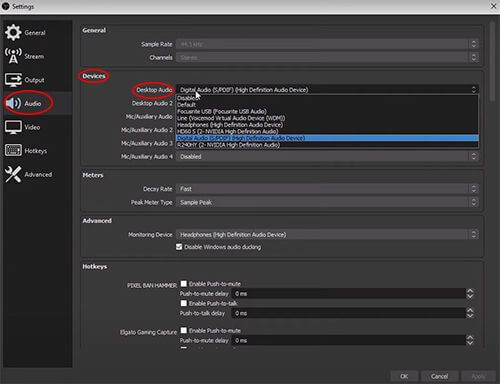 OBS Studio records the visible screen and desktop audio simultaneously by default. If you want to record only sound, you must check the eye symbol (at the right of the added source) to disable the visual capture.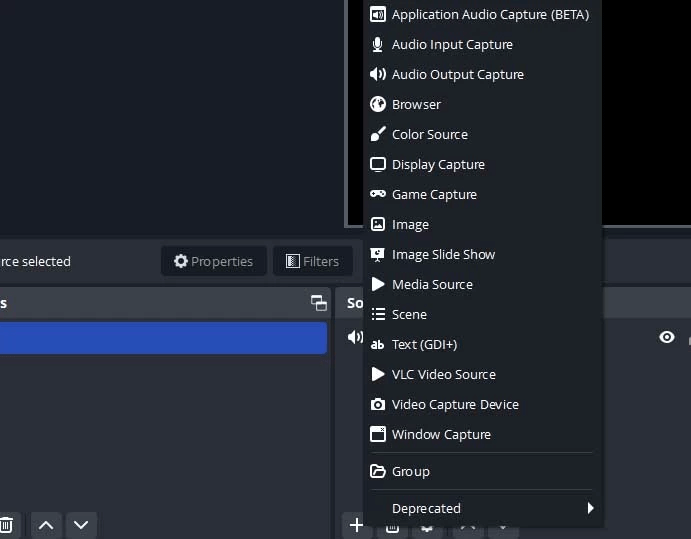 Step 4. Record your desktop audio by clicking the Start Recording button under the Controls pane at the window's lower-right. Play the media with audio while recording to capture it. 
Step 5. Once done, end the process by returning to the main window and clicking the Stop Recording button in the Controls pane. Your recording will automatically save in the Videos folder as an MKV file. 
#2. Record desktop audio via OBS on Mac
OBS is also an excellent Mac screen recorder. However, unlike Windows, Mac has disabled the internal audio recording for Mac devices, so you must use a third-party plugin like iShowU Audio Capture to solve your query.
Check these quick steps on how to record desktop audio with OBS on Mac devices.
Step 1. Install OBS Studio and iShowU Audio Capture and launch them on your macOS. Tap the Audio MIDI Setup and click the + symbol at the bottom left.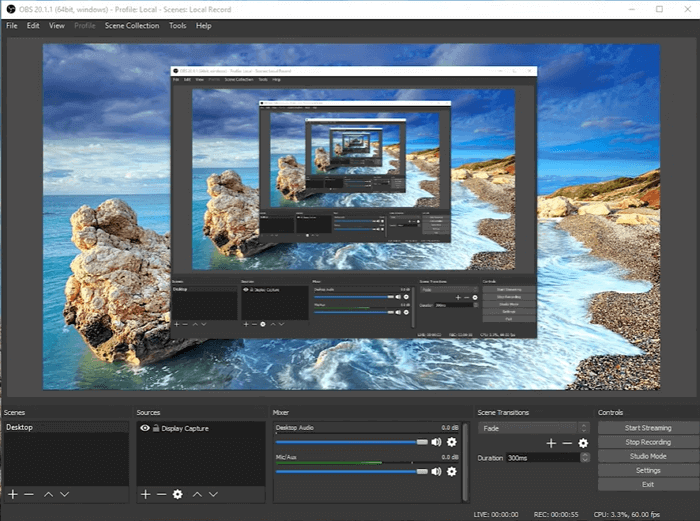 Step 2. Choose your main devices as the Create Multi-Output Device and iShowU Audio Capture.
Step 3. Visit the System Preferences and click the Sound Preference. Once the screen opens up, click Multi-Output Device.
Step 4. Lastly, open OBS Studio, click Settings, and navigate to the audio section. Keep the Desktop Audio as disabled and choose the Mic/Auxiliary Audio as iShowU Audio Capture. Once you finish it, start recording your desktop audio on Mac. 
Best OBS Alternative to Record Desktop Audio
OBS Studio is undoubtedly one of the finest screen recorders for Mac and Windows users. But because of its inevitable limitations, it might not be the best tool to settle for screen and audio recording. Instead, you can consider an OBS alternative like the EaseUS RecExperts and be in for an enriching recording experience. 
It is an outstanding screen and audio recorder having a simple and clean interface to complete the screen and audio recording task in a few clicks without lags and watermarks. With this tool, users can record a Skype call, online meetings, gameplays, and even encrypted videos, take screenshots, and change video speed for playback on Windows and Mac PCs. 
Besides, you can add an intro/outro and extract and save audio from the video. Also, you can increase mic volume, reduce noise, and set the output format, sampling rate, and bit rates to enhance your output quality. 
You must download it for free to have hands-on experience with its features and functions and enhance your screen and recording experience. 
Step 1. Launch EaseUS RecExperts on your computer, and click "Audio" (looks like a speaker) on the left side of the main interface.

Step 2. To record the internal audio, you need to select the "System sound" option on the next window. You can adjust the volume by clicking on "System sound" > "Advanced options".

Step 3. Next, click on the red "REC" button to begin your recording. While recording, you can pause or stop the recording by clicking on the according buttons.

Step 4. Once done, you can find the recordings in the pop-up recording list window.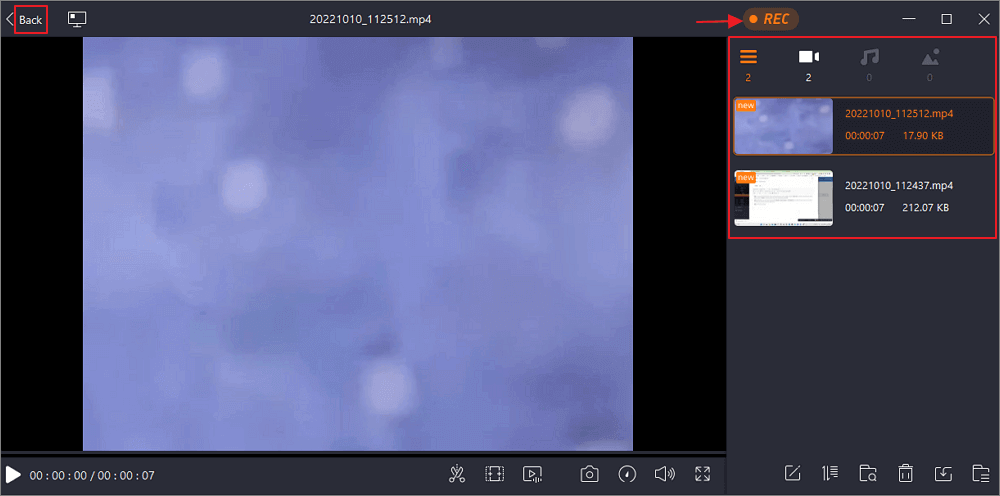 The Bottom Line
OBS Studio is a good software for recording your system's sound. Here we have sailed you through your issues on how to record desktop audio with OBS for Windows and Mac PCs. Unfortunately, OBS lacks some additional benefits like recording selected regions or scheduling your recordings beforehand.
So we recommend you use EaseUS RecExperts, as it is a beginner-friendly tool that provides professional expertise in seconds. Instead, with EaseUs, you can easily record desktop audio, save it in multiple formats and engage in a delightful screen recording experience. So try it for free today!
Frequently Asked Questions
We have covered the deeper details of how to record desktop audio with OBS on Windows and Mac PCs. However, if any of your queries remain unanswered, you must immediately check these popular questions.
1. Why does OBS not record desktop audio?
OBS is a screen recorder program designed for recording video files with a microphone and desktop audio. You cannot record only desktop audio and save it as an MP3 file. 
However, if an issue persists in recording the desktop audio, then you must check the Audio Device Settings. Open Settings > Click Sounds > Select your device and set the speakers as the preferred choice. Save the changes and restart the program to resolve your issue.
2. How do I record internal audio with OBS?
Here are some quick steps to record internal audio with OBS: 
Install OBS and add a new Scene in the Scene section
Tap the + icon in the Source section
Select the Audio Output Capture to record desktop sound
Adjust audio levels from the Audio Mixer box
Click Properties to select a specific input for audio recording 
Hit the Start Recording button in the Controls section
3. How do I isolate desktop audio in OBS?
To isolate desktop audio in OBS, you must: 
Open the OBS Settings and scroll to audio. 
Under the Global Audio Devices, set Desktop Audio as disabled and the Mic/Auxiliary Audio (first) to your own Mic device
Set the second Mic/Auxiliary Audio device as disabled 
4. Does OBS record mic and desktop audio separately?
Yes. OBS lets you record mic and desktop audio separately. You must look in the Audio Mixer pane of your sound sources and select the little cog. Then visit the Advanced Audio Properties; you can set the left and right balance for any audio source and checkmark the mono box.
About the Author

Jane is an experienced editor for EaseUS focused on tech blog writing. Familiar with all kinds of video editing and screen recording software on the market, she specializes in composing posts about recording and editing videos. All the topics she chooses