
Table of Contents

About the Author

Related Posts

Best Audio Recording Software
PAGE CONTENT:
Constant innovation has impacted the technology sector immensely. Gone are the days when writing letters or meeting with friends or family were the only options to connect. Nowadays, you can turn on the webcam and have a gala time with your loved ones. Opting for a screen recorder is an excellent idea to keep these memories alive.
Apart from capturing beautiful moments, you can also use the screen recorder to record lectures, presentations, meetings, etc. That way, you can view them later and start working. There are two types of screen recorders available - online and offline. Let's dive in!
Offline Screen Recorders You May Need
Screen recording has undergone a massive transformation in the last few years. Opting for an offline screen recorder is an excellent idea if you have an unstable internet connection. There are several software solutions available in the market.
Top 1. EaseUS RecExperts
Are you on the lookout for the best offline screen recorder? In that case, you can check out EaseUS RecExperts. It is a professional, trustworthy and efficient Mac and Windows screen recorder software solution. The wide range of features makes it one of a kind. 
Here, you will find a full-featured screen recorder that can easily capture any part of the screen. It also offers multi-screen recording, schedule recording, editing while recording, auto-stop and auto-split features, etc.
Besides, you can record videos and internal sound with the webcam. The tool is perfect for recording audio from the microphone and system. With EaseUS RecExperts, you can record streaming videos, games, and more. Check out more of its main features below.

Main Features:
Offer an embedded media player and video editor
Record the screen without a time limit
Hassle-free recording of gameplay highlights
Record screen and webcam along with audio
Excellent file management function
Download it from the button below and start recording now!
Top 2. ActivePresenter
Do you want to opt for a reliable offline screen recorder tool? For that, you can opt for ActivePresenter. There are multiple options one can use to record multiple screens and create presentations. While the free version comes with limited tools, you can always use the pro one. 
The screen recording tool makes it easy to capture screens. With ActivePresenter, you can record video tutorials, PowerPoint presentations, and more seamlessly. You can also use primary editing tools like speed, cropping, etc. It is undoubtedly one of the most efficient screen recording software for MacBook.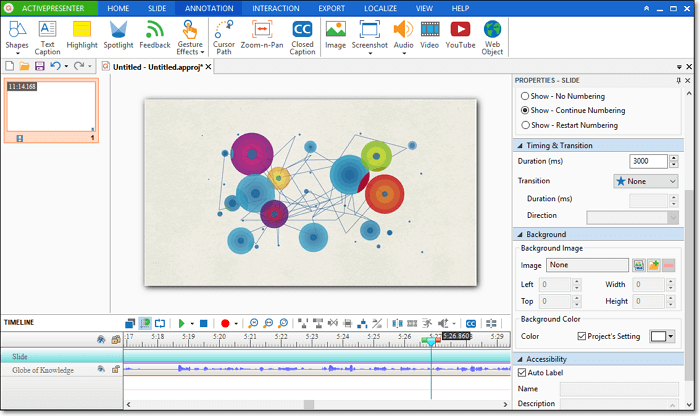 Pros:
Multiple file formats to export videos
Free version available
It comes with editing tools
Cons:
Lagging issues
No video effects
Limited options with the free version
Top 3. OBS Studio
If you are searching for an open-source screen recorder, choosing OBS studio won't cause any regrets. Open Broadcaster Studio is an efficient screen recording software available for free. You can capture screen movements with ease. Here, you don't have to worry about length restrictions or quality. 
Apart from excellent screen recording, it is also a well-known video editing app. The conventional intuitive design makes it extremely popular among beginners and experts. The interface is user-friendly and offers multiple options for video recording in various qualities. As the tool is open source, anyone can customize it.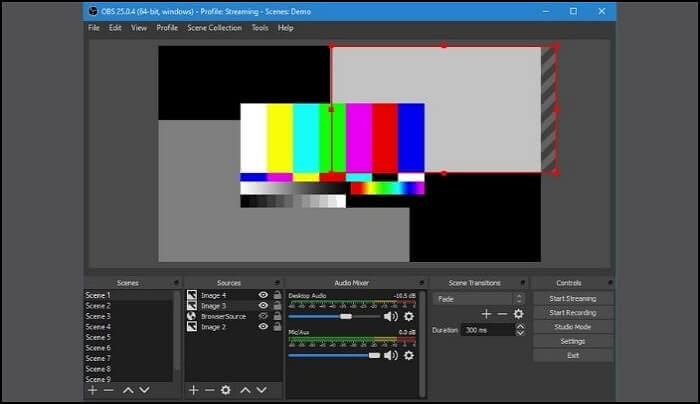 Pros:
Intuitive design 
Top-quality video recording
Has adaptable hotkeys for account control
Cons:
It can be challenging to use initially
Lack of video proofreader integrator
Lagging issues due to system overload
Top 4. Screencast-O-Matic
While an offline screen recorder is an excellent tool, you may need the online free screen recorder too. That is why opting for software that can offer both is a great idea. In that case, try Screencast-O-Matic. It is an effective offline screen recorder software solution. You can use it offline as well as online. 
There are two versions available – free and paid. In the freemium mode, you can record the screen for 15 minutes, but the videos will have a watermark. It offers webcam and screen recordings. But, for the paid version, you don't have to worry about these restrictions. 
Pros:
Excellent video management tools
Easy to upload videos
Capture external and internal audio
Cons:
Limited features with the free version
The license must be paid before testing features
Watermark present on the videos
Top 5. Bandicam
Another excellent screen recording software solution is Bandicam. The recording tool is perfect for professionals and amateurs alike. The tool has a user-friendly interface that makes it easier for everyone to use. The software has different features, explaining why it has gained such massive popularity. It is one of the best software products for screen recording.
The recording tool is mainly designed to capture educational sessions, tutorials, games, etc. You can also use this software to record webcam, microphone, computer sounds, and more! Using this tool, one can create high-quality videos with ease. The software allows users to add text while recording, draw annotations, capture screenshots, and more!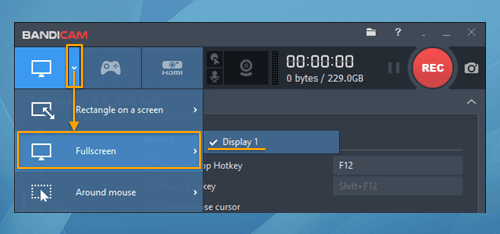 Pros:
Capable of ultra-HD recording
Add animations and effects
Can draw annotations and take screenshots
Cons:
Lack of additional editing feature
Few output format options
It doesn't support Mac, Linux, and Android
Top 6. ShareX
The next tool in the best offline screen recording tool list is ShareX. It is a highly prominent and reliable screen recorder software. The open-source tool allows anyone to customize it per their needs. With this software, you can do things like recording microphones, screens, webcams, sound, and more.
ShareX is easy to use and comes with multiple options. For instance, you can look at the screen's left side and view the available features. You will come across Capture, upload, After capture tools, After upload tools, and more!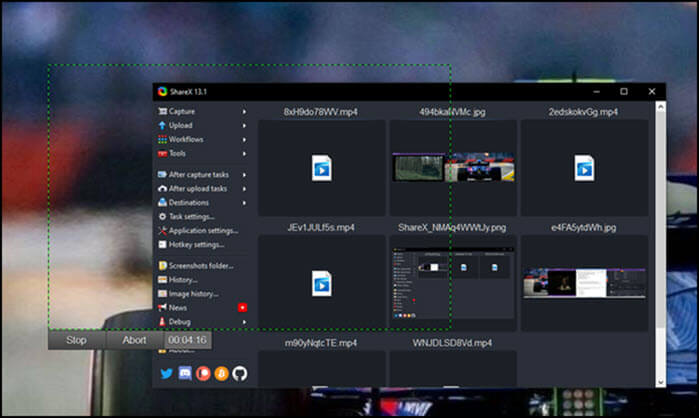 Pros:
Open-source screen recorder
It can be distributed to YouTube easily
Lack of watermark
Cons:
Cropping problems
Only offers full-screen recording
Doesn't stop in case a break is needed
Top 7. ScreenRec
ScreenRec is a top-rated offline screen recording tool. It is also a free screen recorder no watermark with a free account. Moreover, recording the screen is extremely easy, as you can do so with a single click.
Apart from that, you can also integrate human voice and computer sounds within the recordings. Sharing the recordings captured is hassle-free. You can use the private link to share them with others. The encryption of the private link ensures the safety of the screen recordings.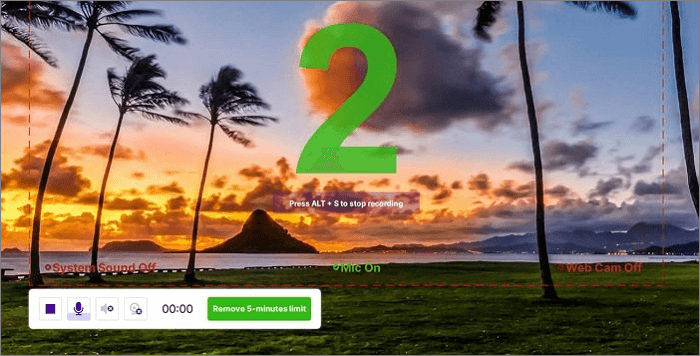 Pros:
No lagging
Packed with advanced features for video creation
Capture audio, webcam, and screen
Cons:
Only one output format is available (MP4)
Lack of video editing features
You need to create an account to get unlimited recording time
Top 8. Camstudio
Are you looking for a user-friendly screen recorder software solution? If so, then checking out Camstudio is an excellent idea. The recording tool is widely known for its diverse features and fast recording aspect. You can use this software to record the desired screen, generate the output file, and export it to the cloud or local storage.
Apart from top-notch screen recording, you can also use the software for webcam recording. Mixing the webcam reactions and screen recording is easy and doesn't need editing apps. One of the most impressive aspects is the lack of a time limit regarding screen recording.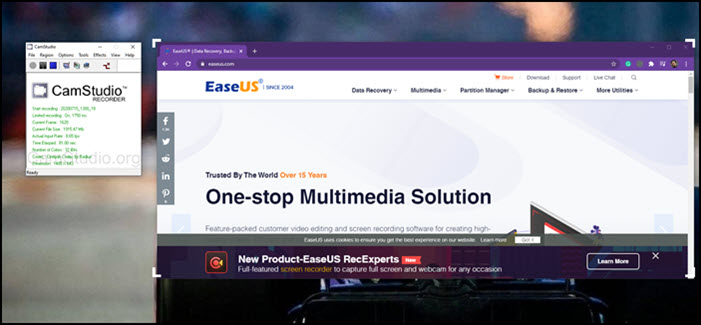 Pros:
Open-source recording tool
Available for free
Unlimited screen recording time limit
Cons:
Record AVI and SWF files
Large output size
Need for programming expertise to customize the software
Top 9. Flashback Express
Flashback Express from Blueberry is, without a doubt, exceptional free video recording software. The software solution has a wide range of features. It is the availability of these features that make this software so appealing. For starters, the tool doesn't come with a watermark. 
Now you don't have to worry about your videos bearing any watermark. It also doesn't have a time limit on the screen recordings. Apart from this, there are other impressive features too. These include drawing when the recording is in progress, planning records, etc.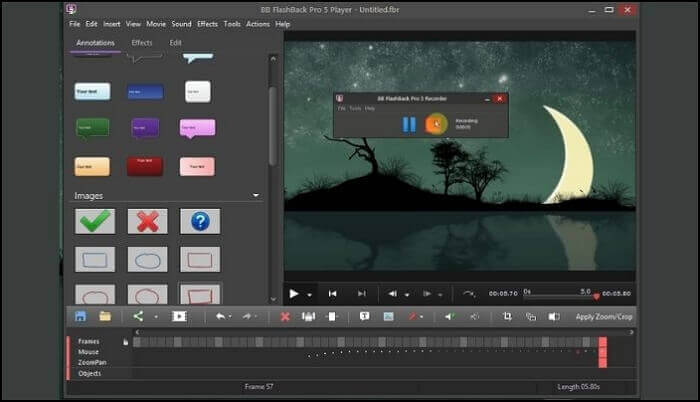 Pros:
Lack of watermark
Easy YouTube upload
Records different screens
Cons:
No video proofreader integration
Limited output file formats
The webcam is unable to record alone
Top 10. Game Bar
The last tool you can check out is Game Bar. It is an in-built screen recorder for Windows 10. Using Game Bar is an excellent idea if you don't want to opt for a third-party application. You can use the tool to capture full-screen or partial-screen recordings. 
It is available for free and offers premium-quality video creation support. You can also export recordings to various platforms. However, it would help if you remembered that the hardware must be compatible with the software to use it efficiently.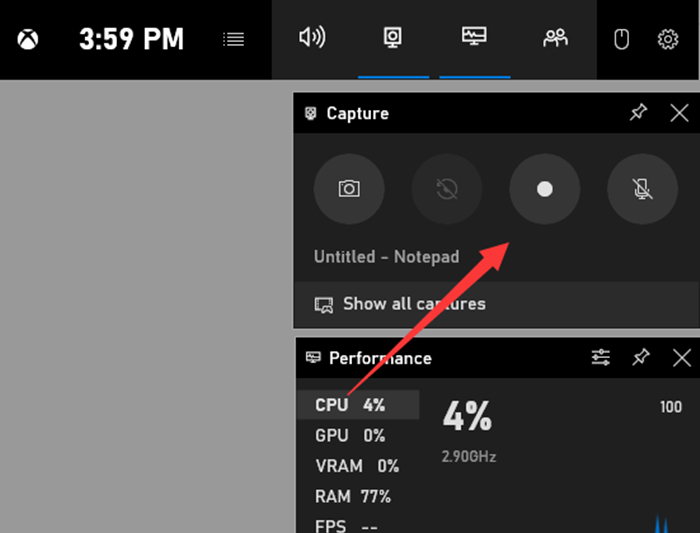 Pros:
Unlimited recording time
No watermark
Can record full or partial screen with audio
Cons:
Lack of impressive editing features
No pause option
Issues with the interface
FAQs about Offline Screen Recorder
In this part, we gathered some frequently asked questions and their answers related to this topic. Let's check them together.
1. What screen recorder do YouTubers use?
YouTubers use EaseUS RecExperts for screen recording. It is one of the most efficient screen recorder software solutions available. There are various features you can take advantage of. Moreover, there is a free version you can opt for while starting to use it.
2. How do I screen record without an app?
Yes, you can screen record without an app. For an Android device, swipe down from the top of the screen twice. Now, you need to tap on Screen record.
3. Is ScreenRec offline?
Yes, ScreenRec is an offline screen recording too. This software solution can seamlessly record webcam, screen, and audio. It also offers other advanced features, making it extremely popular.
Conclusion
Offline screen recorder works independently of an internet connection. That is why most people prefer it over the online version. Luckily, there are several software solutions you can choose from. Understand your requirements and look at the features to make the right choice. 
Alternatively, you can also choose EaseUS RecExperts. It is one of the best screen recording software solutions. The tool has many features, making it instantly available to the most popular list. 
So, what are you waiting for? Don't miss out! Try EaseUS RecExperts today!
About the Author

Melissa is a sophisticated editor for EaseUS in tech blog writing. She is proficient in writing articles related to multimedia tools including screen recording, video editing, and PDF file conversion. Also, she's starting to write blogs about data security, including articles about data recovery, disk partitioning, data backup, etc.