
Table of Contents

About the Author

Related Posts

Best Audio Recording Software
Do you miss classic Disney movies like Snow White and the Seven Dwarfs? Have you ever thought about recording them in videos? After recording, you can watch such videos without the Internet. A rich-featured screen recorder is required when accomplishing the recording task, especially dealing with some protected content. 
Disney + is a streaming service that provides users with solutions to watch theme movies. If you want to record some shows for personal use, find the capturing method here. You can learn the best ways on how to screen record Disney Plus on Windows PC, Mac, and Mobile. 
How to Screen Record Disney + on Windows 10
For personal use like watching Disney movies at home, recording them in videos is one of the effective ways to share lovely moments with kids. EaseUS RecExperts is such a reliable and easy-to-use screen recording software to capture Disney movies with audio/webcam. Streaming videos can be effectively captured with this recorder. 
Apart from capturing animated movies, you can use it to record online TV shows such as YouTube shows, etc. Meanwhile, this recorder has a built-in tool to play and view the savings. 
Don't worry about the quality as you can change the recording settings such as frame rate, audio bitrate, etc. 
Key Features:
Capture the screen, audio, gameplay, and webcam
Screen record Netflix with sound effectively
Take a screenshot from the saved movie/show
Export the saving movie in MP4, AVI, MKV, GIF, etc. 
Try this recorder to capture Disney + (no time limit)! Download it without registration.  
How to screen record Disney videos on Windows 10, using EaseUS RecExperts(no time limit):
 Disclaim:

According to the copyright laws, copyright-protected content like some Disney movies are against recording with DRM protection. When using EaseUS RecExperts, follow streaming video recording guide to record protected videos (personal use only). You have duty to obey Disney's Terms of Use and Digital Millennium Copyright Act.
Step 1. Launch the EaseUS screen recorder, and click on the "Online Video" button that looks like a small TV on the left panel.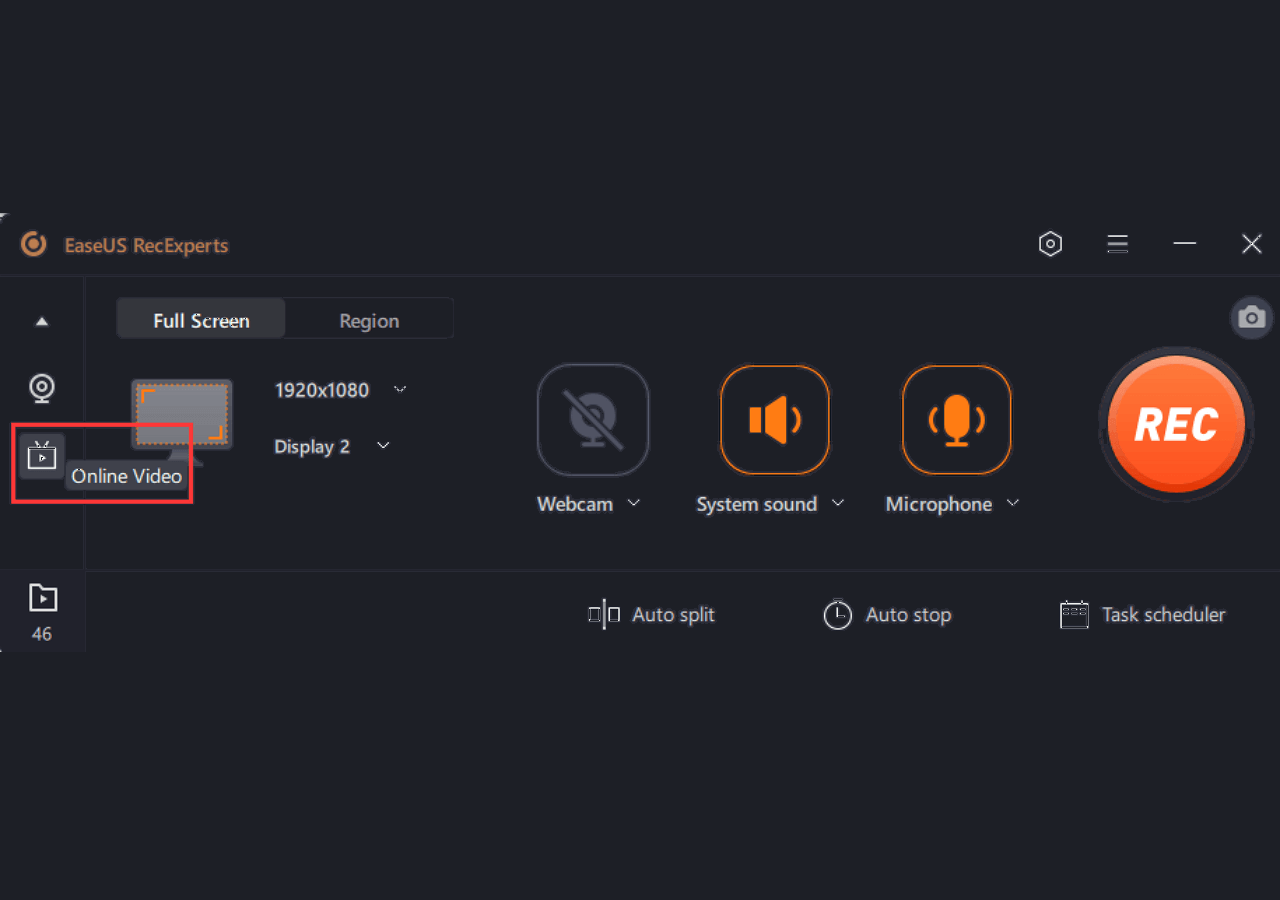 Step 2. Here you can see popular streaming sites, like YouTube, Netflix, Amazon Prime, Disney, Hulu, etc., and choose your desired one. If you cannot find the streaming site you want here, click on the "+" button.

Then, a pop-up window will appear, and select the "Restart" option.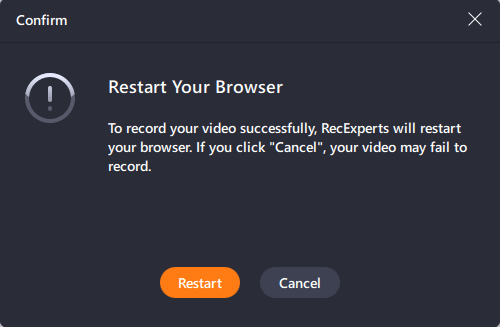 Step 3. After restarting this program, you need to select the recording area, audio source, webcam devices, or more according to your needs. Then, click on the REC button to start the video recording. 

To pause or stop the recording, you can choose the corresponding button on the floating toolbar.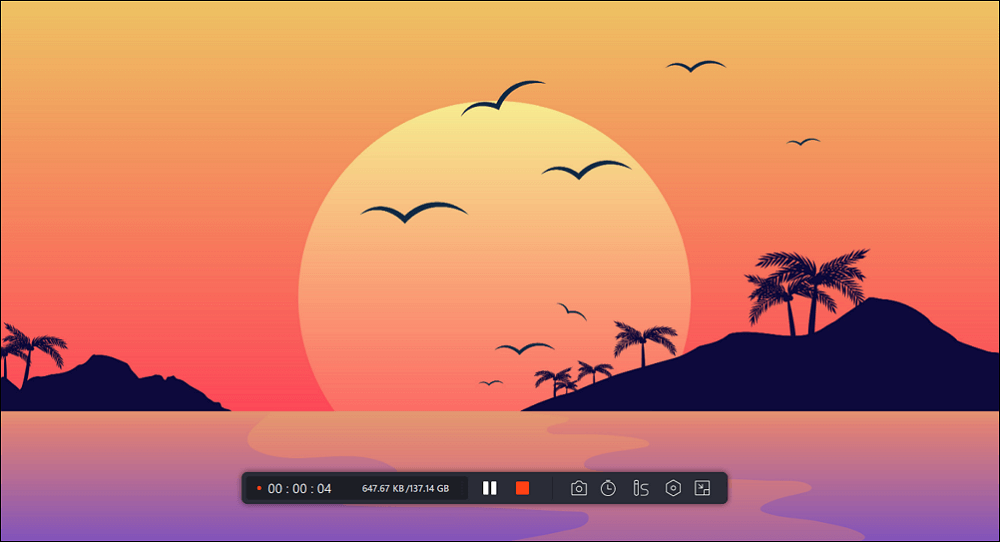 Step 4. When the recording is over, you can preview the recorded videos with the built-in media player easily and quickly.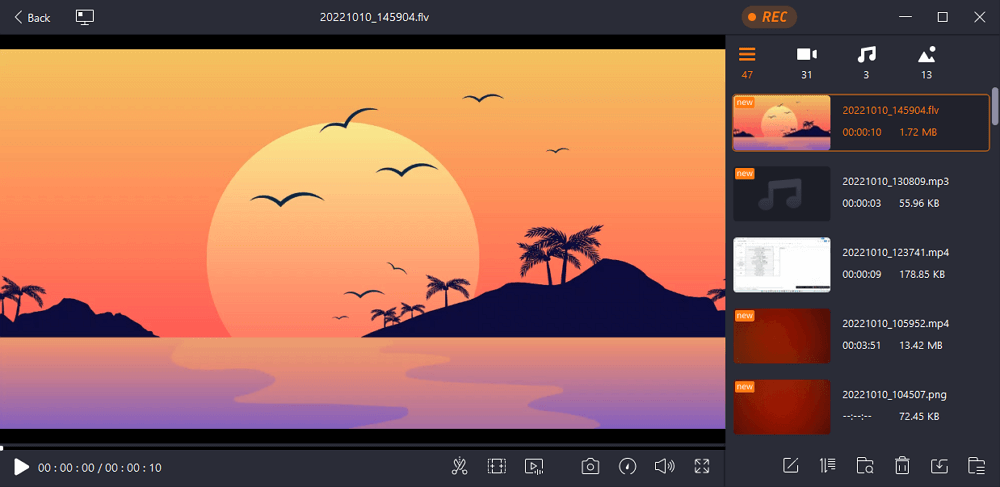 How to Screen Record Disney Plus on Mac
 Disclaim:

According to the copyright laws, copyright-protected content like some Disney movies are against recording with DRM protection. When using EaseUS RecExperts for Mac, follow streaming video recording guide to record protected videos (personal use only).
You have the duty to obey Disney's Terms of Use and Digital Millennium Copyright Act (DMCA).
As a streaming video recorder, EaseUS RecExperts for Mac is characterized with full capabilities to record Disney movies/shows on Mac. The streaming audio and video will be recorded in a stable quality when applying the remarkable settings. Also, you can choose the different output formats for its video and audio.
Besides that, this Mac screen recorder can edit the savings easily. The built-in trimmer is able to remove the unwanted part of the saved video. Therefore, it's easy to save the desired movie on the computer permanently. 
Key Features:
Capture Disney audio and video at the same time
View the recorded Disney show with the built-in player
Screen record Hulu on Mac with desired output format
Capture the screen with a webcam to increase engagement
Record internal audio on Mac without adding a plugin
Download it and start recording Disney Plus in a video on Mac. No registration is required. 
Screen Record Disney +(no time limit):
Step 1. Open the streaming video that you want to capture. Then launch EaseUS RecExperts to get used to its interface on your Mac. If you want to record the whole screen, you can click the "Full Screen" option. If you want to customize the recording area, hit "Region". Then, select the recording area with your mouse. 
At the same time, to capture the screen with audio, you just hit the Sound icon in the lower left corner.

Step 2. Click "Settings" to apply more options, including changing the output format of the video, the quality, etc.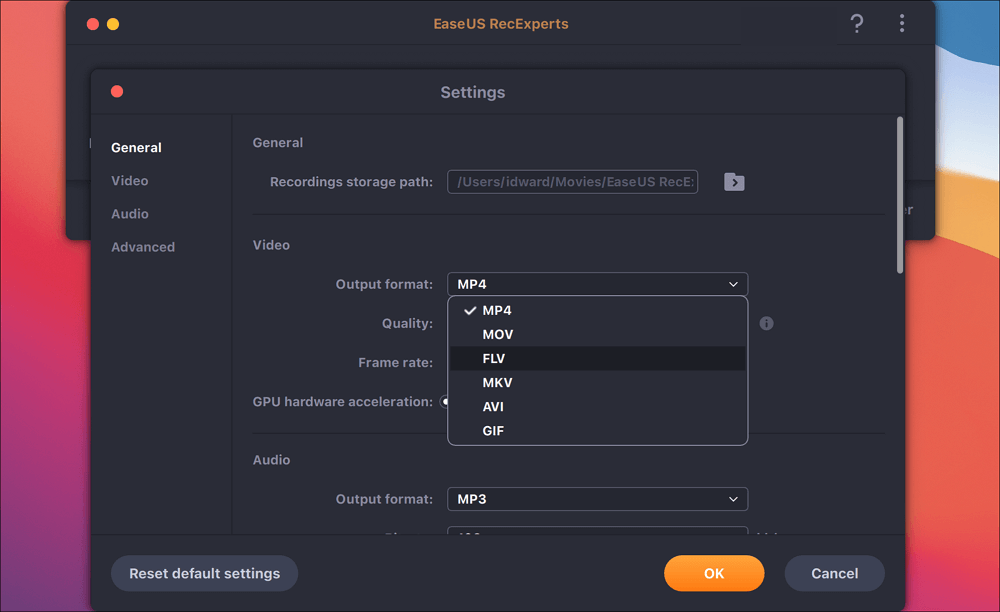 Step 3. Once you are satisfied with the settings, go back to the main screen and click the Sound icon. Then, enable the system or microphone sound if you want to record audio and screen at the same time. Click "OK" to ensure the audio options. After that, hit "REC" to start recording.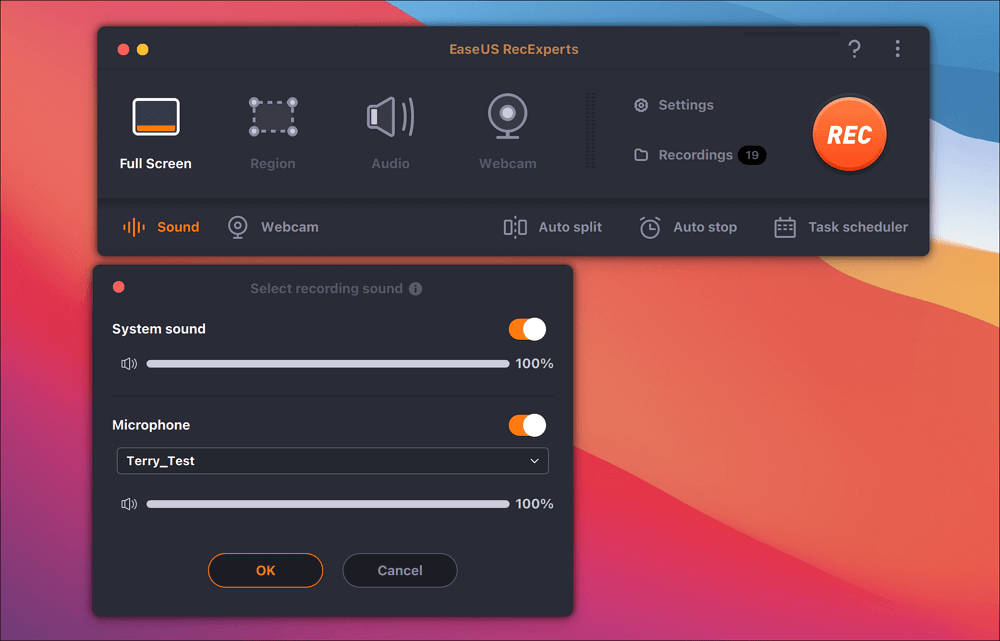 Step 4. Hit the Stop icon when you want to end the recording task. Then, watch the recorded video in "Recordings". The button can be found in the main interface. You can review the target saving from the lists.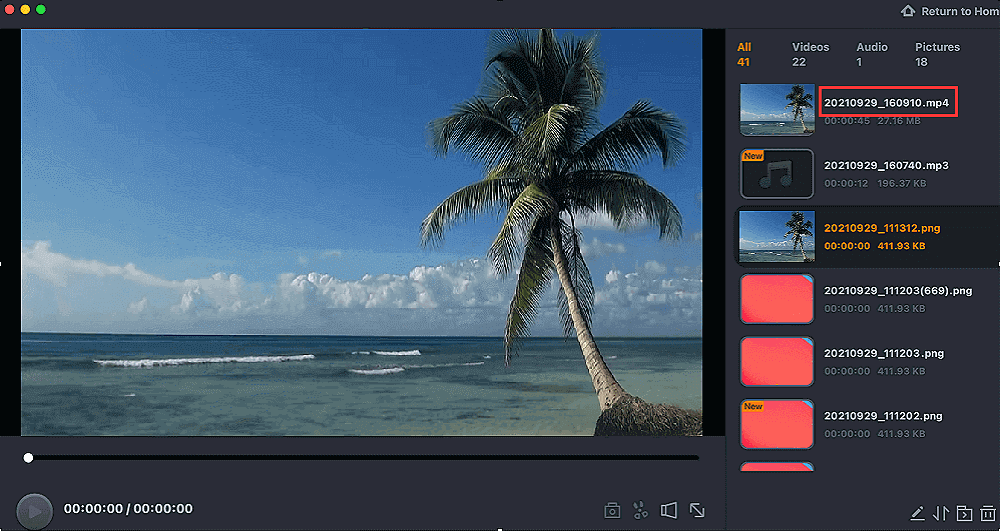 Besides recording streaming videos like Disney Plus, this recorder also allows capturing meeting videos like Zoom.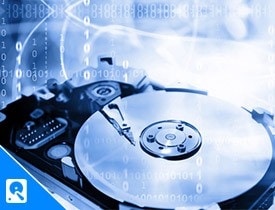 How to Screen Record Disney Plus on Phone
Offline viewing is a need for some users. PlayOn Cloud is capable of recording some shows/movies from streaming video platforms like Netflix, Amazon Video, Disney Plus, etc. Its screen capturing technology can help deal with some protected movies. Recording some movies on the Phone offers inconveniences for you.  
With PlayOn Cloud, you can download and capture classic movies from Disney. Luckily, this application offers a 7-day free trial for watching Disney +. Below is its interface and related guide.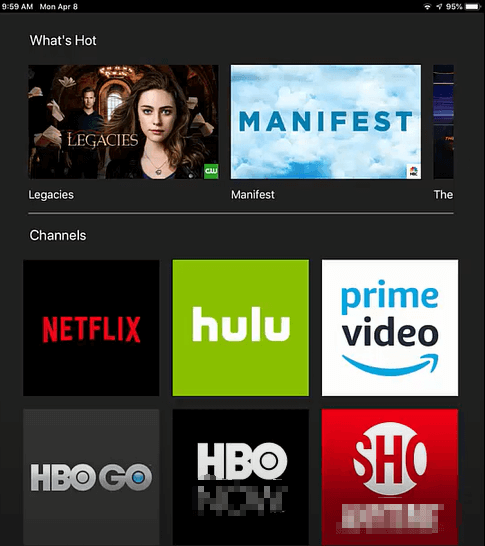 Screen record Disney+ on iPhone, using PlayOn Cloud:
Step 1. For iPhone users, open App Store and type PlayOn Cloud. Dowload this app on your mobile phone. 
Step 2. Find Disney + from different channels of this application. There might be hundreds of movies on the list. For most Disney movies, PlayOn Cloud allows you to record and download them. 
Step 3. When you find the target movie, click the title and choose to record it. 
Note: It's also available for Android users. Download this application on Google Play.  
Conclusion
Disney movies remind us of precious memories from our childhood. If you want to leave the movies permanently, try to find a screen recorder to capture them and save the videos easily. Among various choices, EaseUS RecExperts provides you with recording solutions to capture movies/shows from Disney Plus. 
FAQs About Screen Record Disney Movies
Some questions gathered from the public are listed here.
1. Does Disney + allow you to record the screen?
According to US Copyright Act, recording copyright-protected content is not allowed in most cases. Some streaming video and audio with DRM protection are hard to be treated when you want to record them. 
2. Is illegal to screen record movies?
For sure, it's illegal to record copyright-protected content. You'd better follow the related laws and regulations in your country and the platform you use. 
About the Author

Crystal Chen is very interested in technology products. Experiencing many technological applications, She is willing to solve users' problems through writing tech-related articles. Through her words, you can find various solutions to solve one issue.