
Table of Contents

About the Author

Related Posts

Best Audio Recording Software
Larissa
Updated on Mar 10, 2023|
min read
Quick Navigation:
How many times do you take the help of useful video tutorials? These quick but detailed videos give the viewers a clear idea about the specific topic in learning all about it. But have you ever wondered how these tutorials are created?
The secret of useful and descriptive tutorials lies in the dedicated tutorial software. This software helps create informative tutorials with options to trim, edit, manipulate, and enhance videos. So today, we will review the top five tutorial software examples for you. We'll cover the key standards to select a good tutorial software followed by these examples. This software is easy to understand by going through its features, advantages, and possible issues.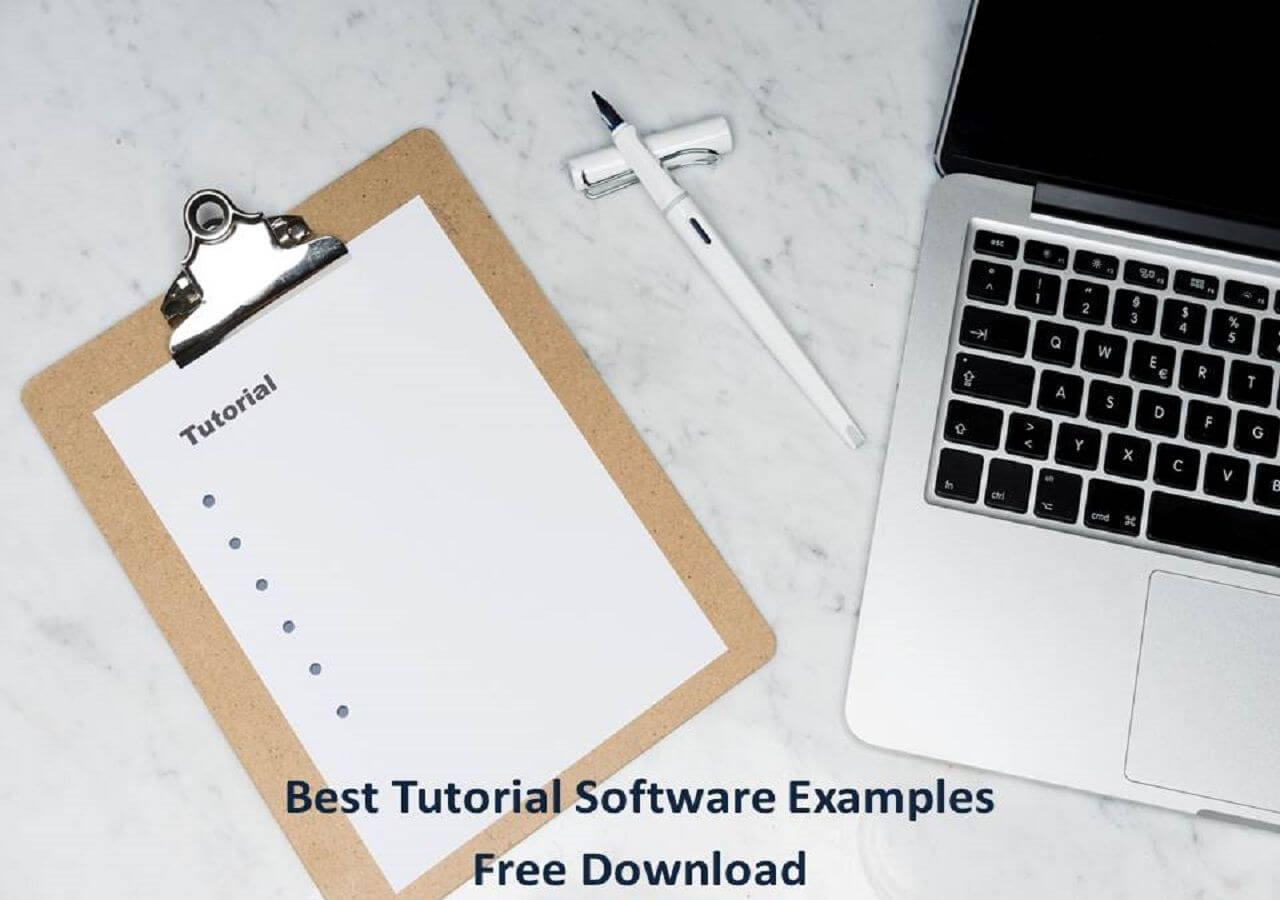 The Standards to Choose Good Tutorial Software
Before jumping to the different options in the tutorial software, you must know the right path to select the one best for your immediate needs. So below are the highest standards for choosing an effective tutorial software:
Firstly, any video tutorial software should be easy for beginners, intermediates, and professionals. While no software can serve the needs of different skill holders, all you need to do is go for the helpful software for you. It is easy to select tutorial software based on its basic or advanced features. It ensures that you don't need to learn different skills in using this tool for creating informative tutorials.
Stock templates and footage
Some leading tutorial software offers users a range of Stock videos and templates. These are useful in creating high-quality videos without any issues with valuable sources. Beginners may start making their first tutorial with the help of these templates and footage.
Next on our list of checklists for any powerful tutorial software is its features. So, before deciding on any tool, all you need to look at is its detailed features. You can look for video editing options, drawing options, or grabbing audio or video from different sources.
It is essential to go for the tutorial software offering dedicated customer support. It helps users with technical or non-technical issues while creating learning tutorials. Further, customer support can help you understand the best use of these tools.
While different tutorial software is available in the market, some are free, while others offer minimal pricing. It is excellent to go with the option open for free and equipped with powerful features. Hence, affordability never takes a toll when using the best tutorial software.
[Featured] 5 Best Tutorial Software Free Download
After going through a quick guide to select an ideal software for making tutorials, it comes down to the top tutorial software examples. The best five options to choose from for creating unique and highly informative tutorials are:
1. EaseUS RecExperts

EaseUS RecExperts is a leading Mac and Windows screen recorder and editing software for creating amazing tutorial videos. It is a highly professional screen recorder suitable for Windows 11/ 10/ 8/ 7 systems and macOS. Beginners and professionals can create detailed instructional videos with video recordings on the system in complete customization settings. The final editing of the tutorial is possible with a quick clipping of the last five minutes on your system.
Features of EaseUS RecExperts
Pros
It offers screen recording and video editing along with detailed customization.
Tutorials can be created using a microphone, system sound, and webcam.
It solves OBS not recording screen and Windows media player not playing videos successfully.
It is best tool for creating long tutorials.
Cons:
The video editing features are limited
It can't change the boundary or speed of the videos.
2. VLC Media Player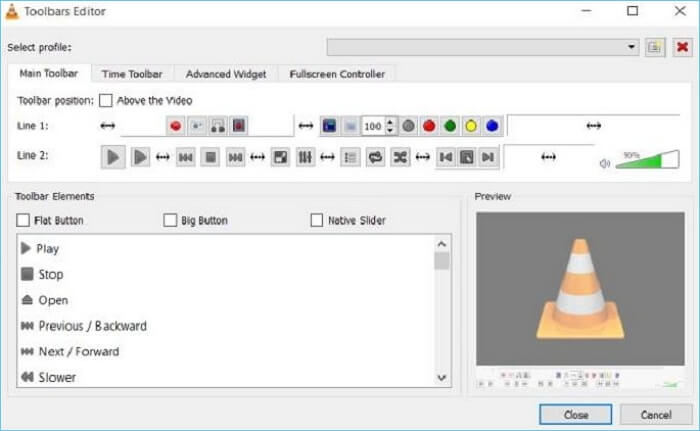 VLC Media Player is another top option in our list of tutorial software examples. It is a perfect video editing software and video player. It allows trimming video on Windows 10/11and the creation of short videos. All you need to do is select a beginning and ending point, and the VLC Media Player will produce the desired tutorial. It is helpful to create multiple high-quality tutorials.
Features of VLC Media Player
It supports the quick sending of tutorials to Chromecast.
It helps convert tutorials into different formats.
It offers different effects and filters for making customized tutorials.
It helps in recording desktop screens for specific learning videos.  
Pros
It offers advanced security features for tutorial creation.
It eliminates the need to download any additional codecs while creating learning videos.
It offers high-quality screen recording.
It is a safe tutorial software with reduced malware threats.
Cons
It lacks advanced video editing features.
It doesn't allow tags in videos.
It lacks detailed customization options.
3. Cam Studio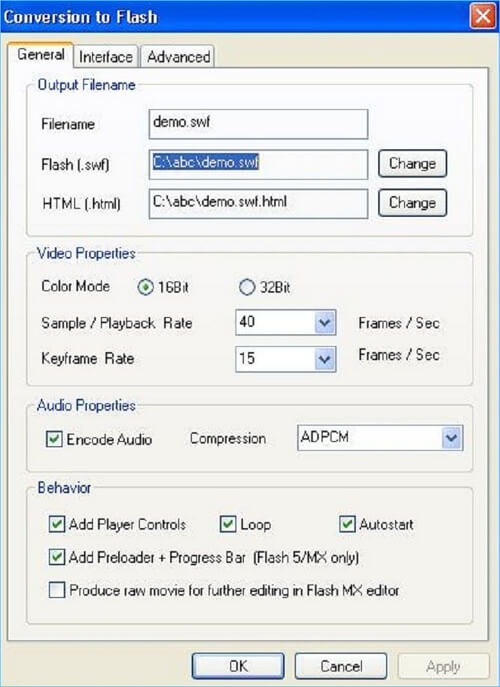 Cam Studio comes as a popular screen recording software. It exports the recorded videos in .AVI format for quick use. It is an open-source software allowing new extensions and options for creating informative tutorials. Beginners in tutorial making love Cam Studio as it has a simple setup with multiple useful options like recording audio or adding audio later.
Features of Cam Studio
It allows high-quality audio recording in tutorial videos using a microphone or speakers.
It offers a selection of regions for screen, or recording full screen on Windows, or customized region.
It has dedicated video editing options, including compressing to color or black and white.
It offers the addition of time setup, captions, and watermarks.     
Pros
It doesn't place any time limit on the tutorial videos.
Its auto-stop function allows two hours of recording.
It offers audio annotations and screen captions addition.
It creates clear tutorials with small file sizes.
Cons:
It doesn't support zoom-in.
It requires additional plug-ins while looking for detailed video editing options.
Some of its extensions are infected with Trojan viruses.
4. Bandicam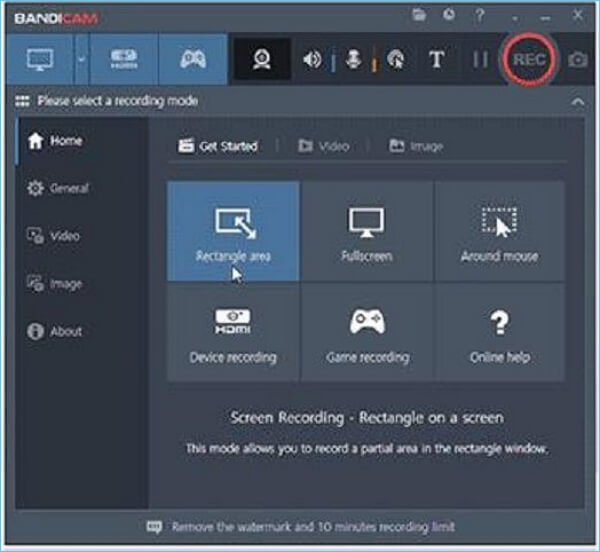 The next in our list of the top tutorial software examples is Bandicam. It is one of the highly advanced screen recording software useful in creating online academic lessons, video tutorials, and walkthrough videos. It is a lossless video editor perfect for extracting MP3 files, tutorial videos, and cutting videos. Further, it allows quick uploading to different streaming platforms to help professional content creators.
Features of Bandicam
It offers different options in selecting screen recording areas- rectangle on a screen, full screen, or around the mouse.
The one-click recording option allows a quick start and stop of the tutorial.
It allows tutorial editing and quick uploading of videos.
In tutorials, it offers real-time drawing functions- highlights, boxes, and lines.  
Pros
It allows zoom-in and zoom-out for creating informative tutorials.
It is the perfect software for capturing 4K Ultra HD tutorials.
It can record for 24 hours without interruption.
It helps in detailed sound settings.
Cons
It doesn't support Linux, Android, and Mac.
Users experience lag spikes during recording simulations.
Users get confused about finding the location of the saved recorded file.
5. OBS Studio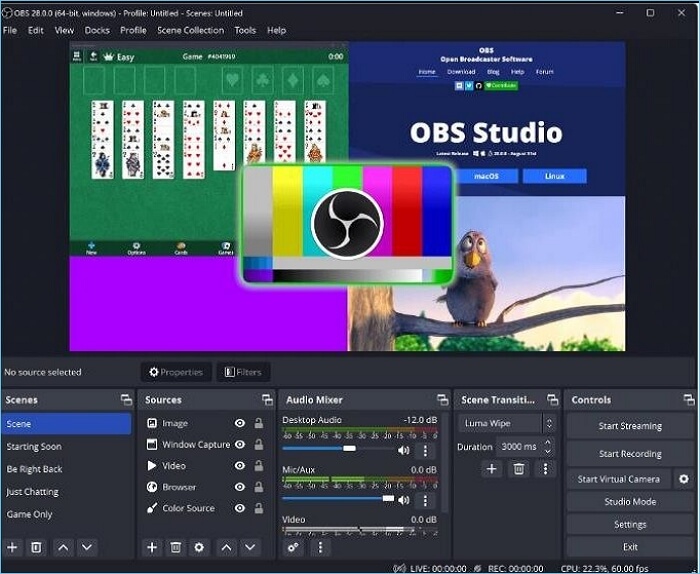 OBS Studio, or Open Broadcaster Software, is an open-source and free software for live streaming and video recording. It works seamlessly on Linux, Mac, and Windows systems. The best part is that it supports different streaming platforms. Users love the additional features useful for creating highly professional tutorials. Last but not least, OBS Studio offers endless possibilities for making tutorials.
Features of OBS Studio
It allows high-performance and real-time audio or video capturing.
It helps create impressive tutorials with capture cards, webcams, browser windows, text, images, and window captures.
It offers custom transitions with unlimited scenes.
It has a high-quality audio mixer with filters like gain, noise suppression, and noise gate.
Pros
It is a powerful tutorial software with multiple configuration options.
It is easy for users to rearrange this tutorial make's layout according to their needs.
Its Studio Mode helps quick scene preview and sources before making the tutorial live.
It can monitor eight different scenes in videos.
Cons
Users face issues while using multiple sources at one time.
This software may stop streaming or recording instantly.
It is updated frequently.
The interface is complex, not suitable for beginners.
Sum Up
Hence, tutorial software is all you need when you need to create a video tutorial for your audience. These tools are widely used in creating easy-to-understand and descriptive video tutorials for helping beginners on different topics. Hence, markets are flooded with different tutorial software.
Readers don't need to get confused in selecting the best tutorial software with the help of the quick guide mentioned above. It is easy to go through the top five tutorial software examples. You can select one based on the detailed features, advantages, and possible issues with these tools. If asked for an effective solution, EaseUS RecExperts is the perfect choice with a range of features and benefits.
FAQs on Tutorial Software Examples
After going through the details of the different tutorial software examples mentioned above, you may have some questions in your mind regarding it. So, below are some of the popular and top frequently asked questions related to the same:
1. What is tutorial software?
It is the leading software offering creative learning tools for helping non-technical people to learn about specific topics. It has a step-by-step guide with associated images to help you easily follow and understand the process. This software is used widely by the education sector and technology companies in offering a quick guide to understanding specific topics.
2. What is an example of a tutorial?
Some popular tutorial examples include how-to-do guides, dance performances, instrument-playing, and makeup application tutorials. Tutorials can be related to education, skills, technical guides, or any other activity. The tutorial aims to offer detailed steps about the specific topic.
3. What software is used to make video tutorials?
The dedicated tutorial software is used to create detailed tutorials on different topics. Some top options include EaseUS RecExperts, VLC Media Player, Cam Studio, Bandicam, and OBS Studio. It is easy to go through this tutorial software's top features and advantages and select one based on your immediate requirements.
4. What are some easy tutorials?
Some easy tutorials include how-to employee training videos, product demo videos, YouTube tutorial videos, instructional videos, and how-to videos. Further, other useful tutorials include concept explaining videos, workout videos, cooking tutorials, game walkthrough videos, and product tutorials.
About the Author

Larissa
Larissa has rich experience in writing technical articles. After joining EaseUS, she frantically learned about data recovery, disk partitioning, data backup, screen recorder, disk clone, and other related knowledge. Now she is able to master the relevant content proficiently and write effective step-by-step guides on various computer issues.