
Table of Contents

About the Author

Related Posts

Best Audio Recording Software
After recording videoes using your phone or some free screen recorder, you might end up having more footage than you need. And for some videos, you just want to keep part of it. At that time, you can trim parts of video files. Here, we will show you some video trimmers to help you cut video on Windows 10, including inbuilt programs and third-party software. Read till the end to learn the different methods to trim video on Windows.
How to Trim Video on Windows 10 via EaseUS RecExperts
Sometimes, you might want to find some video footage to apply to your videos. However, some of them are paid or undownloadble, then how to solve the problem?
The easiest way is using free video recording software like EaseUS RecExperts. It helps you to capture any video content on the internet with the original quality, and you only need to take a few steps. Apart from the video content, this screen recording software lets you record audio from live streaming sites or capture your webcam. All in all, if you need to capture something, don't miss this fantastic screen and audio recorder!
EaseUS RecExperts
Compatible with Windows and macOS
Record full or partial of your screen flexibly
Export recordings in various formats
No watermark in your video recordings
Step 1. Launch EaseUS RecExperts and click "Recordings" to open the built-in video editor.

Step 2. Click "Import" on the bottom right corner, then add your target video file from your local folder.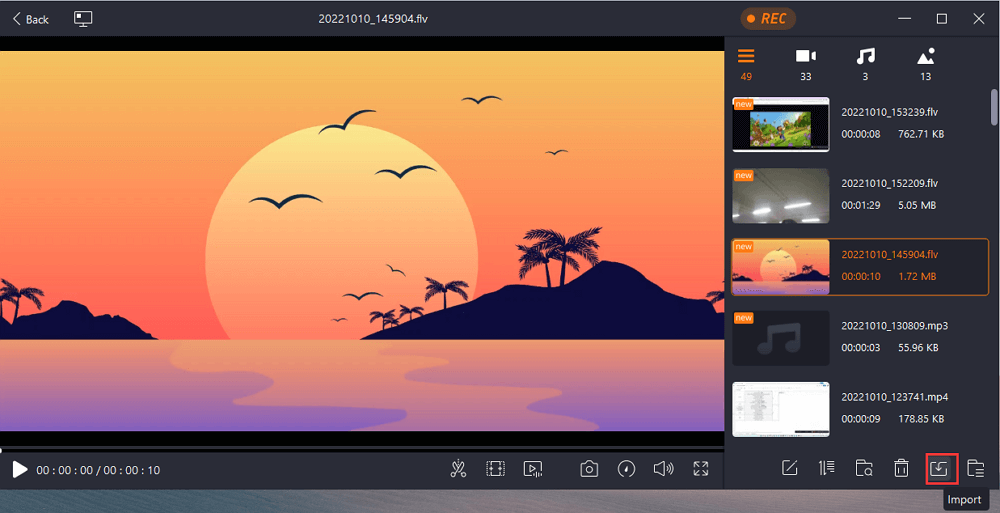 Step 3. Click on the scissor icon to trim the video. Here you can even trim the video frame by frame.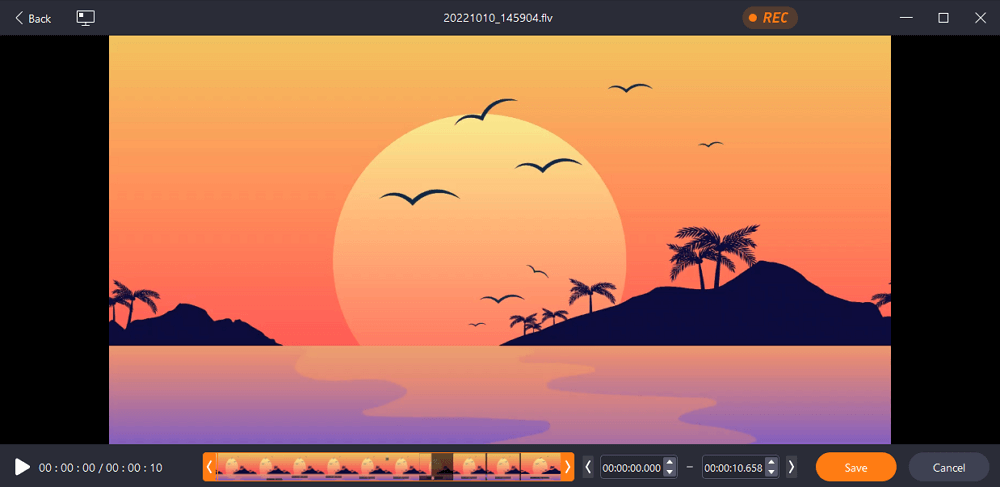 Step 4. Finally, click "Save" and enter the file name to export the edited video.
How to Trim Video in Windows 10 using Photos App
For Windows 10 users, there is an inbuilt video trimmer that allows you to cut off videos quickly and easily, and it's called Photos App.
This software lets you cut your movies in 4 simple steps, and you can effortlessly remove unwanted parts of your video. Moreover, you can use it to manage your pictures, including but not limited to viewing, editing, comparing, creating albums, and making movies of your special memories.
Check out the below guide to trim video Windows 10 via Windows Photos:
Step 1. Navigate to your folder to find the video you want to trim, then right-click on it. Choose "Open with" >"Photos".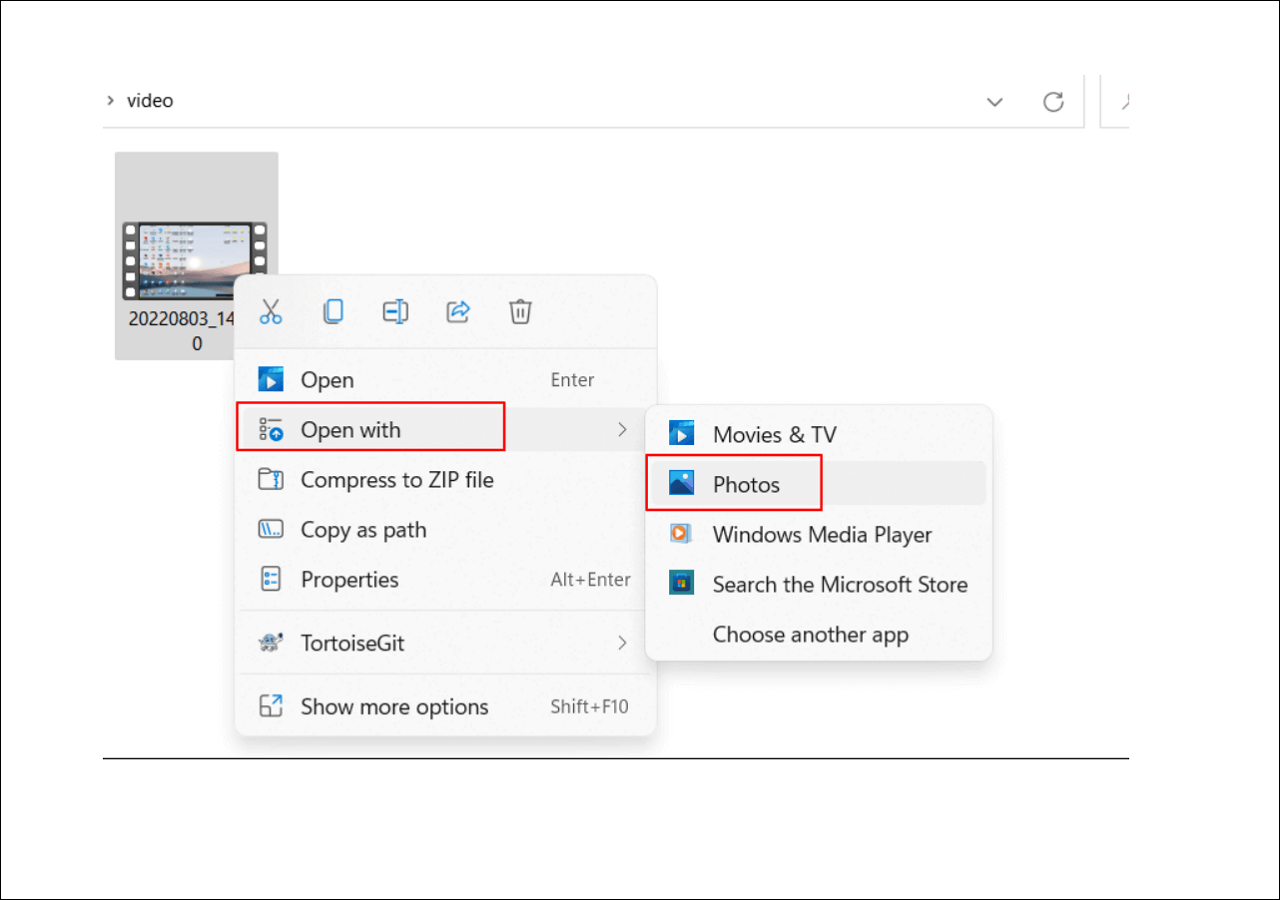 Step 2. When the video is open via Photos, click on the little pencil icon at the bottom. Next, select the "Trim" option.
Step 3. Select the trimming section. Just move the starting and ending sliders to select the video segment you want to keep.
Step 4. Once done, click "Save as" from the top-right corner to export the trimmed video.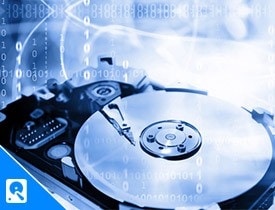 How to Trim Video Windows 10 using Video Editor
Is there an inbuilt video editor on Windows 10? Of course, yes! It includes a full-featured set of video creation and editing tools, including music, text, motion, and 3D effects. Video Editor is the successor to Movie Maker on Windows 10, focusing on easy-to-use creative tools.
So, if you need to trim videos on Windows, this Windows 10 video editor will help you complete the task in seconds. Now, let's take a look at the following tutorial:
Step 1. Click the Windows icon on your keyboard, then enter Video Editor in the search bar to launch it.
Step 2. Click "New video project" under the Video Editor tab, and set a name for your project.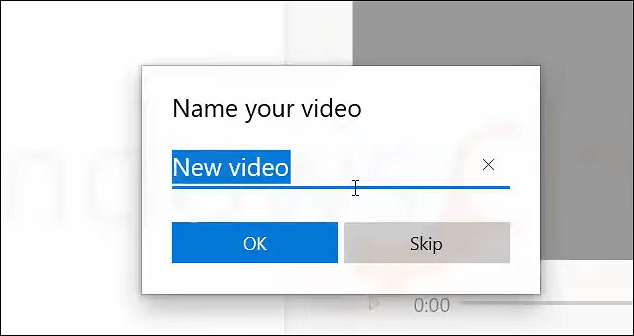 Step 3. Click "Add" to import the video you want to trim. Once imported, drag it from the Project library pane to the Storyboard.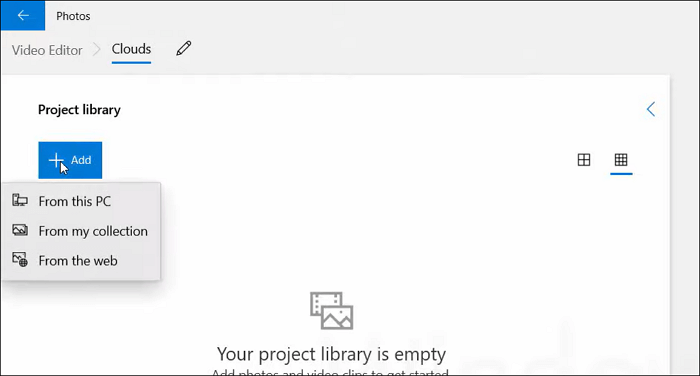 Step 4. Click on the "Trim" button, and use the sliders to adjust the duration of your video.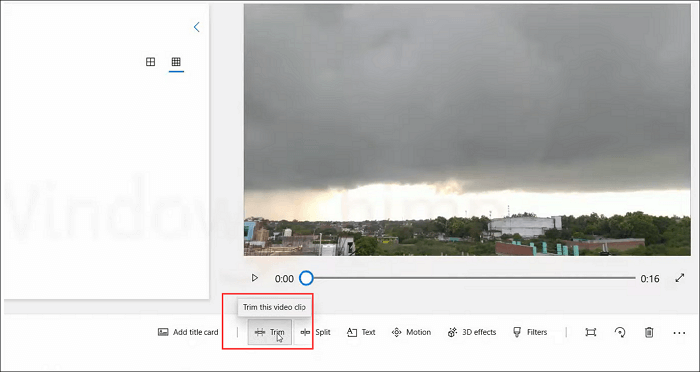 Step 5. When you are satisfied with your video, you can click "Done" > "Finish video" in the top right corner.
How to Cut Video Windows 10 via VLC Media Player
VLC Media Player is a cross-platform, free multimedia player that can play MOV on Windows 10, or other video/audio files. Besides that, it also functions in video trimming, which means you can use it to cut off unnecessary parts in your video for free. Most importantly, there will be no quality loss in the trimmed videos.
Here's how to trim video in Windows 10 using VLC Media Player:
Step 1. Download and install VLC Media Player on your Windows 10 PC.
Step 2. Launch this freeware, and click "Media" > "Open File". Next, navigate to find the video you'd like to view and cut in the program.
Step 3. Click "View" > "Advanced Controls" from the upper toolbar. After that, you will see four additional buttons over the Play/Pause.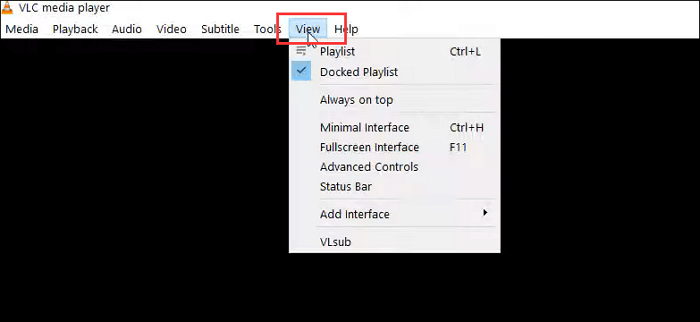 Step 4. Drag the slider to the position where you want your segment to begin, and click "Shift + R". When the slider reaches the point you wish your excision to end, hit the same keys on your keyboard.

Step 5. At last, VLC will save and export the trimmed video automatically on your computer.
How to Trim Video Windows Online Free
If you prefer an online video trimmer, don't miss Clideo. It can work with all the popular formats such as AVI, MP4, MPG, MOV, and others. For cutting video, you just need to move the two marks to select the beginning and ending of your clips, which takes only a few seconds.
What's more, you can even convert it and add fade-in and fade-out effects. It's straightforward to use, and follow the steps provided below:
Step 1. Go to Clideo's official website, then hit "Choose file" to upload your target video.
Step 2. Drag the slider to adjust the video duration you want to keep. Or you can enter the exact time in the box.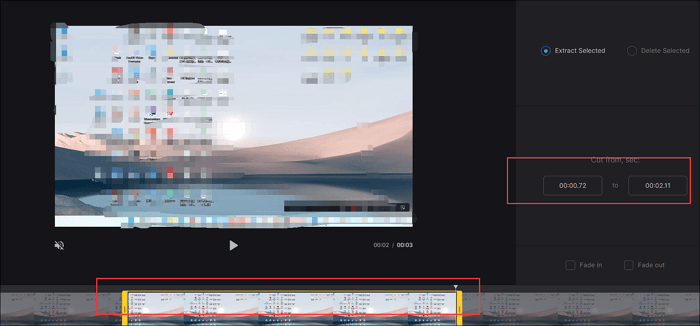 Step 3. Finally, click "Export" to download the video to your computer.
The Bottom Line
This post provides you with four outstanding Windows trimmers to help you cut your videos. Which one do you prefer? You can always find the answer here if you are looking for a free, open-source, or online video trimmer. If you think it is useful, share this guide with your friends!
Trim Video Windows 10 FAQs
1. Does Windows 10 have a video trimmer?
Yes. Windows 10 has a hidden video trimmer called Photos. You can use it to trim videos or do other simple editings to your videos, like adding music, creating home movies, and slideshows.
2. How do I trim a video in Windows Media Player in Windows 10?
If you want to trim a video in Windows Media Player, you need to install a plugin called SolveigMM WMP Trimmer. Once done, you can follow the below steps:
Step 1. Open Windows Media Player, then click "Tools" > "Plug-ins" > "SolveigMM WMP Trimmer".
Step 2. Play the video you want to trim in this software, then move the blue slider to the section of the movie you want to trim and click "Start".
Step 3. Find and press the "In" button to trim the selected portion. At last, rename and save the trimmed video on your computer.
3. How do I cut out the middle part of a video in Windows 10?
You can use Photos to complete the task:
Step 1. Open the video with Windows Photos.
Step 2. Drag the time slider to the specific part you want to cut off.
About the Author

Jane is an experienced editor for EaseUS focused on tech blog writing. Familiar with all kinds of video editing and screen recording software on the market, she specializes in composing posts about recording and editing videos. All the topics she chooses