
Table of Contents

About the Author

Related Posts

Best Audio Recording Software
Jerry
Updated on Mar 14, 2023|
min read
PAGE CONTENT:
Being the best software for creating presentations that are a visual treat to the eyes, Powerpoint lets you create a mark for yourself in the market. It can handle many things, from making business proposals to personal presentations. Due to these spectacular qualities and efficiencies, Powerpoint has stood tall as an instant presentation tool for decades. However, even the moon has some faults; Powerpoint is no exception. Like any other app, it also has some errors and downtimes.
One such error is the Powerpoint not recording audio issue may occur when you try to record PowerPoint with audio. It may happen on account of the following reasons:
Faulty drivers
Faulty hardware
Lack of configuration of the system or improper configuration
No system permissions
With this guide, you can get a hold of some great and handy fixes to resolve the issue perfectly and instantly. We also got a surprise for you towards the end of the write-up. Do check it out. But first, let us move ahead with the fixes.
How to Fix PowerPoint Not Recording Audio
Get a few fixes we got for you to resolve the issue instantly. If you are unsatisfied with any of them, read ahead to find a reliable solution.
Fix 1. Restart Computer
Before you move on to make any changes in the configuration of your PC, how about restarting your computer? What if it fixes the PowerPoint not recording audio issue? It will help you reload your system's resources, eliminating the errors occurring temporarily on the device.
The detailed steps are as follows:
Step 1: Start by opening the Start menu. For this, you can tap on the Windows key from your keyboard. 

Step 2: Once done, tap on the tab for "Power Options."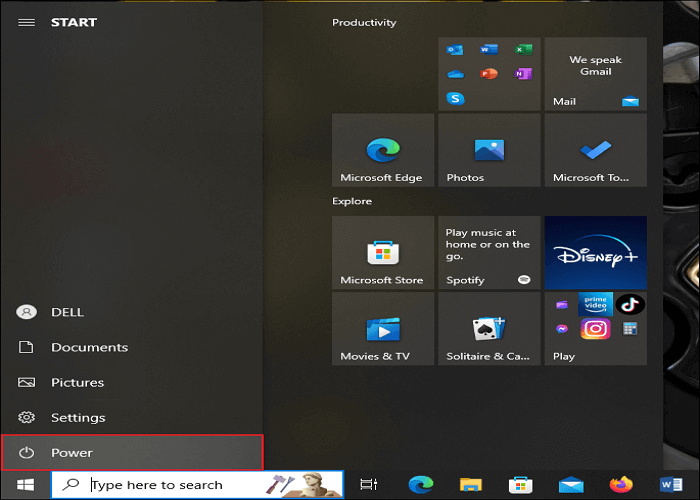 Step 3: Now tap on the Restart option for rebooting your PC.
Now fetch back to PowerPoint and see if your problem got resolved.
Fix 2. Check Privacy Settings
If you have not tried the privacy settings yet, check them to resolve the PowerPoint not recording audio error. If the settings are not enabled, you must turn them on. Once the option is enabled, you can use the microphone in PowerPoint. 
You can perform the following steps:
Step 1: Tap on Settings and select Privacy from the options occurring on the screen.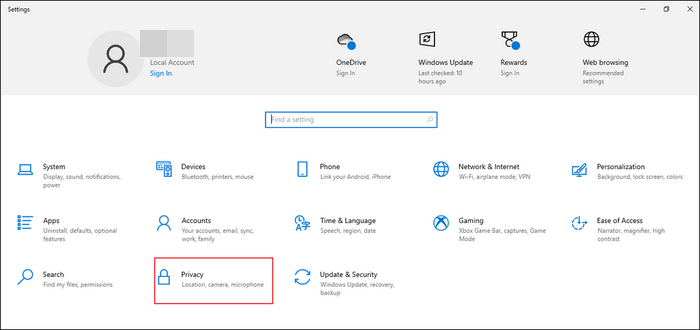 Step 2: Now, look for the Microphone option from the pane on the left side. You can enable the option by tapping on the "On" option. Before moving ahead, make sure the option has turned blue.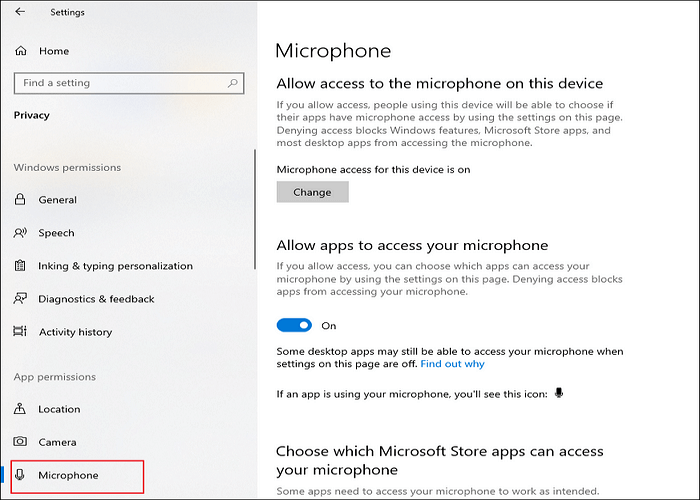 Fix 3. Run PowerPoint as Administrator
If you are facing the PowerPoint not recording audio error, you must run Powerpoint as an admin. In addition, it will assist in giving PowerPoint all the permissions necessary for accessing the hardware with your microphone. 
Follow the guide below:
Step 1: On your desktop, look for the Powerpoint icon.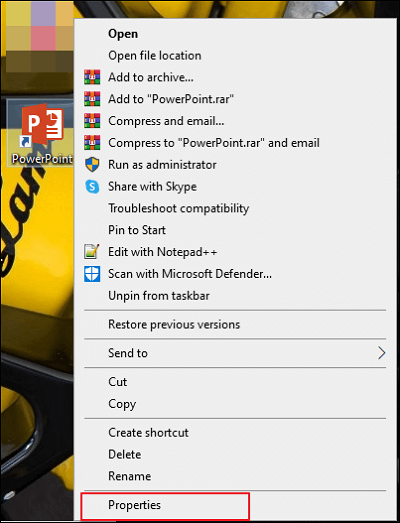 Step 2: Make a right-tap on the app and then on "Properties."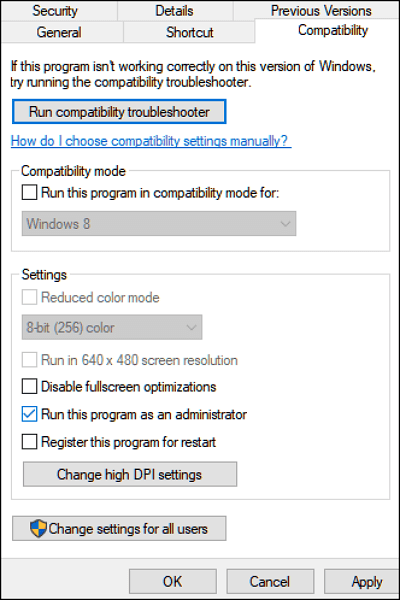 Step 3: Locate the "Compatibility" tab and turn on the option of "Run this program as an Administrator."
Now try relaunching PowerPoint and see if the issue got resolved. If not, try the next option. 
Fix 4. Run Audio Troubleshooter
To fix the error of PowerPoint not recording audio, you can try running your audio troubleshooter. It would be best if you noticed that Windows 10 has a dedicated troubleshooter that can repair audio recording issues.
The detailed steps are listed below:
Step 1: Open Settings by tapping on the Windows key + I.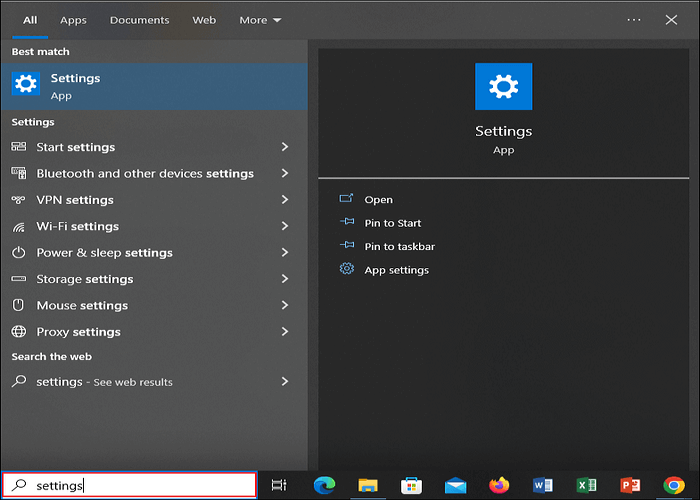 Step 2: Tap on the Update and Security option.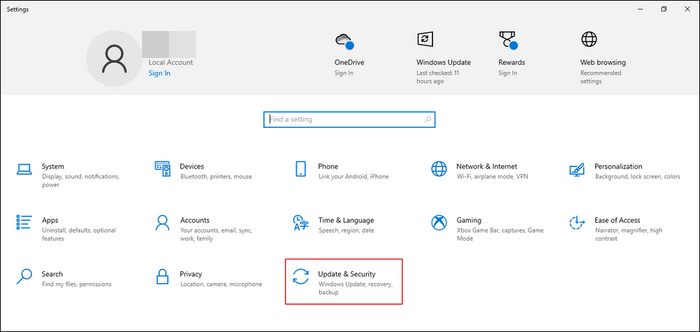 Step 3: From the left pane, opt for Troubleshoot option.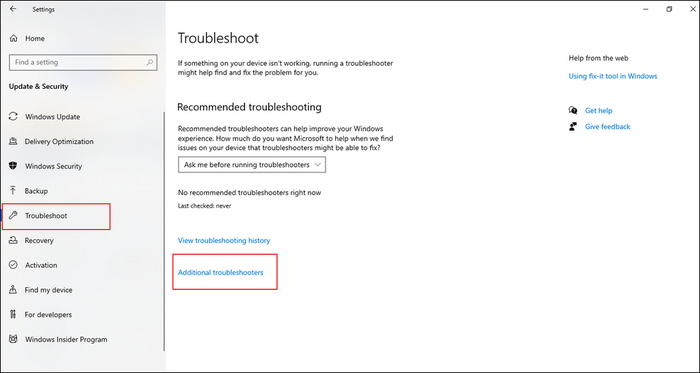 Step 4: Now tap on the option of Additional troubleshooters.
Step 5: Make a selection of the "Recording Audio" option.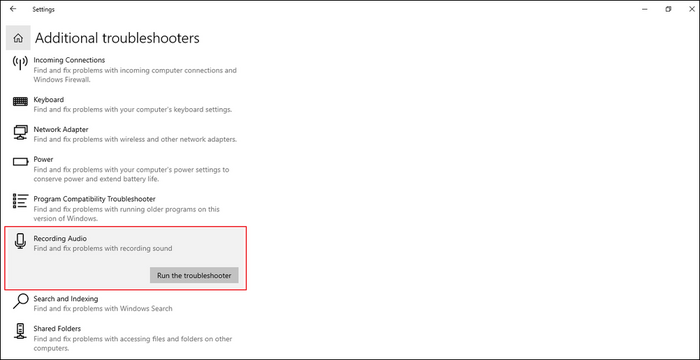 Step 6: Now tap the "Run the troubleshooter" button and follow the screen prompts.
Fix 5. Update Audio Drivers
If you are facing the issue of PowerPoint not recording audio errors, it may be because of corruption in your audio drivers. However, you must ensure that your drivers are not causing the problem, and the only way to find out is to update them with the latest version.
Follow the instructions below:
Step 1: Tap on Windows + X keys to open the "Quick Menu."
Step 2: Once done, tap on the "Device Manager."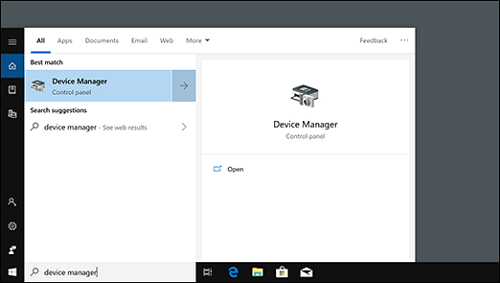 Step 3: Now expand the "Audio Inputs and Outputs" tab." Make a right tap on the microphone.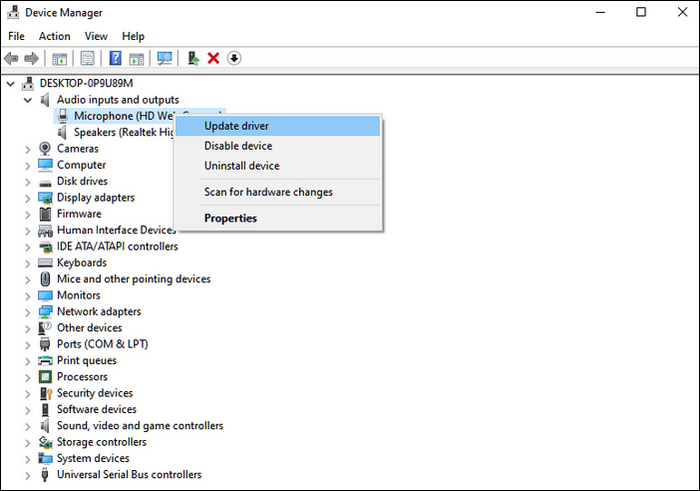 Step 4: Tap on the "Update Driver" option and follow the prompts on the screen.
As soon as you are done, you need to reboot the PC and see if the issue got resolved, and you can do an audio recording on PowerPoint. 
Fix 6. Reinstall PowerPoint
If you got no help with the fixes above, try reinstalling Powerpoint to solve the PowerPoint not recording audio error. Instead, it will ensure all the files are on your drive.  
The detailed steps are as follows:
Step 1: Start by opening the Control Panel on your device.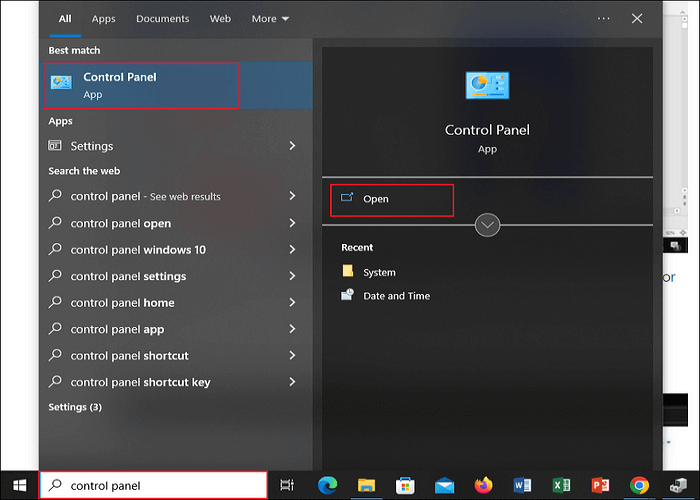 Step 2: Then tap on the "Uninstall a program" option and search for "Powerpoint."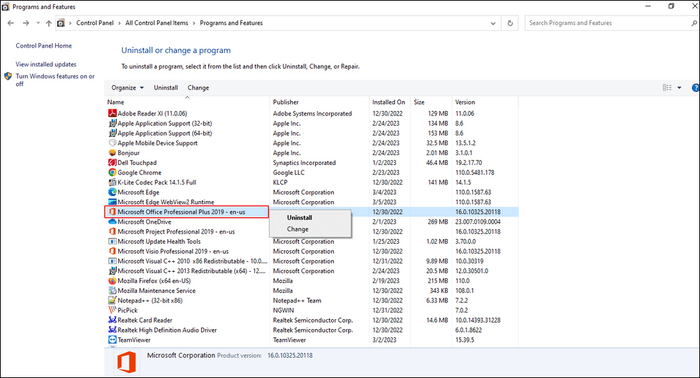 Step 3: Make right tap on the Powerpoint app and tap on the "Uninstall" option.
Once done, you can try to reinstall PowerPoint on your computer.
Fix 7. Update Windows
Lastly, you can opt for updating Windows if nothing works to resolve the issue of PowerPoint not recording audio. The error may occur on account of a mistake with the audio recording. It is better to update your OS to the most recent version to see if glitches or bugs are fixed. 
The specific steps are as follows:
Step 1: From your keyboard, tap on the Windows + I keys, and it will open Windows settings.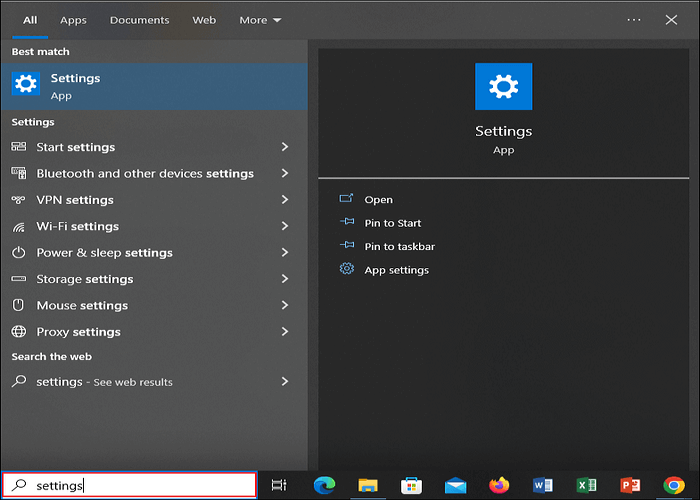 Step 2: Now tap on the "Update and security" option and then tap on the "Windows Update."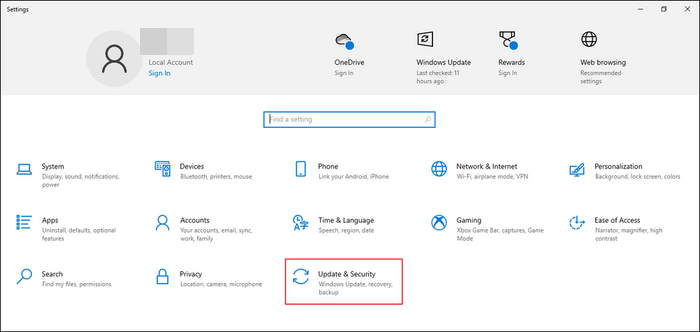 Step 3: As a final step, tap on the "Check for updates" option and follow the on-screen prompts for updating your OS.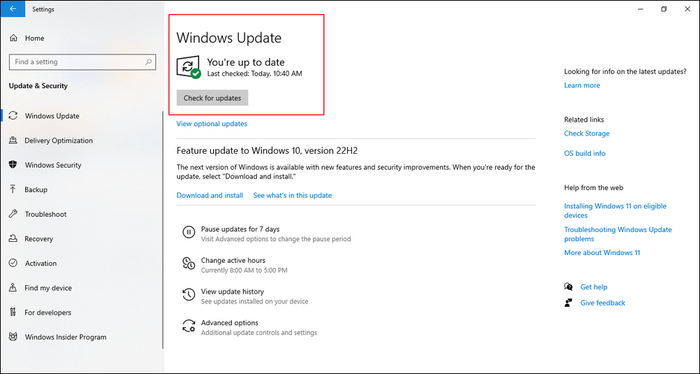 Now go ahead with restarting your PC after the update gets complete, and the issue gets resolved.
How to Use PowerPoint Alternative to Record Screen
In addition to the methods mentioned above, there is an option of trying third-party software for recording your screen. You can use EaseUS RecExperts, a professional screen recorder, as an alternative to screen recording on PowerPoint.
With EaseUS RecExperts, you get a better choice to screen recording. It can help you to record on Windows 11/10/8/7 and allows you to record PowerPoint with a webcam. In addition, it enables you to record various duration of a video. For example, it lets you record the last 1 minute on your PC, as well as 2, 5, 10, 15, 30 minutes, etc. And it also lets you record clips on your computer.
Let us get an insight into some of its magnificent features.
Captures any section on your PC screen, including audio and webcam.
Records highlights of 2D/3D gameplay without lag.
Record full or part of your screen and record Google Meet without permission.
Boosts user experience with media player and embedded video editor.
Provides scheduled recording, unlimited time recording, etc., as advanced features.
Step 1. Launch EaseUS RecExperts. There are two modes for screen recording. Choose "Full Screen", this tool will capture the whole screen; choose "Region", you will need to select the recording area manually.

Step 2. After that, you can choose to record the webcam, system sound, or microphone as you like. Of course, you can turn them off if you only need to record the silent screen.

Step 3. Then, you can click the red "REC" button to start recording. Now you will see a menu bar on your screen. If you want to pause the recording, click on the white "Pause" button; to end the recording, click on the red "Stop" button.

Step 4. After recording, you will be led to the recording list interface. Here you can view or edit your recordings easily.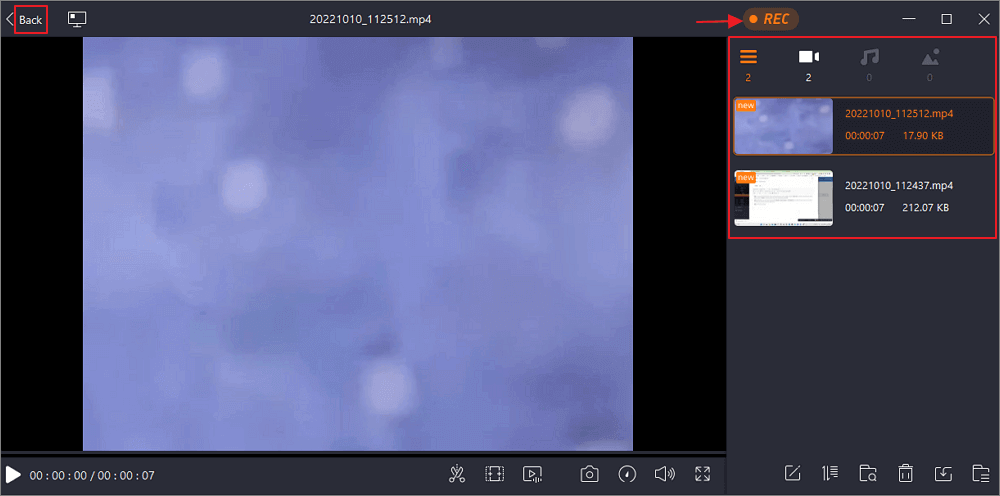 The Final Verdict 
With our suggested fixes, you can fix the issue of PowerPoint not recording audio on your system. However, if something else works better, hop on to the alternative to Powerpoint. We are talking about EaseUS RecExperts, which lets you complete screen recording efficiently. With its support for around 13 formats for input and output of your videos, you get an excellent grip to run it for various purposes. Use it to know its seamless work yourself.
FAQs
1. How do I enable audio recording in PowerPoint?
You can try running the Audio Troubleshooter by following the steps as;
Open Settings and locate Update and Security and choose Troubleshooter.
Search for and select Audio Recording troubleshooting.
2. Why is my PC not recording audio?
If your PC is not recording audio, make sure:
You have disabled the sound enhancements.
You are not utilizing surround sound 5.1 or 7.1.
You are not using a headset for gaming.
Your PC is not set to play audio at 44100Hz.
3. Why is my recording not working on Windows 10?
Sometimes your recording may stop working due to the following reasons:
Audio recording permission is disabled.
The recording settings are not configured correctly.
The drivers for the device need to be updated.
The microphone levels are not set correctly.
4. Why won't PowerPoint record audio on Mac?
If your Powerpoint is not recording audio on Mac, it may be because the mic is off. Try turning it on, and your issue will get resolved. If it doesn't, you can try EaseUS RecExperts to get a great recording on your Mac.
About the Author

Jerry is a fan of science and technology, aiming to make readers' tech life easy and enjoyable. He loves exploring new technologies and writing technical how-to tips. All the topics he chooses aim to offer users more instructive information.