
Table of Contents

About the Author

Related Posts

Best Audio Recording Software
Jerry
Updated on Mar 10, 2023|
min read
You can click the quick navigation to learn how to record clips on a PC.
Most viewers now prefer short clips over long videos. A clip is a short video including highlights from games, movies, live events, and other sources. This article is your go-to guide on how to record clips on PC or capture game clips on a PC. Since there are no shortcuts to capturing clips on a PC, we'll discuss built-in tools and third-party screen capture software to complete the job. Let's move on to the details.
How to Record Clips on PC Using EaseUS RecExperts
If you want to record a clip on a PC, using a professional screen recorder should come as a top priority. This is because a professional screen recorder has fewer limitations and more functions. So whether you want to record clips or a game clip on PC, EaseUS RecExperts is your fine choice.
EaseUS RecExperts is a professional screen recorder that helps record almost everything on your Windows or Mac computer. It is an all-in-one video editing and recording program that provides a variety of powerful capabilities for getting the most excellent outcomes. It allows you to screen record on Windows 7 PC & laptop and screen record protected video. In addition, it supports a wide range of output formats and supports playing a video. You can also use it to clip the last 5 minutes on your PC.
Here is how to record a clip on a PC:
Step 1. Launch EaseUS RecExperts. There are two modes for screen recording. Choose "Full Screen", this tool will capture the whole screen; choose "Region", you will need to select the recording area manually.

Step 2. After that, you can choose to record the webcam, system sound, or microphone as you like. Of course, you can turn them off if you only need to record the silent screen.

Step 3. Then, you can click the red "REC" button to start recording. Now you will see a menu bar on your screen. If you want to pause the recording, click on the white "Pause" button; to end the recording, click on the red "Stop" button.

Step 4. After recording, you will be led to the recording list interface. Here you can view or edit your recordings easily.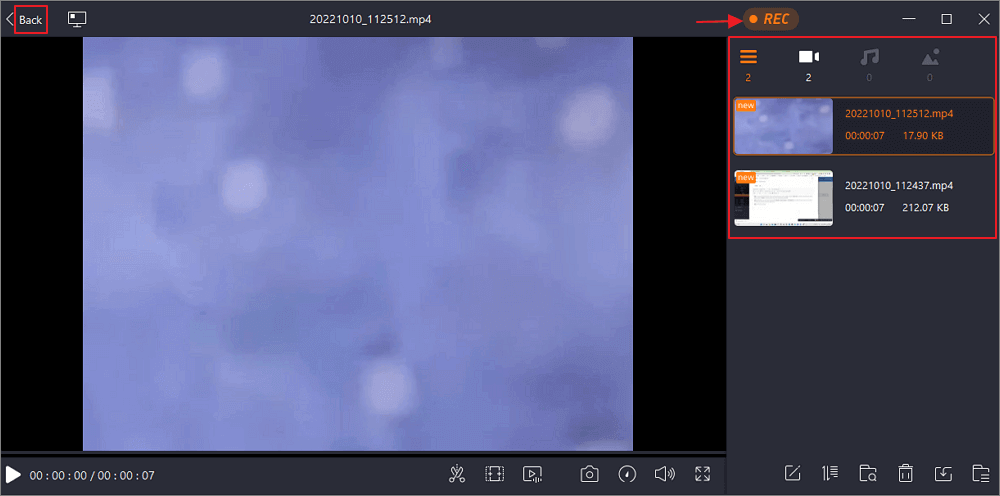 How to Capture Game Clips on PC with Xbox Game Bar
Xbox Game Bar, a built-in game recorder, is a good way to capture a clip on your PC. Windows 10 and 11 users can rapidly capture anything on their computer screen with just a few shortcut key combinations. Game Bar, as its name suggests, was previously only well-known for its game recording, but it has now evolved into one of the top tools for recording non-gaming activities like movies and online meetings. You can perform the guide below to record a game clip on a PC.
Step 1. Head to Settings > Gaming > Captures and enable Record in the background while I'm playing a game.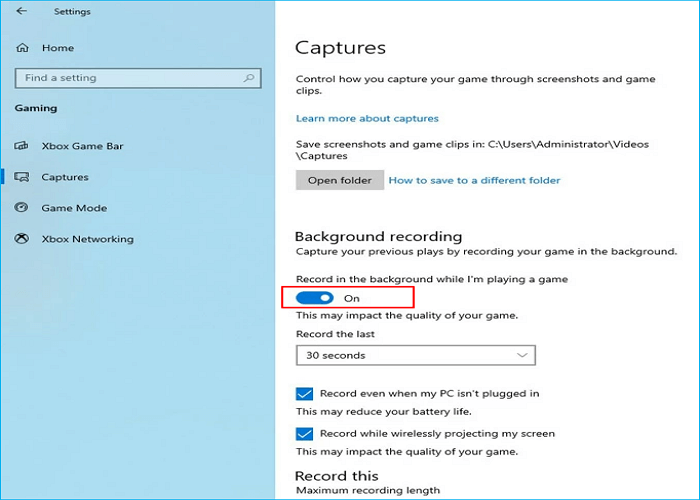 Step 2. Adjust the length of the clip you want to record on your PC. Select the clip length you want to capture in the "Record the last" option under the Background recording section. Then check the two options below the "Record the last" option.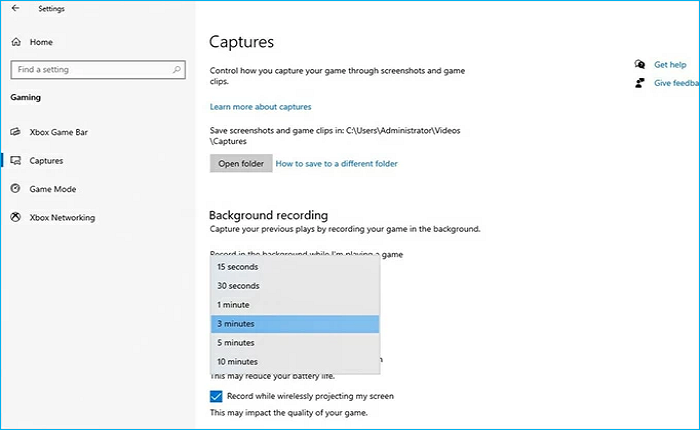 Step 3. Launch the game or application you wish to capture, then press the Windows + Alt + G keys to get the clip captured. The "Game clip recorded" prompt will show immediately, letting you know your clip has been made.
 Tip

Click "Game clip recorded" or navigate to the Captures folder to view your captured clips.
How to Record a Clip on PC with Nvidia Graphics Card
Nvidia is fantastic clipping software for gaming. Nvidia Share or ShadowPlay is a go-to feature for capturing and sharing gaming clips. You can stream games online while recording them on your PC. And because it can be used as an in-game overlay to monitor the FPS at any time, take screenshots, record videos, and replay the last 30 seconds of your game, it is ideal for game capture. You can access it if you use an Nvidia card.
Below are the steps to record a clip on a PC with Nvidia Graphics Card.
Step 1. You can only use Nvidia to capture clips via GeForce Experience. Please download GeForce Experience first if it isn't already on your computer.
Step 2. Look for GeForce Experience in the start menu.
Step 3. Head to Settings > IN-GAME OVERLAY to see whether your computer is compatible with Nvidia Share. Once confirmed, click the Settings button below the toggle key to change key settings.
Step 4. Set up your clip-capturing preferences by enabling Desktop capture in the Privacy Control option.
Step 5. Return to the main page and enable Instant Replay to preserve the recorded game clips' last 30 seconds (or a custom time). Then, press Alt+F10.
How to Record Clips on PC via OBS
OBS Studio, an application that can stream and create high-quality video recordings, is among the most popular open-source recording tools. OBS can be used to record your computer's screen. Moreover, you can alter the video resolution and audio recording quality. Follow the instructions below to use OBS Studio to record a game clip on your PC.
Step 1. Download and install OBS Studio. Then open it.
Step 2. Click on Show Captrue by tapping the "+" button under Sources, then press OK.
Step 3. Choose a display and press OK.
Step 4. Click the Start Recording icon in the lower right corner of your computer screen to begin recording.
Step 5. When finished, select Stop Recording in OBS.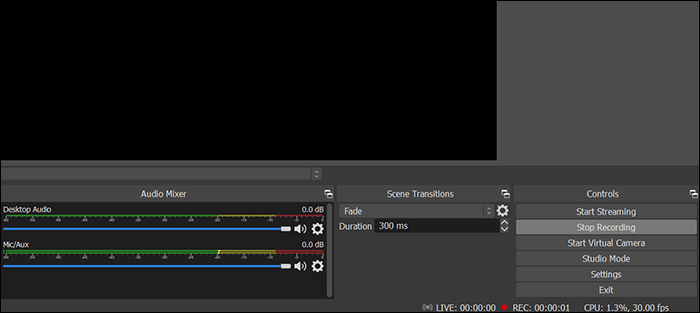 Best Way to Record Clips on PC
That is all about how to record clips on PC. There is a table to help you make the right and quick decision.
Comparison
                  Pros
                  Cons
EaseUS RecExperts

No time limit & no watermark
With the schedule recording feature
Support 10+ output formats
Capture the partial or full screen 

Need to download or install

Xbox Game Bar    

No need to install
Work on the background  

The time limit for recording
Cannot adjust the recording area

Nvidia Graphics Card    

Free
Records and broadcasts video

Require extra Nvidia hardware
Not support all PC games

OBS

Flexible and customizable
Powerful game recording and streaming suite
From the table, it can be concluded that EaseUS RecExperts is the most suitable recording software for you to record a clip on PC. It can help you to record a game clip easily and quickly. It can also help you make an instructional video with a screen recording. Just download and try it!
FAQs
1. Is there a way to record last 10 minutes on PC?
Yes, you can use many ways to help you to record the last 10 minutes on your PC. For example, you can use EaseUS RecExperts, Xbox Game Bar, and Nvidia GeForce Experience to help you record a video in 10 minutes.
2. Does Windows 10 have screen recorder?
Yes, Windows 10 has an in-built screen recorder. The Xbox Game Bar is a built-in screen recording feature in Windows 10 and 11. So even if you want to record your activities in a non-gaming app, using it is simple.
About the Author

"I hope my articles can help solve your technical problems. If you are interested in other articles, you can check the articles at the bottom of this page, and you can also check my Facebook to get additional help."