
Table of Contents

About the Author

Related Posts

Best Audio Recording Software
PAGE CONTENT:
Are you facing an issue with the Screen Record Chrome extension not working on your Windows or Mac when trying to record your screen for personal or professional use?
In this article, we will discuss the possible causes, how to fix the issue in Mac and Windows, and suggest the best screen recorder for Google Chrome.
Possible Reasons for This Issue
There might be several reasons why the screen recorder extension might not be working on your PC:
Influence of Similar Extensions: Using many extensions for the same purpose can interfere with how they are processed.
Ineffective Extensions: Maybe the extension has not been updated or is not loading correctly.
Cached Data: The performance of your browser decreases, and it gets slow if the cache is not cleared frequently.
Viruses on Your PC and Browser: The issue occurs if Chrome is under any malware attack.
Resetting Chrome and Testing New Features: While trying out new features is entertaining, problems with browsing sometimes arise.
Problems With Your Google Account: Rarely, extensions may not function properly on some Google accounts while working flawlessly on another account in the same browser.
Using an Outdated Version of Chrome: If you use an outdated version, you can experience performance issues.
Fix Screen Record Chrome Extension Not Working on Mac
Check the methods in this part to fix the screen recorder Chrome extension not working issue on Mac.
#1. Set Google Chrome as Default Screen Recorder
When using Mac, you need to set the app as the default screen recorder if you want to record using it. Here are the steps to set it up:
Step 1: Click on Apple Icon to open the menu and click on System Preferences.
Step 2:  Next, select Security and Privacy > Screen Recording and check Google Chrome.
Step 3: Enter the account password if asked, then save the changes. Now when you try recording, it should work as expected.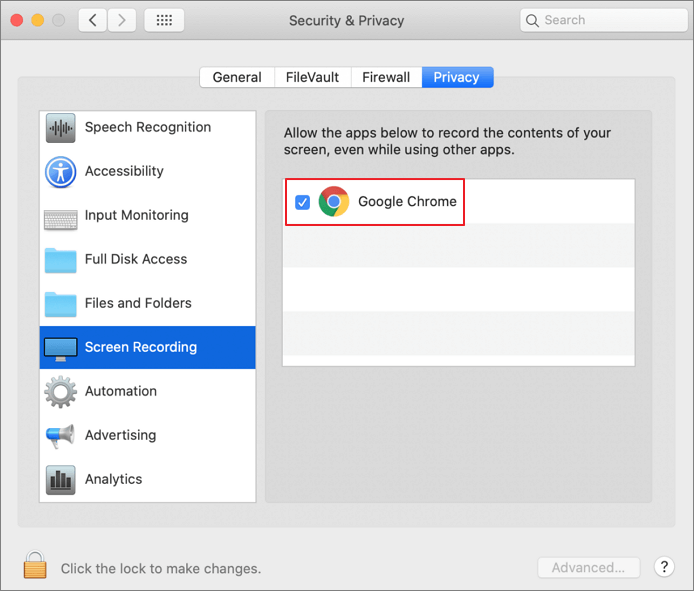 #2. Reset Permission Using Tccutil
MacOS offers a tool called tccutil that allows you to reset your permissions, but you will require the app's bundle id in question. So follow the suggested steps:
Step 1:  Open Terminal on Mac using Finder App.
Step 2: Type the following command and get the Bundle ID.
osascript -e 'id of app "Google Chrome"'
Step 3:  Type and execute the following command to reset all permission for Chrome. 
tccutil reset ALL com.google.Chrome
Lastly, launch the Chrome browser, which should ask for essential permission, and you can set it as the default recording app.

Fix Screen Record Chrome Extension Not Working on Windows
Here, you can find three fixes on how to solve the issue of the Screen Recorder Chrome extension not working on Windows:
#1. Reinstall Extension With the Required Permission
The first step is to reinstall the extension with the required permission in Chrome. Start by removing the screen recorder extension from Chrome.
Step 1: Click on the symbol for the extension at the top right corner of your address bar.
Step 2: Click the More actions button (three vertical dots) next to the Screen Recorder extension and click the Remove from Chrome option from the context menu.
Step 3: Confirm by clicking on the Remove button. Screen Recorder extension will be uninstalled.
Step 4: To reinstall the extension, go to the chrome web store, click the Add to Chrome button next to the Screen Recorder extension, and click the Add Extension button. Try recording a video using the screen recorder extension and check if it works.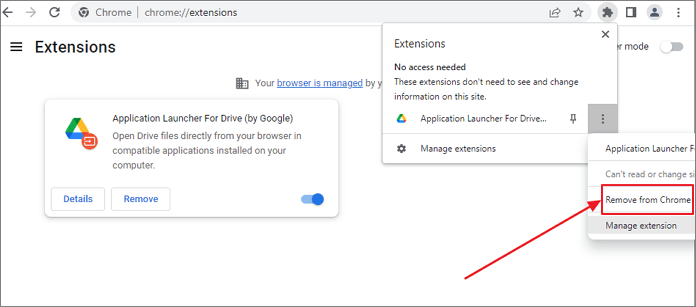 #2. Reset Chrome
Chrome has a restore feature that you can use whenever you want. If extensions or apps you installed modified your settings without your awareness, you might need to do this. Your saved passwords and bookmarks will not be deleted or altered.
Step 1: To reset Chrome, open your Google Chrome browser and click on the three vertical dots at the top right corner of your browser and click on Settings from the context menu.
Step 2: Click the Reset and clean up option on the left pane. Next, click on the Restore settings to their original defaults option.
Step 3: Click the Reset settings buttons on the Reset settings window.
 Note:

These actions will not result in a complete reset. For instance, certain options will not be eliminated, such as fonts or accessibility. Add a new user to Chrome to make a new user profile. After that, check if the screen recorder extension works.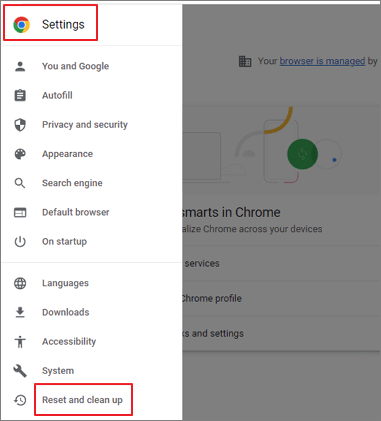 #3. Create New Profile in Chrome and Install the Extension
Check out the steps given below to create a new profile in Chrome:
Step 1: Open Google Chrome. Click on the profile icon in the top right corner of your browser. Next, click on the Add button from the context menu.
Step 2:  In the next window, you will be allowed to sign in or create a new profile without signing in.
Step 3: All your profile details will be synced if you choose to sign in. Otherwise, you will be asked to add your profile picture, customize your profile, etc.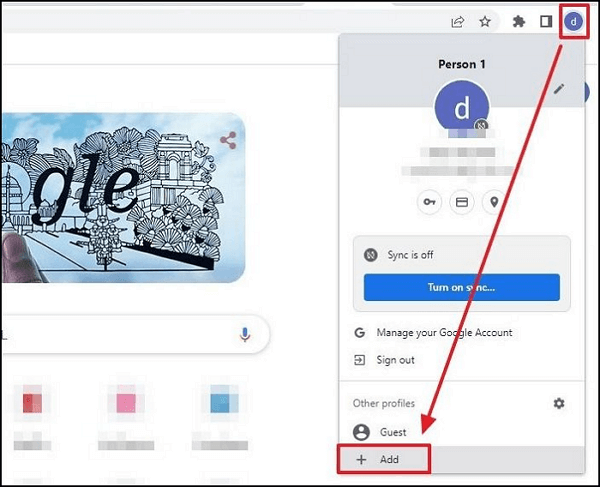 Your bookmarks, history, passwords, and other settings will automatically sync with the new profile if you enable Chrome sync with a Google Account. Add the screen recorder extension and check if it works in the new account.
Best Screen Recorder for Google Chrome
A versatile and simple-to-use Mac and Windows screen recorder, EaseUS RecExperts can record and capture anything from your PC's screen. Thanks to its clear and well-organized interface, getting started is simple. You can record your webcam, audio, or screen independently or all at once. Additionally, you can record gameplay as you like using the game recording option.
You can record the entire screen, a specific area, or even a locked window with this tool. Additionally, you can mark up your screen, annotate it, and perform other editing tasks while recording. You can export your recording or share it to compatible platforms based on your preferences.

The features of EaseUS RecExperts are given below:
With customized settings, you can easily capture any area of the PC screen
Record screen, audio, webcam, and gameplay
Schedule recording tasks to begin automatically at a specific time
Add text, lines, and arrows while recording the screen and more
Save recorded video/audio to 10 optional formats
Download EaseUS RecExpert from the button below now!
Screen Recorder Chrome Extension Not Working FAQs
Have more questions? Given below are the frequently asked questions and their answers about the Screen Recorder Chrome extension not working:
1. How do I record my screen in Chrome extensions?
Using the Chrome Screen Recorder extension, you can record video from the PC screen. Click Start Recording to start sharing your PC's screen. Click Stop sharing to end the video once you have finished recording it. The video you created can be saved to your PC.
2. Why is my screen recorder not working?
The Low Power Mode is most likely to blame if you get the error message Screen recording failed to save. Some features might not function when the mode is active until you turn it off. So, go to Settings > Power & battery, click on the drop-down box next to Power mode, and choose Best Performance.
3. Can websites block Screen Recording?
No, websites cannot recognize user actions like screen capture. However, suppose the website requests that you download and install specific software. In that case, it will probably be able to identify external screen capture programs being used on its web pages if they want to.
Conclusion
So, as discussed in this article, first go through the possible reasons for the extension not working and correct them. Afterward, you can move on to the fixes for making the Screen Recorder extension work on your Mac or Windows. In Windows, you can reinstall the extension, reset Chrome, and also use the extension from a new profile you can create in Chrome. 
You can also use the third-party tool  EaseUS RecExperts to record your screen, which offers impressive features like capturing any screen part, advanced editing, saving in different formats, etc. So, I hope this article helps you record your screen without any issues!
About the Author

Melissa is a sophisticated editor for EaseUS in tech blog writing. She is proficient in writing articles related to multimedia tools including screen recording, video editing, and PDF file conversion. Also, she's starting to write blogs about data security, including articles about data recovery, disk partitioning, data backup, etc.