
Table of Contents

About the Author

Related Posts

Best Audio Recording Software
PAGE CONTENT:
HTML5 video formats are widely used throughout the world. Therefore, an HTML5 video player is currently one of the most popular types of video player with speed control in the industry. There are a number of feasible HTML5 video players in the market, you may have no idea which one to use.
In this post, we're going to cover everything you need to know about HTML5 video players. Just take a deep look into this article and find the tool you like to play an HTML5 video.
Top 1. EaseUS RecExperts
When it comes to playing an HTML5 video, you can never miss EaseUS RecExperts. Known as a Mac and Windows screen recorder, it can also be used to play video and audio files with one click.
May the video is recorded by this tool or a third-party one, it can be played smoothly with EaseUS RecExperts. As one of the screen recorders free download, it has many features relating to screen recording. Now, let's check some of its main features below.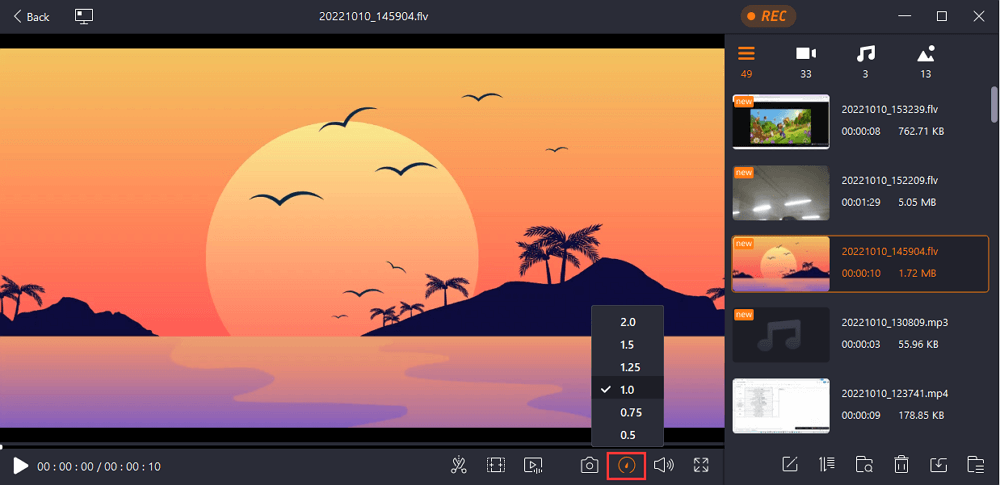 Main features:
Play MOV files on Mac computers easily
Record Google Meet, Zoom, and other online meetings
Play the video with your desired playback speed
Record webcam with the system or mic audio
Record your gameplay without lag
Top 2. THEOplayer
The first player is mainly known as a screen recorder. But the second one, THEOplayer, is a well-known HTML5 video player itself. Web, mobile web, mobile, set-top boxes, casting devices, and smart TVs are all supported by THEO.
Moreover, it also works as a streaming video recorder. You can also access THEOplayer on several professional online video platforms, including Dacast and some others. Check its pros and cons below.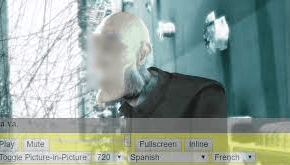 Pros
Support low latency streaming
Clear documentation for developers
Support viewer engagement metrics
Cons
It is not free to use
Some advanced functions are only for the paid version
Top 3. jPlayer
Jplayer was regarded as an online video player that primarily focuses on building cross-platform audio and video streams. It can also be seen as a media library with the documentation of HTML5 audio and video streaming.
Offering many features to its users, this tool is open-source and absolutely free to use. As a lightweight media player, you can play MP4 on Mac smoothly without lagging. Also, with this tool, you can customize the play settings. See more info about it below.

Pros
Work as an audio and video player
It is free and open-source
No licensing restrictions
Cons
The interface is not clear enough
It takes some time for novices to use it
Top 4. VideoJS
VideoJS is a customizable and open-source player that you can use to play social media videos. It offers playback support for live streams as well as MP4 and WebM files.
When it was designed, the team prepared for professional use cases. Therefore, this video player is built to bring communities together with streaming technology. Advanced functions of this tool will bring you a great experience in streaming.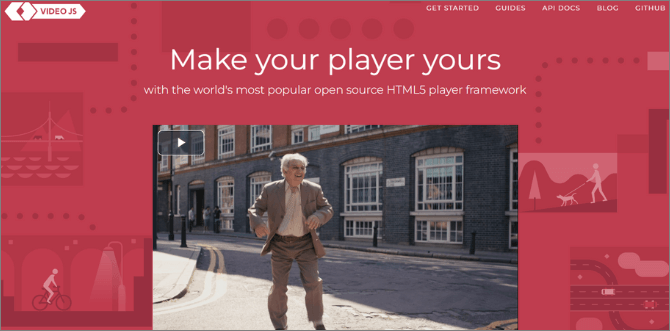 Pros
It gives users hundred of plugins
The playing process is customizable
Support Vimeo and YouTube integrations
Cons
Only support HLS, MPEG-DASH, MP4, WebM
Not compatible with other libraries
Top 5. Projekktor
Projekktor is another free and open-source media player for Windows 10 that can be used to play HTML5 videos with easy operation. Customizable with Javascript API access, it supports pre-roll and post-roll ad insertion if you need it. The intuitive user experience brings itself a big base of users. Let's have a look at its pros and cons below.

Pros
Free-to-use and open-source
Support for Ad Insertion
It also supports API access
Cons
Reported issues during playing sometimes
Not so good with integration
Top 6. Plyr
To be used by novices, Plyr was designed to be simple and accessible. It is highly customizable and supports both audio and video streaming. Not only this, Plyr does well in providing full-fledged support for VTT captions.
Moreover, this video player is lightweight and won't take up too much space in the server. To be responsive across all screen sizes, the player delivers embedded video platforms that can be played on YouTube, Vimeo, and other video platforms.

Pros
It is a customizable video player
It supports audio and video playing
It supports playing many other videos
Cons
Crash down sometimes
Run slowly due to an unknown reason
Top 7. MediaElement.js
MediaElement.js offers both an HTML5 video player and an HTML5 video player plugin. Using the most modern streaming setup with HLS streaming, it offers both audio and video playing functions to its users.
MediaElement JS has a customizable content library that contains multiple formats of data files, including MP4, MP3, and FLV, to be uploaded and streamed directly. It is used by companies like WordPress, Mozilla, Canvas, and Rotten Tomatoes thanks to its capabilities. Check more information below.

Pros
There are also plugins available
Support video and audio streaming
Play MOV files with easy operation
Cons
It is a bit complex to use
The file size is large
Top 8. Cloudinary
Cloudinary offers many streaming products, including an HTML5 video player. It was primarily aimed for use by enterprises and businesses. So it gives the best-in-class viewer experience to its users. Also, it supports high-quality, high-resolution videos and adaptive streaming.
Moreover, Cloudinary's built-in video analytics offer insights into viewer engagement and interaction, besides video performance in terms of conversion rates. Check out more about it below.

Pros
Lightweight, user-friendly embed codes
Offers a video playlist
Google Analytics integrations
Cons
Some functions are not free
Product UI is a bit clunky
Top 9. Clappr
Clappr is one of the first open-source basic HTML5 video players that is highly extensible. Clappr player is highly customizable in the CSS and it offers easy access to its API library. Clappr users are impressed with the long list of specialty plugins for customization.
It is very well-documented, so broadcasters and developers can easily mold it to fit their exact streaming needs. Something interesting about Clappr is that users can create their own plugins. Check more features of this tool below.

Pros
Cons
It takes time to know the product
The UI is not so intuitive
Top 10. JW Player
JW Player is fast in its playtime and renders content and ads on screens of all sizes. Starting as part of the original code for the first YouTube video player, it could be used to play your favorite YouTube videos as well. Recently, the company offers a fully-loaded streaming solution for live and on-demand video hosting, and the HTML5 video player is part of this professional offering. Check the pros and cons of this tool.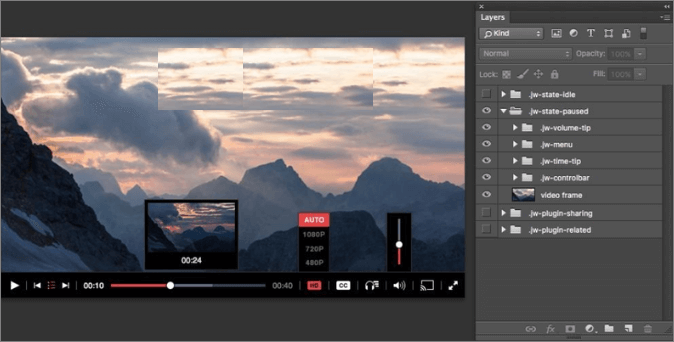 Pros
Comes with advanced streaming tools
The quality is very reliable
Support API access
Cons
The service is not free
Not so friendly for novices
Top 11. Flowplayer
Flowplayer is another powerful video player and online video platform we want to introduce to you. It is equipped with both a reliable video player and a list of professional streaming tools.
Moreover, This tool is known for its speed and compact size. If you need to stream at the professional level, this is a good choice. Known as one of the fastest loading HTML5 video players available, it will give you a fast and smooth video viewing experience.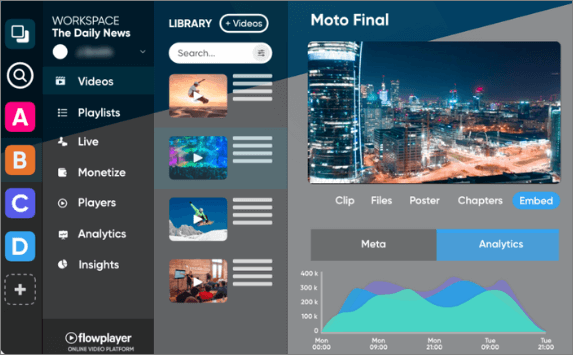 Pros
It is a performance-focused tool
Popular among a large number of users
It is lightweight and fast
Cons
Subscriptions start at $49/month
Feasible functions are not free
Top 12. Kaltura Player
Kaltura is the last player we give you. It is an online video platform that broadcasters use when they need extensive customization for their streaming needs. Fast, flexible, and very customizable, this player supports multi-platform streaming while assuring robust performance. Let's have a look at its pros and cons below.

Pros
Easy to customize the playing features
Offer fast and reliable playing experience
It is a feature-rich video player
Cons
The integration is not free
It may crash down sometimes
FAQs about HTML 5 Video Player
Check the frequently asked questions and their answers below.
1. What is the best HTML5 video player?
In this article, we give you a list of the best HTML5 video players. Just choose one tool to play your HTML5 videos quickly and smoothly.
2. Is HTML5 player free?
There are some free HTML5 players and some paid ones. If you are looking for a free tool, you may try EaseUS RecExperts. This tool is mainly known as a recorder but it can also play HTML5-format videos with one click.
3. How do I download HTML5 player?
Usually, you need to go to the official website of a HTML5 player. However, if you choose to use EaseUS RecExperts from the list, you may download it from the button below.
Conclusion
HTML5 video players are essential recently in the video streaming industry. There are many video players of this kind in the market, if you don't know where to start, you may read the whole article and choose one from the list.
Among all the tools, we suggest you download and use EaseUS RecExperts as it can not only play HTML5-format videos but record a video and save it to your device.
About the Author

Melissa is a sophisticated editor for EaseUS in tech blog writing. She is proficient in writing articles related to multimedia tools including screen recording, video editing, and PDF file conversion. Also, she's starting to write blogs about data security, including articles about data recovery, disk partitioning, data backup, etc.