
Table of Contents

About the Author

Related Posts

Best Audio Recording Software
Fortnite is one of the cross-platform online battle gameplays, and most people like to play it. On YouTube or other social media platforms, there are a lot of Fortnite game videos for game enthusiasts to watch and learn skills. If you are a game master and want to share your tutorial videos, it's a nice choice to record Fortnite on PC.
Given that, this post will share five Fortnite clip recorders and show you how to record Fortnite on PC with step-by-step tutorials. 
| Workable Solutions | Step-by-step Troubleshooting |
| --- | --- |
| Fix 1. EaseUS RecExperts | Start your favorite game and launch EaseUS RecExperts. Choose "Full" or "Region" to select...Full steps |
| Fix 2. OBS Studio | Download and launch OBS Studio, and then run Fortnite gameplay on your PC...Full steps |
| Fix 3. Xbox Game Bar | lick "Start" > "Settings" > "Gaming" to open the Settings dialog, then go...Full steps |
How to Record Fortnite on Windows 10 with EaseUS RecExperts
EaseUS RecExperts is excellent Fortnite recording software for gamers, which allows you to record Fortnite with facecam or your narrations. Also, it can capture other various high-quality and popular 2D/3D games in 4K resolution. 
You can record Fortnite freely because this software enables you to capture your screen with customizable size, record audio (internal audio or microphone), and capture webcam quickly and easily. Once the recording is done, you can preview the recorded video clips with a built-in player and even clip Fortnite recordings here effortlessly. 
More key features about EaseUS RecExperts:
Support setting hotkeys according to your needs
Allow you to record the full screen or a selected area
Enable you to record streaming video or audio with high-quality output
Save the recorded footage for more than 10 formats, like MP4, MOV, etc.
An excellent recording and clipping software for Fortnite
Download this excellent Fortnite clip recorder and check the following tutorial steps to screen record Fortnite on Windows 10 PC.
Step 1. Start the gameplay you want to record and launch EaseUS game recorder. Next, select the Game mode.

Step 2. Click the nut icon to open the Settings window, and then click on "Video" to adjust the frame rate (from 1 to 144), video quality, format, etc. 
In addition, you can click on the "Game" button to change some game overlay options. Once done, click "OK".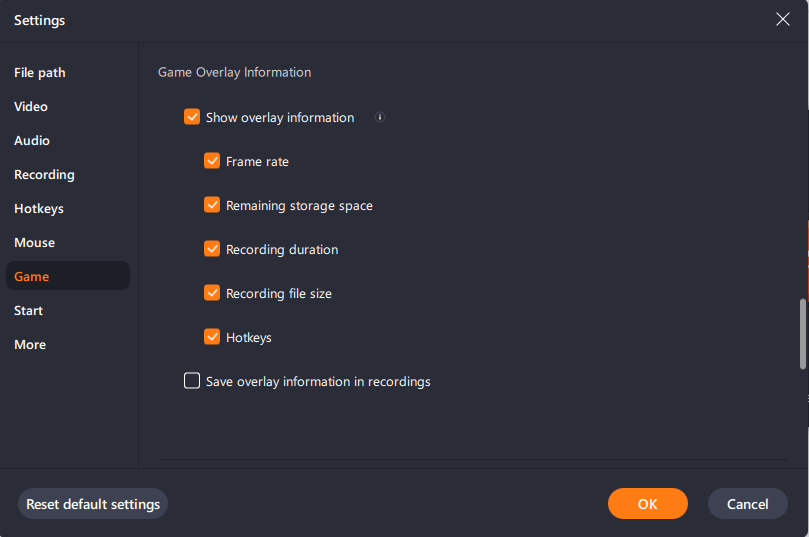 Step 3. Go back to the Game mode interface and click "Select Game" to choose the gameplay you want to capture. Next, click REC to start your game recording.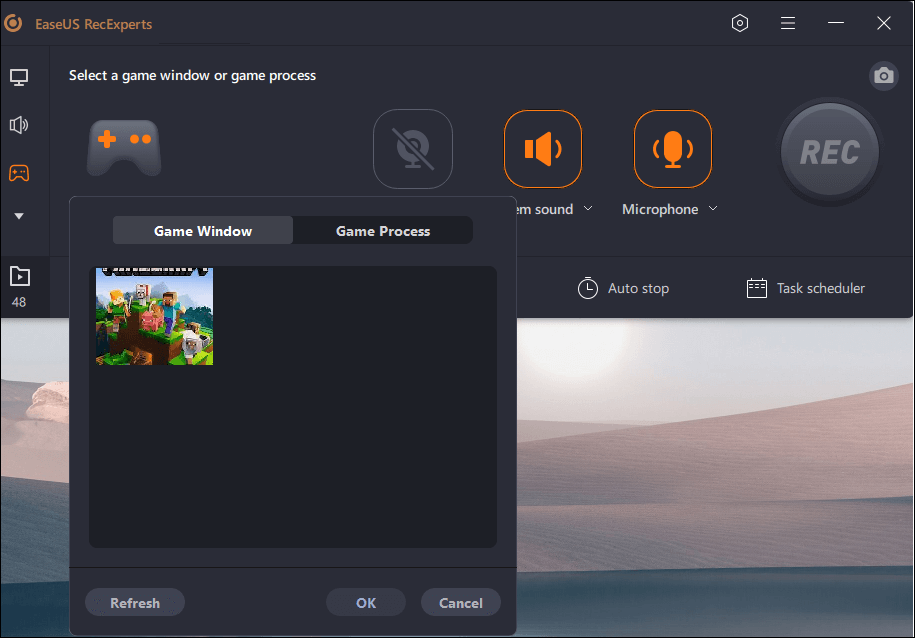 Step 4. You will see a small bar showing the time of your record. If needed, you can take screenshots in recording, or set the specific time to stop the recording by clicking the "Clock" icon on the toolbar.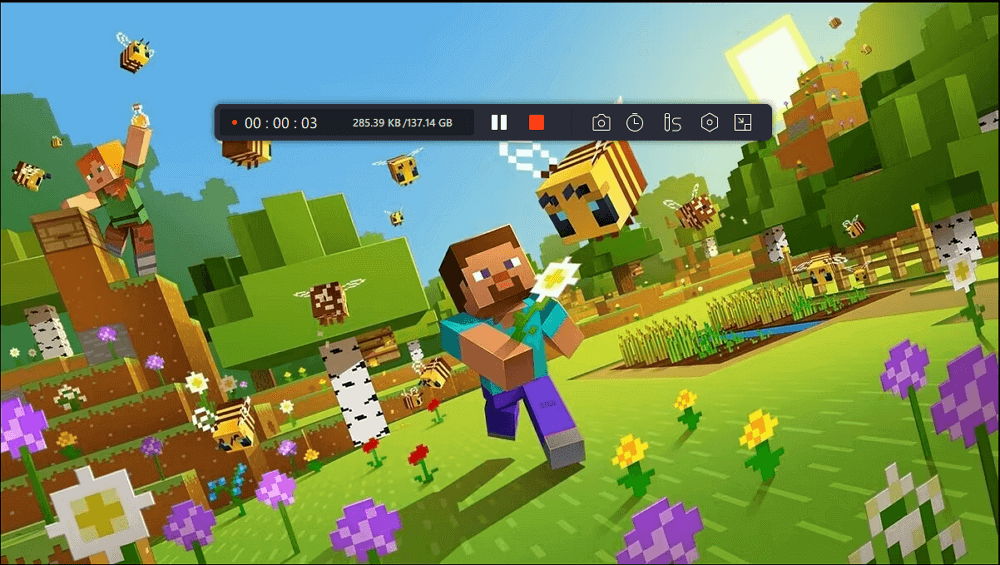 Step 5. Once done, you can watch and edit the recorded footage with the built-in video editor. On the recorded video, you can trim the recordings as you want.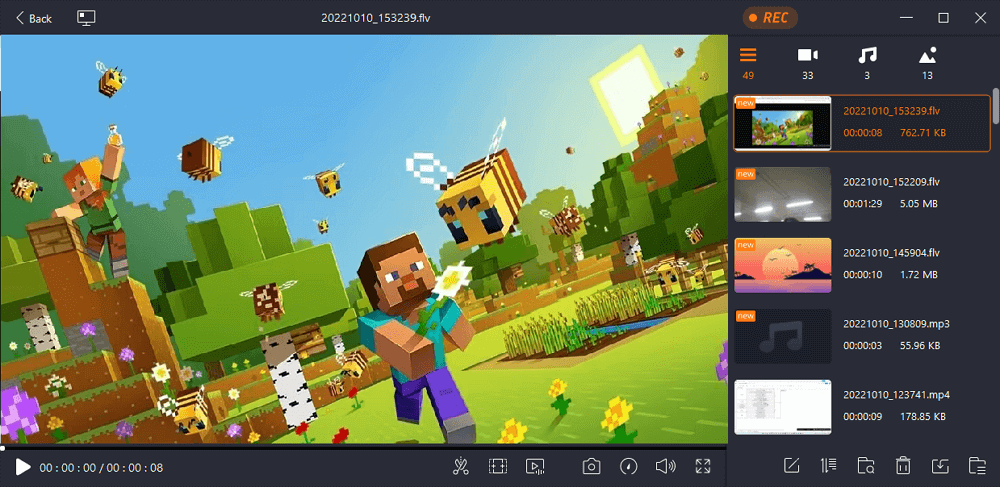 How to Record Fortnite Clips on PC with OBS Studio
OBS Studio is a free and open source screen recorder, and it is one of the best screen recorders for Fortnite. Using it, you can capture different kinds of videos and capture them in impressive and high-quality game videos.
Besides, it offers a few intuitive audio mixer, as well as filters that assist in the fast filtration of noise. It can improve gain while suppressing unwanted signal elements. However, it is a little difficult for beginners. If you are a novice, you'd better check some tutorials before starting your recording.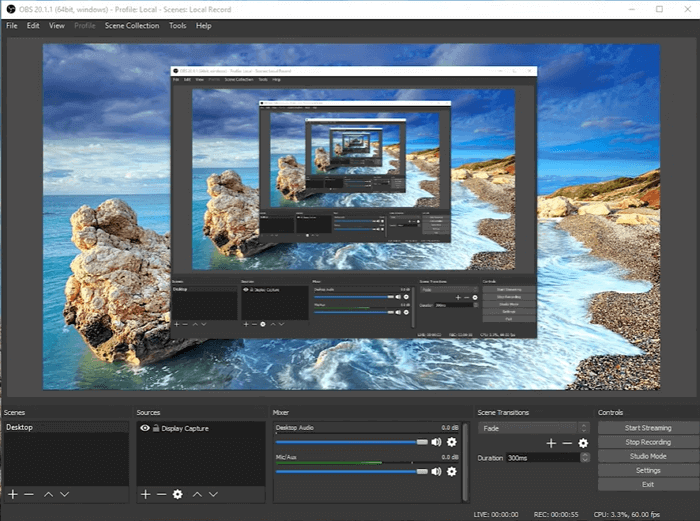 How to record on Fortnite clips using OBS Studio :
Step 1. Download and launch OBS Studio, and then run Fortnite gameplay on your PC.
Step 2. Go to Sources bar and add Game Capture. After that, click "Create new" and add the name "Fortnite Capture" as an example or something else and press OK.
Step 3. Click in the game and go back to OBS Studio to check if it's working. If it goes well, you can click "Start Recording" to begin capturing Fortnite.
Step 4.  Once the game finishes, you can stop recording and preview the recorded video on your computer. If you like, you can directly upload and share the recording to social media platforms.
How to Screen Record Fortnite with Xbox Game Bar
If you are going to record Fortnite on your Windows 10 PC without downloading any third-party software, you can use a built-in screen recorder – Xbox Game Bar. It is migrated into Windows 10 by Microsoft, which means you can use it to record any gameplay on your PC without any installation or payment. Now follow the below tutorial steps to record Fortnite or other games on your PC.
How to clip on PC Fortnite:
Step 1. Click "Start" > "Settings" > "Gaming" to open the Settings dialog, then go to the "Game bar" tab and put the switch to the "On" side.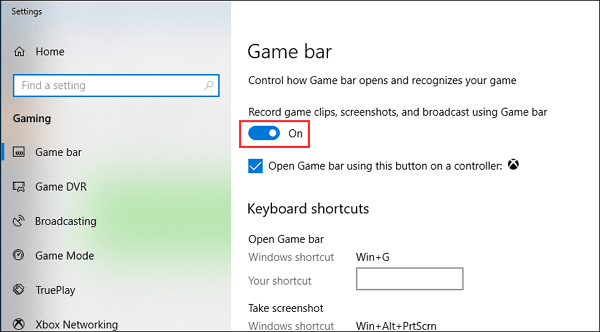 Step 2. Press Win + G to open the Game bar and choose the "Yes, this is a game" option.

Step 3. Launch Fortnite on your computer and click the Red Circle button to begin recording Fortnite. After that, there will be a timer on your game window. While recording Fortnite, you also can press the Camera icon to take a screenshot on your Windows 10 PC.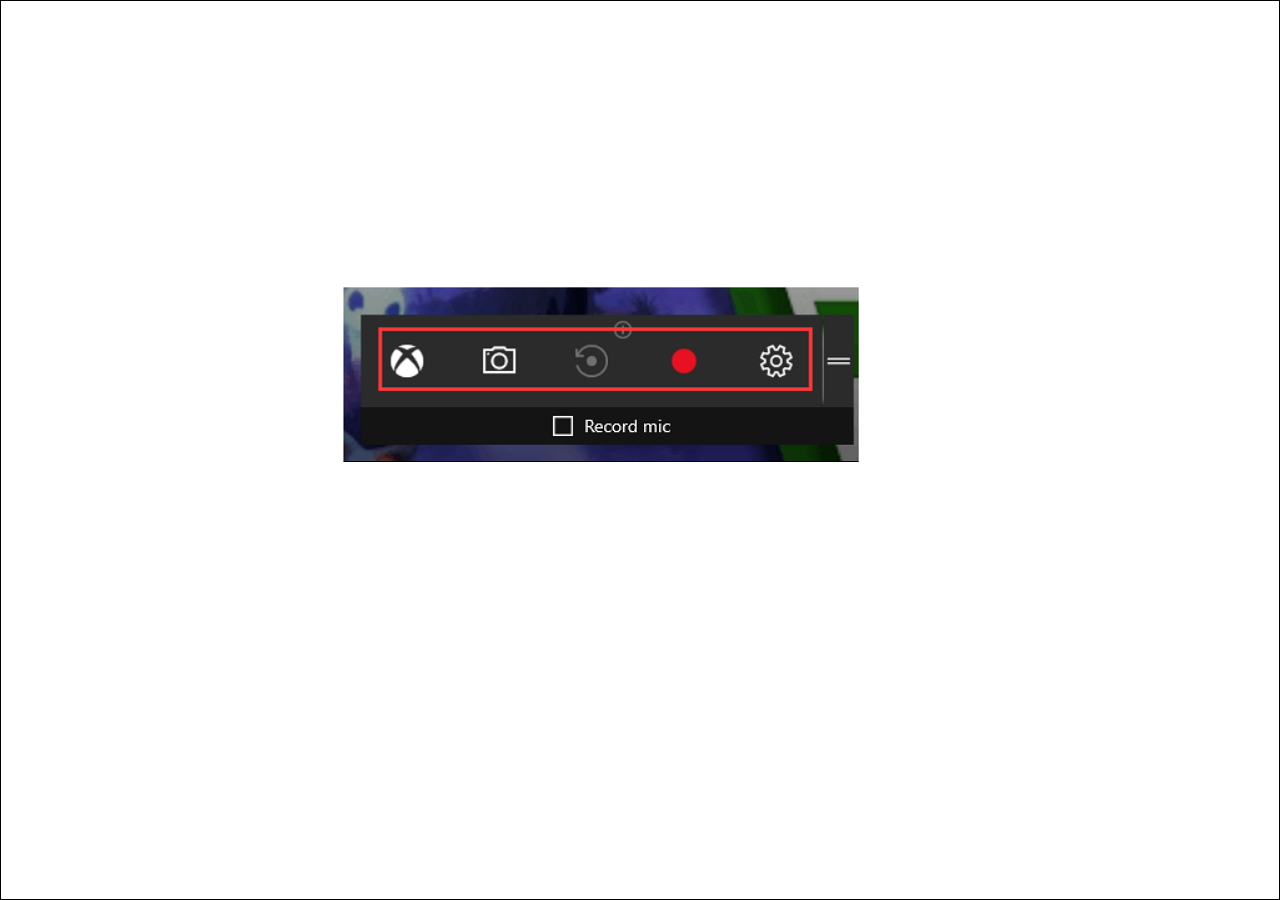 Step 4. If you want to stop the recording, you can choose the "Stop" option to end the recording. The recorded game videos will be saved in a Captures folder on your computer.
How to Record Fortnite on iPhone/Android
Fortnite is cross-platform gameplay, and you also can play and record it on your mobile devices. In this section, we will share with you two amazing Fortnite screen recorder applications and detail on how to record Fortnite on iPhone and Android phones with ease.
1. EveryCord
EveryCord is a fantastic game recording app for iPhone users. With EveryCord, you can record your entire screen, including your favorite games, moments, and funny videos on the fly with fully customizable settings. Before recording, it gives you the freedom to set the orientation, resolution, sample rate, and other settings. Moreover, this app will save the recording locally on the device at full HD and 60 FPS. Like other screen recorders, it also supports live streaming directly to YouTube, Twitch, and more services that support RTMP streaming.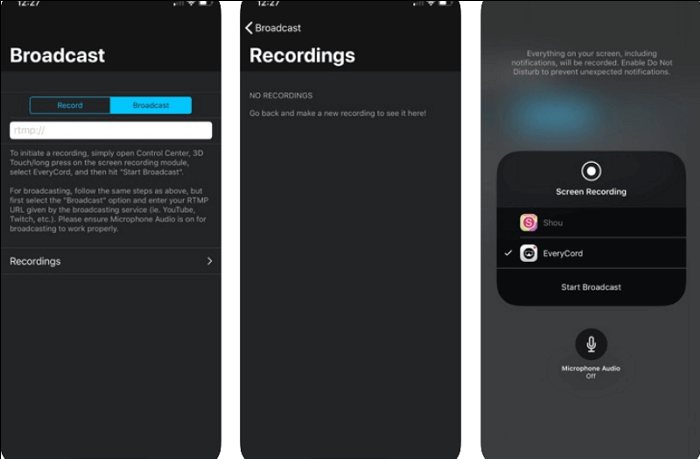 How to record in Fortnite on iPhone:
Step 1. Go to App Store to download EveryCord and open it on your iPhone. Then you can choose the "Settings" option to adjust the orientation, FPS, resolution, and sample rate.
Step 2. Open the Control Center to make sure that EveryCord is added.
Step 3. Open the Fortnite gameplay. If you are going to record the game, you can swipe down your screen to reveal the Control Center and tap the start button to record the gameplay.
Step 4. Once you finished, swipe down and press the button again to stop the recording. You can open EveryCord to watch the recorded game videos on your iPhone.
2. Du Recorder 
DU Recorder is a reliable and easy-to-use stream creator and screen recorder. This application makes it easy to live-stream and record content from your device screen, like games, live shows, sports, and many more. In addition, it supports simultaneous recording of microphone, internal audio, and facecam on your Android phone. After recording, you can easily perform video editing tools like trimming, adding content, applying visual effects to your recordings.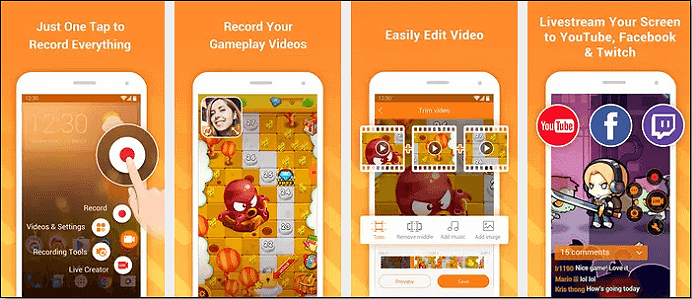 How to record Fortnite clips on Android:
Step 1. Download DU Recorder and open the program. Click the orange button on the screen and go to the settings to choose the resolution and make other adjustments.
Step 2. Open the Fortnite game on your Android phone and press the recording button to begin capturing the gameplay.
Step 3. Once you finally finish the gameplay, you can choose the recording button to end the process. The recorded video will be saved on your Android phone.
Conclusion
This post offers various clipping software for Fortnite to assist you in recording Fortnite gameplay on PC and Mobile devices.
If you want to record Fortnite gameplay on your PC, you can't miss EaseUS RecExperts. It can not only record various gameplays but help you modify the recordings with a basic editing tool. Want to know more functions? Just download it to explore more amazing features about it!
About the Author

Jane is an experienced editor for EaseUS focused on tech blog writing. Familiar with all kinds of video editing and screen recording software on the market, she specializes in composing posts about recording and editing videos. All the topics she chooses