
Table of Contents

About the Author

Related Posts

Best Audio Recording Software
Jerry
Updated on Mar 10, 2023|
min read
Google Meet is one of the most used video communication software today. It's used in professional environments by students and many others who wish to use reliable software for communicating through video and voice.
However, recording a session on this software can be an issue. So, many people wish to find out how to record Google Meet without permission. Today, we will analyze a few methods to help you easily record the Google Meet session. So, let's get started.
Record Google Meet Without Permission Using Professional Screen Recorder
Understanding how to record Google Meet without permission requires exploring unorthodox methods. While these methods can be unconventional, you should always rely on a trustable tool. That's why we will use EaseUS RecExperts, a professional screen recorder. 
It can help you screen record on Windows 7 and record clips on your PC. In addition, it allows you to perform a scheduled recording and record an encrypted video. It is a tool used by many professionals, teachers, students, and gamers to capture their screens. What makes it the best? Here are a few reasons:
Allows you to capture specific regions of a screen without meddling with others
Allows you to edit the video during recording or right after you're done recording
Perform a scheduled recording and record without lags, time limits, stutters, or compromises on quality
These are a few reasons this is the best option you have today to record Google Meet or any other meeting online.
Here's how to use it:
Step 1. Run EaseUS RecExperts on your device and you will see two recording modes. You can choose "Full Screen"to record the whole screen or choose "Region" to select the recording area manually before recording.

Step 2. After that, you can choose to record the webcam, system sound, microphone or record none of them as you like. You can also set auto split, auto recording with various functions on the interface.

Step 3. Then, you can click the red "REC" button to start recording. Here will be a menu bar on your screen. To pause the recording, click on the white double vertical bar; to end the recording, click on the red square sign.

Step 4. After recording, you will be led to the list interface. Here you can view or edit your recordings. To start a new recording, just click on the "REC" button on the top of the interface.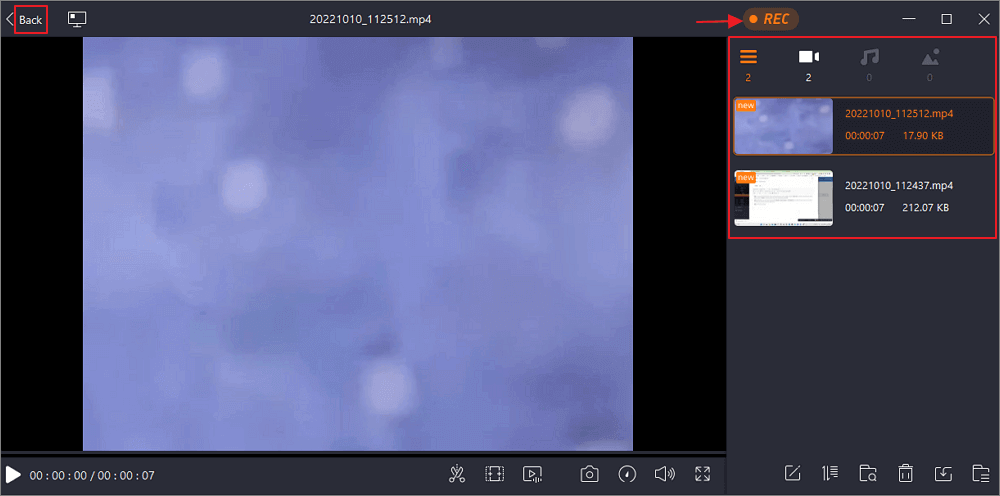 Record Google Meet Without Permission via Chrome Extensions
In this section, we will explore a few ways to record Google Meet in Chrome Extensions. This allows you to ensure recording the meeting without downloading any particular tool, except for the extension in Google Chrome. So, let's explore these three methods.
Method 1. Using Screencastify
The first method requires you to download the Chrome extension called Screencastify. Therefore, you must find it in the Chrome extensions section and download and install it.
 Warning

Screencastify cannot record a video for over 5 minutes.
Here's what you can do to record Google Meet without permission.
Step 1. Tap on the Screencastify (A) icon in the extension bar
Step 2. Tap on the Desktop/Browser (B) tab*
Step 3. Tap on the Record Button (C)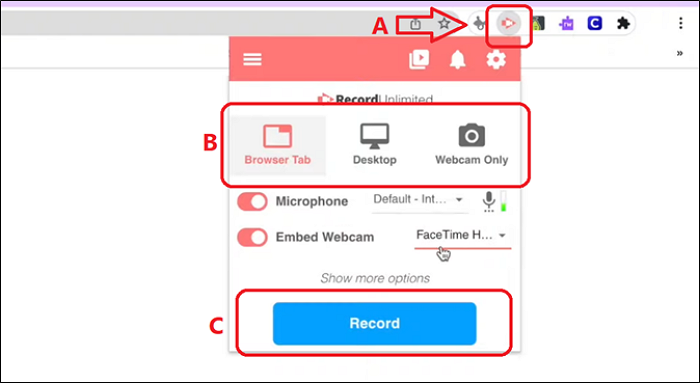 Step 4. Pick whether you wish to record your own microphone/webcam (Optional)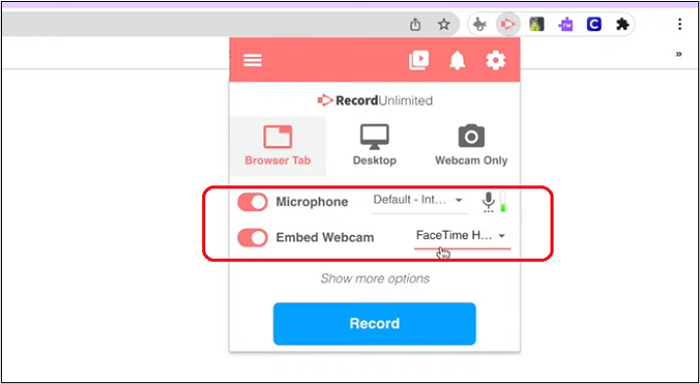 Step 5. Done
Note: It's important to understand that if you're using the Google Meet desktop app, then you have to record the entire desktop. However, if you have Google Meet opened in another tab, pick the Browser Tab option.
Method 2. Using Nimbus
The second method is to use Nimbus to record the video. Once you have downloaded the Nimbus extension to your Chrome browser, it'll help you record, capture, and screenshot your desktop/Chrome browser. Here's how you're going to use Nimbus to record Google Meet:
Step 1. Tap on the Nimbus (A) icon
Step 2. Head down the options and tap on Record Video (B)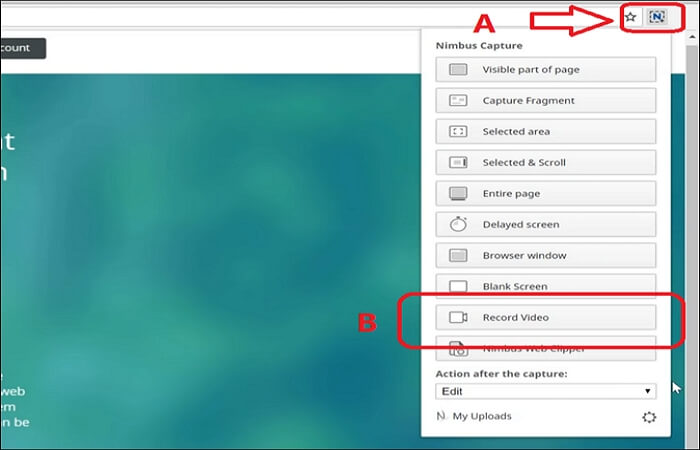 Step 3. Tap the Record Mic/Webcam options (C) or uncheck them (Optional)
Step 4. Select if you wish to record the entire Desktop or only the Tab with Google Meet (D)
Step 5. Tap on the Start Record (D) button to begin recording
Step 6. Done
This will start recording your Video and save it to your desktop. You can change that by going into the Video Settings options after clicking the Record Video button.
Method 3. Using Loom
The next method is using the Chrome Loom extension to record the screen. This extension is the same as the other two options but with fewer options. So, once you have downloaded the extension, here's what you'll do:
Step 1. Tap on the Loom (A) icon in the extension bar
Step 2. Select Screen and Camera (B) options
Step 3. Select Record Settings (C) according to your preference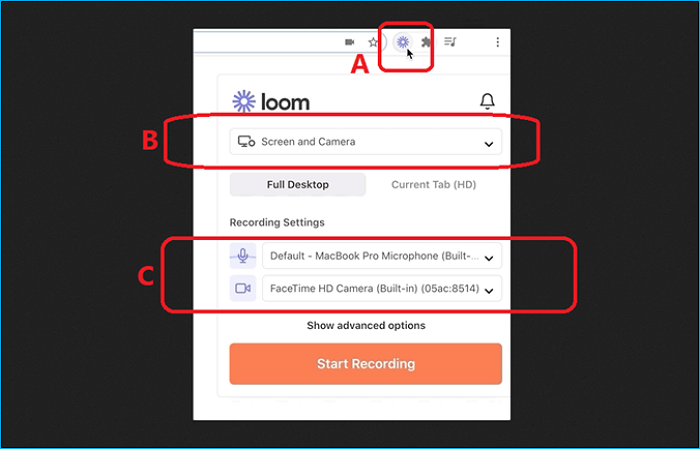 Step 4. Select whether you wish to record only the Current Tab or Full Desktop (D)
Step 5. Tap on Start Recording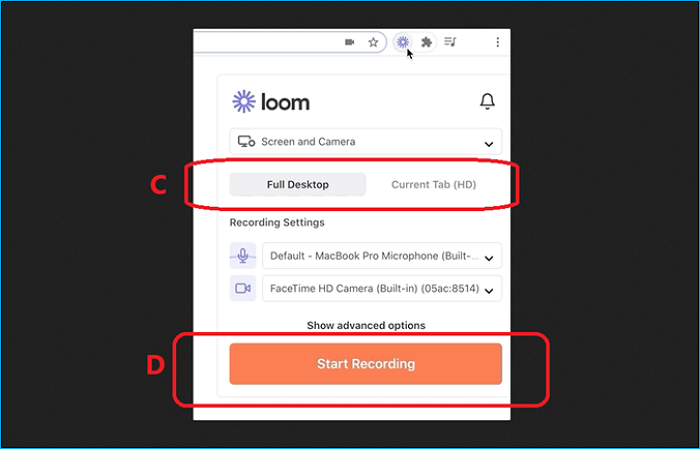 Step 6. Done
This will also save your recording to the desktop. So, you can go into Show advanced options to change that.
Why You Need to Record Google Meet Calls Without Permission
There are a few reasons one may wish to record Google Meet. If you're meeting someone through Google Meet, keeping a record of that meeting allows you to remember what was said or spoken of in the meeting. For instance:
A student might record Google Meet to keep notes or return to the lecture for important points. Some schools even ask their students to record such meetings.
Professionals might record these videos just for the sake of a professional record. Or revisit the video and take notes, make a transcript, etc.
Gamers or content creators might record these Meet to upload on their social media, YouTube channels, etc.
You might record it for the sake of memories or talking to a loved one, family, etc.
This allows you to keep the video safe and ensure that you can revisit it anytime you like—for whichever purpose from the above.
The Legality of Recording a Google Meet Without Permission
You might wonder if recording a Google Meet without permission is even legal. In some workplaces, it's not encouraged to record anything. In some schools, it's strictly forbidden to record specific classes.
However, Google offers the in-built option to record videos, but it's a locked feature that unlocks when you buy it. So, does recording using other methods get you in legal trouble? While Google may not bother you, your school, workplace, or others.
It's illegal to record anyone without consent in many countries, particularly the United States. So, it's a legal obligation to let your class, workmates, and other people in your call know that the meeting is being recorded.
Conclusion
That is all about how to record Google Meet without permission. Make sure that you let everyone know that you're recording the meeting, just for ethical purposes. Then, you need to have Google Chrome to use the extensions mentioned in this article.
Or, you can use EaseUS RecExperts, a way easier and better option to help you record your screen. It can also help you to solve the OBS not recording screen issue. However, whichever option you choose, make sure you follow the steps mentioned in this article carefully.
FAQs
1. How do I record Google Meet without admin?
You're going to need a third-party tool or extension to record Google Meet without the admin's permission. Or, see if you can ask them to grant your permission. If not, try using EaseUS RecExperts to record any area of your screen, including Google Meet.
2. How to record Google Meet without permission in Windows 10?
You're going to need Google Chrome in order to record Google Meet in Windows 10. Once you download it, install the Screencastify, Nimbus, or Loom extensions to record the meeting. Or, download and install EaseUS RecExperts to record the stream without having to use Google Chrome.
3. Which app is best for recording Google Meet?
EaseUS RecExperts is the best application/software to help you record meetings on Google Meet. This tool allows you to record a particular area of your screen.
About the Author

"I hope my articles can help solve your technical problems. If you are interested in other articles, you can check the articles at the bottom of this page, and you can also check my Facebook to get additional help."