
Table of Contents

About the Author

Related Posts

Best Audio Recording Software
PAGE CONTENT:
MOV is a popular video file format that is commonly used by users around the world. Developed by Apple, it is the default video file format on Mac. Therefore, if you want to play your recordings on Mac devices, it's better to record the screen in MOV format.
If you want to capture a high-resolution video, you will need an HD screen recorder. If you are not aware of what is an HD screen recorder, no worries, we give you some of them in the content below. Just dive in with us now!
Record MOV with a Screen Recorder
EaseUS RecExperts is a Mac and Windows screen recorder that can record the screen in many formats including MOV. You may choose to record full screen or record part of the screen freely. Other preset options like audio and webcam settings can also be changed according to your needs.
Also, it is a screen recorder no time limit that lets users capture the screen for as long as they like. Moreover, system sound and mic audio can both be captured by this tool, simultaneously or separately. While recording, you can even take a screenshot and edit it if you need to. Check more features of it below.
Main features:
Now, you can click the button to download and follow the steps below to start recording the screen as MOV videos.
Step 1. Before recording as a specific format, you will need to change the settings. Launch EaseUS RecExperts and click the "Settings" button on the main interface (looks like a screw nut).

Step 2. There are many options for you. If you want to save your recordings as a video file, click on "Video" and choose a format. You can choose MP4, MOV, FLV, etc.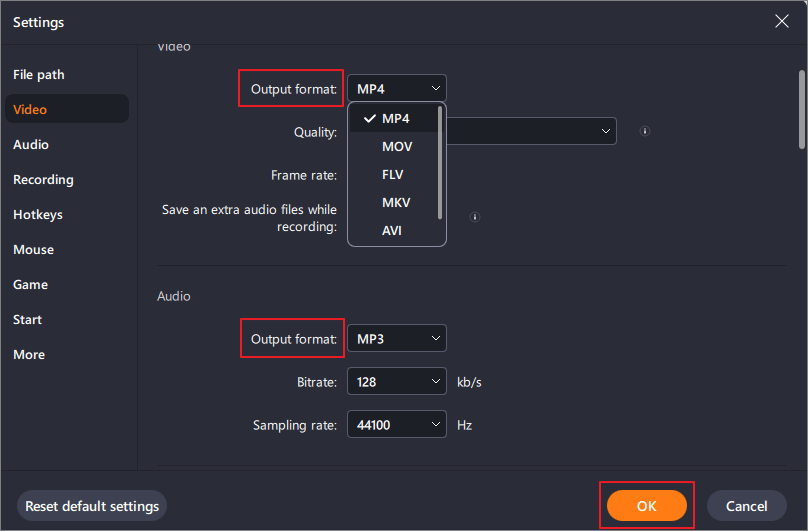 Step 3. After that, choose a recording mode from "Full Screen" and "Region". Then, click on the big red button "REC" to start recording.

Step 4. Once the recording started, a floating toolbar will appear. Click on the red "Stop" button to stop recording, and the recording list will pop up.

Record MOV Using OBS Studio
OBS Studio is popular among users because it can be used to record and stream videos. This open-source screen recorder allows you to record and broadcast your content without requiring any physical equipment. Using it, you can even record more than one resource at the same time.
For example, you can add your screen, microphones, system audio, and even a webcam into the program. You can choose to record them in the meantime or separately. All in your control. Let's check how you can use it to record MOV step by step.

Step 1. Download and install OBS Studio. Click on "File" > "Settings" to adjust the options for your videos. Here you should change the output format to MOV.
Step 2. Go back to the main interface and click on the "+" icon in the "Scenes" box or right-click the box and choose "Add". Then, select "Display Capture" to record the whole screen or select "Window Capture" if you only need to record the active window. 
Step 3. When a window appears, choose "OK" to create a new source. When another window pops up, hit "OK" to confirm your settings.
Step 4. Then, click the "Start Recording" button on the "Controls" panel to start recording the screen as a MOV video.
Record MOV with Movavi
Movavi is one of the screen recorders free download that you may need in recording MOV. It can record both Windows and Mac screens as videos in different formats. By default, the captured videos will be saved in MKV format, but you can change the output format to MOV manually.
After recording, you can even export the videos to Google Drive, YouTube, Whatsapp, and Telegram within a few clicks. This is a good choice for recording tutorials, presentations, and online lessons and sharing them with your fans, colleagues, and students. Check how you can use it below.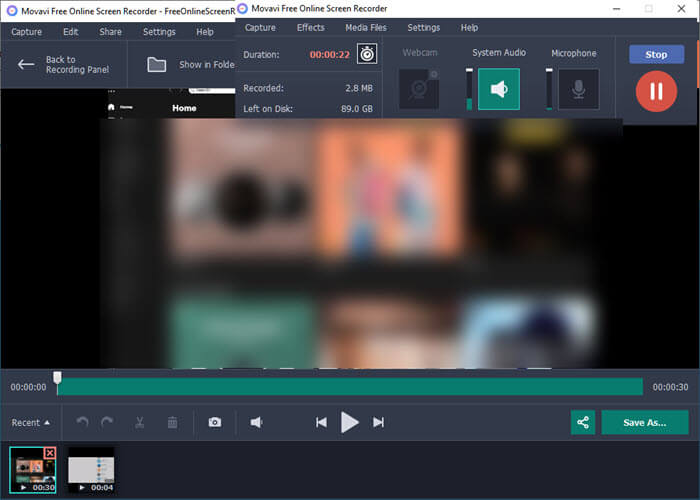 Step 1. Download and install Movavi on your device. Click "Save As" to open the output options. Choose MOV under "Video".
Step 2. Go back to the small recording panel and click the video camera icon. Choose the capture area and hit the red "Record" button to start recording.
Step 3. Click the "Stop" button to stop recording immediately if you want.
Record MOV in Camtasia
Camtasia is mostly known as a video screenshot tool for anyone looking to capture the screen as a picture. However, users can also use it to record screen activity and webcam footage if they want. And the screen and webcam can be recorded at the same time or separately.
Users can decide which format the recorded video is to be saved in. MOV is supported by this software. Moreover, after recording the video, users can add annotations, transitions, visual effects, etc. to the video as they wish. Let's see how you can record MOV with it below.

Step 1. Launch Camtasia and click the "Record the screen" option. Remember to set the output format as MOV first.
Step 2. Select that through the option "Custom" and choose an option according to your requirements. You can record the full screen or part of the screen.
Step 3. Hit the "Record" button and a countdown will appear. After that, the video recording will begin.
Record MOV FAQs
Check the questions and answers related to the topic - record MOV.
1. Should I record in MOV or MP4?
You should choose based on your requirements. MP4 is typically more compressed and smaller in size, while MOV files are often higher in quality and larger in size. Also, most streaming platforms recommend the use of MP4 files instead of MOV as MP4 files work with more streaming protocols. You can choose based on this information.
2. What is MOV recording format?
MOV is a video format that was developed by Apple. It can hold many different video formats and multimedia, including audio, video, and text. This is also a widely used video format among users around the world.
3. How do I convert MOV to MP4?
To convert MOV to MP4, you can either download software or use online file format converters. Just Google a file converter and start converting MOV to MP4 according to the instructions.
Conclusion
After reading the whole article, you can see it is not so difficult to record MOV if you have chosen the right recorder. Although we give you four screen recorders that can record the screen as a MOV video, EaseUS RecExperts is the best recommended one. What are you waiting for? You may download it from the button below and start recording MOV right now!
About the Author

Melissa is a sophisticated editor for EaseUS in tech blog writing. She is proficient in writing articles related to multimedia tools including screen recording, video editing, and PDF file conversion. Also, she's starting to write blogs about data security, including articles about data recovery, disk partitioning, data backup, etc.