
Table of Contents

About the Author

Related Posts

Best Audio Recording Software
Quick Navigation:
Recording audio from a website can be very difficult, but with the help of instant audio recording software, you can easily record audio from a website. This tutorial guide provides the easiest audio recorder to help you record music, lecture, or any other of your favorite audio clips from a website in high quality.
This guide will show you how to record audio from a website using the 4 best instant audio recording software. Let's get started.
Method 1. Use Excellent Audio Recorder to Record Audio from Website
To record audio on Windows from a website, you should use an excellent audio recording software like EaseUS RecExperts.
EaseUS RecExperts is a free screen recorder on Windows/Mac that helps users to complete audio and video recording operations. The program has a user-friendly interface and supports basic editing options like trimming and splitting. This program stands out from other website audio recorders with a key feature to schedule audio recordings. Additionally, you can export your audio files in formats such as MP3, FLAC, AAC, OGG, and WAV.
It is also a great screen and audio recorder that allows you to record any sound or video from your computer without lagging or watermark. Additionally, it offers GPU hardware acceleration for you to record audio with better quality using system usage. Last but not least, this software allows users to automatically separate the recorded file into different pieces for later usage. You can also use it to alter audio settings like bitrate and sample rate.
EaseUS RecExperts Key Features
Excellent streaming audio recorder for Windows and Mac
Capture microphone audio, system sound, or both of them simultaneously
Extract audio from any of your preferred video recordings
Include a Task Scheduler to begin the  recording automatically
Support a range of output audio formats, including MP3, FLAC, AAC, and many more
Click the button below to download this all-in-one video and audio recorder to capture the audio sound from any website.
Step 1. Launch EaseUS RecExperts and choose "Audio" (looks like a speaker) from the left side of the interface. Select the sound source by clicking on the speaker sign (the system sound) or the mic sign (the microphone). Or, you can record them both at the same time.

Step 2. Hit "REC" button to start recording audio. To finish it, you just click on the red square icon to stop the recording.

Step 3. After that, the recording list window will pop up automatically. You can listen to or edit the recording with built-in tools.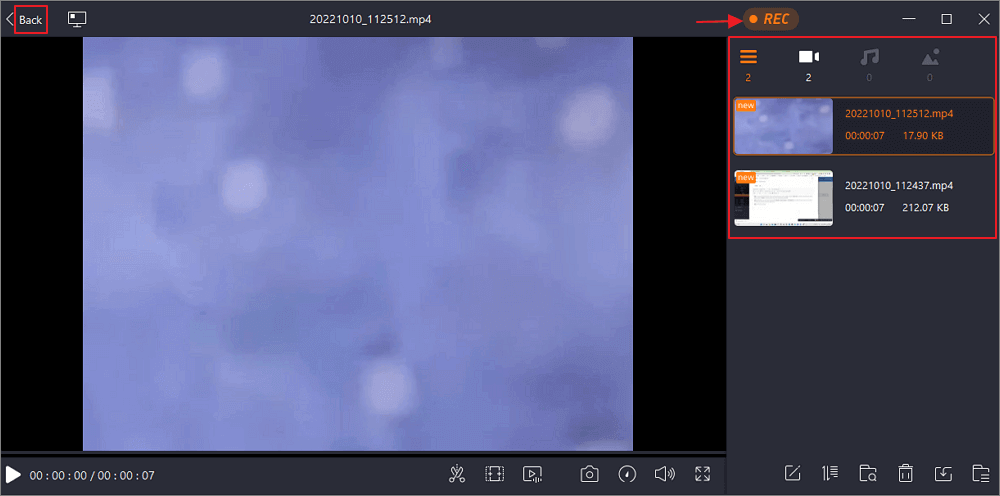 Method 2. Use Audacity to Capture Audio from Website
Audacity is an open-source and free recording software that not only records audio files but can edit your existing audio files as well. This tool has various features that can help you edit and mix different sound files on your computer.
The exciting part of using Audacity for audio recording is that it has an easy-to-use option to fetch sound from your device. The interface has easy-to-locate options that you can use to get and record sound from your Windows PC.
To use Audacity to Capture Audio on Windows, follow the steps below:
Step 1. Set Up the Audio Recording Options
Once you've downloaded Audacity and installed it, launch the tool on your Windows Computer. You will find many options on the drop-down menu. Choose "Windows WASAPI" under "Audio Host" from the menu.
Then, select your computer's default speakers by choosing the dropdown menu next to the microphone icon. This will be the audio source for your recording.
Step 2. Begin the Audio Recording
After setting up the options above, click on the "Record" button to start recording your computer audio. Audacity starts capturing audio from what appears on your computer screen, either game, podcast, or whatever you wish to record. You may need to adjust volume settings if they're too low or high.
Step 3. End the Computer Audio Recording
You can continue the recording for as long as you like. When you're done, click the stop button in the top menu bar to end the recording. Your recording will end as a result, but the recorded file won't be saved just yet.
Step 4. Save the Recorded Audio
Once you've finished the recording, the recorded file can be saved in an audio format on your computer. Choose "Export" then "Export MP3" from the "File" menu at the top of the screen to save the file. Next, select a folder to save the file.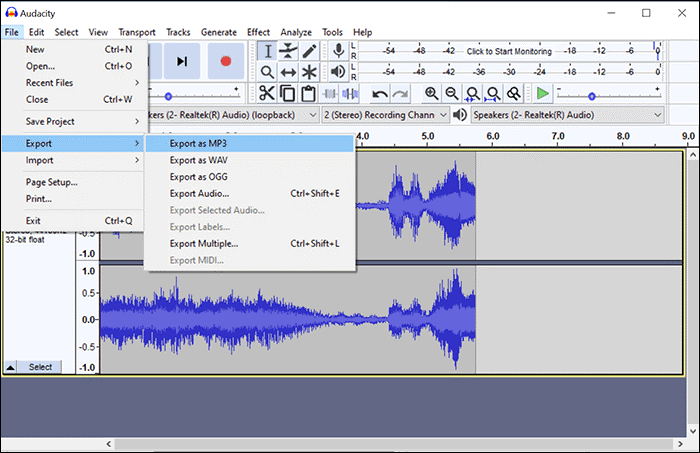 With these simple steps, Audacity has successfully recorded and saved your sound recording.
Method 3. Try Audio Capture to Record Audio from Website
Audio Capture is one of the best methods to record audio on a website. It's a Chrome audio recorder that can be easily installed on the Chrome browser. This tool helps you to make an audio recording from the current tab and also from multiple tabs. Your recorded audio file can be saved in WAV or MP3 format.
Follow these steps to use Audio Capture to record audio on your web browser:
Step 1. Search for "Audio Capture extension" in the Chrome Web Store.
Step 2. Once you've located it, select "Add to Chrome" to install the extension on your browser and refresh it.
Step 3. To start recording, open a tab on the browser containing the audio you wish to capture and click the extension in the top-right corner of the window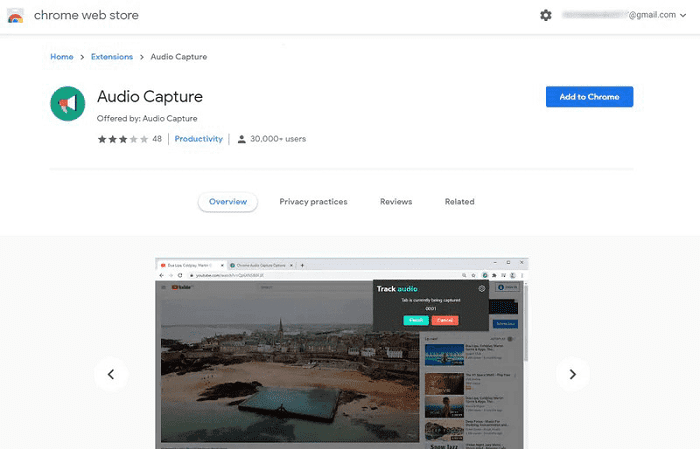 Step 4. Click on the "Finish" icon to save the recording to your computer after it is completed.
Method 4. Use OBS to Record Audio from Website
Open Broadcaster Software (OBS) Studio is open source screen recorder that allows you to record a variety of media on your computer, including audio and video. One of the appealing advantages of OBS is that it allows you to add many scenes and recording sources. Your speakers can also be selected as the recording source since the computer's internal audio originates from it.
Steps to Record Audio from a website using OBS:
Step 1. Launch OBS Studio on your Windows PC. In the section that reads "Sources," click the "+" sign and select "Audio Output Capture." Once you've done that, press "OK" to add an audio source.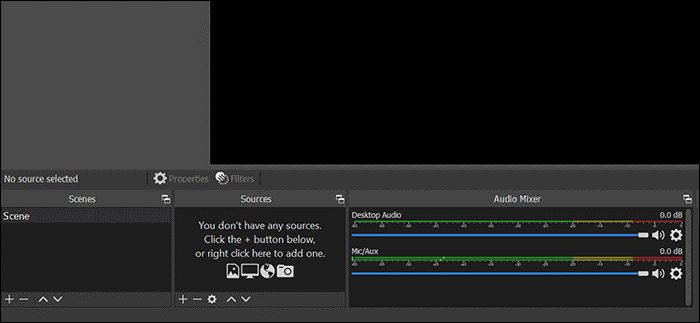 Step 2. Locate and select "Start Recording" on the right side of your screen. This will begin to record the audio from your preferred audio source.
Step 3. Press "Stop Recording" on the right once you're done with your recording. The audio recordings will be saved on your device.
Step 4. To access and listen to the audio recording, locate "File" on the screen and choose the option "Show Recording." File Explorer will open and show the folder containing your recordings.
Final Words
Audio recording may be a complicated process, but now you know how to record audio from a website on your PC.
This article provides a step-by-step guide on recording audio from a website quickly and easily. EaseUS RecExperts is an excellent choice if you want various recording features and an easy-to-use interface.
Record Audio from Website FAQs
If you have any queries about "how to record audio from the website," you will find answers below.
1. How do I record audio from a website?
Record audio from a website with EaseUS RecExperts:
Step 1. Download and Install EaseUS RecExperts.
Step 2. Select the recording options to capture system sound.
Step 3. Click on the recording icon.
Step 4. Edit the audio file to only have the needed audio.
Step 5. Save the file to the desired location.
2. Can I record audio from the Internet?
Yes. But you must be sure of a good Internet connection when recording via an internet stream.
3. Can you record audio from Chrome?
Yes, with a Chrome extension known as Chrome  Audio Capture, you can capture any audio that is playing in the current tab and save it for later listening. Also, recording multiple tabs is possible at once.
4. How do I record audio from my browser tab?
A browser extension, like Chrome Audio Capture, is a great option.
Add the browser extension to the Chrome browser. Then download Chrome Audio Capture.
Select the "Options" icon to choose the file type.
Click "Start Capture" and play the audio you wish to record.
Select "Save Capture"  and enter the name and location of the audio file.
About the Author

Jane is an experienced editor for EaseUS focused on tech blog writing. Familiar with all kinds of video editing and screen recording software on the market, she specializes in composing posts about recording and editing videos. All the topics she chooses